Ever since we moved to Switzerland, Zermatt had been on top of my list of places to visit. The fairytale-like (and charmingly car-free) town, inches of snow and the magnificent Matterhorn were just some of the many reasons I wanted to pay a visit to Zermatt.
Read on for a detailed guide on things to do in Zermatt in 1 day.
Planning a trip to Switzerland? Click here for a detailed travel guide to Switzerland – including the best time to visit, itinerary options (for 3, 5, 7 or 10 days), visa, transportation in Switzerland (including Swiss Pass), accommodation options and more!
Here are more ideas for your trip to Switzerland: 25 best places to visit in Switzerland!
Note: This post contains some affiliate links. This means if you make a purchase through these, I may earn a small commission, at absolutely no extra cost to you. Thank you for your support!
One day in Zermatt
Overview of Zermatt
Zermatt is a beautiful town located at an elevation of 1600 m, below the iconic Matterhorn. It's a popular place for mountaineering, skiing and hiking. Or even a beautiful stroll in the town if you are the more laid back type.
Best time to visit
Anytime – Ski in the winter and hike in the summer! Even if you are not into either of these activities, the views from taking various excursions such as the trains to Gornergrat or the cable car to Sunnegga, are worth a visit.
Where to stay in Zermatt
Here are some options to consider for staying in Zermatt,
Hostel

Youth hostel Zermatt– Well rated and located a 20 min walk from the train station.

Hotel

Resort Hotel Alex Zermatt – A mountain hut styled hotel located next to the train station.


Hotel Butterfly Hotel Zermatt – Very well-rated and located just 5 minutes from the train station.

Apartment

Millennium – Highly rated and located very close to the train station and the Sunegga ski lift.

Getting there
By train: From Zurich it takes about 3.5 hours to reach Zermatt, changing trains at Visp. You can also head there from Lucerne (3.15 hours changing trains at Bern & Visp) or Interlaken (2 – 2.5 hours changing trains at Spiez & Visp). From Visp, a cogwheel train takes you up to Zermatt. Sit on the left side of the train for some amazing views – snow-capped mountains and deep valleys.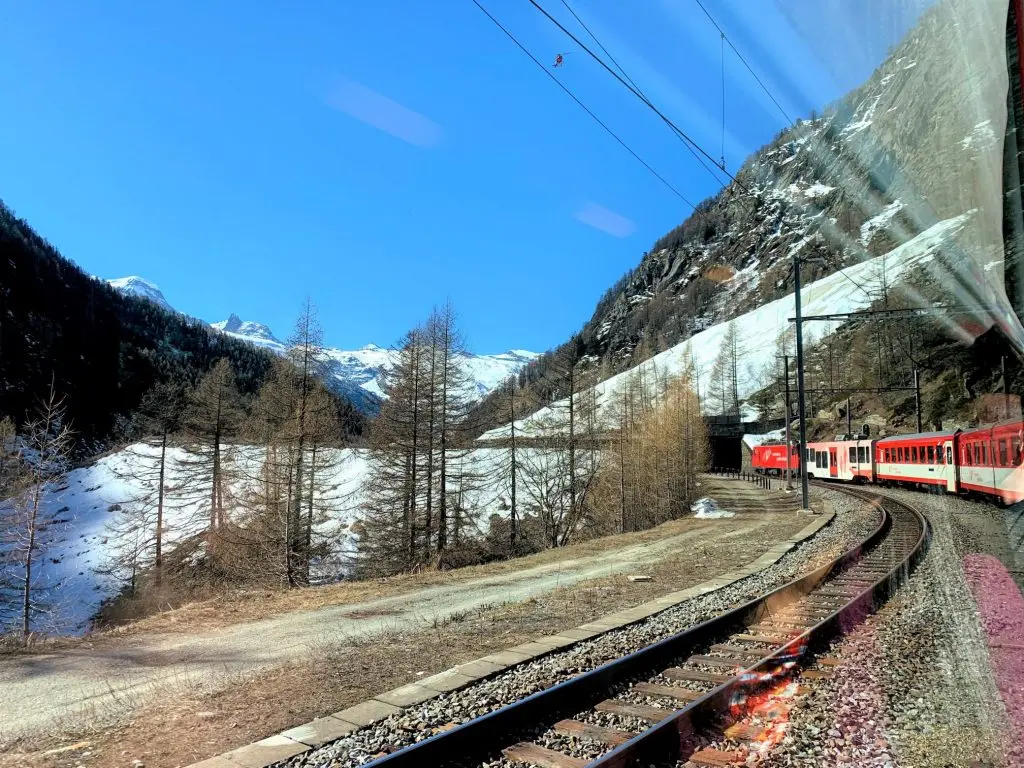 By car: Since Zermatt is a car-free village, drive up to Tasch – that's the last town up to which you can take your car. It's about a 3.5-hour driveway one way from Zurich.
We deliberated taking our car but then dropped the idea since it would have been a bit of a hassle driving up the mountain (would have been fun for me but Milind would have missed the spectacular views!), leaving the car at Tasch and probably staying the night there as well since it would have been too hectic to drive back the same day. Also, would have been very expensive to stay up there – I couldn't find anyplace reasonably priced to stay at Zermatt and Tasch didn't have too many great options either.
So, a train trip it was gonna be. We got lucky with the SBB promotions running at the time where one of us could just buy a day pass and the other would be able to buy a companion pass for half the price of a day pass! (We both hold the SBB half-fare cards so it was a fantastic price for us).
Best things to do in Zermatt
The day of the trip, laden with our warm coats and packed lunches, we set off taking one of the earliest trains (~7 am from Zurich). The train steadily got filled to capacity with lots of skiers headed to Zermatt. We changed trains in Visp at about 9 am and headed up to Zermatt on a cogwheel train. We had nearly exhausted our food supply by then – before the trip actually began! But we were starving from having been up so early.
Side note: Both of us being vegetarians, food is a bit of a problem at times. While we love pizzas and pastas which are our go-to veg options in any country, it's not always easy to get them. And Switzerland is pricey! So we try and take packed lunches, fruits, chocolates with us. My other favourite thing to do is to pick up croissants from Migros or Coop, they are quite cheap and I love buttery, flaky croissants!
Stepping out in Zermatt was a breath of fresh air – quite literally! Since it is a car-free town and high up in the mountains, the air felt amazing. We were greeted by welcome signs in multiple languages, including Hindi! That felt like a nice touch.
Our plan in Zermatt was to first go up to Gornergrat and then come back and go around the town. Gornergrat, at 3100 m, is the best place to get a spectacular view of the Matterhorn. So soon as we stepped off the train we made our way to the Gornergrat station which is conveniently right outside the train station. The timing was great since we immediately caught the next train going up to Gornergrat (again filled with skiers and few sightseeing folks like us). Tickets are slightly expensive at 98 CHF unless you have the half fare card. Trains run throughout the year, normally every 24 minutes. You can also buy tickets online here.
My wait for seeing the Matterhorn was rewarded as soon as the train started moving. There stood the majestic mountain covered in ice and the only peak for miles around – it was an amazing sight! We couldn't take our eyes off of it. The Matterhorn stays with the train for the entire ride up. The best side for the views is on the right.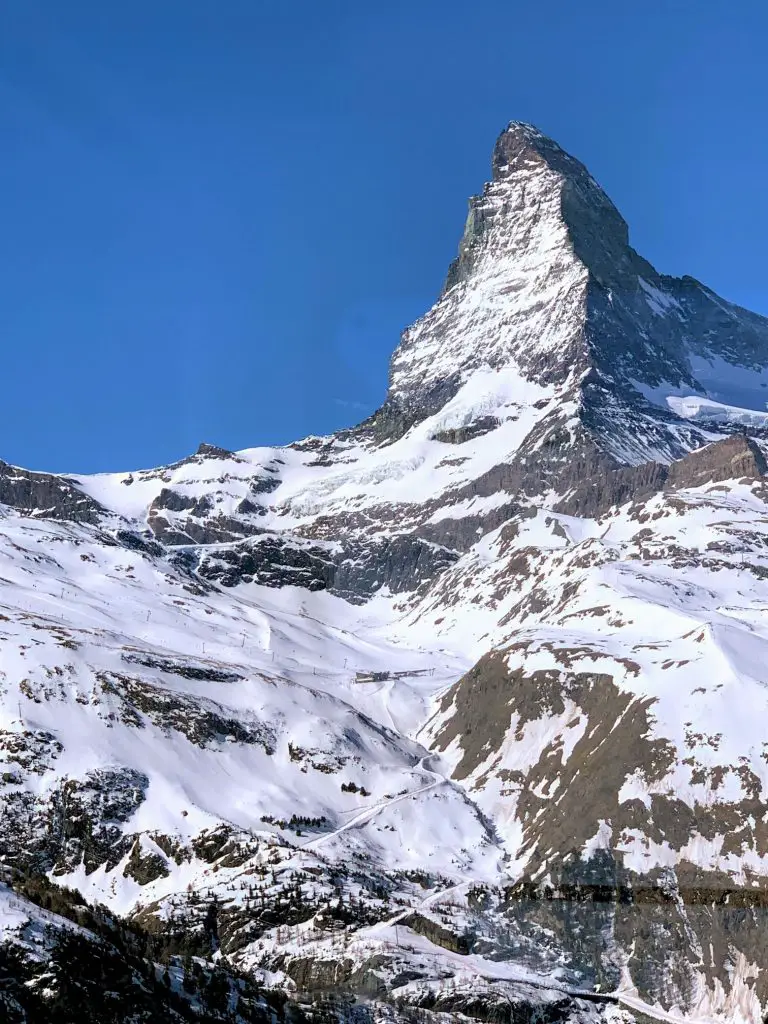 The views outside were completely white the whole ride up. We could see people skiing on both sides. It was a spectacular ride, to say the least.
We reached the top in about 30 min. As the train emptied, we could see the skiers getting their gears ready and swooshing down the slope next to the platform. (While it looks fun, I've never had the desire to learn it so far since given my lack of coordination I'm sure I would head off a cliff at the first chance I got!). We watched the skiers for a bit and then made our way up to the viewing points above the station.
We were at 3100 m and the air was definitely a bit thinner so rather than walk all the way up we decided to take the elevator (the lazy me might have had a part to play in that decision as well!). We got the best views of the Matterhorn once we reached the top and spent some taking pictures.
We trudged up to a higher viewing point as well (no elevators here, unfortunately) and the views all around were beautiful. Snow-covered mountains for as far as you could see. Extremely quiet, except for the wind. The feeling of pure, fresh air while you breathe. With very few tourists there that day, the experience was one of serenity and peace.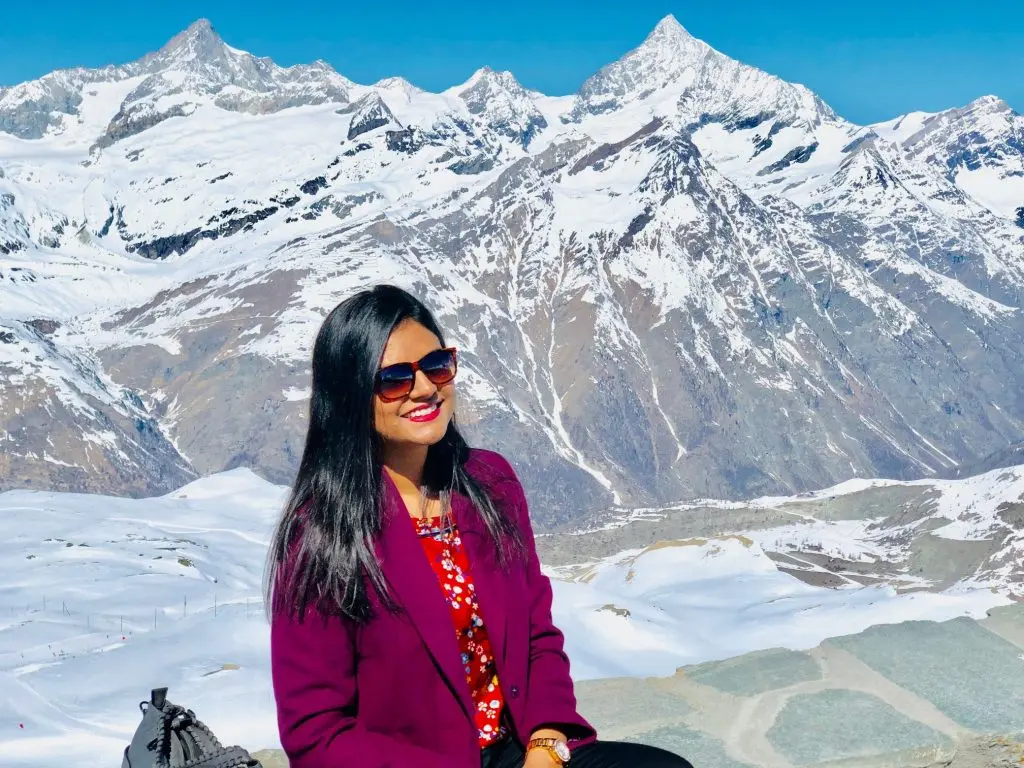 Well, that is until I took one teeny tiny step over a piece of teeny tiny ice and slipped and fell and kept slipping while trying to get back up! My first thought as I went down was – Is my phone ok! Hahahaha, I know. But I had recently broken my phone (less than 2 months back) and I couldn't afford to do the same to my new phone! So as Milind was trying to lift me up (I was worried I'd pull him into the ice as well and we would slip right down the cliff!), I finally managed to put my feet on solid ground and what a relief it was. Not that I needed more, but this was another reason why I do not want to try skiing! I am so afraid of snow and ice! I dusted myself off – thankfully nothing hurt much because of the multiple layers of clothes – and sat down for a rest.
The weather that day was amazing, bright and sunny with not a cloud in sight. It wasn't very windy either so we didn't end up freezing as well. We spent some time at the top then made our way down (very very carefully, avoiding all patches of ice and holding on to the rope on the side for dear life) to the souvenir shop.
We had to buy a Toblerone to take some of the iconic pictures with the Matterhorn after all. So Toblerone in hand, I posed for a while and let Milind do the work. He does take amazing pictures.
As we slowly started making our way down to the station, we saw that the next train was departing in 3 minutes! Forgetting the fall from just minutes ago, we ran all the way down and thankfully caught the train with no more injuries. The train was completely empty going down and we spent the whole time taking pictures.
Back in the village, we started our stroll along the Bahnhofplatz next to the station. There were horse-drawn carriages and electric vehicles waiting there to pick up guests. It was lovely to hear the clip-clop of the carriages going down the road. We walked past storefronts, taking in the beautiful buildings. Down the street, we found Zermatt's pretty church and the Matterhorn Museum. We took a few minutes to pay our respects to the climbers who had been killed in the mountains surrounding Zermatt, many of whom are buried in a small graveyard between the church and the river.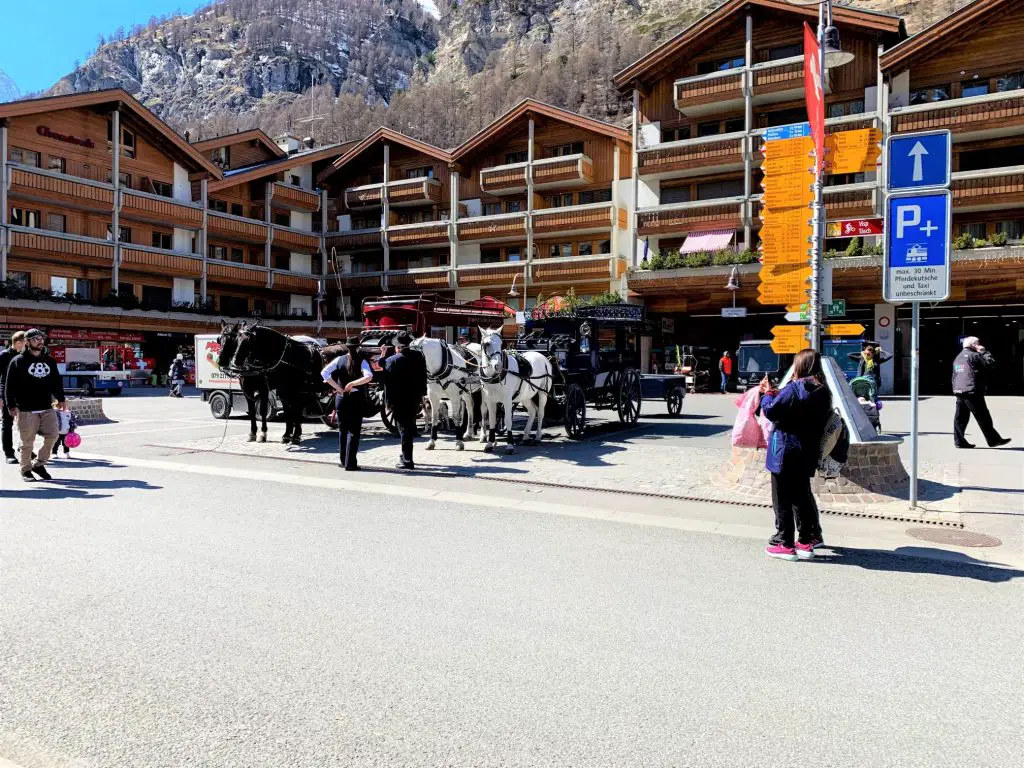 We crossed the Kirchbrücke and walked alongside the river for a bit – it was a beautiful river, bluish-grey in colour, rapidly flowing over its rocky bed. We could also see the Matterhorn from here. No matter how many times we had already seen it, it always felt awe-inspiring to look at.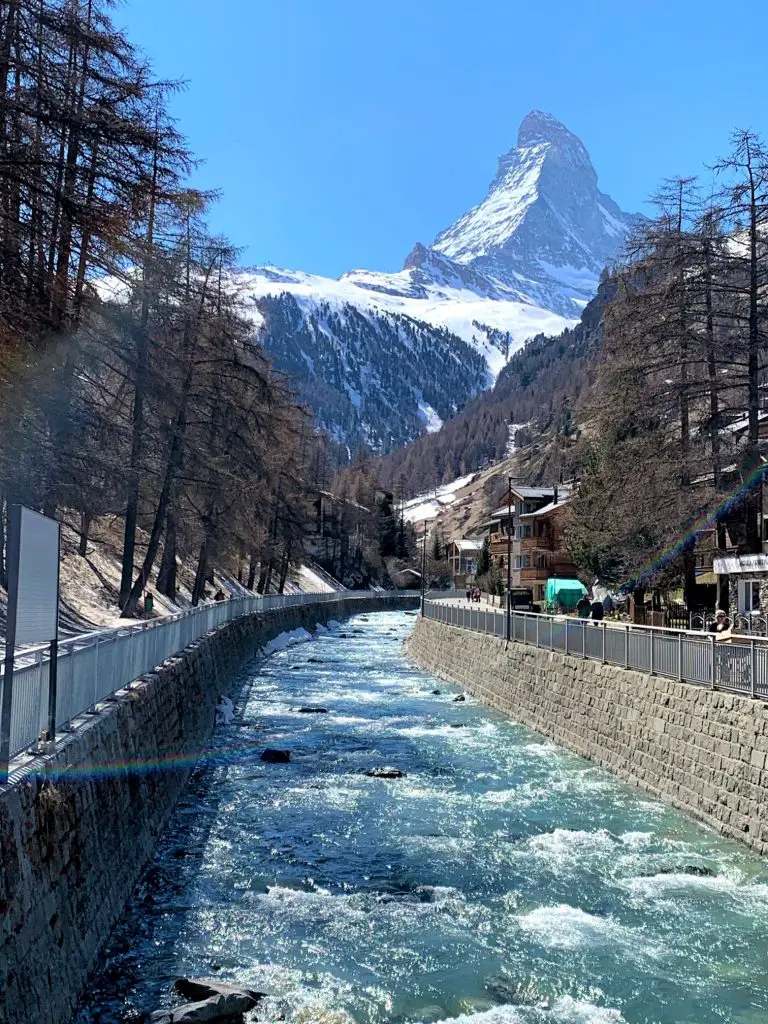 We had bought croissants from a Coop nearby and ate as we walked. (Sitting down for lunch for me is at times a waste of the lovely sunshine hours and of course too expensive!). Our plan was to head up to Sunnegga, a cable car ride away, which we had read was an idyllic, relaxing spot where you can go marmot-watching by the Leisee lake.
However, all the amazing train rides so far had given us another idea – an impromptu Glacier Express! For context, The Glacier Express is a train connecting railway stations of the two major mountain resorts of Zermatt and St. Moritz in the centre of the Swiss Alps. The train is not an "express" in the sense of being a high-speed train, but rather, in the sense that it provides a one-seat ride for an eight-hours-long journey through the glaciers. It is one of the famous train/ mountain excursions here in Switzerland but it's very expensive (150 CHF+ one way).
We already had the day passes for the day and knew the route the Glacier Express takes – didn't take a genius on how to make the most of it!
Read more soon on how to do the Glacier Express without paying for the expensive tickets!
Practical tips for travelling to Zermatt
If you are planning a night stay, plan ahead. It's a small village and good places can get filled up quickly
If you are planning a day trip, check out the weather cams before visiting
Other things to do in Zermatt
Sunnegga – Take a cable car up to Sunnegga and relax at the Leisee Lake
Do the 5 lakes hike – we've been wanting to do this one for so long!
Check out more hikes here – there are more than 70 hikes that can be done in Zermatt!
Matterhorn glacier paradise – The highest cable car station in Europe. It offers fantastic views. You can buy tickets at the station or online.
Here's a list of viewpoints to take in the stunning Matterhorn
Have you been to Zermatt? Let me know what you loved the most about the place?
If you found this useful, please share and spread the word.
Ciao!
Pin it for later.