Mt. Rigi is our go-to day trip for family and friends visiting us. It offers an all-encompassing experience of all that's wonderful about Switzerland. A trip to Mount Rigi from Lucerne includes a cruise on the delightful Lake Lucerne, a ride on a steep funicular, spectacular views from the Rigi cogwheel train, a beautiful mountain top and stunning views across Central Switzerland – and surprisingly few tourists.
There are 13 lakes that you can see from the top! On a clear day, even the sharp peaks of several Jungfrau giants are visible. A visit to Mount Rigi is fully covered under the Swiss pass. Need I sell the place more?! Make sure it's on your list of places to visit!
Read on for a detailed guide to visiting Mount Rigi, including transportation, tickets and timings and the best photo spots.
Planning a trip to Switzerland? Click here for a detailed travel guide to Switzerland – including the best time to visit, itinerary options (for 3, 5, 7 or 10 days), visa, transportation in Switzerland (including Swiss Pass), and more!
Here are more ideas for your trip to Switzerland: 25 best places to visit in Switzerland!
Note: This post contains some affiliate links. This means if you make a purchase through these, I may earn a small commission, at absolutely no extra cost to you. Thank you for your support!
Here's what's in store for you
About Mount Rigi
The highest peak on Mount Rigi is the Rigi Kulm, at 1797 m. Rigi Kulm is where you should head to for a 360-degree panorama across the Swiss Alps. The funicular that takes you up to the peak is Europe's oldest mountain railway – clearly, the beauty of this place is long known!
Make sure you check the Mt Rigi weather webcam before you visit.
Have limited time in Switzerland? Here's a 5-day Switzerland itinerary to take in the best of the country!
What is the best time to visit Mt Rigi
Mount Rigi is open for visits all year round – from hiking in the summer to skiing in the winter, there are plenty of activities available for visitors.
We have visited the mountain in April, June and July and have found it breathtaking every time.
How to get to Mount Rigi from Lucerne or Arth-Goldau
There are multiple ways to reach Rigi Kulm,
From Vitznau: Take the Mt Rigi cogwheel train. It starts right next to the ferry terminal.
From Weggis: Take the cable car up to Rigi Kaltbad and change to the Mt Rigi cogwheel train up to Rigi Kulm. The cable car station is located about a 10 min walk from the ferry terminal
From Arth-Goldau: Take the Mt Rigi cogwheel train. It starts right next to the main train station.
You could drive or take public transportation to the above starting points from Lucerne or Zurich. See here for detailed information on getting to the valley stations, including parking.
I would highly recommend heading to Mt. Rigi from Lucerne taking the following route to make the most of your experience,
Take a ferry from Lucerne to Vitznau. You can buy a round trip ticket for the entire journey up to and back from Rigi Kulm right at the ferry ticket counter.

Take the mountain railway from Vitznau to Rigi Kulm

To get back, take the mountain railway from Rigi Kulm to Arth Goldau and take the train back from Arth Goldau to Lucerne/ Zurich OR 

Take the mountain railway from Rigi Kulm to Rigi Kaltbad and take the cable car down to Weggis. From Weggis, take the ferry back to Lucerne
Here's an overview map of the region.
Mt. Rigi Tickets/ Prices and Schedule
Ticket per adult for a day in Mount Rigi costs 72 CHF. This includes all the mountain railways and cable car. Tickets can be purchased at the train station or online. If you have a Swiss travel pass, the entire excursion is covered at no extra charge! Swiss half fare card is also applicable.
Ticket per adult for a round trip ferry ride from Lucerne to Vitznau costs 38 CHF.  Tickets can be purchased at the ferry terminal (located right opposite the main train station in Lucerne). This is also entirely covered in the Swiss travel pass. Swiss half fare card is also applicable.
See here for the latest schedules of the mountain trains and the cable car.
See here for the latest schedules of the ferries to and from Lucerne.
Where to stay to visit Mt. Rigi
Lucerne or Zurich are both ideal for this trip. If you're staying in Zurich, add about 45 min – 1 hour travel time for this excursion.
Guide to visiting Mount Rigi
We have already been to Mt. Rigi thrice in about 4 months! That is how much we love this place!
On our latest trip, we drove to Lucerne and parked in the lot at the main station. From there we walked to the ferry terminal and bought our tickets. Since there was about an hour before the ferry was scheduled to leave we took a walk around Kappelbrucke – the famous wooden bridge of Lucerne.
We got back to the terminal with about 15 minutes to spare and already there was a large crow of people waiting for the ferry. We managed to make sure we were standing close to the front of the line (we needed to take the best seats on the ferry after all!) and were the first to get on the ferry.
Our favourite seats are the ones located in the open, right at the back of the boat. These are the ones with the best views and from where you can take the best photographs. We do not like sitting in the front of the boat since it's too windy and it's not as much fun as watching the frothing foaming water at the back of the boat.
The ferry ride is a beautiful experience, worth doing standalone as well. The turquoise blue waters of the lake and the high mountains surrounding it make for very picturesque views. The ferry has a small cafe and bar as well so you can enjoy a coffee or a beer.
We reached Vitznau in about an hour and were again standing close to the front of the line – good seats on the mountain train are super important after all! Keep your tickets handy since before you board the train you will need to show your ticket. As soon as you disembark from the boat you'll see the train standing right in front. 
The mountain railway has some very interesting coaches – some are set up as normal coaches with a 4-2 seating plan on both sides of the aisle while some have individual gates into an aisle seating about 10 people. Whichever you choose to sit in, make sure you are on the left side (in the direction of travel) for the best views.
The train ride up to Rigi Kulm is one of our favourite parts of this trip – you get to see views that no other place can offer (and I've been on several funiculars!). As the train climbs steeply up the mountain, we are always left awestruck by how spectacular Lake Lucerne looks down in the distance.
Keep your cameras ready as you can take several fantastic shots of the lake on this train ride!
In the summer we've seen beautiful flowers covering the slopes and the ringing of cowbells around us. In the winters there is a beautiful layer of untouched snow on everything, especially magical looking on the mountains far in the distance.
The ride up to Rigi Kulm (the last station) takes about 30 min but leaves you wanting for more! 
At the station, there are restaurants, shops and toilets available.
While there are beautiful views all around from the station itself, walking up to the summit is even more rewarding. I recommend taking a left as you get down from the train and following the gently sloping paved path up. There is a restaurant with a deck from where you get some amazing pictures.
Continue right from the restaurant – there will be 2 paths heading up. We always take the one on the right which has a gentler slope. As you climb up, there is a small meadow on the right. We've taken some marvellous pictures from that spot.
As you continue walking you'll reach the wooden cow which is again a beautiful photo stop. Also, spend some time looking at the map which identifies the lakes and mountains visible in the distance. We spent some time having our picnic lunch there.
Next, continue on up the path and you'll see more lakes and mountains and an interesting rock with Mt. Emei, China carved on it. It represents the partnership between Rigi and Emei. There is a similar stone at Emei from Rigi.
As you continue walking along the edge, you'll find several more spots to take amazing pictures.
We usually spend about 2 hours at Rigi Kulm and then make our way back. Make sure you check the timetable to plan your return since the frequency of trains is not very high.
Practical tips for travelling to Mount Rigi
Check the weather webcam before visiting – if it's rainy or very cloudy, don't bother since the views will be blocked by the clouds. Instead, if you're based in Lucerne see if you can cover other places such as the Lucerne town which is not quite as weather dependent.
Dress in layers – with the sun shining down, it can become quite warm but if it's windy it could become super cold, especially up at the summit.
Other activities at Mount Rigi
If you feel adventurous, there are multiple hiking trails on Mt. Rigi. Here's where you can find more details.
Mt Rigi or Mt Pilatus
A question we are often asked by our friends or family visiting is Mt Rigi vs Mt Pilatus. Our recommendation is always Mount Rigi for the following reasons,
Mount Rigi offers better views and has a much larger area at the top of the mountain to explore and enjoy

Mt Pilatus is too popular which leads to huge crowds. We have visited Mt Pilatus several times across the year and it has always been quite crowded, especially during July – August

Mt Rigi with Swiss pass is free while Mt Pilatus is not (there's a discounted rate available with Swiss pass)
Mt Rigi or Mt Titlis
Short answer – both!
There are very different experiences to be had at either of the mountains and both are worth a visit. Mt. Titlis is always covered in snow and is one of the best mountains in Switzerland to visit (cheaper than Jungfraujoch and better views!) to see glaciers and indulge in snow activities.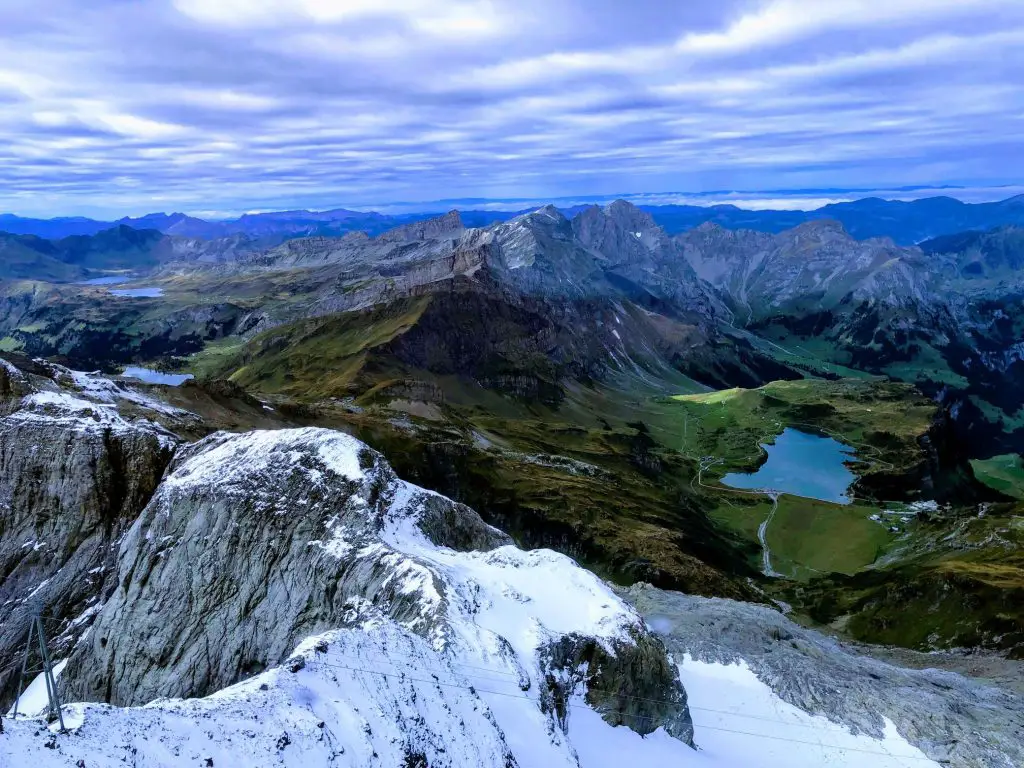 Mt. Rigi offers different experiences depending on the weather – snow activities during the winter and hiking during the summer.
So if you can, visit both! Base yourself in Lucerne from where both Mt Titlis and Mt Rigi are easy to visit.
Have you been to Mt. Rigi? What has been your favourite mode of travel?
Are you planning a trip there? Let me know if you have any questions.
If you found this useful, please share and spread the love!
More information for your trip to Switzerland:
Pin it for later.