The Netherlands is famed for its vibrant flower fields and is a must-visit destination during Spring when it transforms into a riot of spectacular colours. Visiting Holland for its flowers is a bucket list experience and one of the best things to do in Europe. It's ridiculously easy to see and enjoy Tulips (and lots of other flowers) in and near Amsterdam – continue reading below for the complete guide.
Note: This post contains some affiliate links. This means if you make a purchase through these, I may earn a small commission, at absolutely no extra cost to you. Thank you for your support!

What is the best time to visit Amsterdam to see Tulips?
Flowers in Holland are at their best from Mid March to early May. The season starts with Crocuses in March, followed by Daffodils and Hyacinths. Tulips are at their best around mid-April.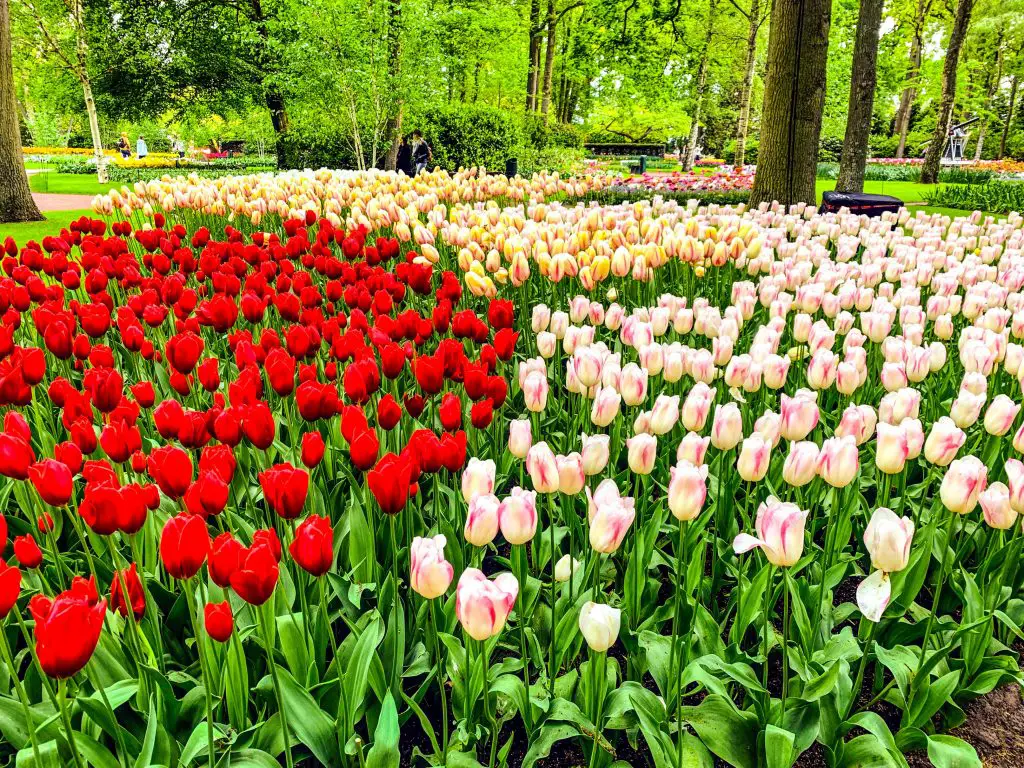 Where can you see Tulips near Amsterdam?
Tulips are a worthy Amsterdam Bucket List addition and there are lots of ways you can see them in and around Amsterdam.
Keukenhof Gardens – The spectacular Keukenhof Gardens are one of the best places to see Tulips near Amsterdam. Featuring more than 800 varieties of Tulips and other flowers such as Daffodils and Hyacinths, these Gardens are magnificent. Keukenhof attracts more than a million visitors every year – during it's run of just 2 months! So you need to be prepared to make the best of your experience here. Continue reading below for more details on how to have the best time at Keukenhof Gardens.
Amsterdam Tulip Festival – This annual festival showcases blooms across 80+ locations in Amsterdam and runs from late March – April/ May.
Flower Strip – Located between Haarlem and Leiden in North Holland, the Flower Strip's rows of flower fields stretch for 20 miles. The best way to take in this strip is on a bicycle! When in Holland, pick up the most Dutch of vehicles! Visit between mid-March to mid-May to see the most vibrant colours. Combine a trip to Keukenhof with a bike ride through the Flower Strip to get the most of your experience with Tulips in The Netherlands.
Floating Flower Market –  The most popular flower market in The Netherlands, the Bloemenmarkt is located on a series of boats on the Singel canal in the city centre. Filled with colourful flowers, it's a beautiful place for a visit, even if you are not looking to buy any bubs.
Amsterdam Tulip Museum – Located in the charming Jordaan neighbourhood, this museum traces the history of tulips in The Netherlands, including the Tulip Mania of the 17th century, the first recorded speculative bubble!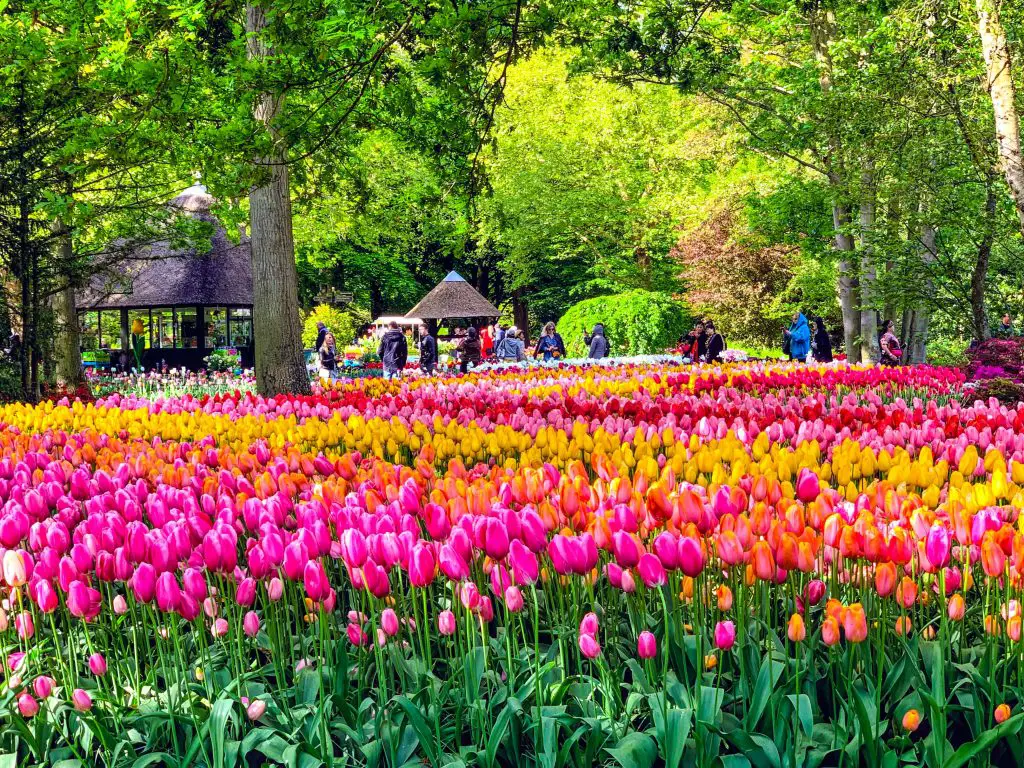 Planning a solo trip to Amsterdam? Here's a handy guide to travelling alone in Amsterdam.
How to visit Keukenhof Gardens to see Tulips?
Keukenhof is one of the world's largest flower gardens located in Lisse in South Holland. Dubbed 'Garden of Europe', Keukenhof lives up to its hype. Despite being a popular tourist destination resulting in lots of crowds, it's one of the best places in Holland to experience the beautiful Tulips, especially if you follow the tips below!
Opening times for Keukenhof Gardens
Keukenhof Gardens open for only 2 months every year, from the end of March to early May, including Sundays and holidays. Check out the opening dates and times on their website here.
Tickets for Keukenhof Gardens
An adult ticket for Keukenhof Gardens costs EUR 17.5 while a child's (aged 4 to 17) ticket costs EUR 9. You can also buy a combi ticket which includes return bus ticket from Amsterdam/ Schiphol airport/ Several other cities. Unless you are renting a car, the combi ticket is the best choice.
Buy your tickets here. You can also buy tickets at the gate but to avoid queues its best to buy your tickets online and just breeze through!
When is the best time to visit Keukenhof Gardens?
The flower season at Keukenhof starts with early Tulips, Daffodils and Hyacinths in March. Larger Tulips can be seen later in the season. Mid of April would be the best time to see the flowers at their best. Weekdays would be quieter than weekends. If you can only make it there on a weekend, make sure you get there as soon as the Gardens open so you can enjoy the place with the fewest number of people.
We visited in the third week of May, on a weekend. We got there on the first bus and found the gardens mostly to ourselves for a few hours!
How to get to Keukenhof Gardens?
It's very easy to do a day trip to Keukenhof Gardens from Amsterdam.
Keukenhof Gardens By Car
If you are driving, the GPS coordinates for the Gardens are 52°15'56.5″N 4°32'56.2″E. There is ample parking (paid) available.
Keukenhof Gardens By Public Transportation
Multiple buses run directly to Keukenhof Gardens from several locations. Buy a combi ticket based on your location to avoid worrying about purchasing a bus ticket.
Keukenhof Gardens from Schiphol Airport
Direct buses run from Schiphol Airport to Keukenhof Gardens. Head to Arrival Halls 4, close to the Starbucks and take bus 858. You will be able to spot it easily – there will be signboards as well as a queuing area. The journey takes ~30 minutes. Try and take as early a bus as possible to reach the gardens by opening time. 
We took the bus at around 7:30 am and while there was standing space only, we decided to go ahead rather than wait for the next bus.
Keukenhof Gardens from Amsterdam
There are several options to travel to Keukenhof Gardens from Amsterdam:
Bus 852 runs directly from Europaplein (RAI) Metro Station in Amsterdam to the Keukenhof Gardens.
Bus 859 runs from Hoofddorp Station to the Gardens. This station can be reached from Amsterdam City Center on bus 397, from Amsterdam Zuid Station on bus 341 and from Amstelveen Bus Station on bus 300
Keukenhof Gardens from other cities
Bus 50 from Haarlem Station, Bus 854 from Central Station Leiden and Bus 90 from Katwijk and Noordwijk run directly to Keukenhof Gardens. 
What are the best photo spots in Keukenhof Gardens?
Keukenhof Gardens are huge, covering an area of over 70 acres and you can easily spend a day walking around it. 7 million flower bulbs are planted at Keukenhof every year so there's a lot to see (and smell! The perfumes of the flowers are just as overwhelming as the colours!). 
Grab a map from the park entrance or download one online and get started exploring the gardens.
The prettiest areas of the park (though to be fair, the whole park is spectacular!) are around the pond near the Wilhelmina pavilion and around the windmill – basically the two opposite ends of the park. 
We started with the pond which has beautiful fountains and huge flower beds near it. The landscaping around the place is absolutely extraordinary.
The pavilions always have dazzling displays of beautiful flowers that can be easily mistaken for art. Check out which flower shows are available at each pavilion here.
As you make your way towards the windmill, you will come across beautifully planted rows upon rows of tulips and typical Dutch items such as clogs and bicycles serving as flower pots!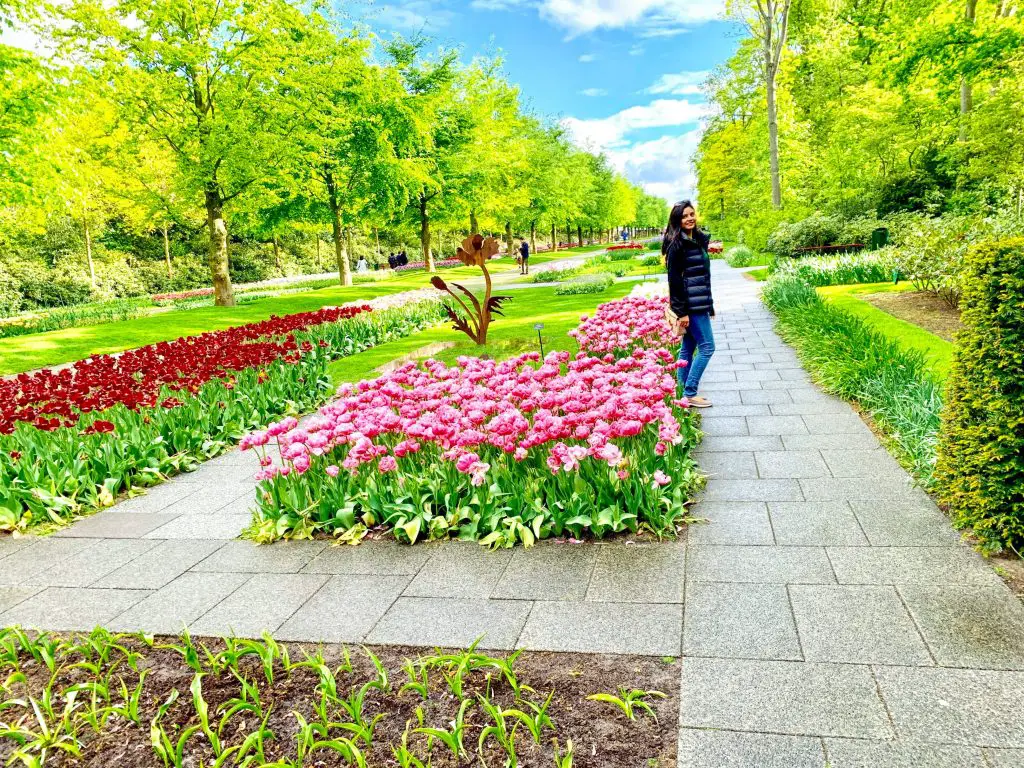 The area around the windmill is absolutely gorgeous. Climb up to the top of the windmill for views over huge flower fields. You can also purchase tickets for a boat ride from here among the flower fields. When we visited last year the flower fields had already been cut so we missed out on this!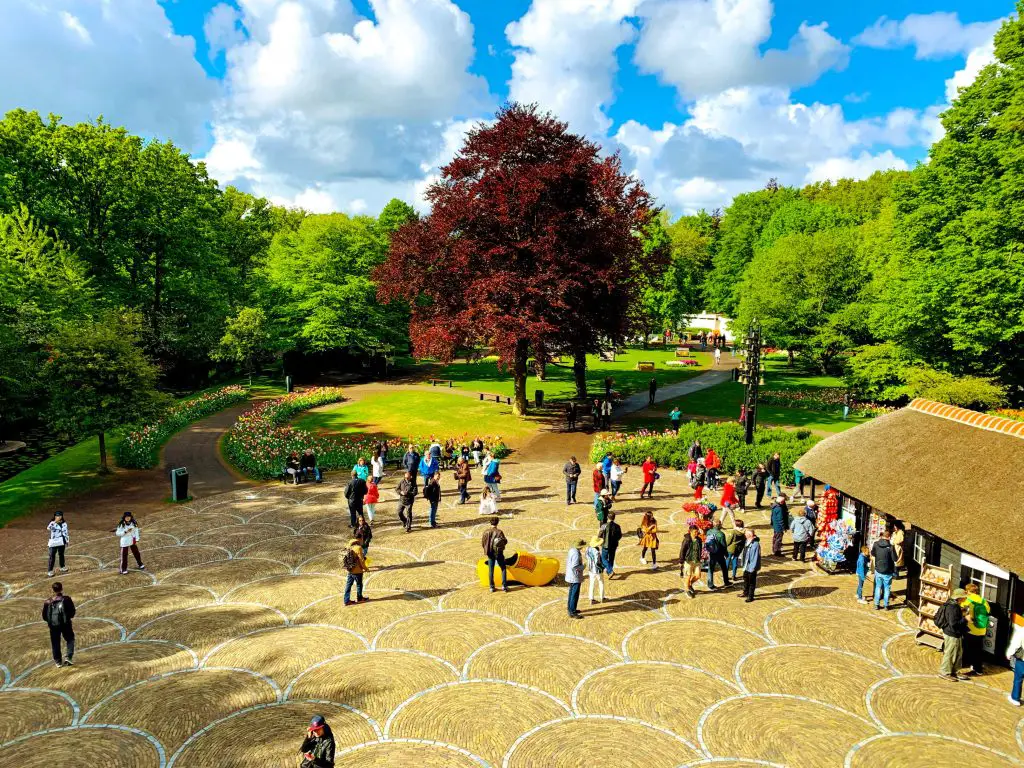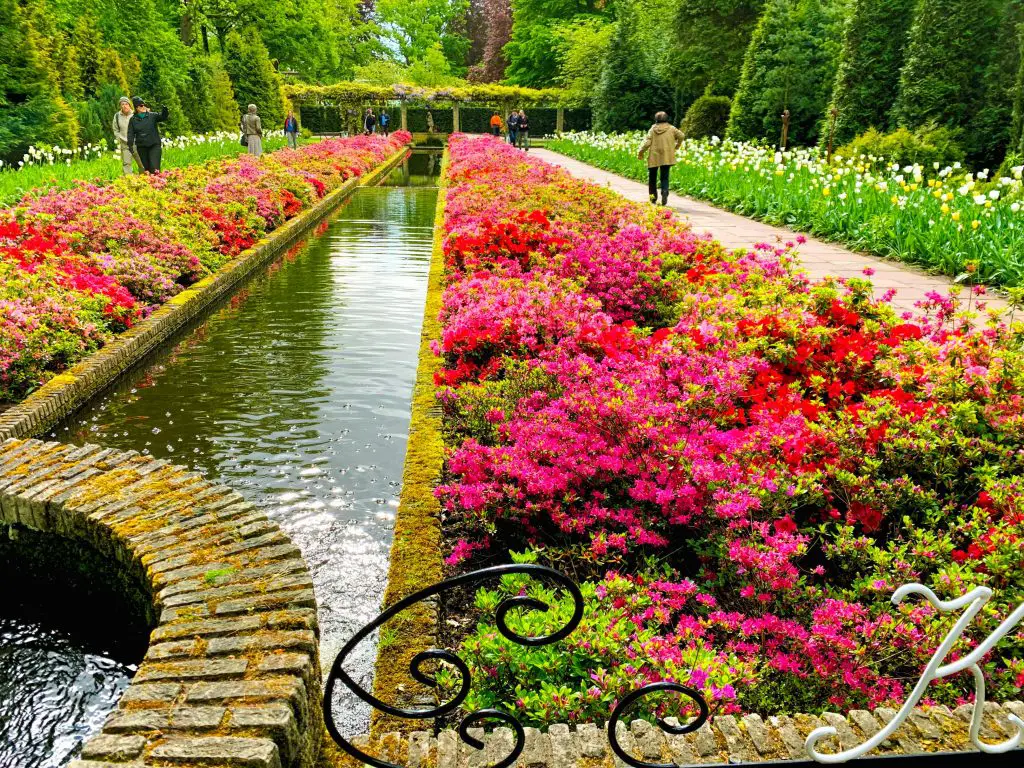 Tips for visiting Keukenhof Gardens
Let me repeat myself by saying: Get there early! You do not want to be stuck between crowds at such a beautiful location. During our visit, the gardens were at their most crowded around late morning/ midday when tourist buses started rolling in. 
While there are restaurants inside the Gardens, they tend to get very crowded and are expensive. Bring your own picnic and enjoy it out in the sunshine near the windmill! Grab a cone of ice cream from the many vendors along your walk to finish off your meal.
What else can I do around Keukenhof Gardens?
Rent a bike and explore the Flower Strip! You can rent a bike from Keukenhof Gardens and bike on routes ranging from 5 km to 25 km.
Take a trip to Zaanse Schans, a beautiful Dutch town with historic windmills
Where to stay to visit Keukenhof Gardens?
Stay in Lisse to be close to the Gardens and ensure you are there as soon as they open.
Stay in Noordwijk to be close to the beach.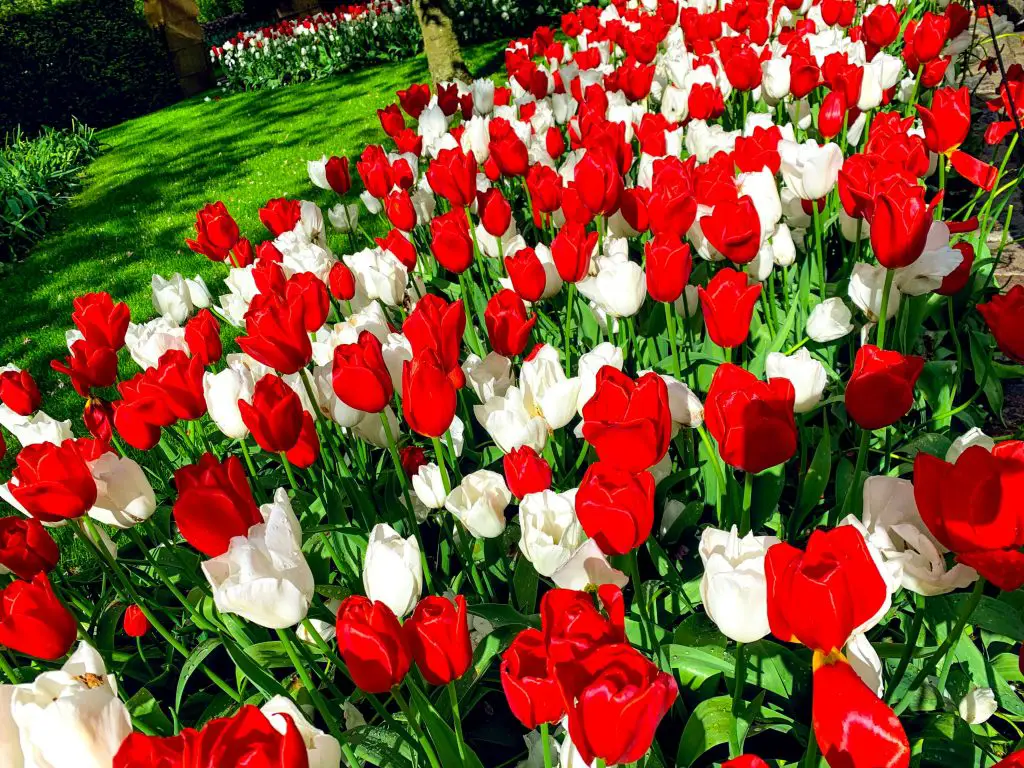 Stay in Haarlem to be on the Flower Strip.
Stay in Amsterdam 'coz, well it's Amsterdam!
Have you seen the Tulips in Amsterdam or The Netherlands? Which was your favourite place?

Are you planning a visit soon? Let me know if you have any questions.

If you found this useful, please share and spread the love!
Pin it for later!