Zurich is a vibrant cosmopolitan city steeped in culture and history dating back 5000 years. A beautiful river and a stunning lake surrounded by lush green hills add to the charm of this city.
I've lived in Zurich for a couple of years and can already understand why it ranks so highly on the list of cities with the world's best quality of life. Head on to Zurich to discover for yourself and be prepared to be amazed at the plentiful opportunities (and mostly free ones!) for leisure, enjoyment and relaxation and the beautiful cultural and gastronomic diversity.
Planning a trip to Switzerland? Click here for a detailed travel guide to Switzerland – including the best time to visit, itinerary options (for 3, 5, 7 or 10 days), visa, transportation in Switzerland (including Swiss Pass), and more!
Here are more ideas for your trip to Switzerland: 25 best places to visit in Switzerland!
Note: This post contains some affiliate links. This means if you make a purchase through these, I may earn a small commission, at absolutely no extra cost to you. Thank you for your support!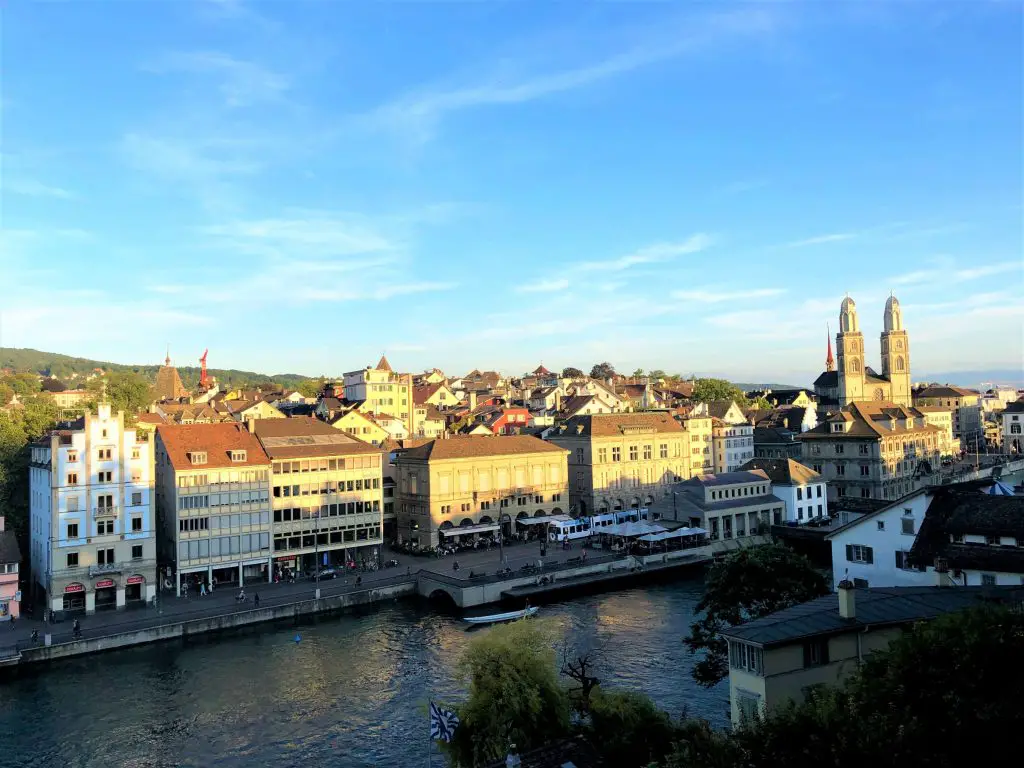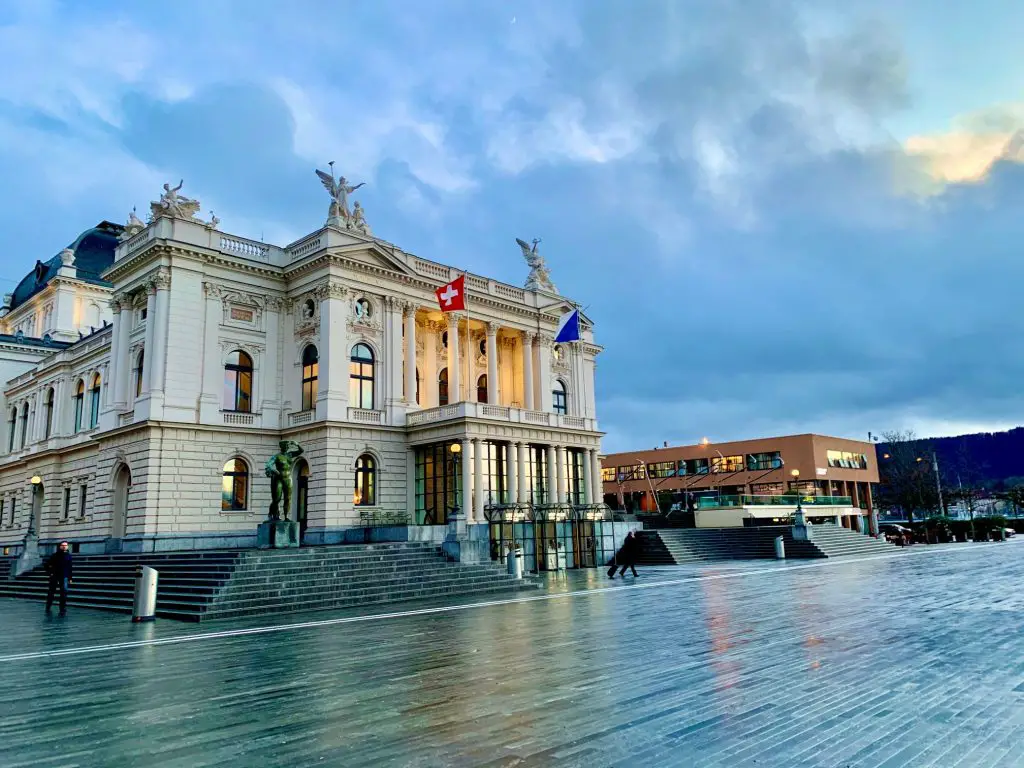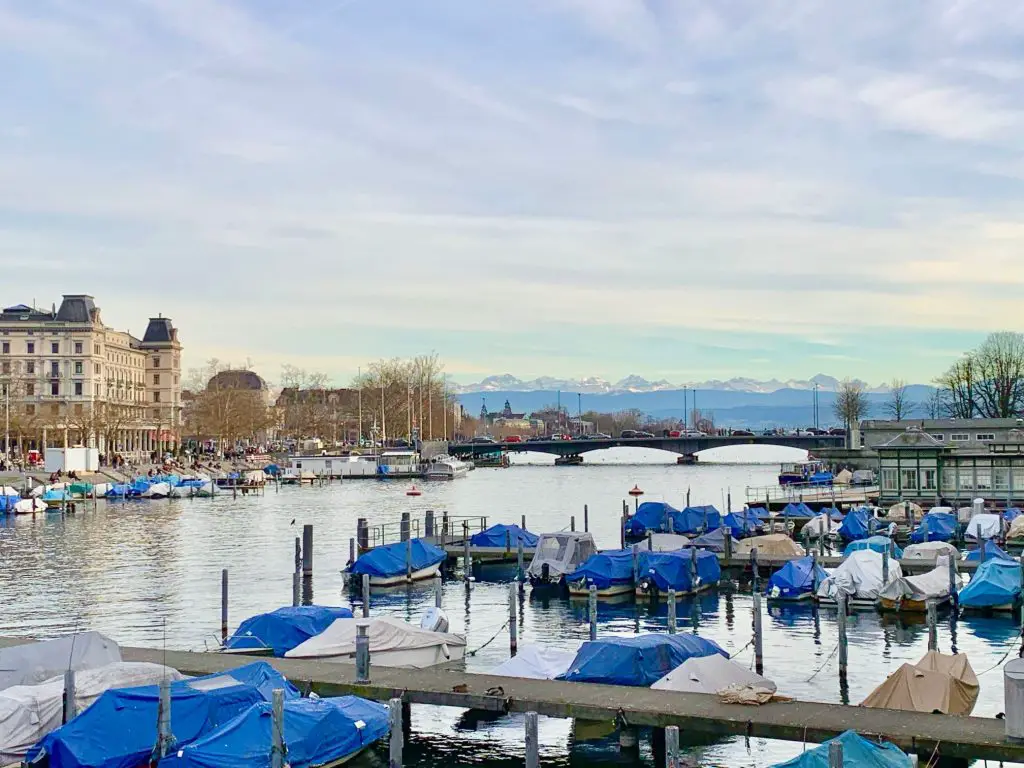 Things to do in Zurich – All year round 
Stroll along the Bahnhofstrasse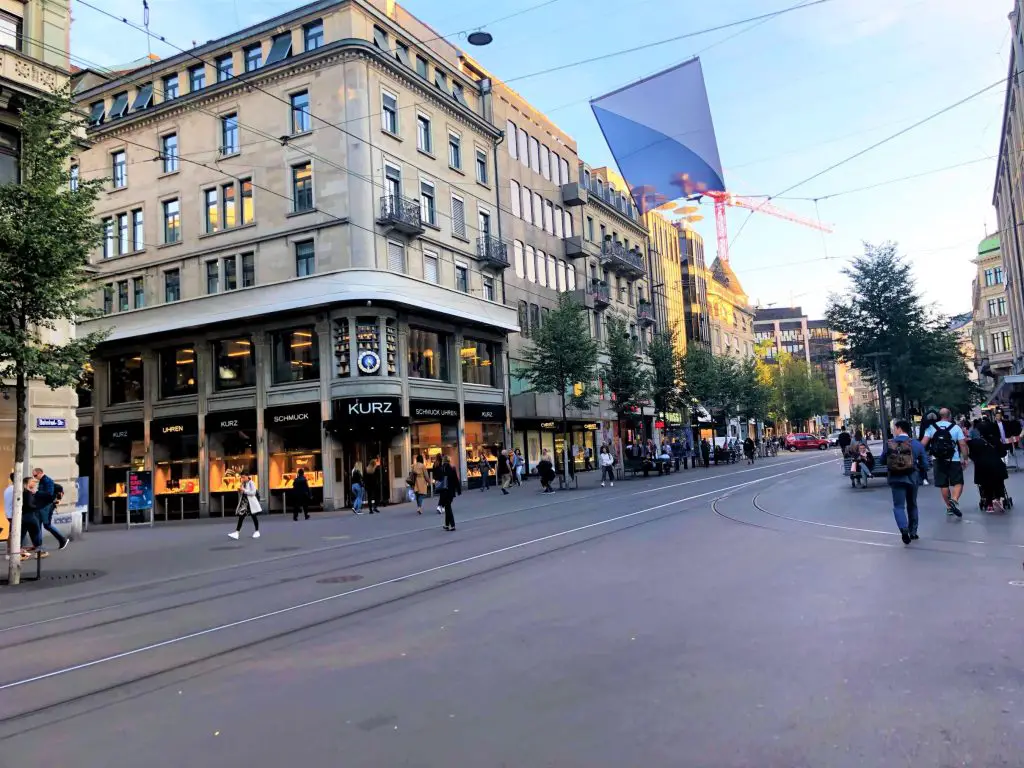 The famous shopping boulevard of Zurich, Bahnhofstrasse is where you should start your day exploring the city. The Bahnhofstrasse connects the lake to the main train station and is ~1.5 km long. Start from the main train station and head into the street – just follow the crowds and you won't miss it! 
Bahnhofstrasse is a tram-only street, lined with shops, cafes and restaurants. While there are multiple high-end stores, there are several department stores also located here where you can shop. Switzerland is expensive so don't expect to find cheap bargains! January and July though are great times to visit since most stores have products on sale.
Have limited time in Switzerland? Here's a 5-day Switzerland itinerary to take in the best of the country!
Visit Lindenhof
Take a turn from Bahnhofstrasse into Rennweg (another charming shopping street) and head towards the historic spot of Lindenhof. Located on a hill, you can look out over the river, the old town and the mountains from this spot. Lindenhof is steeped in history – it has been an important meeting point since the 4th century when a Roman fort was built here.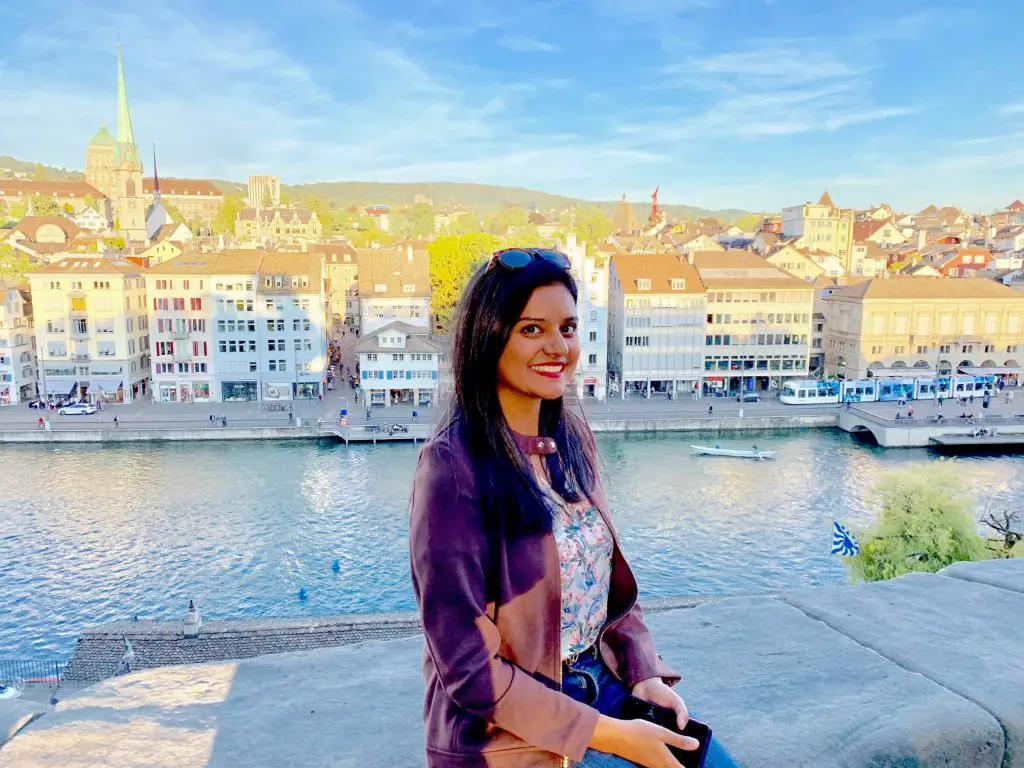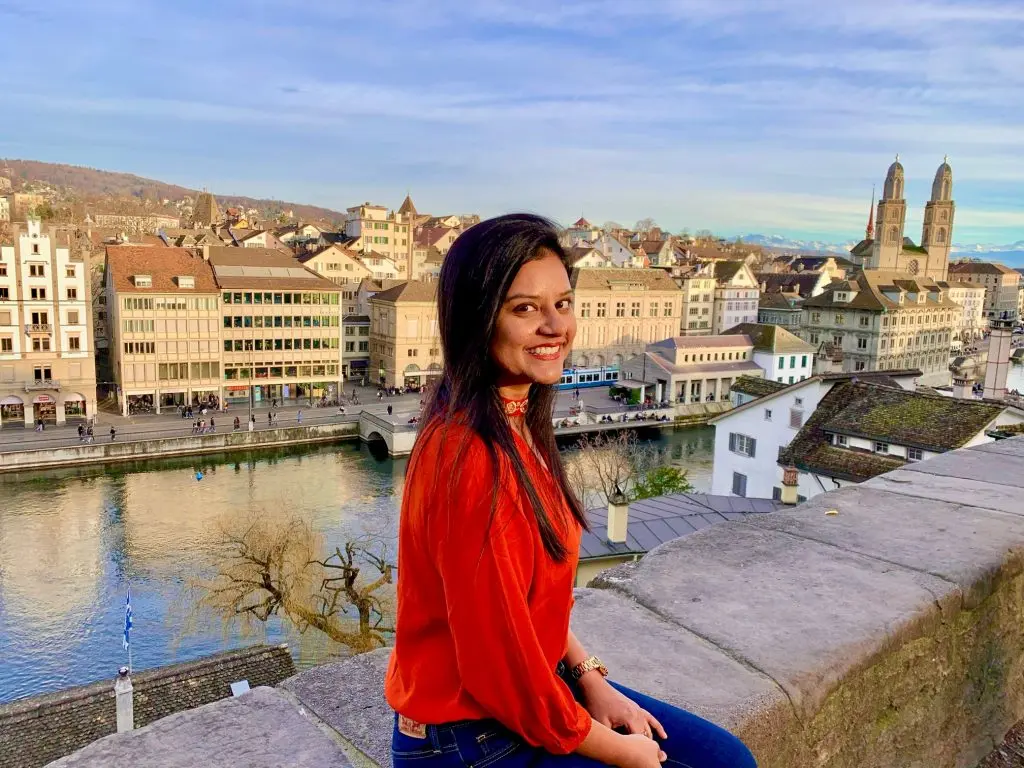 Transport yourself back in time at the Zurich Old Town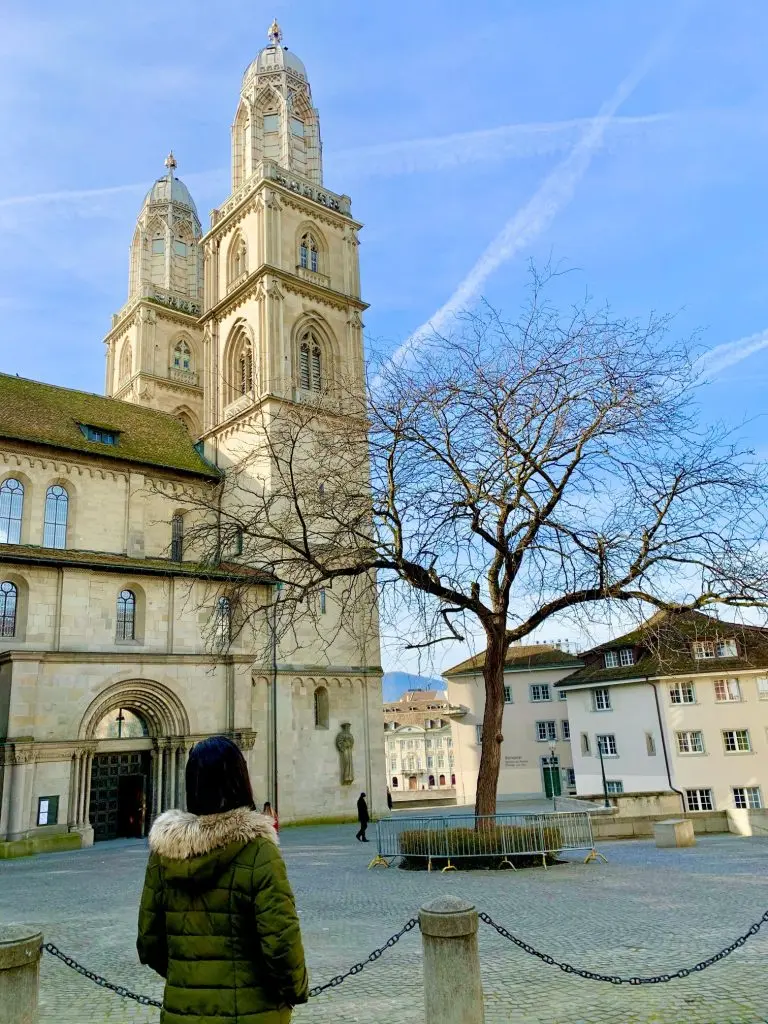 From Lindenhof, walk towards Niederdorf, the charming old town district. Car-free, cobbled stone streets lined with boutiques and small shops – this area combines the best of history, architecture & shopping! Stroll along the Limmat river taking in the beautiful old town and the romantic streets.
Also located here is the landmark of Zurich – the Grossmünster church. The twin spires of the church are as recognizable as the glamorous Bahnhofstrasse. Beautiful bronze doors and stained glass windows add to the delight of visiting this church.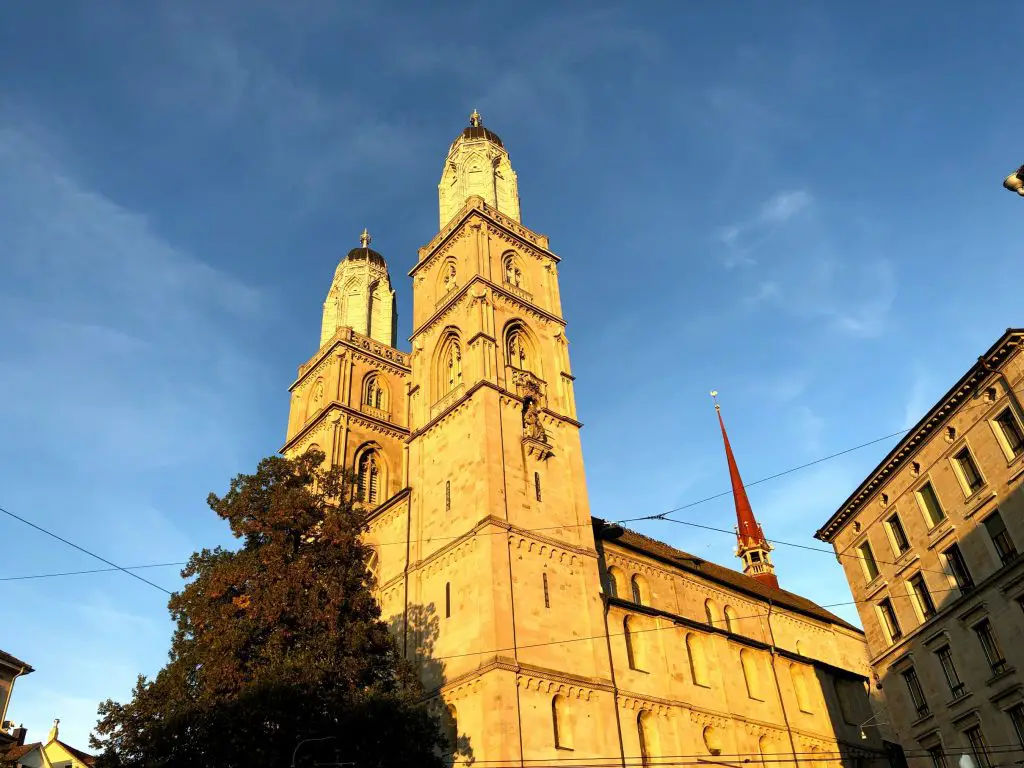 Cross the bridge across the Limmat and you'll find yourself at the Fraumünster church, another of Zurich's highlights. More than 1000 years old, this church is known for its stained-glass windows by Chagall.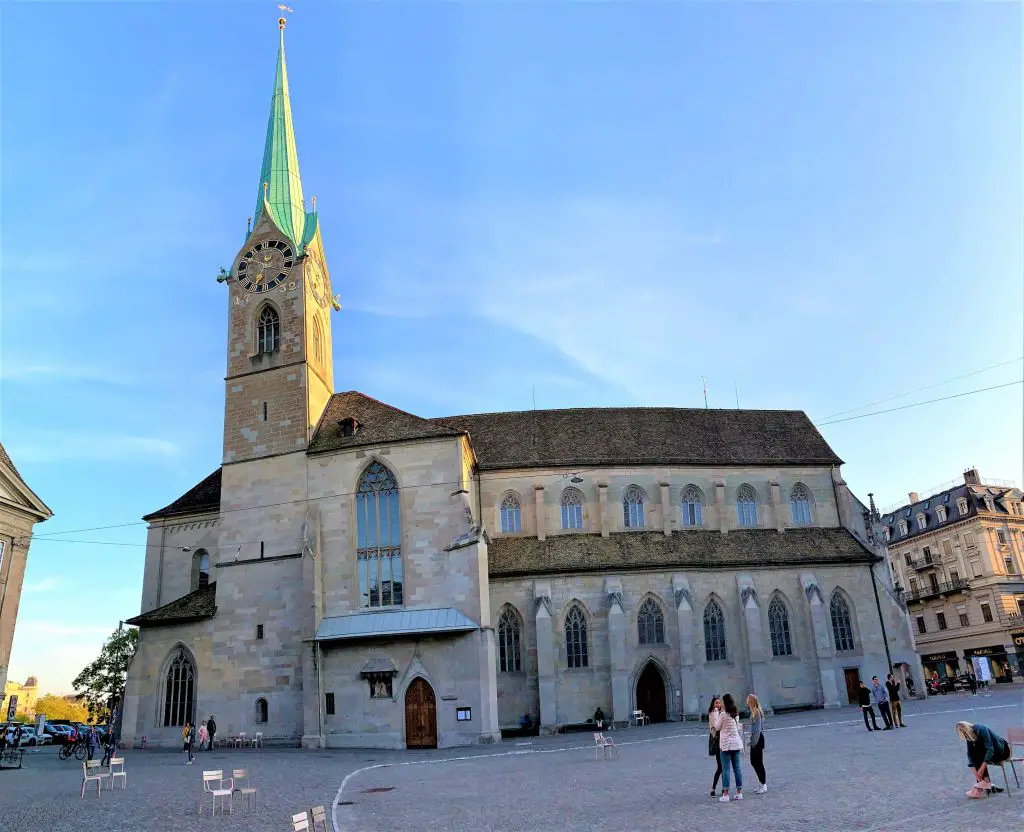 Relax at Sechseläutenplatz
As you walk from the old town towards the lake you'll come to one of the largest squares in Switzerland – Sechseläutenplatz. Located between the Zurich Opera House and Bellvue, this square has several cafes and restaurants around it making it the perfect spot for a lunch break. This square is also the site for the spring festival of Sechseläuten.
Catch a show at the Zurich Opera House if you have the time – it offers a very diverse array of performances and is one of the most renowned in Europe.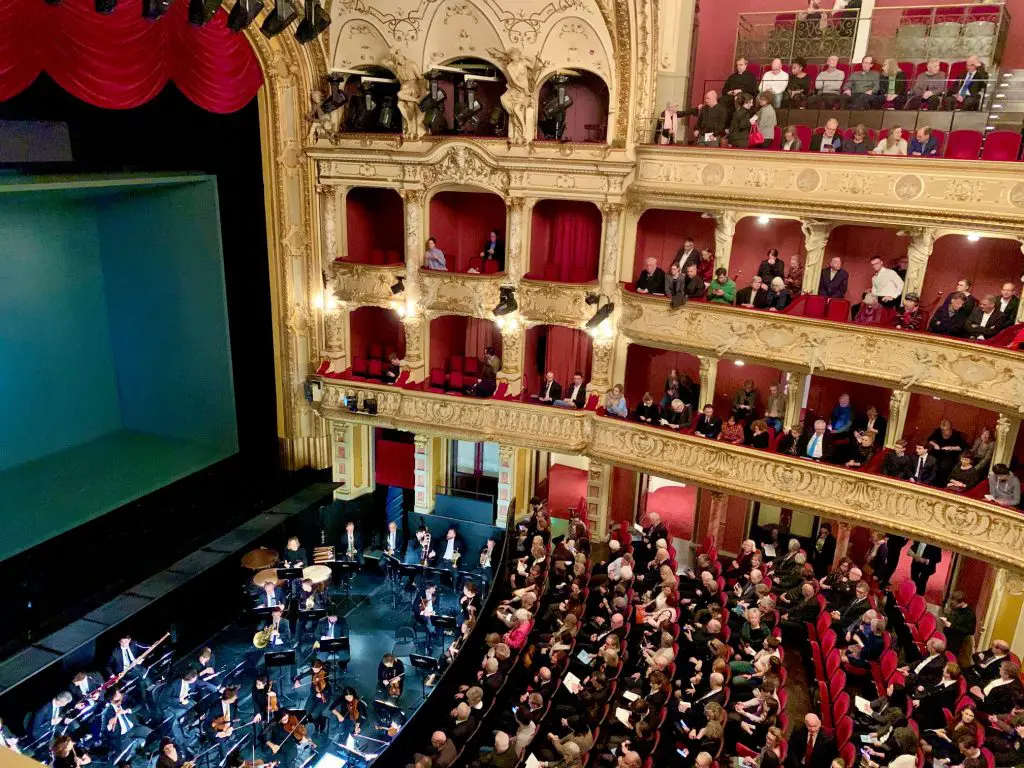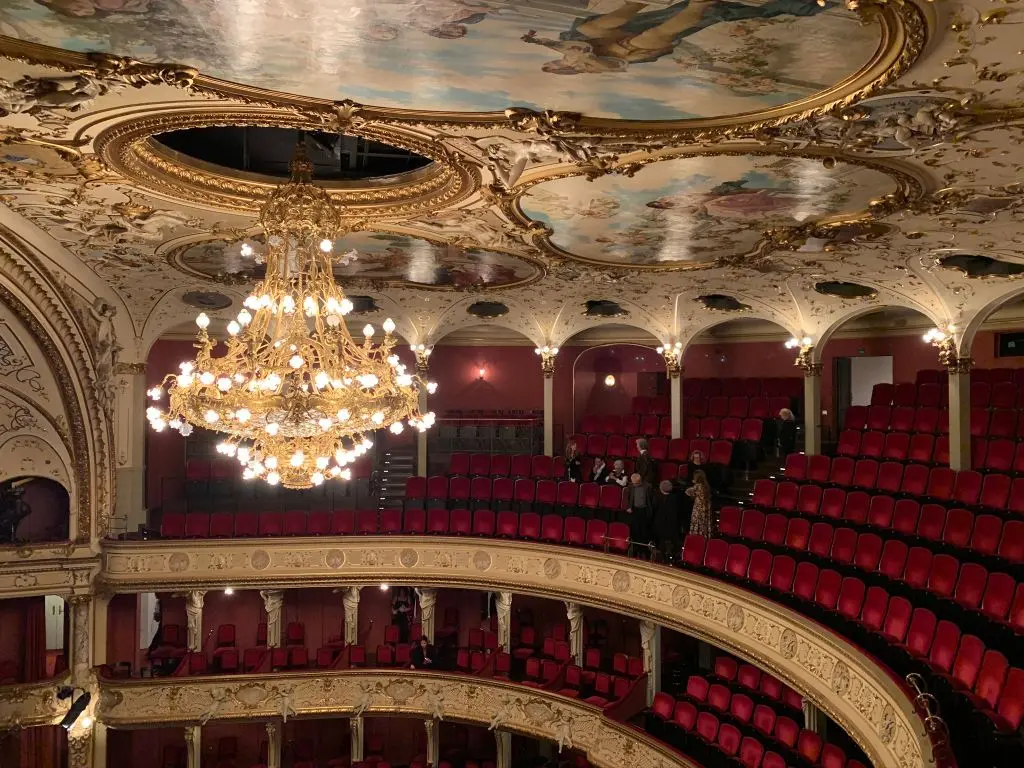 Enjoy Lake Zurich 
One of Switzerland's largest lakes, Lake Zurich is a sight to behold. 
Take a stroll along the lake promenade which is right next to the Sechseläutenplatz. There are plenty of places to sit and enjoy the views and maybe get ice cream too!
Another fun way to explore the lake is to take a cruise. Head to one of the nearby towns such as Rapperswil or Thalwil or just enjoy the scenery on a round trip cruise! Head to the ticket and information centre located near Bürkliplatz (a short walk along the lake from  Sechseläutenplatz) to get your tickets.
Delight in the panoramic views at Uetliberg
Zurich's own mountain, Uetliberg is the perfect place to get panoramic views across the lake and the city. You can take the train up to the mountain and walk 10-15 minutes to reach the summit. There are several hiking routes on this mountain where you can enjoy hiking in the summer and sledding in the winter.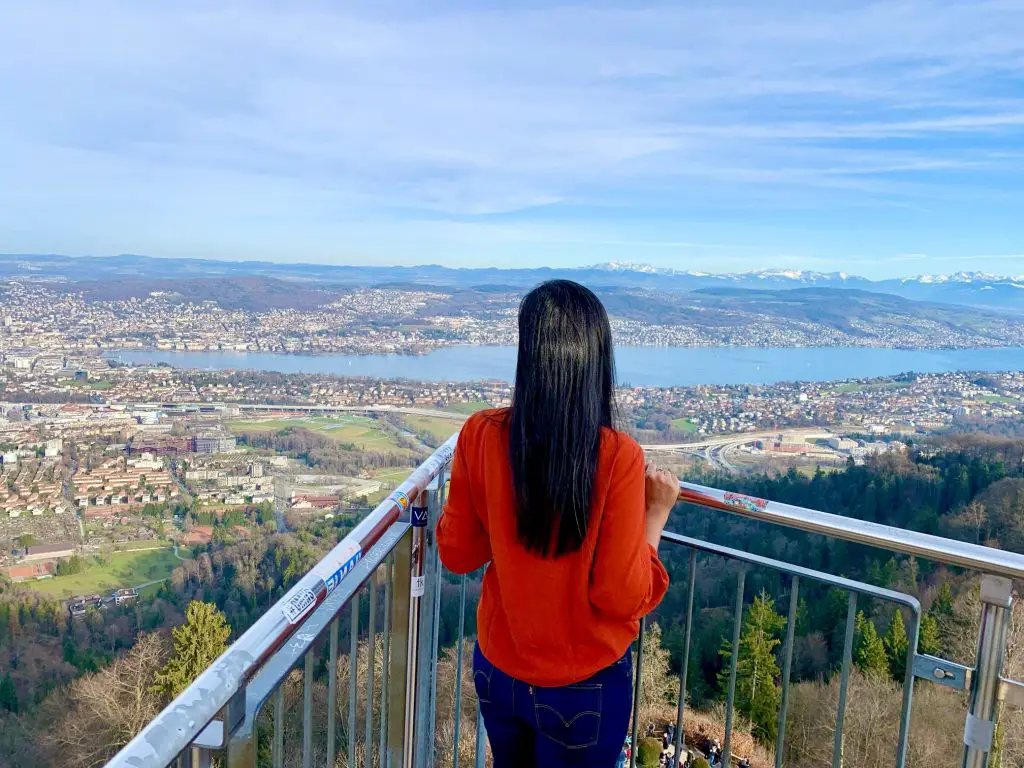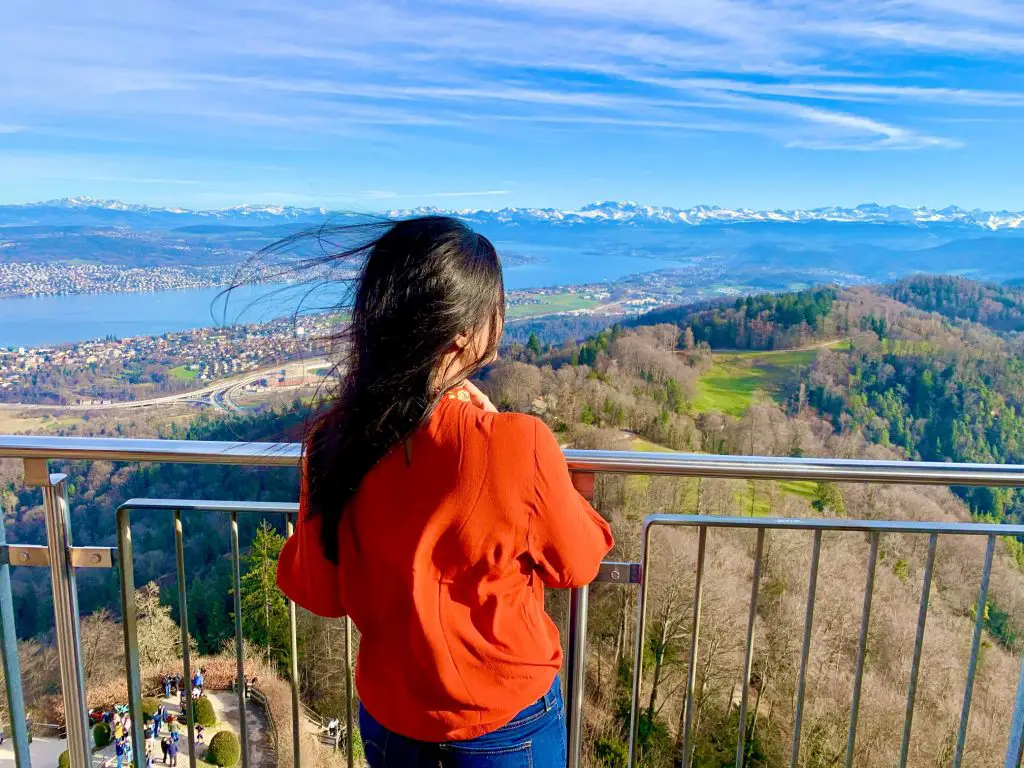 I can see this mountain from my balcony and I love watching the weather change over it – a fresh coating of snow in April or bright green trees in June, it's a beautiful sight.
Discover art at Zurich's prominent museums
Several art museums showcase beautiful art collections for art lovers in Zurich. The most renowned of these, the Kunsthaus Zürich houses not only a collection of Classical Modernism but also Swiss paintings and sculptures.
Enjoy Zurich's nightlife
Head to Langstrasse to sample Zurich's diverse bars and clubs or join a pub crawl tour to discover more! If live music is what you are looking for, head here to find the best live music venues in Zurich.
More things to do in Zurich – In the summer/ spring
 Go hiking
Zurich offers the best of both worlds – a beautiful city steeped in history & culture and numerous outdoor activities within an hour/ ninety minutes! Some of the most spectacular hikes, with sweeping panoramic views and some of my favourites, can be found at the mountains of Rigi, Uetliberg and Stoos. All these are easily reachable by public transportation.
Here's my complete guide on visiting Mt. Rigi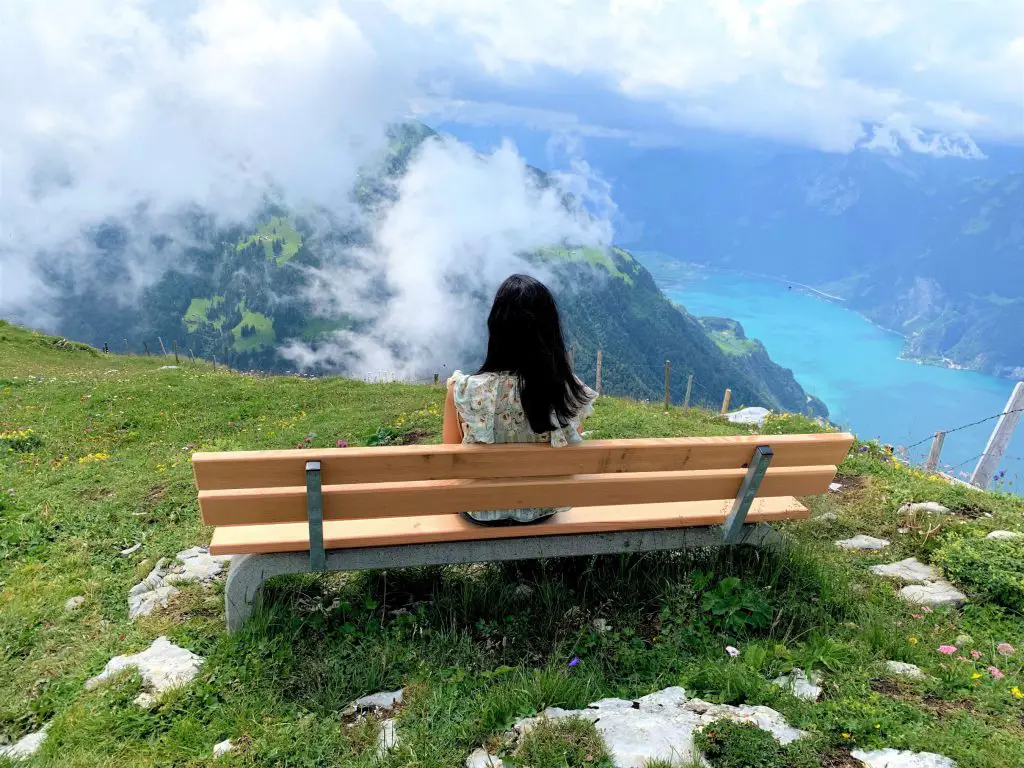 Take a dip
Fancy a swim with a view of the Swiss Alps? Head to Seebad Enge or the historic Seebad Utoquai for a dip in Lake Zurich. 
Float down the Limmat in a boat and jump out for a swim. Or join the fun summer event of  The Limmat Swim where you float (or swim) down the river taking in the sights of the city. This swim starts at Seebad Utoquai and ends at Flussbad Oberer Lettern, Lettensteg. Purchase your tickets here.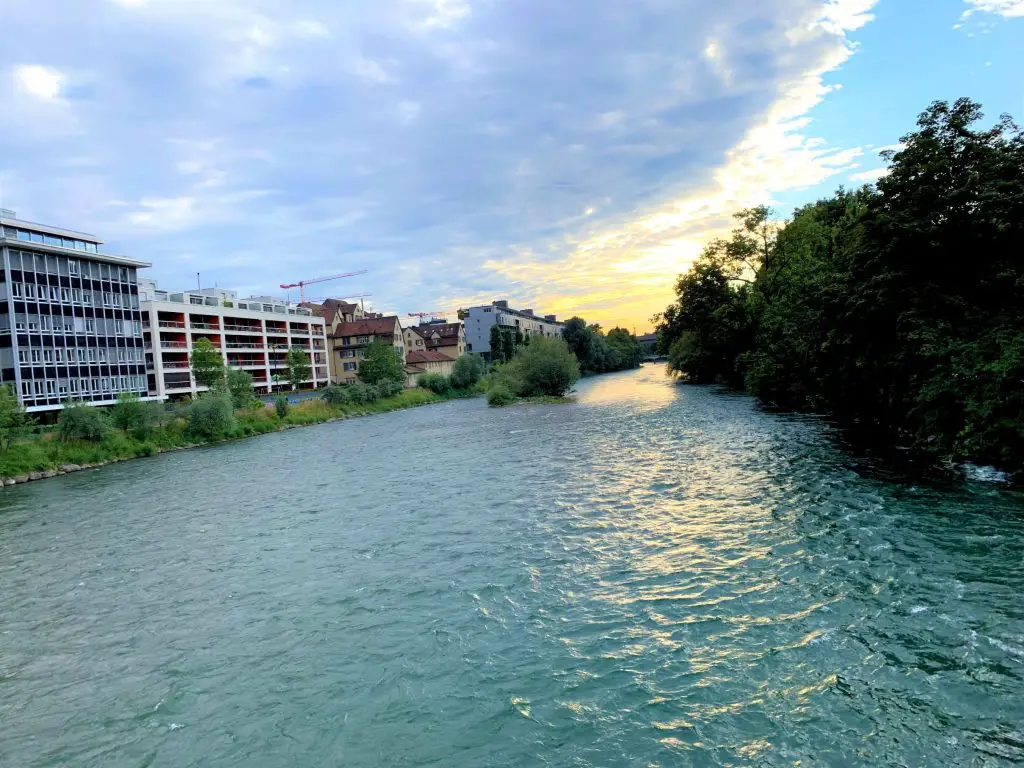 More things to do in Zurich – In the winter
Enjoy the Holiday Season
Christmas is one of the best times to visit Zurich – it transforms the already beautiful city into nothing short of spectacular! Twinkling lights, huge Christmas trees (including a live singing one!), bustling markets, and scores of events, all add to the magic of Zurich.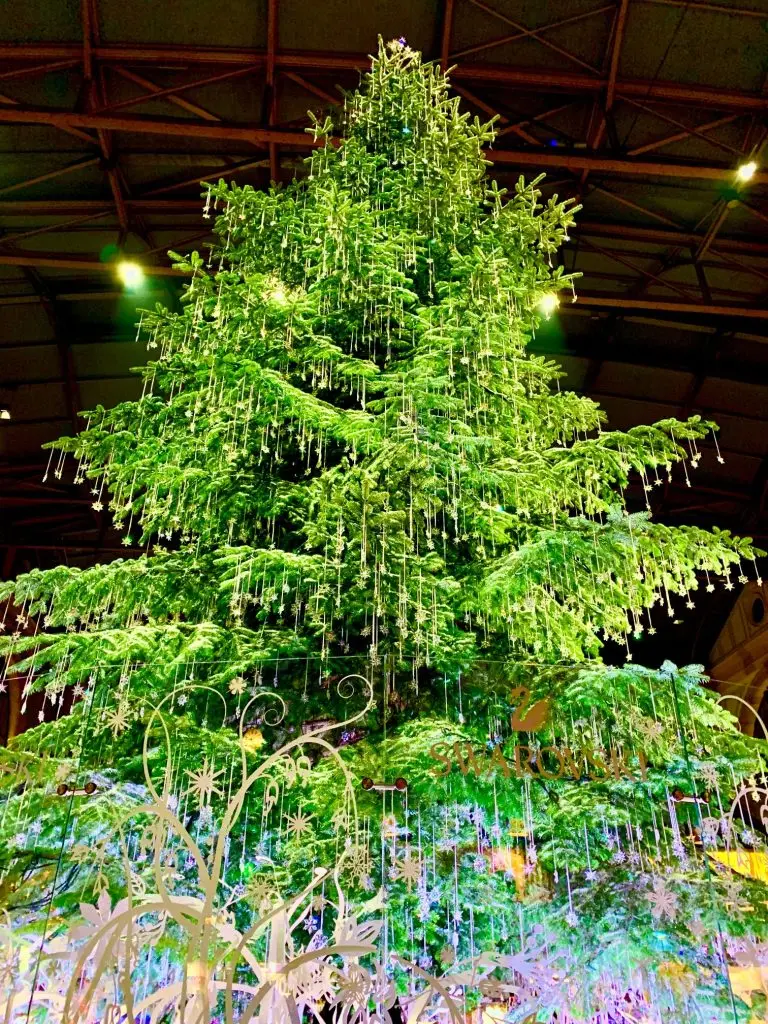 Visit the Christmas Markets
Start at the main station and visit the largest covered market in the continent. This market boasts 100+ stalls and a huge Christmas tree decorated with thousands of Swarovski crystals as its centrepiece. 
Walk towards the old town under the twinkling lights through the magnificently decorated Bahnhofstrasse. The Christmas market in the old town is Zurich's oldest and will captivate you with its romantic atmosphere. Sample some mulled wine and fondue to get into the spirit of the holiday!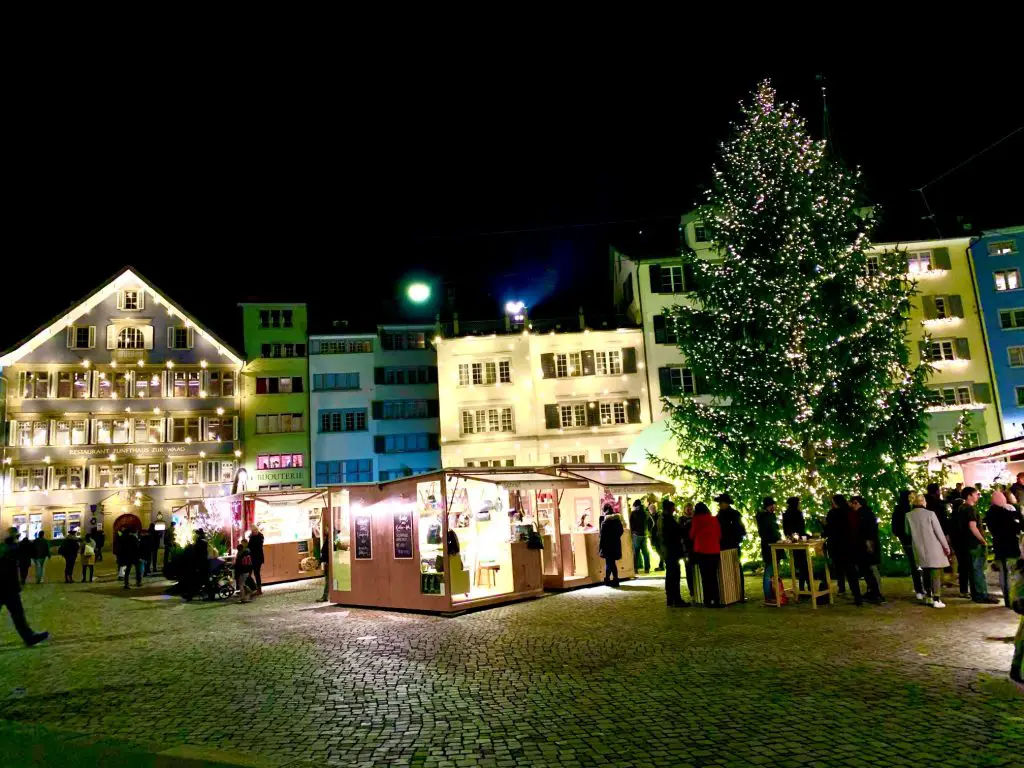 Head to Sechseläutenplatz for one of the largest Christmas markets in Zurich. The Opera House in the background of this market and the lake next to it add to the charm of this market.
Check out some of the Christmas events
Lichterschwimmen floating candle event is one of the most popular events in Zurich where hundreds of candles are placed in the Limmat river and it is a delight to watch them float down the river.
The Singing Christmas Tree is one of Zurich's highlights during Christmas. Walk down the Bahnhofstrasse and you'll find the choirs spread cheer from podiums set up in the form of a giant Christmas tree.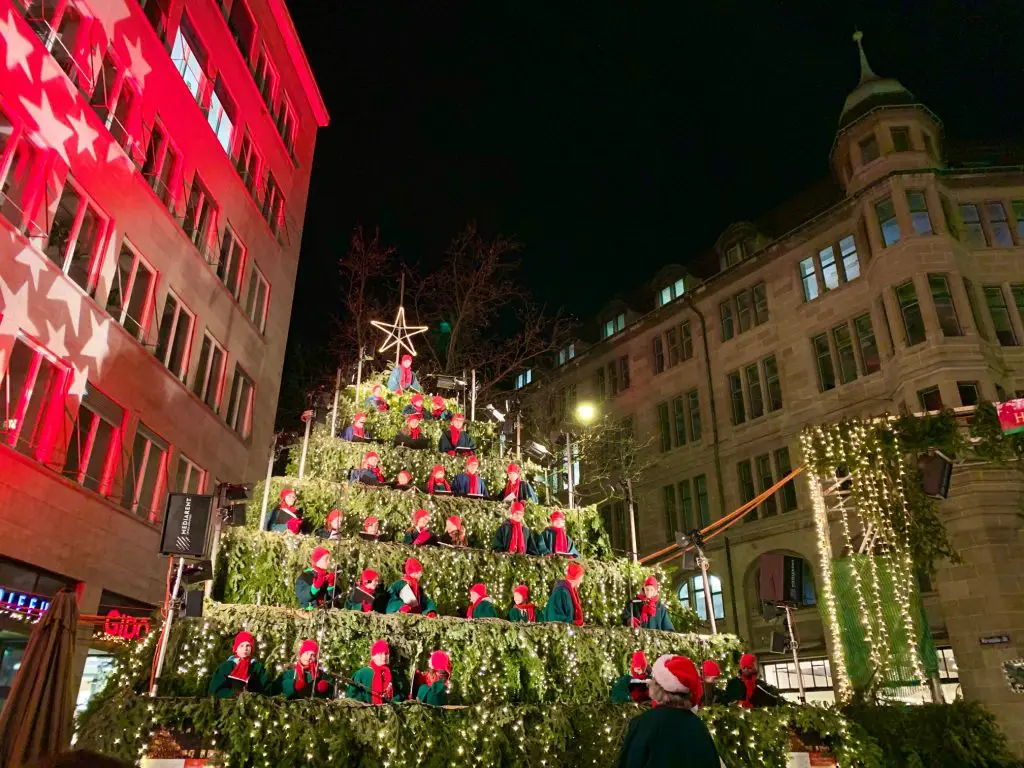 Have you ever thought what hundreds of Sants's swimming across a freezing river would like? Well, now that I have put that thought into your head, come on over to Zurich for the Samichlausschwimmen tradition. A popular charity event, this tradition takes place in December and is a fun event for spectators and swimmers (so they claim, I don't have the courage to try!) alike.
Celebrate New Year's eve
The best place to enjoy New Year's Eve in Zurich is around the lake at the largest New Year's Eve party. Bars and music, food and fireworks and the atmosphere of cheer and celebration are the best way to herald in the new year. 
Enjoy winter sports
Zurich is located very close to many ski regions – head to the numerous slopes such as Rigi, Stoos or Flumserberg to enjoy skiing, tobogganing or snowboarding.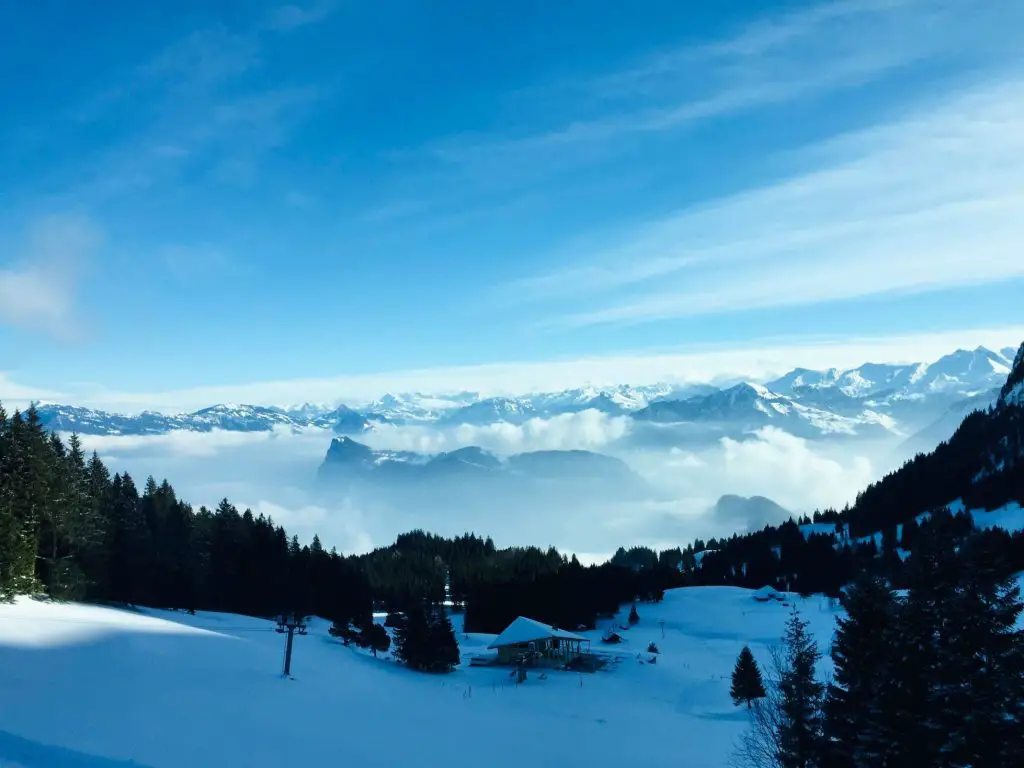 Several ice skating rinks in the city are a must-visit for skating enthusiasts. Some of these (such as the one at Sechseläutenplatz) are located in the Christmas market so it's even more fun to ice skate amidst the festivities.
Useful information for your trip to Zurich
How to get to Zurich 
By flight
Zurich has a large international airport – one of the 2 major international airports in Switzerland (the other being in Geneva).
How far is Zurich airport from the city?
Zurich airport is located very close to the city – you can take a direct train to the main station and reach in 10 minutes! By taxi, it will take ~15 min to reach the city centre. 
How to get from Zurich airport to the city?
By train: Unless you have a lot of luggage, I highly recommend taking the train – it's fast, convenient and cheap. Plus you can get to see the highly acclaimed Swiss efficiency in action as soon as you get here!
The train station (called Zurich Flughafen) is located right at the airport and is very well marked. As you leave the baggage claim area, look for the signs pointing towards the trains. There are numerous kiosks close to the train platforms to buy tickets. You can select the language option on the screen to help you navigate. You can pay using a card or cash (Euro will also work if you do not have Swiss Franc). A one-way ticket to the main station in Zurich (called Zurich Hauptbahnhof or Zurich HB) will cost ~7 CHF. You can also buy tickets at the ticket windows if you'd like to speak to someone or get information.
Trains to the city centre run every 5-10 minutes between 5 am and 12:30 am.
From the main station, there are numerous local (train, tram, bus), domestic as well as international connections. 
If you're staying in the city, ask your hotel/ hostel/ apartment which station (train/ tram/ bus) is closest to them and take the train/ tram/ bus to that station. Tickets can be bought at the kiosks at the main station or at the ticket counter located near the entrance to the station. Most places in Zurich are located very close to public transportation stations so you will not have to walk more than 8-10 minutes to reach your destination.
If you're directly headed out of the city, you can take a train to Lucerne, Interlaken, etc.
You can look up train/ tram/ bus/ ferry schedules and buy tickets on the SBB app or here. SBB is the main transportation provider in Switzerland. 

By taxi: An Uber will cost you 25-30 CHF to bring you to the city centre.
By train
If you're already in Europe, you can take a train to Switzerland as well. Zurich is only 4-5 hours from Paris/ Lyon, 3-4 hours from Milan, 7 hours from Munich.
By bus
Zurich bus station is served by several long-distance buses (Eurolines, Flixbus etc.). These are a cheap and easy way to reach Zurich. The Zurich bus station is located right next to the main train station so it's walking distance from the city centre.
How to get around Zurich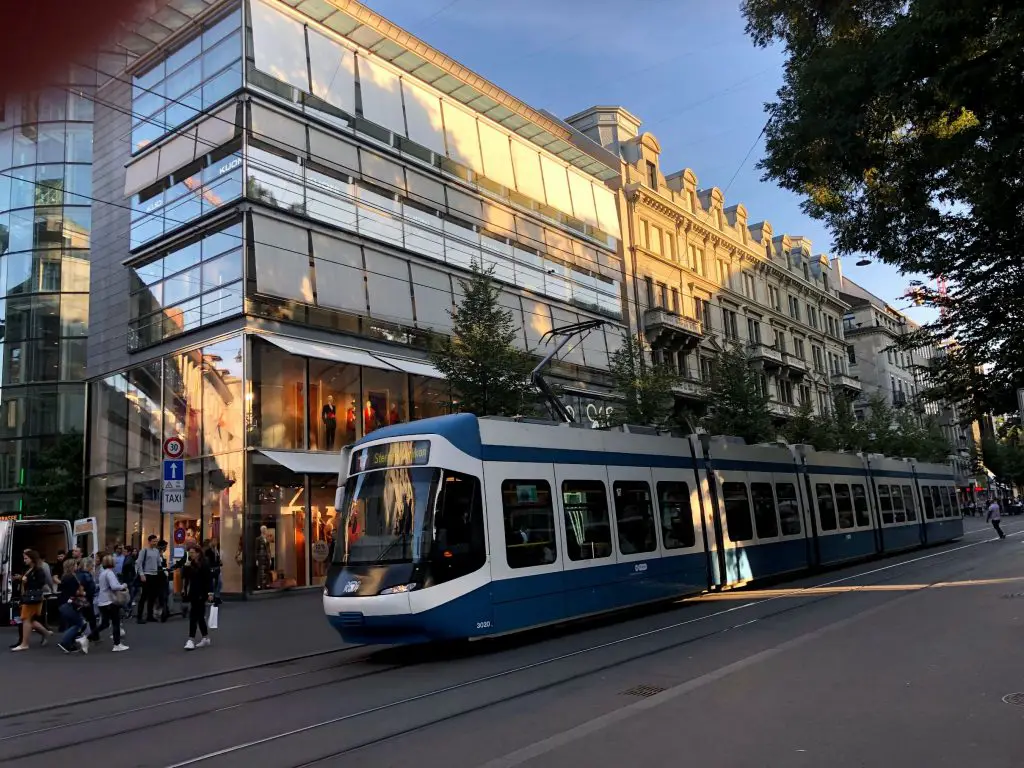 Zurich is best explored on foot, with the public transportation system helping you out when you get tired! Switzerland has an excellent public transportation system – from trains and buses to trams and cable cars. Everything is amazingly well maintained, super clean and extremely efficient. Every 300-400 metres in the city you will find a tram stop, complete with ticket machines, detailed maps and timetables. Even for the most inexperienced travellers, the Swiss transportation system is extremely easy to figure out.
Another fun way to explore the city is by renting a bicycle! Here a few bike rentals you can check out.
What is the best time to visit Zurich
Spring (March-May)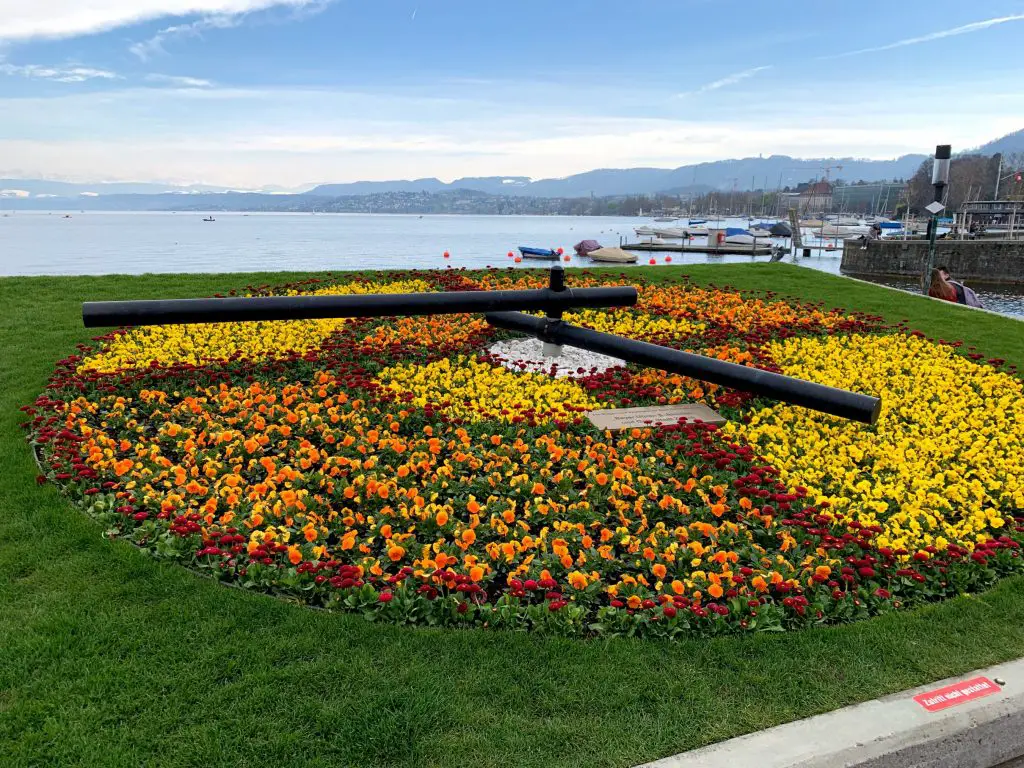 The weather starts getting warmer in March & April and the average temperatures are around 12-15° C. Rain and snow are also a possibility during these months. May is milder with average temperatures around 20° C, however, there are higher chances of rain.
Spring is a beautiful time to visit Zurich – it's lovely to walk down the streets of the old town with flowers blooming everywhere. The spring festival of Sechseläuten is celebrated in April – it translates to 6 o'clock ringing of bells. The tradition began more than 500 years ago when the church bells were used to signal the beginning of spring and the new working hours (accounting for daylight savings the workday would end at 6 pm instead of the wintertime of 5 pm). The celebrations for Sechseläuten include parades in elaborate costumes, horse-drawn floats and music ensembles. The main event is held at Sechseläutenplatz and involves a huge bonfire with the Böögg on top. The Böögg is a snowman packed with firecrackers symbolizing the end of winter. Traditionally, the faster the fire reaches the Böögg, the finer the summer will be!
Spring is also the time when you can start exploring some of the amazing hiking options around Zurich. Continue reading below for more details.
Summer (June – August)
Summers are typically mild with temperatures reaching 30° C. However, this year was a scorching one and we had temperatures go up to 38° C. Never thought I'd experience a hotter summer in Switzerland than in India! And without the benefits of an air-conditioner!
Rain and thunderstorms are often a welcome relief during these months – though probably not so much when you're planning for a trip to the mountains and they're completely engulfed in clouds!
The heat aside, summer is the best time for all outdoor activities – hiking, biking, swimming etc. There are 15+ hours of daylight so there's ample time to enjoy! Continue reading below for the best places to swim and hike.
Fall (September – November)
The weather starts getting more pleasant and less rainy. Temperatures fall from ~15° C in September to <10° C in November. The first snow also starts by the end of November.
The best thing to do in this season is to enjoy the fall colours – take in the beautiful views over the lake and spectacular sunsets from the nearby mountains. You can also continue to enjoy hiking or biking in and around Zurich.
Winter (December – February)
The weather in winter is cold and foggy with temperatures <2-3° C. Snow and ice are common during these months.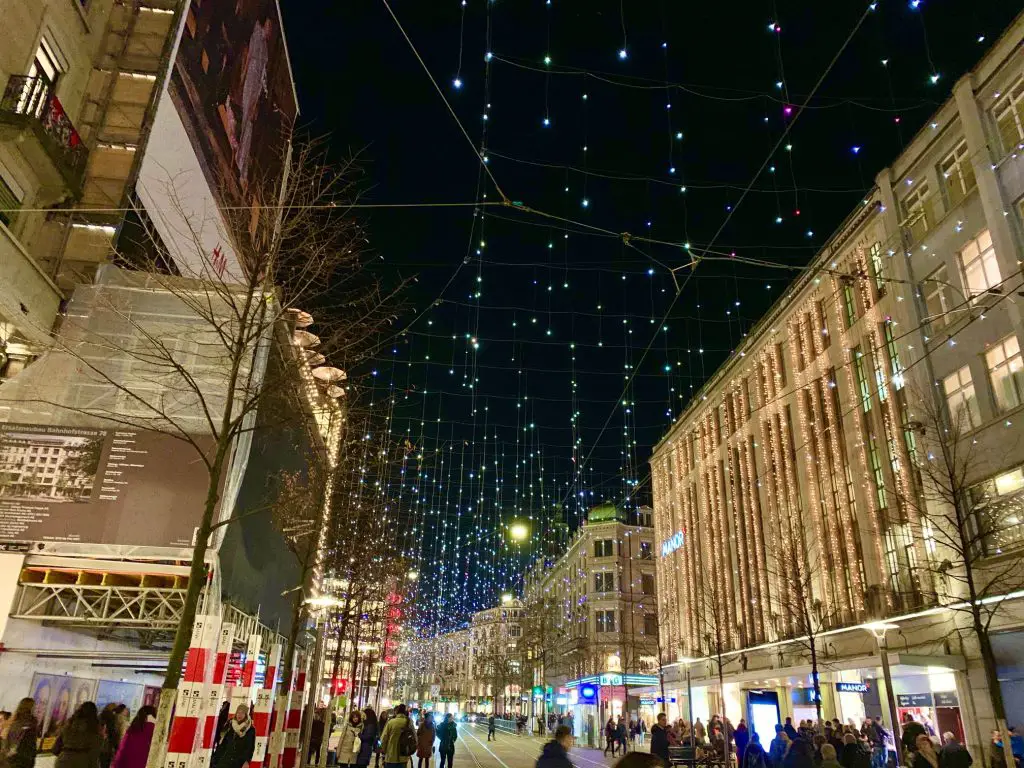 For me, winter is one of the best times to visit Zurich! Beautiful snow-covered streets, dazzling Christmas markets, entertaining events, delicious fondue and hot chocolate – all can be enjoyed during the winter! Continue reading below for the best things to do during winter.

Where to eat in Zurich
Kronenhalle – One of the most iconic restaurants of Zurich, Kronenhalle is located in Bellevue and is as well known for its decor as it is for food. Paintings by famous artists such as Picasso & Chagall will delight you as much as the food. Try the Zurich speciality of Zürich Geschnetzeltes here.
Sprüngli – The most famous cafe and confiserie in Zurich, this is a must-visit to try their chocolate, cakes and macarons. Did you know that Muesli originated in Zurich? Try the Sprüngli Bircher muesli for an authentic taste of this famous dish. Another speciality of Sprüngli is the Zurich classic Luxemburgerli which are bite-sized and utterly delectable macarons.
Älplerstube – Try the famous Swiss fondue at this restaurant designed to look and feel like an alpine hut, making your experience even more authentic! Located close to the Bahnhofstrasse, this restaurant is the perfect place to stop for lunch and warm up during your stroll along this shopping boulevard.
Weisser Wind – This traditional restaurant is located in the old town, close to the Grossmünster. Serving classic Swiss food, this restaurant is steeped in history.
Where to stay in Zurich
Stay close to the main train station and old town to best enjoy the city. It will enable you to walk nearly everywhere and you'll be able to better take in the beauty & rich history of Zurich. Some stay options include:
Hotel
Hotel Altstadt – Located between the Grossmünster Church and the Limmat River, this hotel is within walking distance of most sights. This is a mid-range hotel, quite reasonably priced by Zurich's standards! It features rooms designed by a local artist.
Marktgasse Hotel – A slightly more expensive hotel, this one is also located in the old town area of Zurich. Located very close to most sights, this hotel is next to a tram stop so it'll make it very easy to travel even with luggage.
Savoy Baur en Ville – This is a luxury hotel located at Paradeplatz, walking distance from the main train station. Zurich old town and Bahnhofstrasse are also steps away. 
Apartment
The Crown Penthouse Bellevue – Located in the old town area of Zurich, this apartment boasts lake and river views. It can house 6 people and has a kitchen and laundry facilities.
 Zürich Niederdorf – Grossmünster – Located close to Fraumünster & Grossmünster in the old town, this apartment can house 2-3 people. It has kitchen and laundry facilities.
Paradeplatz Apartment by Airhome – A a 2-minute walk from Bahnhofstrasse, this apartment is ideal for 2-3 people. This apartment has a kitchen and is located very close to grocery stores.
Practical tips for visiting Zurich
Don't waste money on water bottles. There 1000+ water fountains in the city! You will come across a water fountain every few meters, just fill up your bottle as required. 
Shops remain closed on Sundays and public holidays. If you need something, head to the train station or the airport where shops are generally open.
Switzerland is an expensive country. To travel on a budget, head to supermarkets such as Migros or Coop for meals instead of restaurants. These supermarkets offer a large variety of both hot and cold food.
The currency used in Switzerland is the Swiss Franc (CHF). While the Euro is widely accepted, you may not get the best exchange rate. A better idea may be to withdraw some CHF from an ATM or get some exchanged at the airport or the train station. You can mostly manage by just using your card too since almost everywhere cards are accepted (except maybe a few parking meters, toilets or small market stalls).
The emergency number for Switzerland is 112. For 24 hour pharmacies in Zurich, head to Bahnhofplatz or Theaterstrasse.
The language spoken in Zurich is Swiss German. Here are a few useful phrases to know,

Hello – Grüezi
Thank you – Merci!, Danke! Dankeschön!
Yes – Ja
No – Nein
Please – Bitte
Do you speak English – Sprechen Sie Englisch?
So there you have it, all you need to know for a fantastic trip to Zurich! What Zurich activities are you looking forward to the most? 
Let me know if you have any questions, happy to help!
If you have more time in Zurich, check out these beautiful locations which can be done as day trips from Zurich,
If you found this useful, please share and spread the love!
More information for your trip to Switzerland:
Pin it for later.