Lucerne is a fairy-tale-like city, complete with charming cobblestoned streets, a stunning lake, snow covered mountains and quaint buildings. Lucerne was the 3rd place in Switzerland I lived in and it was absolutely amazing! One of my favourite things to do in Lucerne was to simply take a stroll through the old town or the lake promenade – nothing could be more relaxing or breathtakingly beautiful. 
Planning a trip to Switzerland? Click here for a detailed travel guide to Switzerland – including the best time to visit, itinerary options (for 3, 5, 7 or 10 days), visa, transportation in Switzerland (including Swiss Pass), and more!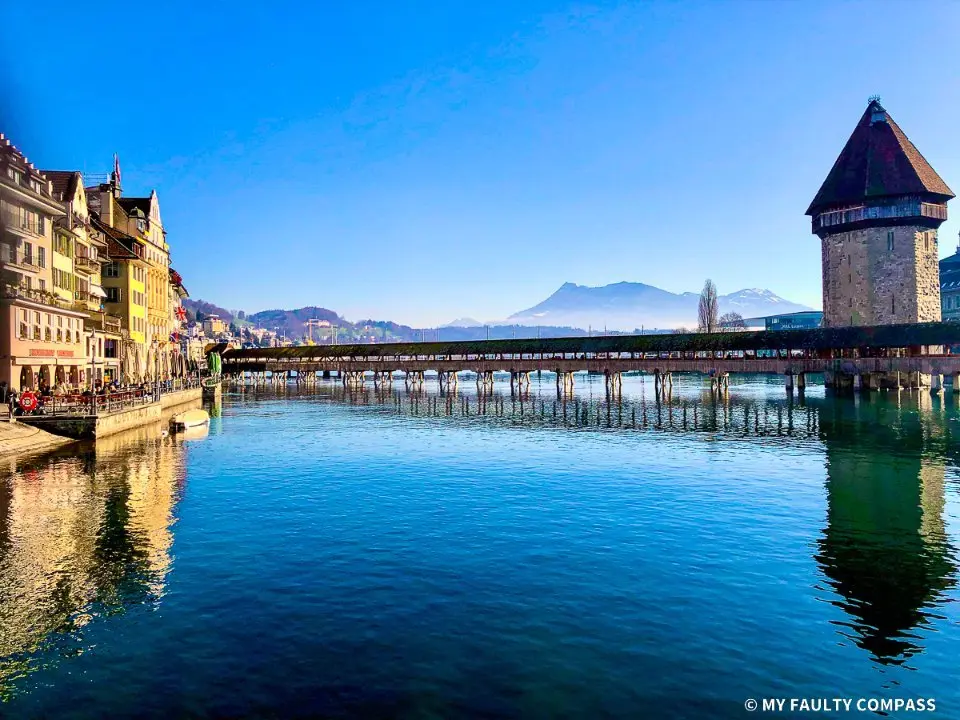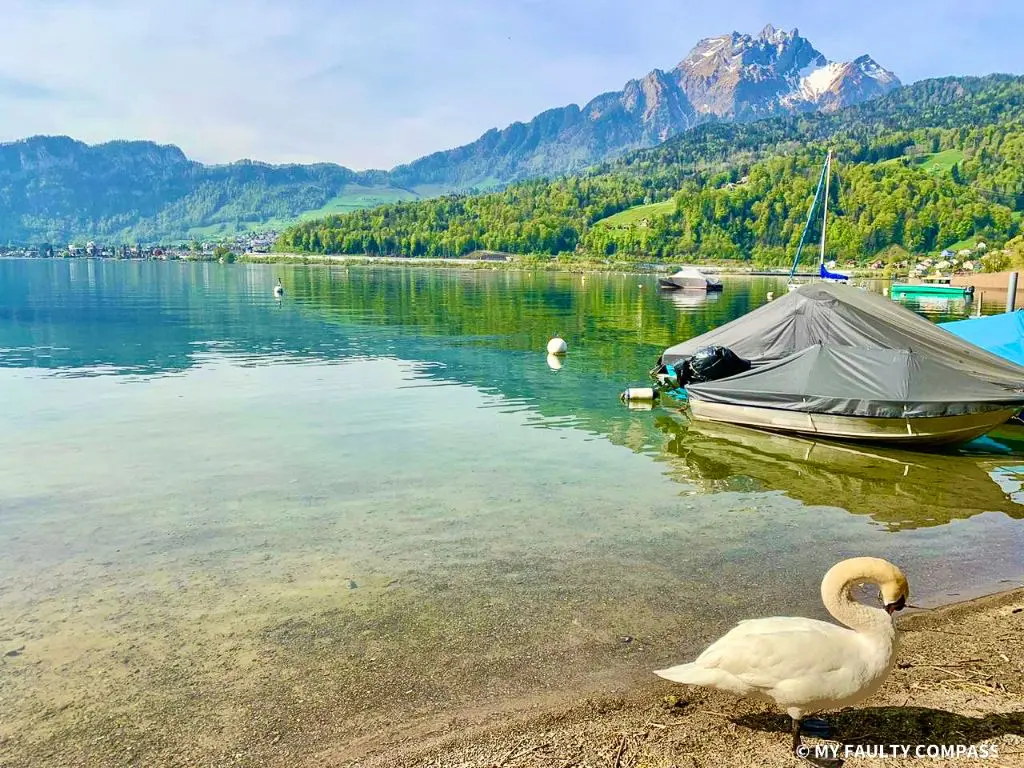 One of the most romantic places to visit in Switzerland, Lucerne is a must-include in your Swiss itinerary! 
Read on for a detailed guide to Lucerne, the best things to do, the best day trips to take and all the information you need to plan your trip to Lucerne.
Have limited time in Switzerland? Here's a 5-day Switzerland itinerary to take in the best of the country!
Note: This post contains some affiliate links. This means if you make a purchase through these, I may earn a small commission, at absolutely no extra cost to you. Thank you for your support!
Here's what's in store for you
Things to do in Lucerne 
Stroll along the Chapel Bridge & the Water Tower
The oldest covered wooden bridge in Europe, the Kapellbrücke, is the most iconic spot in Lucerne. Spanning the river Reuss, this bridge is guaranteed to charm you. No wonder it's pictured on every souvenir!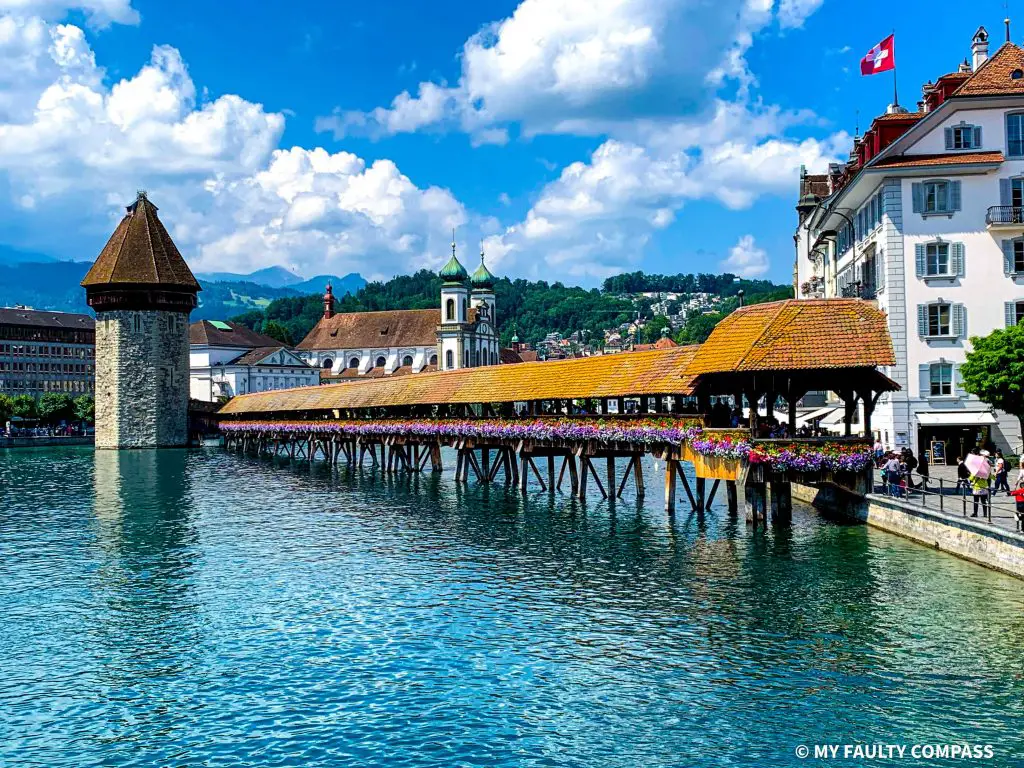 You can see the Kapellbrücke as soon as you step out of the train station. Take a walk towards the bridge and try not to take multiple pictures – not just of the bridge, but of the beautiful river, the lake and the mountains! There's so much to take in, it can become overwhelming!
The bridge was originally built in the 14th century as part of the city's fortifications. The interior of the bridge is covered in paintings dating back to the 17th century. Tragically, many were destroyed along with parts of the bridge in a 1993 fire. The bridge was subsequently restored and today is Europe's oldest wooden covered bridge.
The water tower along the bridge is another landmark of Lucerne. The octagonal tower was built in 1300 as part of the city wall and today is the spot for a lovely souvenir store.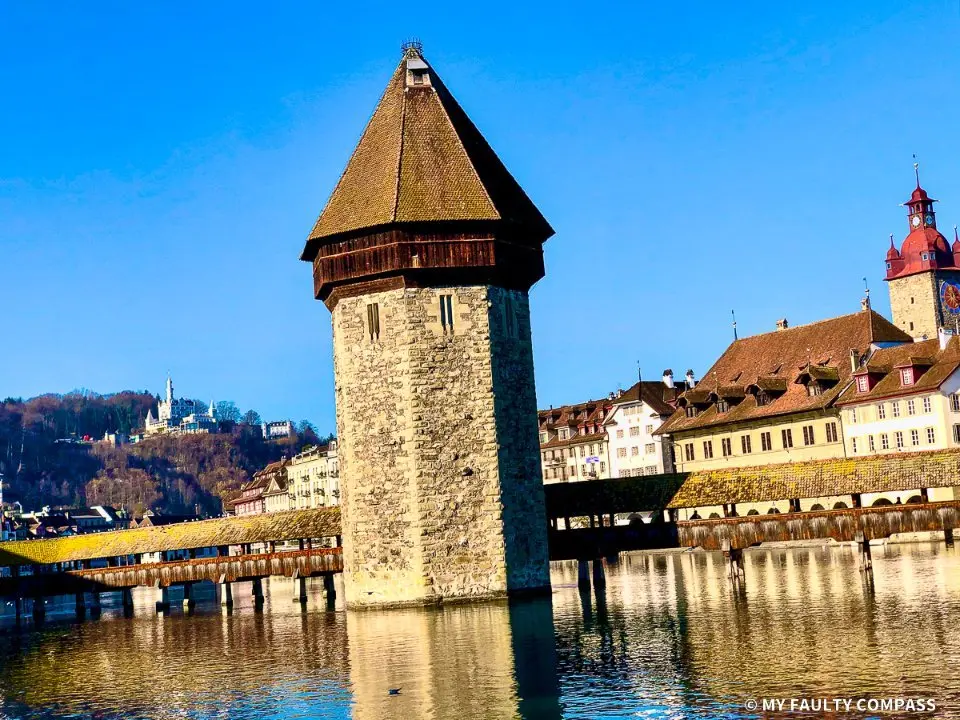 During my stay in Lucerne, the bridge was a regular sight for me but it still took my breath away every time I saw it.
Transport yourself back in time at the Lucerne Old Town
Lucerne's old town is one of the most charming ones in Switzerland. Roaming its streets was one of my favourite things to do while in Lucerne. Here are some of the best things to take in at Lucerne's old town,
Rathaussteg: The bridge next to the Kapellbrücke is a great spot to take in the Chapel Bridge. With the spectacular mountains and the lake laid behind it, Kapellbrücke looks beautiful from this bridge.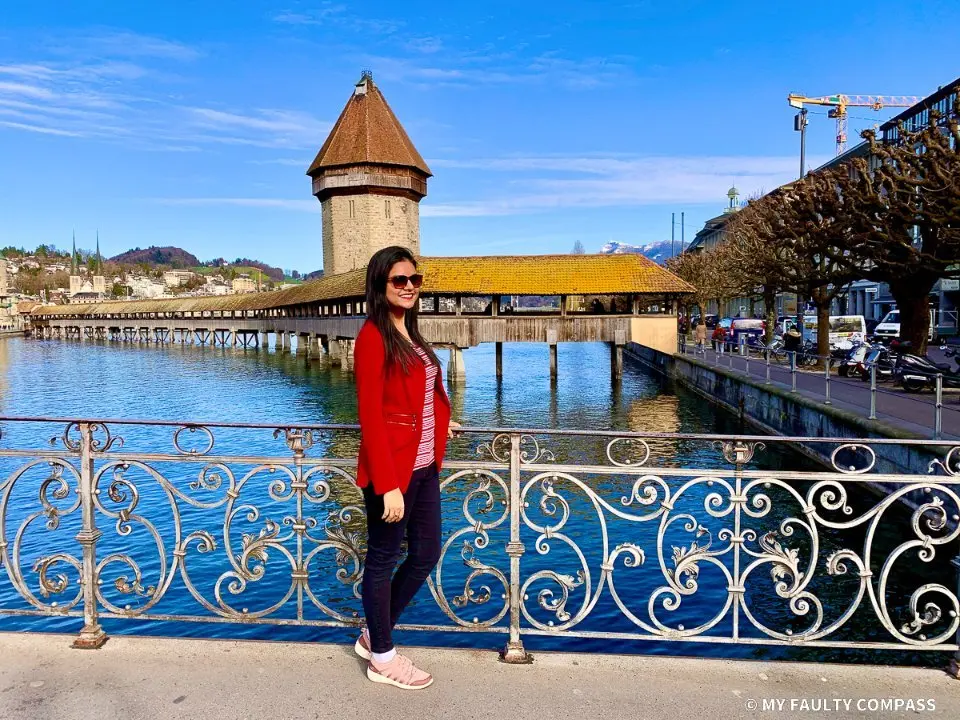 Keep walking along the river Reuss on Reussteg – there are multiple cafes on the riverside to stop and have a  drink.
Needle Dam: This dam on the river is used to regulate the water level of Lake Lucerne. This historic dam is one of the very few needle dams in the world.
Spreuerbrücke: The lesser known partner of the famous Kapellbrücke, the Spreuerbrücke is also a covered pedestrian bridge dating back to the 15th century featuring several paintings.
Museggmauer: Lucerne's old city wall featuring several towers, the Museggmauer is located a 5 min walk from the Spreuerbrücke.Some of the towers are open to the public and you can climb up for some incredible views of Lucerne. 
Next, head back into the old town towards the town hall. 
Town hall (Rathaus): Lucerne's town hall is an Italian Renaissance building dating back to the 17th century. Located along the river Reuss and with a beautiful clock tower, the town hall makes for a lovely place to visit.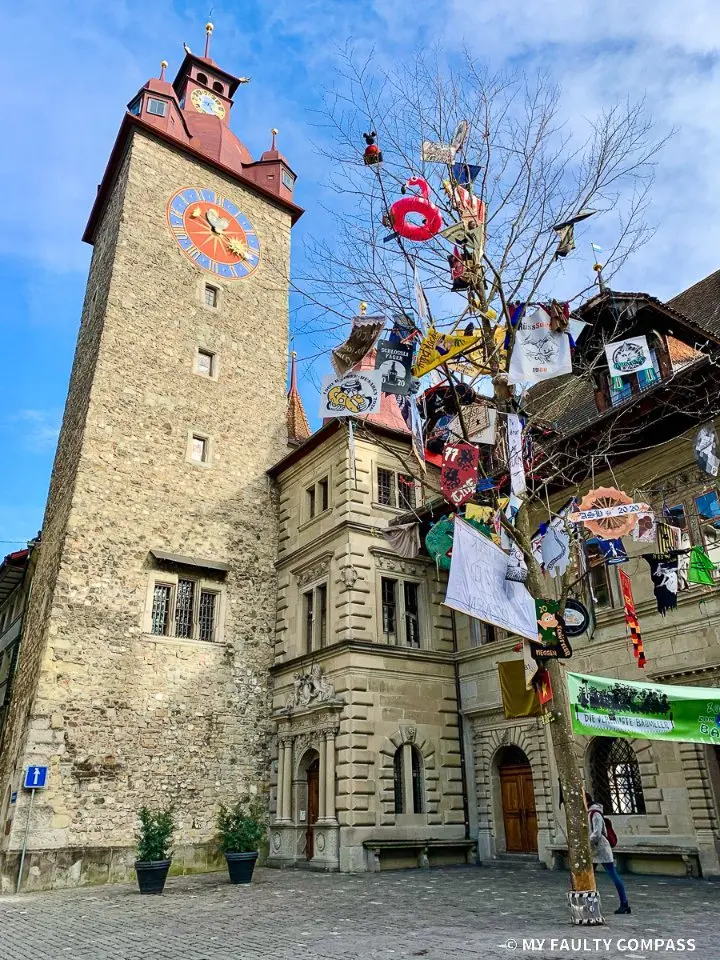 If you're lucky you'll be able to come across Alphorn players performing at the town hall square.
Continue exploring the old town – it's the perfect place to get lost in, among the charming cobblestoned streets and beautiful stores. Stop for some chocolates at Läderach and some baked goods at Bachmann. These were our favourite shops in Lucerne and no trip to the old town was complete without visiting them!
Here are more ideas for your trip to Switzerland: 25 best places to visit in Switzerland!
Be amazed by the Lion Monument
Located a short walk from the old town, The Lion Monument is an incredible historical monument. It was built in the early 1800s to commemorate the Swiss guards who gave their lives during the French Revolution. The monument depicts a mortally wounded Lion and makes for a poignant sight.
Visit the Church of St. Leodegar
One of the most incredible historic sights in Lucerne, St. Leodegar dates back to the 8th century when it was a monastery which led to the founding of Lucerne. It was converted to a church in the 15th century. The church was destroyed by a fire in the 16th century and today only the towers and the altar from the original building remain.
The towers of the church are one of Lucerne's landmarks and can be seen from across the lake.
Stroll along the lake promenade
Located just steps from the Church of St. Leodegar, Lucerne's lake promenade stretches for miles and makes for the best place in Lucerne to take a walk. If you only have the time for a short walk, head right and walk back towards the train station/ ferry terminal. 
The views along the promenade are straight out from a postcard! The sparkling lake with tall snow-capped mountains flanking it makes for one of the best views in Lucerne. Stop for ice cream (there's another Bachman here!) and enjoy it sitting on the banks of the lake.
Here's a walking map to make it easy for you to visit all the spots listed above,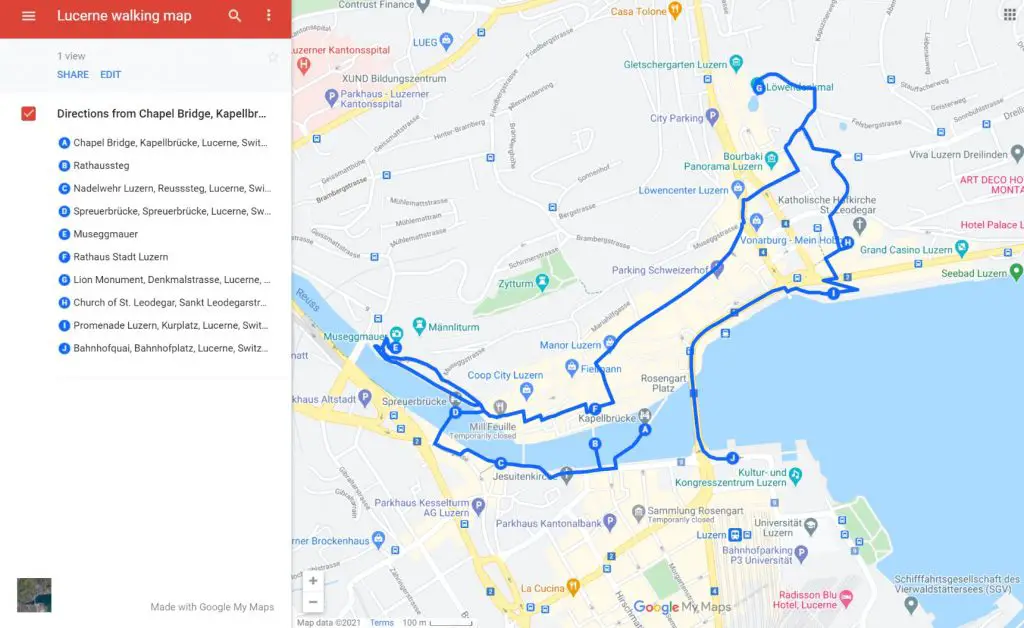 Enjoy a cruise on Lake Lucerne 
One of the best cruises in Switzerland is on the lake of Lucerne. The curving lake, the tall mountains surrounding it and the small towns all around the shores of the lake make for a magical experience. 
You could take a boat to one of the towns (such as Weggis or Vitznau) or just take a round trip from and back to the Lucerne ferry terminal. Take a seat on the outer deck (the upper deck if you have a 1st class ticket or the lower deck if you have a 2nd class ticket). I've experienced both and feel the 2nd class is more enjoyable. It's cheaper and it's closer to the water!
If you have a Swiss Travel Pass, the ferry rides are included in it and you do not need to purchase any tickets!
We take all our visitors on this cruise – a boat ride on the spectacular lake Lucerne is an absolutely wow experience! 
Swim in Lake Lucerne
You can swim in the lake at multiple bathing areas along the lake promenade in the city as well as in the surrounding areas.
One of our favourite spots is Villa Krämerstein which is easy to reach by bus and is the perfect place for a relaxing swim.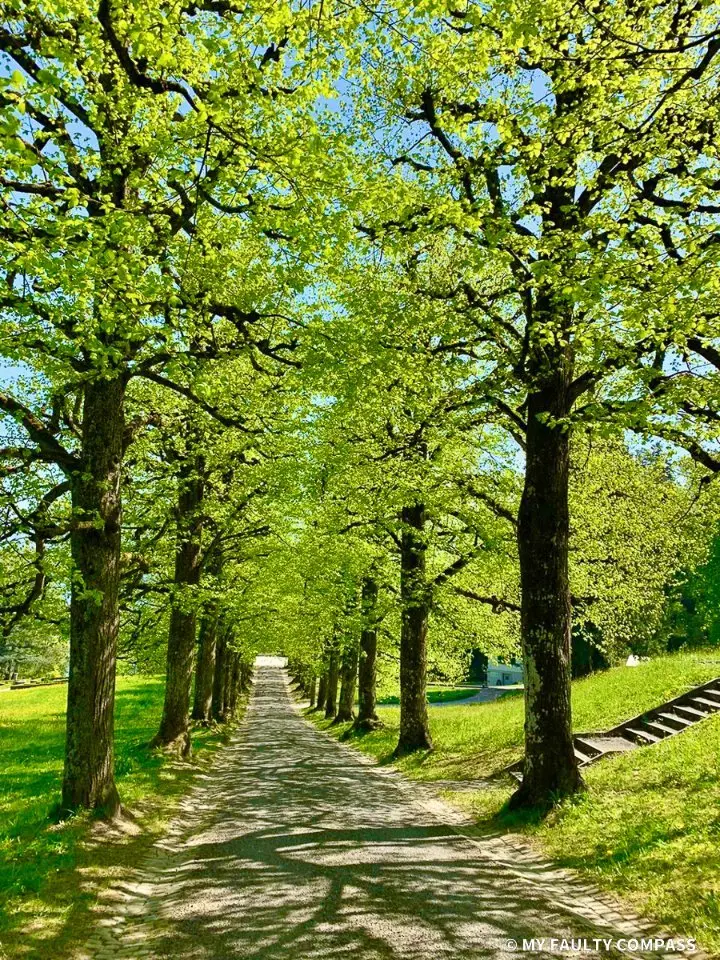 The walk along the lake shore from Villa Krämerstein to Seehotel Sternen in Horw is spectacular and lined with places to swim and laze on along the banks.
See here for more places to swim in and around Lucerne.
Take a trip to Mt. Pilatus or Mount Rigi
Pilatus is a distinctively shaped mountain that towers over Lucerne and is said to be the home of dragons! The steepest cog railway in the world takes you up to the summit of this ~2100 metre tall mountain.
If you are short on time, I'd recommend taking in Mount Rigi instead of Pilatus since Pilatus can get very crowded. If you have time, definitely check out both.
Mt. Rigi is our go-to day trip for family and friends visiting us. It offers an all-encompassing experience of all that's wonderful about Switzerland. A trip to Mount Rigi from Lucerne includes a cruise on the delightful Lake Lucerne, a ride on a steep funicular, spectacular views from the Rigi cogwheel train, a beautiful mountain top and stunning views across Central Switzerland – and surprisingly few tourists.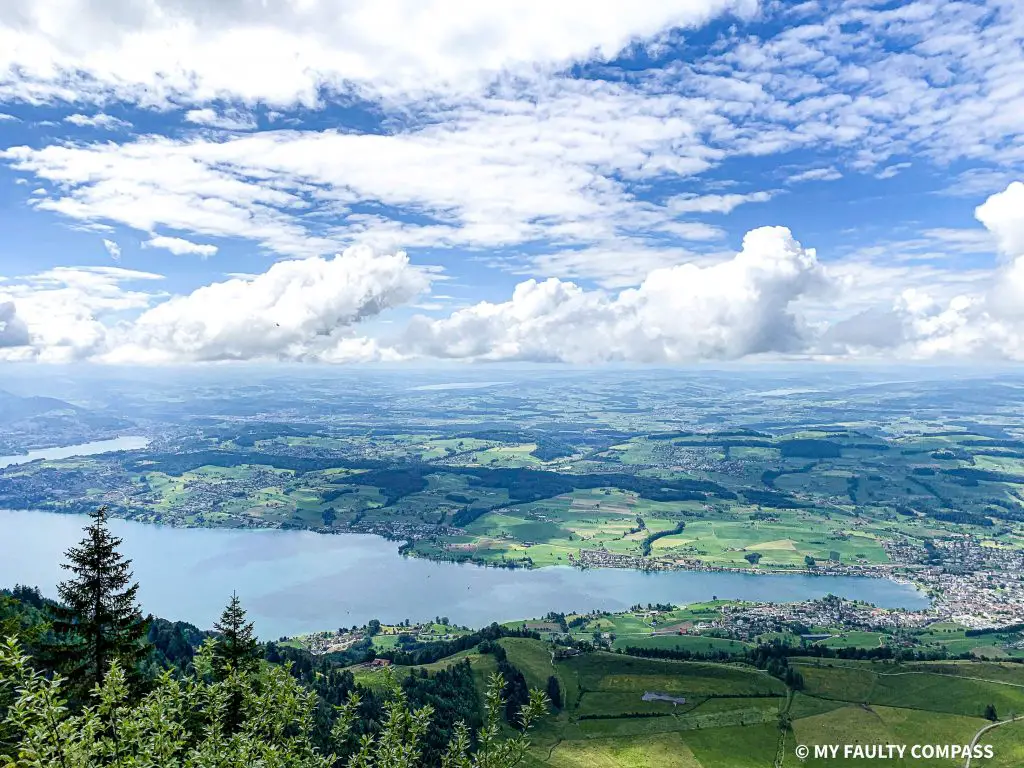 There are 13 lakes that you can see from the top! On a clear day, even the sharp peaks of several Jungfrau giants are visible. A visit to Mount Rigi is fully covered under the Swiss pass. Need I sell the place more?! Make sure it's on your list of places to visit!
Read my guide: Mount Rigi
Hike
Lucerne is perfectly positioned to experience some amazing hikes. The mountains surrounding Lucerne have some incredible hiking trails that cannot be missed!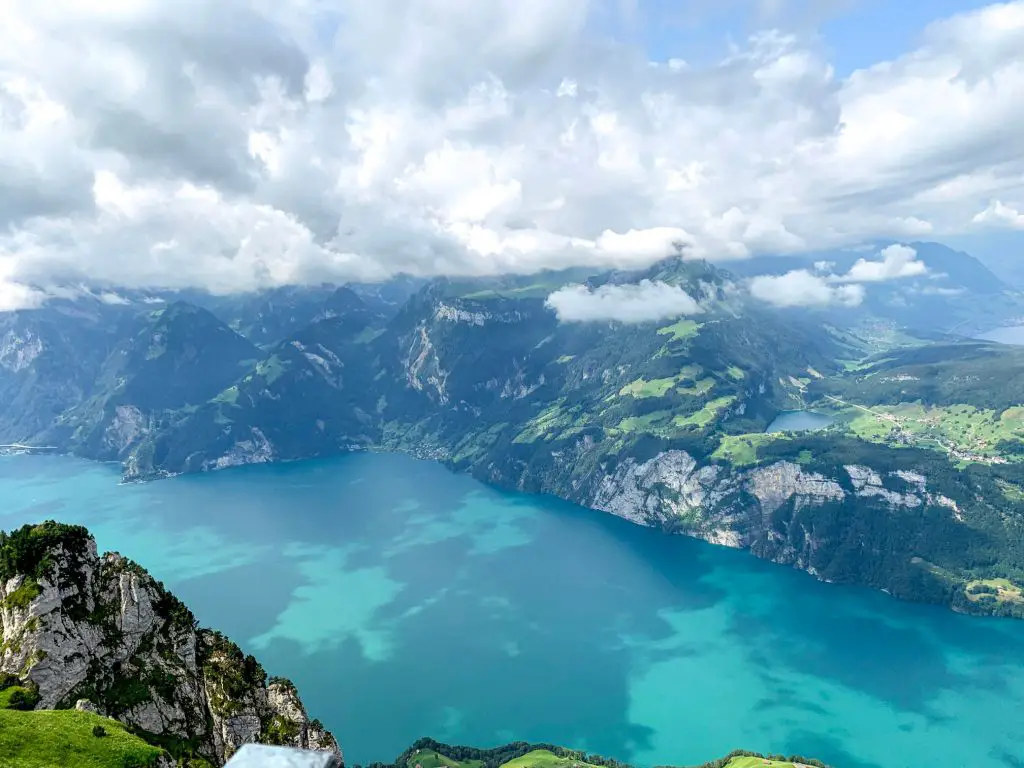 For some of the best hikes, head to Mt. Rigi, Stoos or the shores of Lake Lucerne.
Read here for more hiking ideas.
Take a day trip
Lucerne's central location makes it the perfect spot from which to take day trips to some of the biggest highlights in Central Switzerland. Here are some of my favourite day trips from Lucerne,
Mt. Titlis
One of the biggest highlights of Central Switzerland, Mount Titlis is an easily accessible glacier with stunning views of snow-capped mountains and beautiful Alpine landscapes. A worthy alternative to the pricey (and super crowded!) Jungfraujoch, Mt. Titlis is always our recommendation to visitors asking for a snow-capped mountain to discover in Switzerland.
There are trains every hour from Lucerne to Engelberg from where cable cars run up to Mount Titlis. More frequent connections (every 20-30 minutes) are available in the morning hours.  It takes ~45min to reach Engelberg from Lucerne.
Read my guide: Mount Titlis
Golden pass train
Switzerland is known for its stunningly scenic train rides – the perfect combination of superbly efficient & clean trains and incredible natural beauty! The Golden Pass train line is one of the best of these routes – covering 3 mountain passes, 8 lakes, 6 cantons and 2 language regions!
The line from Lucerne to Montreux via Interlaken and Zweisimmen is known as the Golden Pass route. It winds its way through several lakes, the stunning Swiss Alps and the beautiful Swiss countryside. You will need the entire day to experience the Golden pass train and some of its stops.
Read my guide: Golden Pass Train Line
Zurich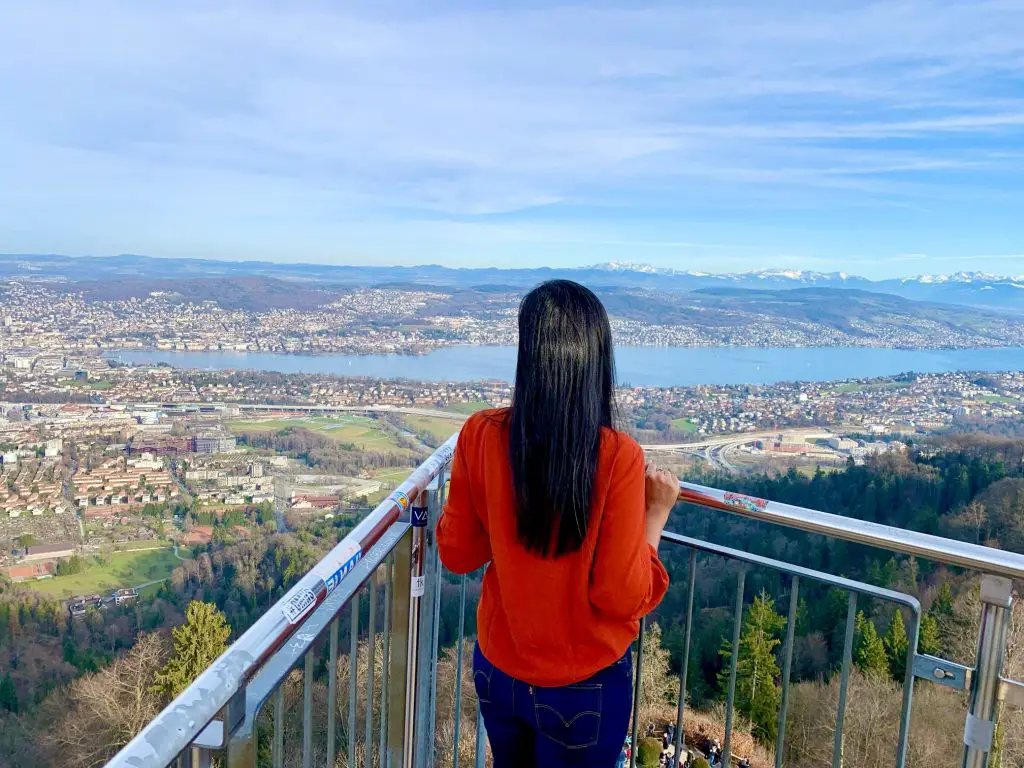 Zurich is a vibrant cosmopolitan city steeped in culture and history dating back 5000 years. A beautiful river and a stunning lake surrounded by lush green hills add to the charm of this city.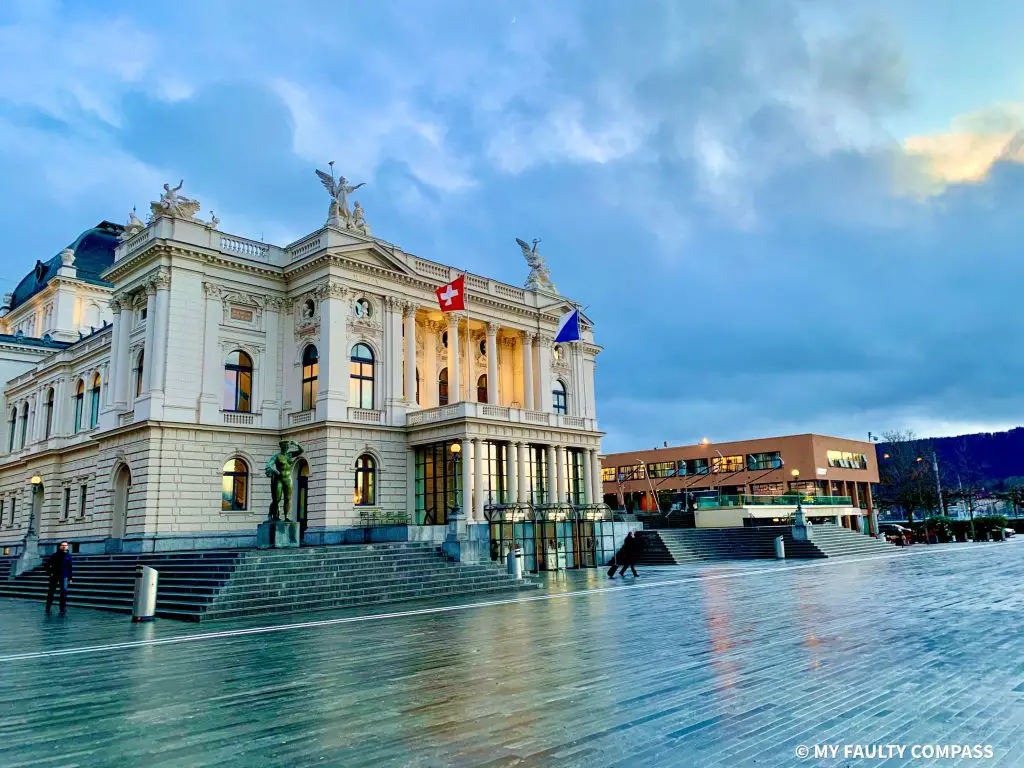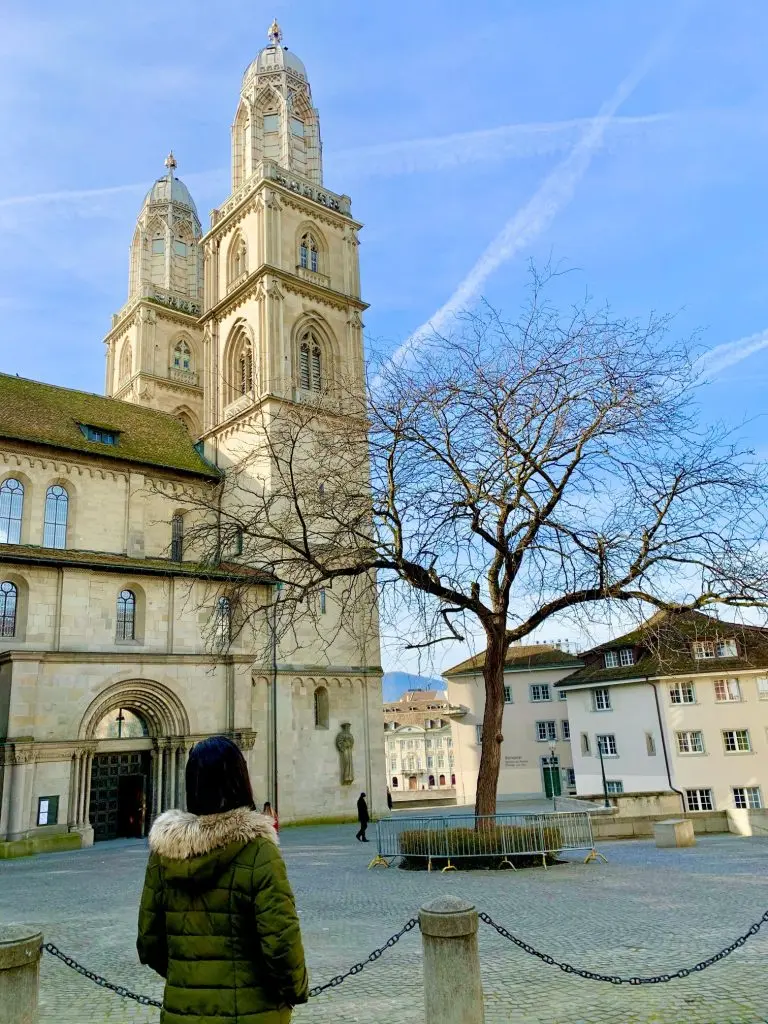 I've lived in Zurich for a couple of years and can already understand why it ranks so highly on the list of cities with the world's best quality of life. Head on to Zurich to discover for yourself and be prepared to be amazed at the plentiful opportunities (and mostly free ones!) for leisure, enjoyment and relaxation and the beautiful cultural and gastronomic diversity.
Read my guide: The best things to do in Zurich
Plan your trip to Lucerne
How to get to Lucerne 
By flight
The closest international airport to Lucerne is at Zurich. 
To get from Zurich to Lucerne, take the train – it's fast, convenient and cheap. Plus you can get to see the highly acclaimed Swiss efficiency in action as soon as you get here!
The train station (called Zurich Flughafen) is located right at the airport and is very well marked. As you leave the baggage claim area, look for the signs pointing towards the trains. There are numerous kiosks close to the train platforms to buy tickets. You can select the language option on the screen to help you navigate. You can pay using a card or cash (Euro will also work if you do not have Swiss Franc). You can also buy tickets at the ticket windows if you'd like to speak to someone or get information.
A one-way ticket to Lucerne will cost ~30 CHF and will take 1 hr 10 minutes to get to Lucerne from Zurich airport.
By train
If you're already in Europe, you can take a train to Switzerland as well. Lucerne is only 4-5 hours from Paris/ Lyon, 3-4 hours from Milan, 6-7 hours from Munich.
By bus
Lucerne bus station is served by several long-distance buses (Eurolines, Flixbus etc.). These are a cheap and easy way to reach Lucerne. 
How to get around Lucerne
Lucerne is best explored on foot, with the public transportation system helping you out when you get tired! Switzerland has an excellent public transportation system – from trains and buses to trams and cable cars. Everything is amazingly well maintained, super clean and extremely efficient. 
When to visit Lucerne
Spring (March – May) in Lucerne
The weather starts getting warmer in March & April and the average temperatures are around 12-15° C. Rain and snow are also a possibility during these months. May is milder with average temperatures around 20° C, however, there are higher chances of rain.
Spring is a beautiful time to visit Lucerne – it's lovely to walk down the streets of the old town with flowers blooming everywhere. Spring is also the time when you can start exploring some of the amazing hiking options around Lucerne. 
Summer (June – August) in Lucerne
Summers are typically mild with temperatures reaching 30° C. Rain and thunderstorms are often a welcome relief during these months – though probably not so much when you're planning for a trip to the mountains and they're completely engulfed in clouds!
Summer is the best time for all outdoor activities – hiking, biking, swimming etc. There are 15+ hours of daylight so there's ample time to enjoy!
Fall (September – November) in Lucerne
The weather starts getting colder and less rainy. Temperatures fall from ~15° C in September to <10° C in November. The first snow also starts by the end of November.
The best thing to do in this season is to enjoy the fall colours – take in the beautiful views over the lake and spectacular sunsets from the nearby mountains. You can also continue to enjoy hiking or biking in and around Lucerne.
Winter (December – February) in Lucerne
The weather in winter is cold and foggy with temperatures <2-3° C. Snow and ice are common during these months.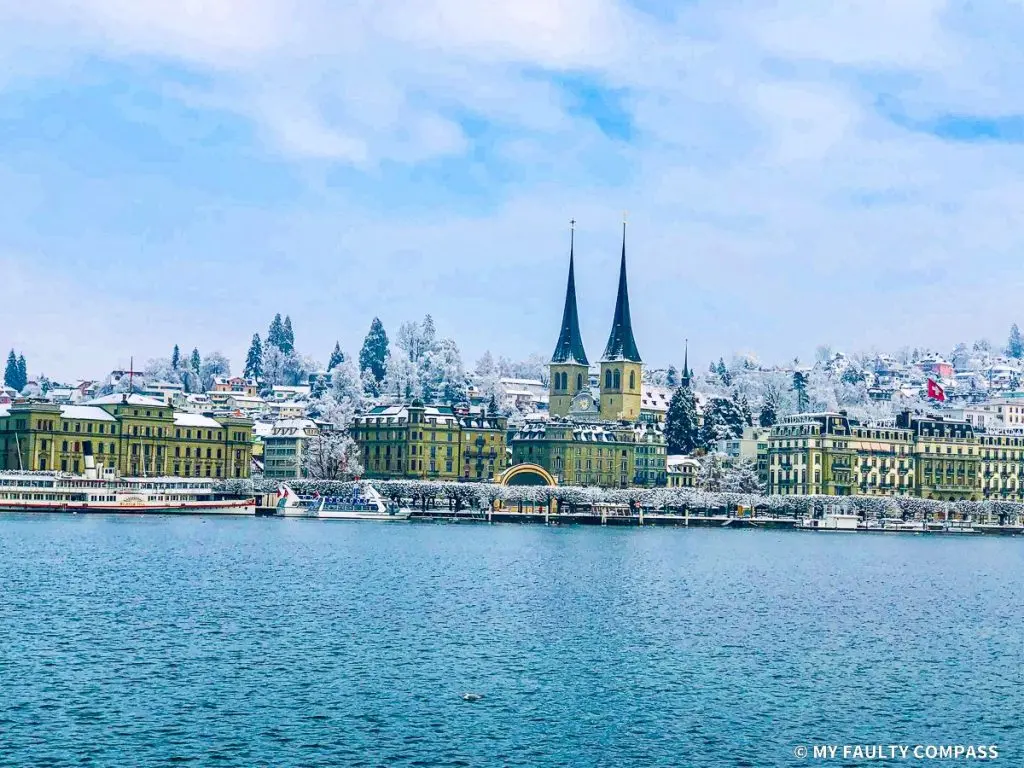 For me, winter is one of the best times to visit Lucerne! Beautiful snow-covered streets, dazzling Christmas markets, entertaining events, delicious fondue and hot chocolate – all can be enjoyed during the winter! 
Where to stay in Lucerne
Hostels in Lucerne
Ahostel Luzern – Excellent location, 15 min walk from the train station and 5 minutes from the historic old town. 
Youth Hostel Lucerne – Good location, only 2 km from the main train station. Well reviewed and rated.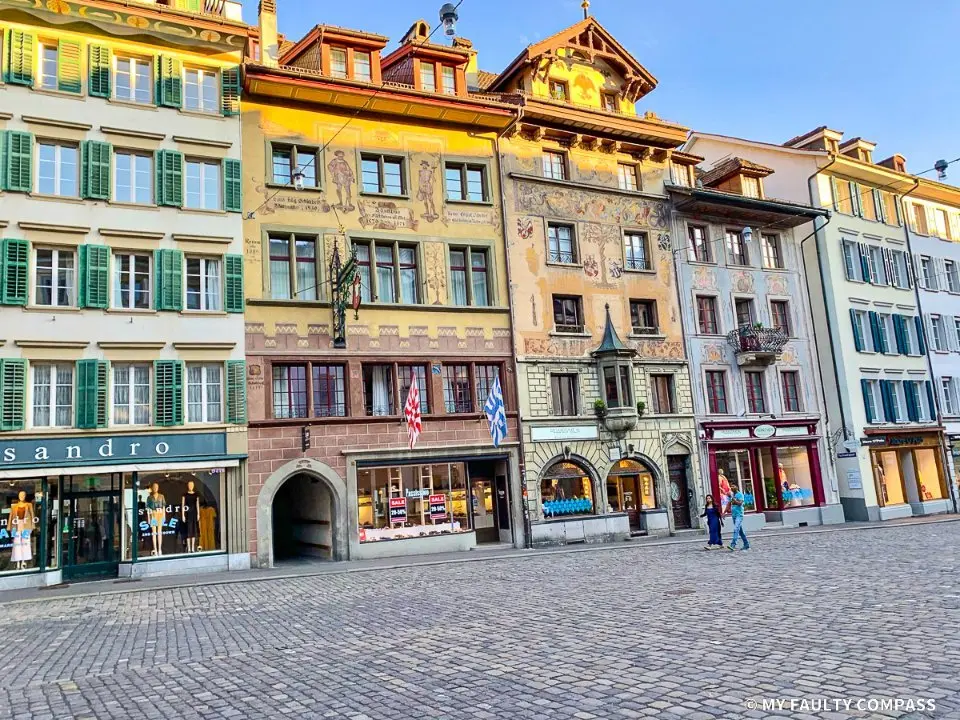 Hotels in Lucerne
Ameron Luzern Hotel Flora – Well rated and centrally located, only 100 m from the train station and the old town. 
Hotel Des Alpes – Located in the heart of the old town, overlooking the historic Chapel Bridge and a 5-10 min walk from the train station. 
Apartments in Lucerne
Penthouse Apartments Lakeside – A 2-minute walk from Lucerne Train Station and 600 m from Chapel Bridge, this apartment can accommodate 2-4 people.
Lucerne Lake View Apartments – A 10 min walk from the main train station, this apartment can accommodate 2-8 people.
Click here to find more places to stay in Lucerne 
 Practical tips for your trip to Lucerne
Don't waste money on water bottles. There are 200 water fountains in the city! You will come across a water fountain every few meters, just fill up your bottle as required. 
Shops remain closed on Sundays and public holidays. If you need something, head to the train station or the airport where shops are generally open.
Switzerland is an expensive country. To travel on a budget, head to supermarkets such as Migros or Coop for meals instead of restaurants. These supermarkets offer a large variety of both hot and cold food.
The currency used in Switzerland is the Swiss Franc (CHF). While Euro is widely accepted, you may not get the best exchange rate. A better idea may be to withdraw some CHF from an ATM or get some exchanged at the airport or the train station. You can mostly manage by just using your card too since almost everywhere cards are accepted (except maybe a few parking meters, toilets or small market stalls).
The emergency number for Switzerland is 112.
The language spoken in Zurich is Swiss German. Here are a few useful phrases to know,

Hello – Grüezi
Thank you – Merci!, Danke! Dankeschön!
Yes – Ja
No – Nein
Please – Bitte
Do you speak English – Sprechen Sie Englisch?
So there you have it, all you need to know for a fantastic trip to Lucerne! What Lucerne activities are you looking forward to the most? 
Let me know if you have any questions, happy to help!
If you found this useful, please share and spread the love!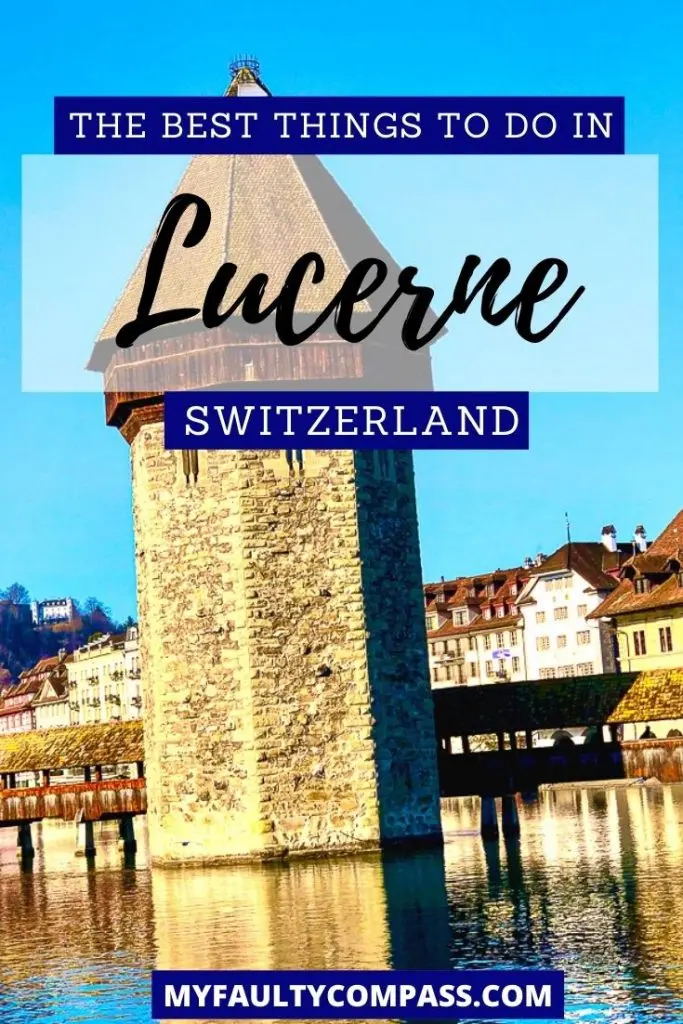 More information for your trip to Switzerland: