Switzerland is known for its stunningly scenic train rides – the perfect combination of superbly efficient & clean trains and incredible natural beauty! The Golden Pass train line is one of the best of these routes – covering 3 mountain passes, 8 lakes, 6 cantons and 2 language regions!
You experience lush, green fields with cows grazing over them, chalet houses along the rolling hills framed against the backdrop of the Alps and beautiful lakes as you move from the German-speaking side of Switzerland to the French-speaking one. I have been on this train 4 times already and every visit has been incredible!
Planning a trip to Switzerland? Click here for a detailed travel guide to Switzerland – including the best time to visit, itinerary options (for 3, 5, 7 or 10 days), visa, transportation in Switzerland (including Swiss Pass), accommodation options and more!
Here are more ideas for your trip to Switzerland: 25 best places to visit in Switzerland!
What is the Golden Pass route
The line from Lucerne to Montreux via Interlaken and Zweisimmen is known as the Golden Pass route. It winds its way through several lakes, the stunning Swiss Alps and the beautiful Swiss countryside. You can do this route in either direction (or in parts), depending on the rest of your itinerary.

There are 3 distinct sections of this route:
Lucerne to Interlaken
You enjoy beautiful views as the train moves along Lake Lucerne, the Sarnersee and the Lungernsee and starts the climb towards Brünig Pass. The Swiss countryside rolls by on both sides, lush green during the summers and snowy white during the winters. The train then descends to Meiringen before reaching the stunningly blue Lake Brienz. Moving along the lake (giving you plenty of photo opportunities!) the train reaches Interlaken OST.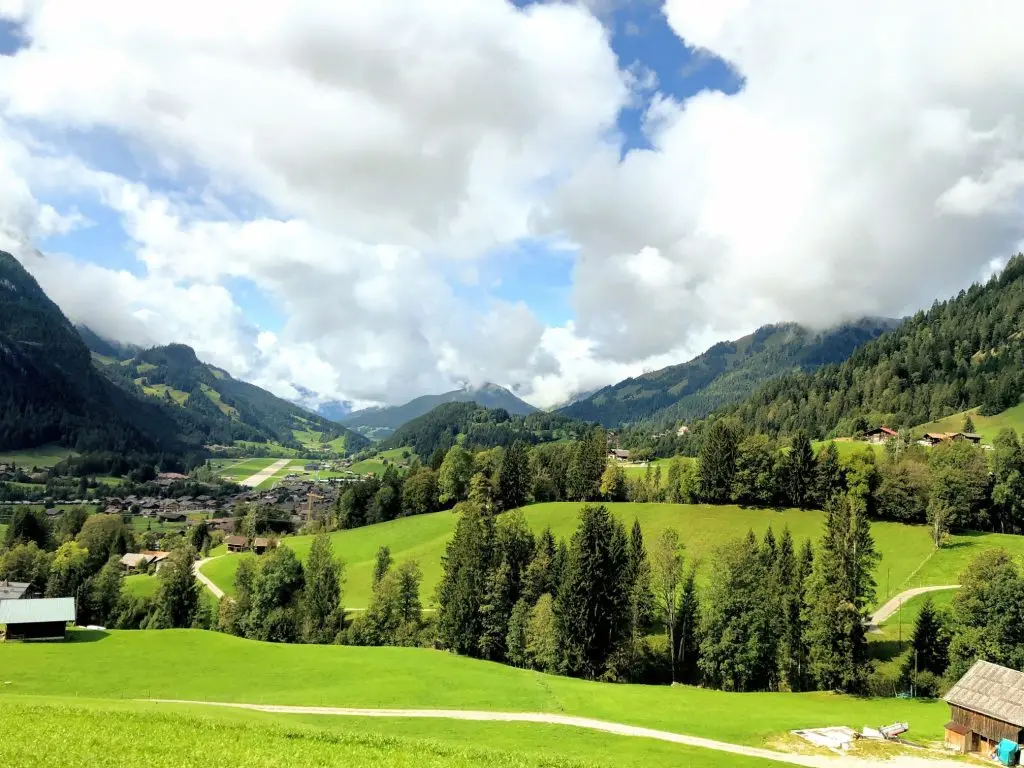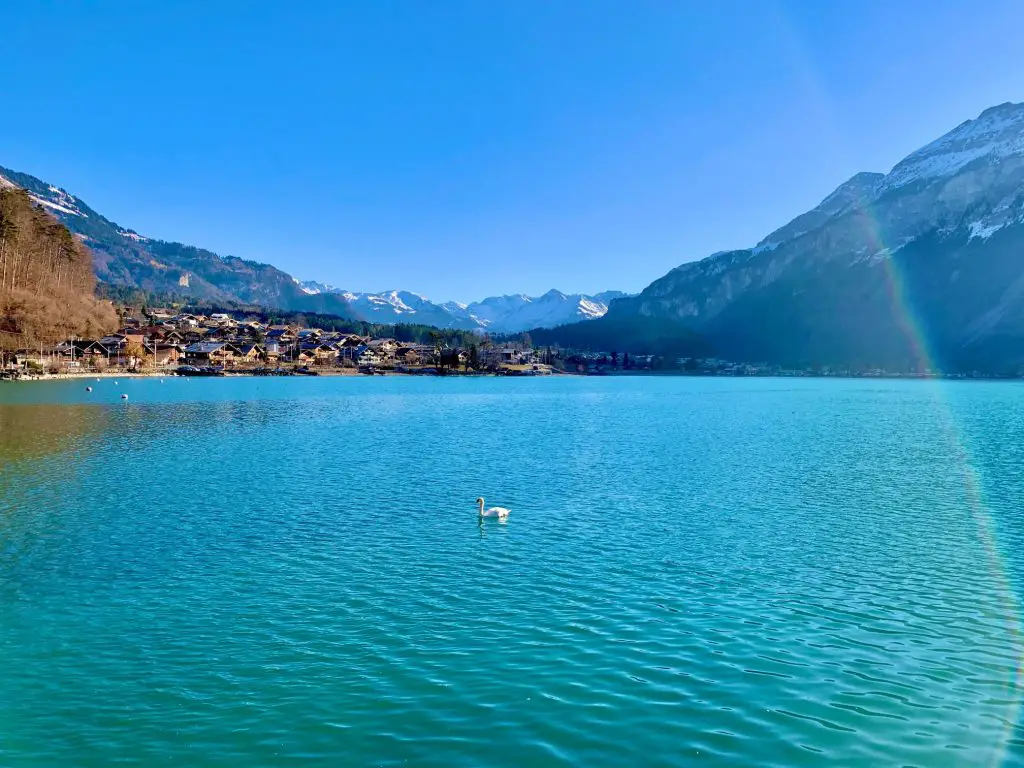 Interlaken to Zweisemmen
This route winds through the heart of the Bernese Oberland region. The train moves along Lake Thun into the town of Spiez and then through the Simmental region.
This section is among the least scenic of the 3 sections – though still beautiful, it's Switzerland after all!
Zweisemmen to Montreux
This section is the most beautiful part of this entire route, made even better by the giant panoramic windows since the Golden Panoramic coaches operate on this route.
The trains winds through the stunning countryside into the famous resort town of Gstaad – you'll be able to spot luxury stores and hotels!
You'll also cross the tiny town of Saanen – this is where some of the iconic scenes from the movie 'Dilwale Dulhaniya Le Jayenge' were shot.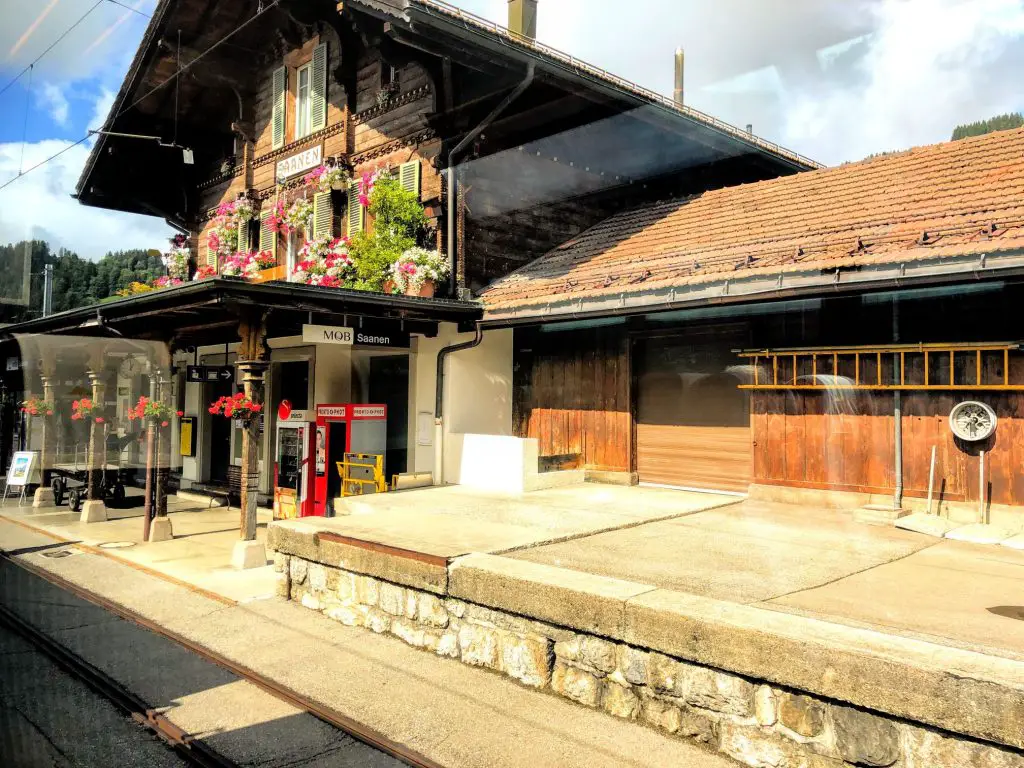 The train soon enters the French-speaking region and begins its descent into Montreux. The glistening Lake Geneva is visible throughout this descent, as are multitudes of vineyards – you will be able to spot the change in scenery from the Swiss Alps to a more Mediterranean flair.
Once in Montreux, head down to the lake promenade (5 min walk down from the train station) and take a stroll. Lined with flowers, beautiful (and sometimes odd!) sculptures, restaurant and cafes, the promenade is a great place to spend the afternoon. There are also cruises that run along the lake that you can take.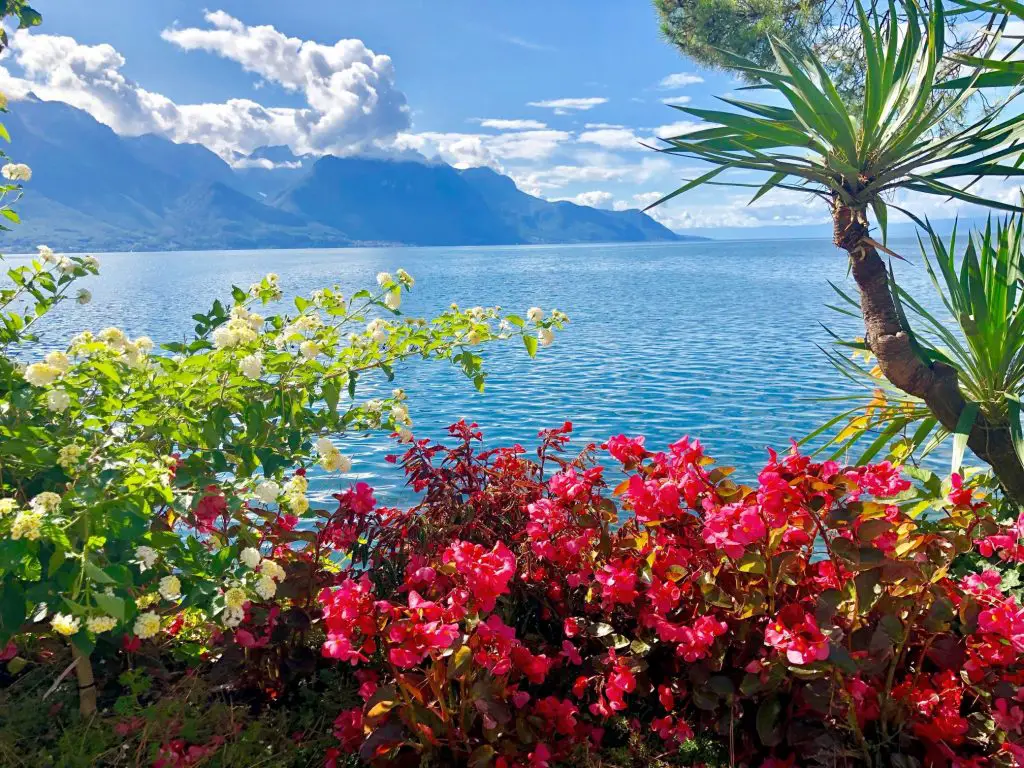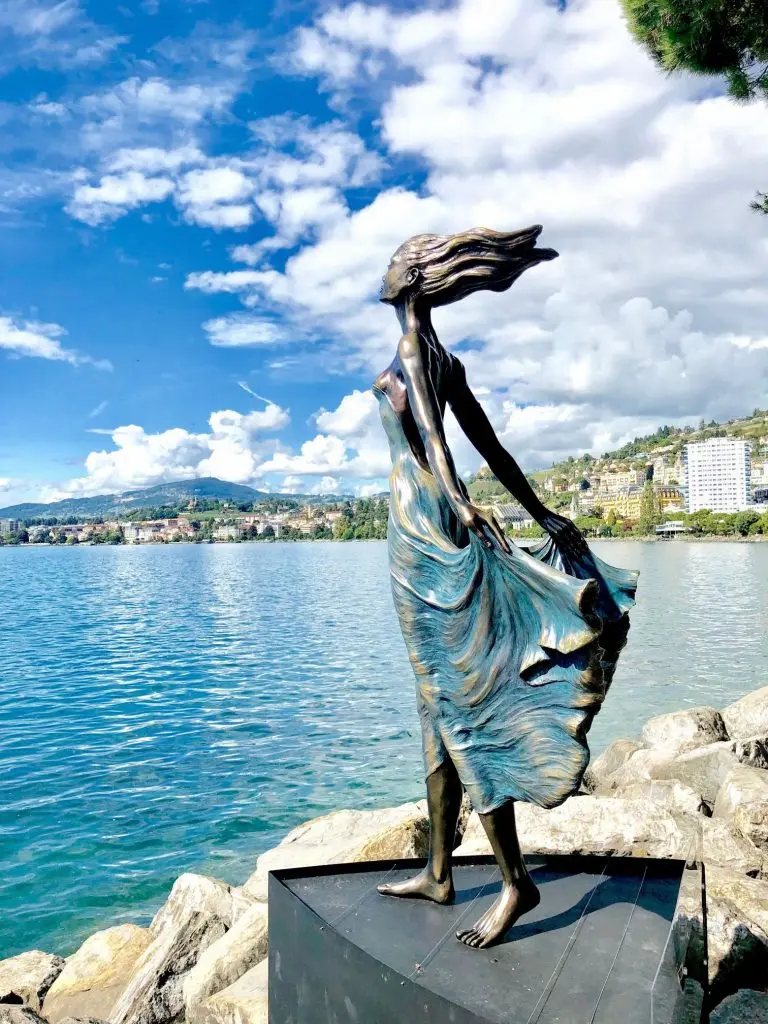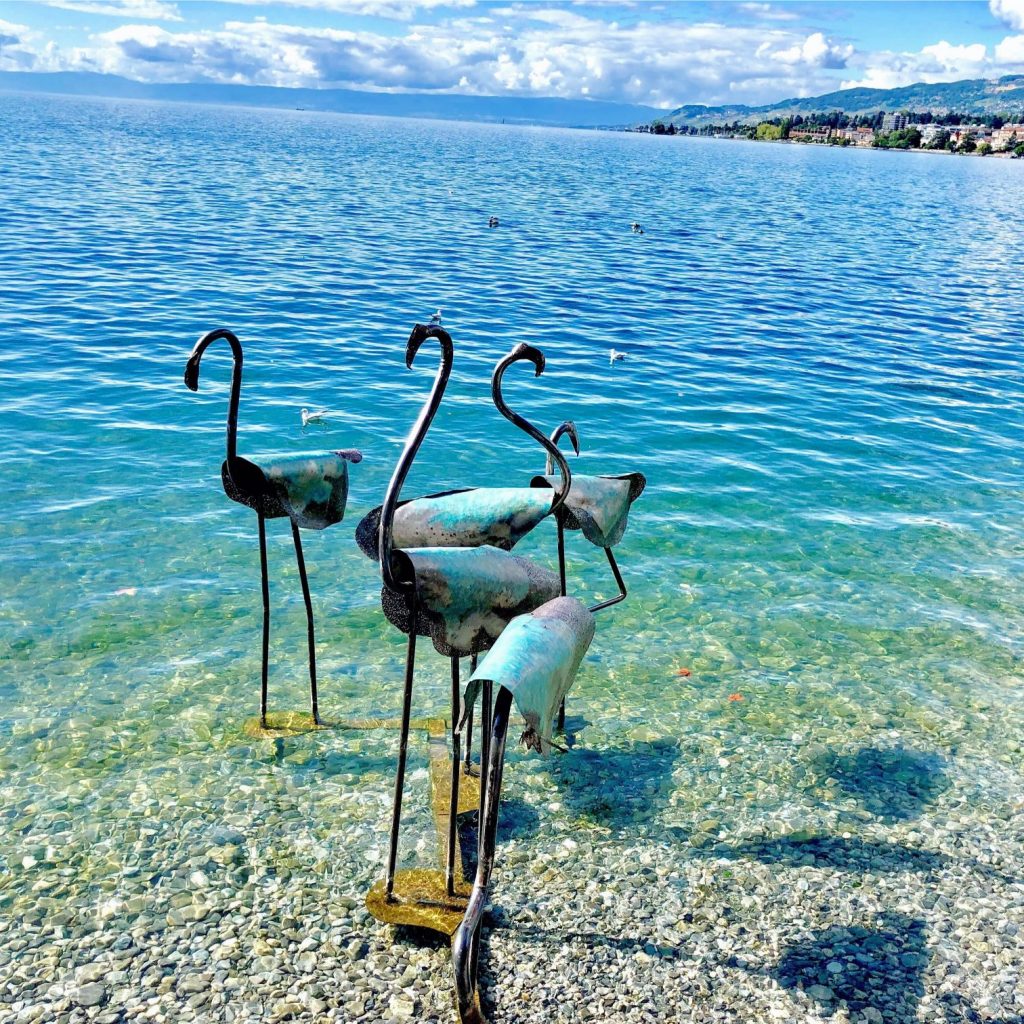 When is the best time to travel on the Golden Pass train line?
This route is operational year-round so come when you can!
How to plan the Golden Pass train journey?
There isn't one single train that takes you along this route, instead, you'll have to change trains a few times. So take note of the logistics.

ONWARD
Since there isn't one train that you can board for this entire route, you need to be familiar with the stops where trains need to be changed.

Use the SBB website or the SBB app to check for connections. In the search options, add the following,
From: Lucerne
To: Montreux
Via: Interlaken OST, Zweisimmen

OR vice-versa if you are travelling from Montreux.

You will get a list of connections (some may require 1-2 extra train changes). Pick one that is most suitable for you. Make sure that the train type for the last leg (Zweisimmen to Montreux) is specified as Panoramic. The type of train on the rest of the route does not matter.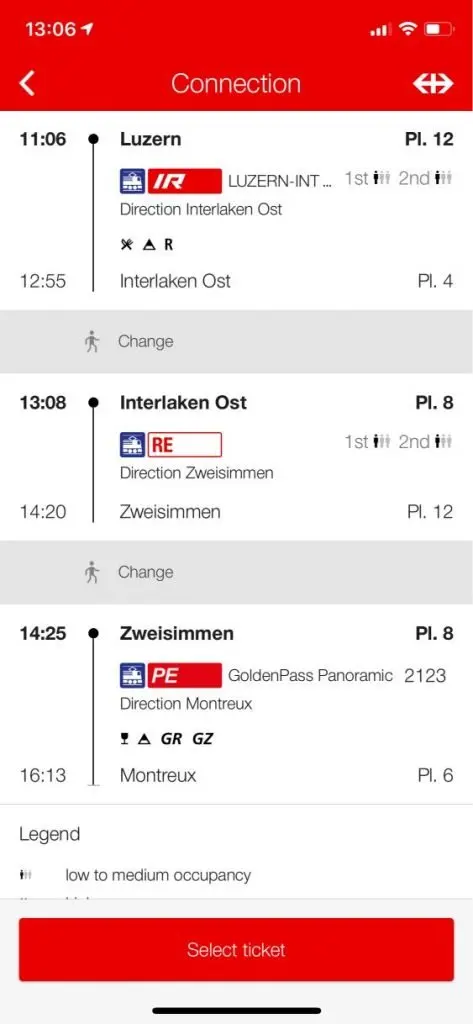 Lucerne – Interlaken: You will easily get a direct train. The train takes a total of 1 hr 45 minutes to reach from Lucerne to Interlaken OST.


Interlaken – Zweisimmen: Depending on the time, you could get a direct train, or you may have to change trains at Spiez. The train takes ~1 hr 15 minutes to reach from Interlaken OST to Zweisemmen.


Zweisimmen – Montreux: Make sure to take the direct 'panoramic' train on this route to best enjoy the views. The train takes ~1 hr 45 minutes to reach from Zweisemmen to Montreux.



RETURN
From Montreux, there are multiple train connections to all over Switzerland. Once you have finished strolling along Montreux, take the train back to Lucerne (or another stop as per your itinerary). Use the SBB website or the SBB app to check for connections.

Tickets for the Golden Pass train line
If you have a Swiss Travel Pass or a Eurail pass, you do not need to purchase any tickets. If not, pick up tickets for the entire route from one of the kiosks or the ticket counter or on the SBB app.
A reservation of seats is often recommended for the Zweisimmen – Montreux leg of the route, however, it is not necessary. I have travelled on this route at different times of the year and have always found it quite empty.

Which side of the train to sit on?
For the route from Lucerne to Montreux,

Lucerne – Interlaken: Sit on the right in the direction of travel (and don't change sides when the train reverses direction at Meiringen)

Interlaken – Zweisimmen: Sit on the right in the direction of travel

Zweisimmen – Montreux: Sit on the right in the direction of travel till Gstaad then move to the left

Practical tips
Try not to travel with luggage. Although there are luggage racks in all trains, it could get a bit difficult to move around with lots of luggage since there are a few train changes to be made.
Get down at one of the intermediate villages such as Saanen or Gstaad to explore. You'll be rewarded with beautiful cobblestoned streets lined with resplendent wooden chalets and gorgeous views all around. To continue on your trip, simply take the next train from that village onwards. There are trains usually every 1-1.5 hours.
If you have a stopover at Spiez, head outside the station for a beautiful view of the town of Spiez over Lake Thun. You will have enough time to take a picture and get back in time for your train!
There are no power sockets on most of the trains on this route so carry along a power bank. Since you will not be able to stop clicking pictures, your phone's battery is bound to run down!
Have you travelled this route? What has been your favourite part?

Are you planning to travel this route? What part are you looking forward to the most?

Let me know if you have any questions, happy to help!
Check out this complete Switzerland travel guide to make your travel planning easier – includes details on the best time to visit, itinerary options (for 3, 5, 7 or 10 days), visa, transportation in Switzerland (including Swiss Pass), accommodation options and more!

If you found this useful, please share and spread the love!

Ciao!

Pin it for later.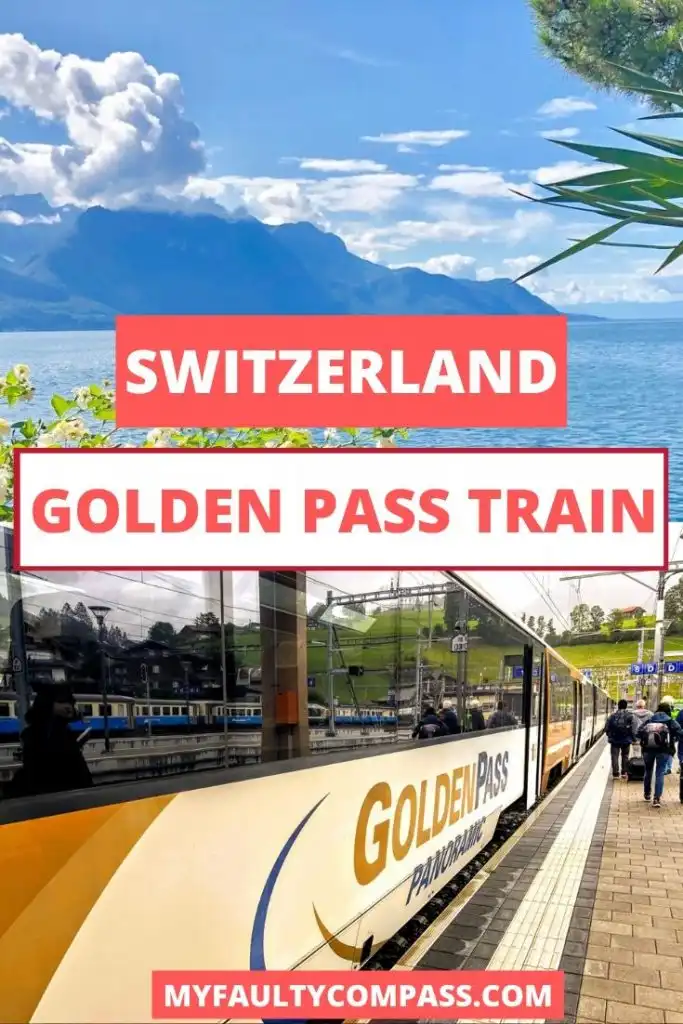 Planning a trip? Here are some of my go-to travel resources to make it more efficient for you, while staying within budget!
Booking.com is my favourite platform for hotel or apartment bookings. I love their map interface (I prefer to stay within walking distance of major attractions!) and they have an excellent customer service.
Get Your Guide is my go-to choice for fun tours and activities. They have a wide range of options and a great interface.
I prefer to use Skyscanner to find the cheapest flights. I often use their monthly view of prices to decide my travel dates!
Travel insurance is absolutely essential for all your international travels. I've been saved by it a few times when I fell sick while travelling and I swear by it since then! World Nomads is an excellent choice for travel insurance.