I get asked for itinerary options from my readers very often and 7 days turns out to be one of the most popular visit durations. Here's a consolidation of all my recommendations for 7 days in Switzerland – all in one place for your easy perusal! 7 days in Switzerland is just enough time to see the highlights of Central Switzerland, the Bernese Oberland region and Zermatt.
Continue reading for a detailed 7 day Switzerland itinerary, and all the details you need to plan your trip.
The itinerary recommended in this post is based on my experience of taking my friends and family around the country – across multiple trips. I've tried to include a mix of experiences across the 7 days – lakes, mountains & glaciers and cities. I've also included places that have wowed us and our visitors the most! 
For this itinerary, quality trumps quantity so I have not included places such as the south or west of Switzerland since it would be too much to fit into 7 days. As it is, the 7-day itinerary I've recommended below is a bit hectic but I want you to be able to see as much as you can!
Here are more ideas for your trip to Switzerland: 25 best places to visit in Switzerland!
Note: This post contains some affiliate links. This means if you make a purchase through these, I may earn a small commission, at absolutely no extra cost to you. Thank you for your support!
7 day Switzerland itinerary – Overview
Day 1: Zurich & Rhine Falls
Day 2: Lucerne & Mount Rigi
Day 3: Mount Titlis
Day 4: Grindelwald First, Bachalpsee & Lauterbrunnen
Day 5: Golden Pass Train & Lake Brienz cruise
Day 6: Zermatt
Day 7: Zermatt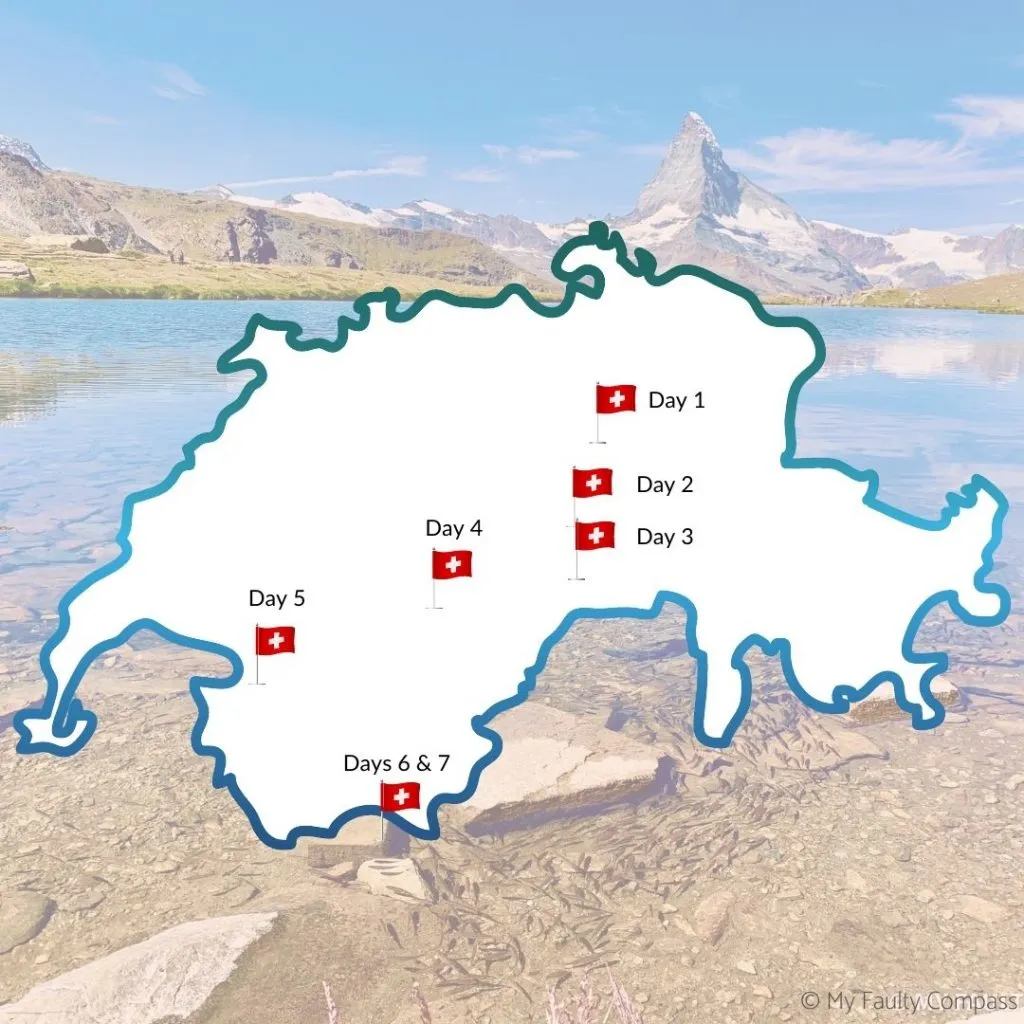 Overnight stays:
Lucerne – 3 nights
Interlaken – 2 nights
Zermatt – 1-2 nights
7 day Switzerland itinerary – Details
Day 1 – Switzerland itinerary – Zurich & Rhine Falls
KEY HIGHLIGHTS OF THE DAY: Zurich town and Rhine Falls
OVERNIGHT STAY: Lucerne (just a little over a 1-hour train ride from Zurich and since it's the next place to explore on the itinerary it would be easier to stay here) (You can stow your luggage at the train station and pick it up on your way back)
Click here to find places to stay in Lucerne
You will be arriving in Switzerland most likely through Zurich airport which is the largest international airport in the country.
Zurich is a beautiful city, one that I've lived in for a couple of years and absolutely loved. With 7 days in Switzerland, there is just enough time to explore the city a little. 
Spend your first day taking in the spectacular Rhine Falls and the beautiful city of Zurich.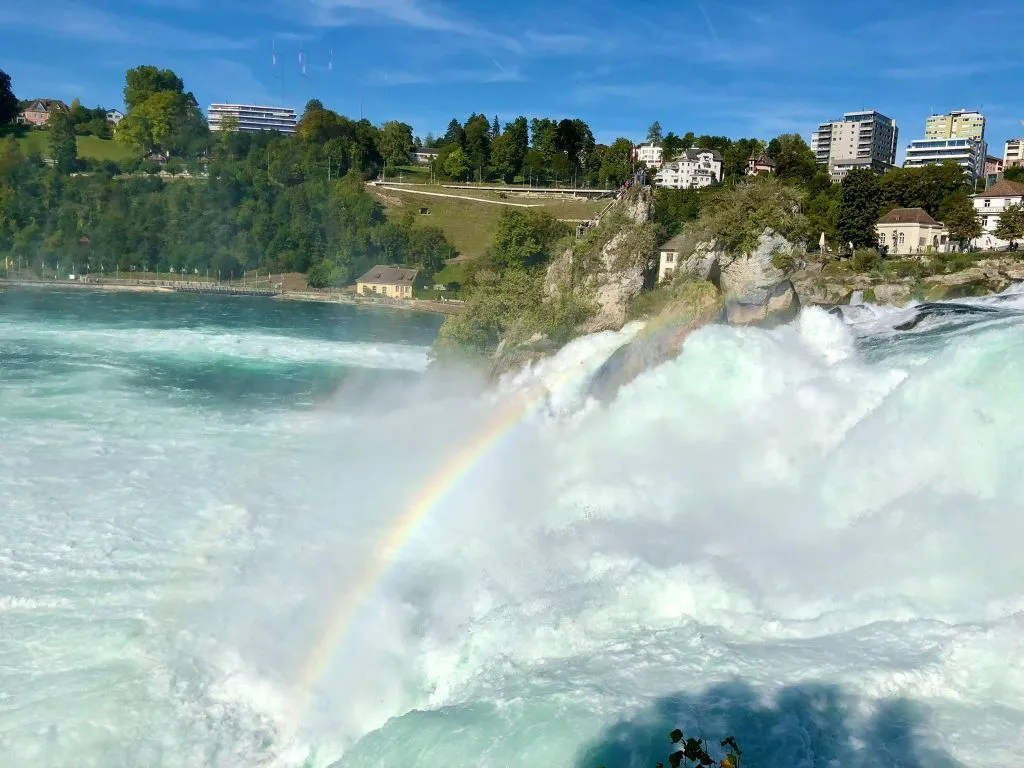 Europe's most powerful waterfall, the Rhine Falls were our go-to day trip for any visitors. We've already been there about 5 times already and every outing continues to amaze us! These falls are super easy to reach and are among the cheapest attractions in Switzerland.
You will need around half a day to enjoy the falls.
Here's all you need to know to visit Rhine Falls:
Head back to the city after visiting the falls and take in the lovely city of Zurich. Start with a stroll along the Bahnhofstrasse, the famous shopping boulevard of Zurich. Take a turn from Bahnhofstrasse into Rennweg (another charming shopping street) and head towards the historic spot of Lindenhof. Located on a hill, you can look out over the river, the old town and the mountains from this spot. From Lindenhof, walk towards Niederdorf, the charming old town district. Car-free, cobbled stone streets lined with boutiques and small shops – this area combines the best of history, architecture & shopping! Stroll along the Limmat river taking in the beautiful old town and the romantic streets.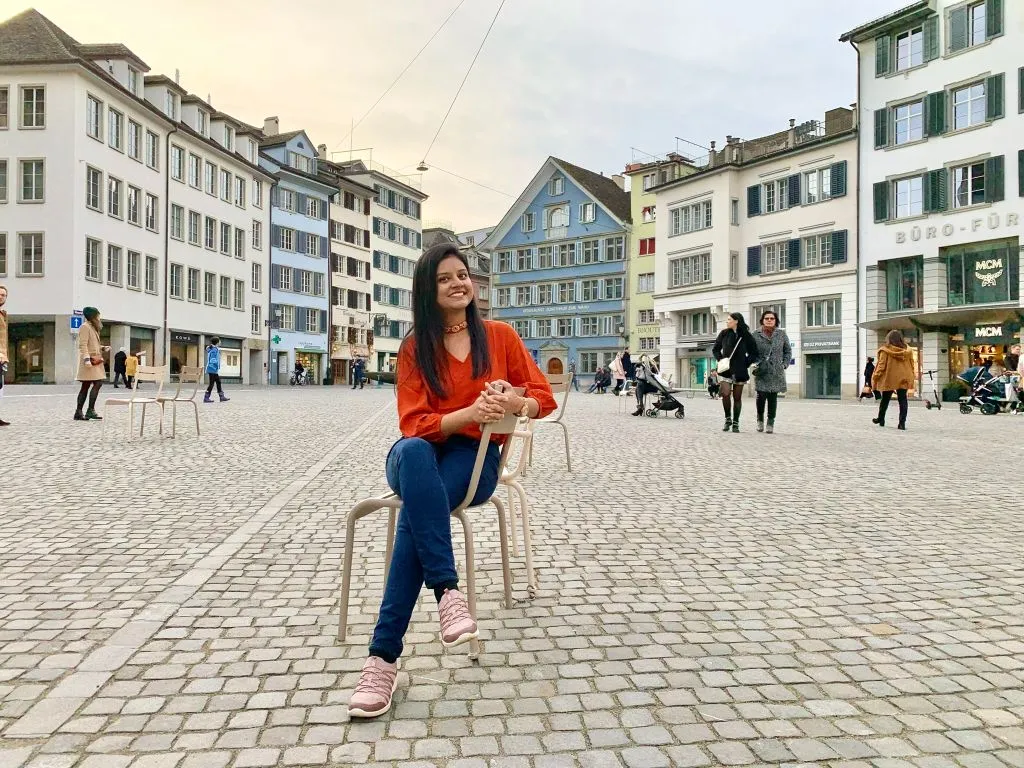 As you walk from the old town towards the lake you'll come to one of the largest squares in Switzerland – Sechseläutenplatz. Located between the Zurich Opera House and Bellvue, this square has several cafes and restaurants around it making it the perfect spot for a coffee break.
Take a stroll along the lake promenade which is right next to the Sechseläutenplatz. There are plenty of places to sit and enjoy the views and maybe get ice cream too!
Read more about the best things to do in Zurich here:
At the end of the day, make your way to Lucerne by hopping onto one of the many train connections to the city from Zurich. There are trains nearly every 30 minutes starting at 5 am, till 11:45 pm,  and take about 1 hr 15 min to reach Lucerne.
Tickets for the train can be bought on the SBB app (install it when you visit, it is super useful!) or at the several kiosks or from the ticket counter if you'd like to speak with someone and get any other information.
Day 2 – Switzerland itinerary – Lucerne & Mount Rigi
KEY HIGHLIGHTS OF THE DAY: Lucerne town and Mount Rigi
OVERNIGHT STAY: Lucerne
Click here to find places to stay in Lucerne
Lucerne
Lucerne is a fairy-tale-like city, complete with charming cobblestoned streets, a stunning lake, snow covered mountains and quaint buildings. Lucerne was the 3rd place in Switzerland I lived in and it was absolutely amazing! One of my favourite things to do in Lucerne was to simply take a stroll through the old town or the lake promenade – nothing could be more relaxing or breathtakingly beautiful. 
Begin your day in Lucerne with a stroll around the old town, starting with the famous Kappelbrucke, the covered wooden bridge across the River Reuss. This iconic bridge and the water tower next to it are one of Switzerland's biggest landmarks and one you can see on all postcards & souvenirs!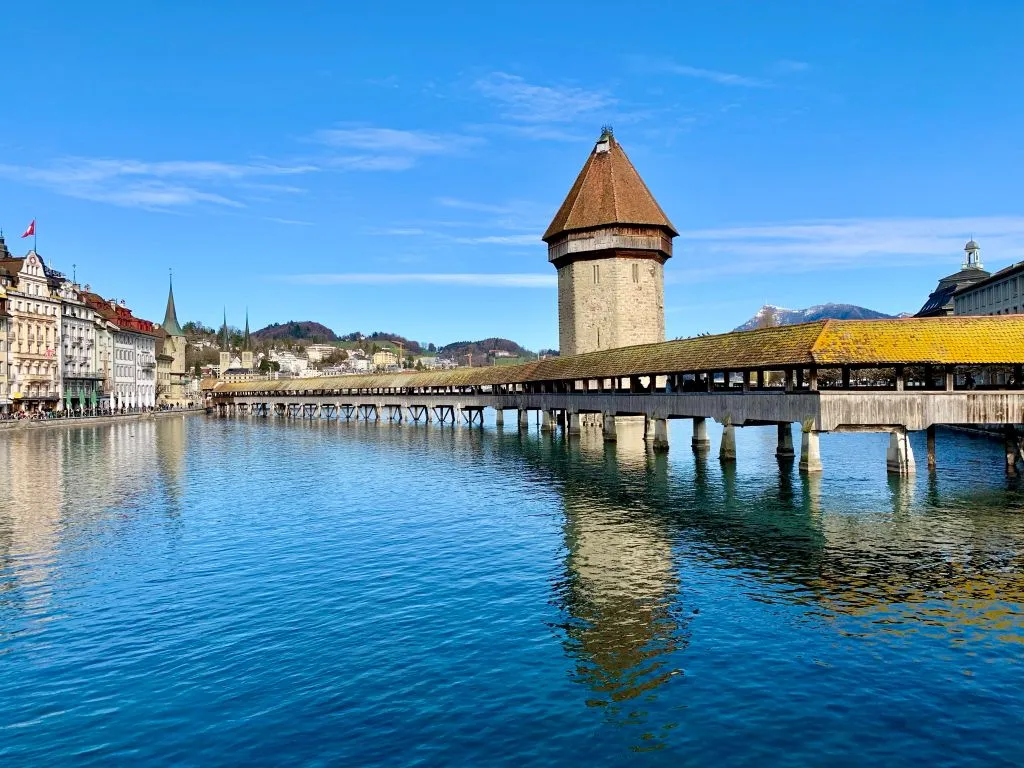 Walk along the river Reuss and into the old town of Lucerne. Cobbled streets lined with beautiful buildings and colourful shops invite you to spend time exploring the area!
Make your way next to the Lion Monument built to commemorate the Swiss Guards who were killed during the French Revolution. It's a beautiful structure and one worth visiting.
Walk down to the lake and take a stroll along the spectacular lake promenade. Surrounded by mountains, the lake is pretty as a picture!
Read more about the best things to do in Lucerne here:
Head down to the Ferry dock for the next part of your day – a visit to the Queen of mountains, Mt. Rigi!
Mount Rigi
Mt. Rigi is our go-to day trip for family and friends visiting us. It offers an all-encompassing experience of all that's wonderful about Switzerland.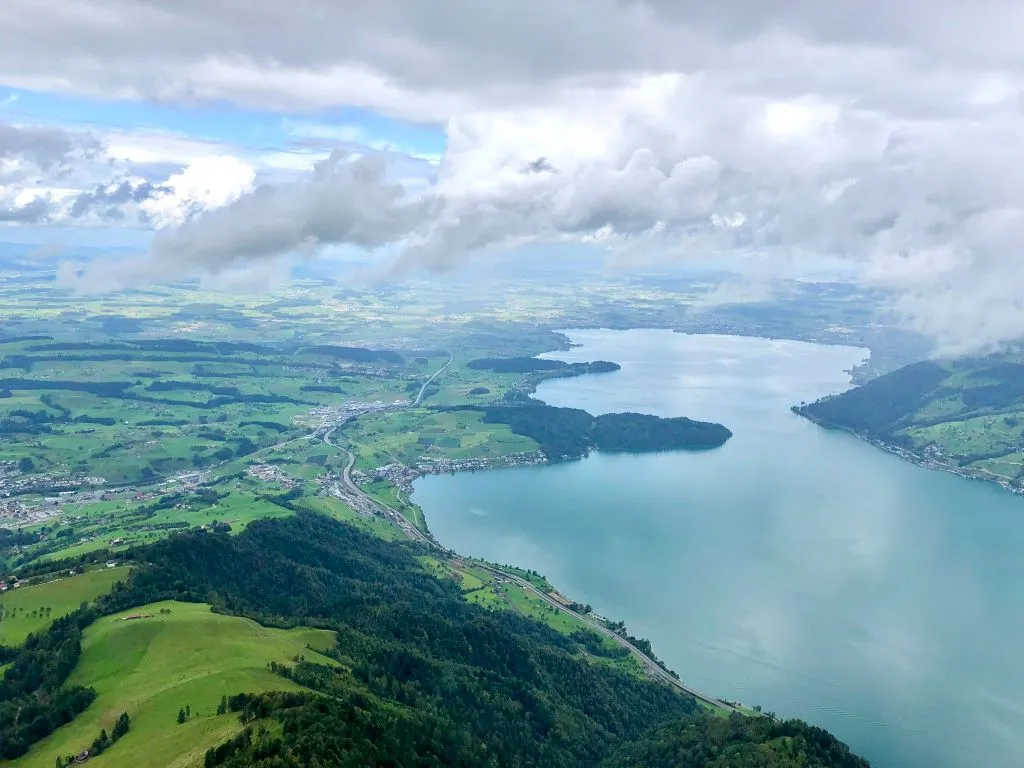 A trip to Mount Rigi from Lucerne includes a cruise on the delightful Lake Lucerne, a ride on a steep funicular, spectacular views from the Rigi cogwheel train, a beautiful mountain top and stunning views across Central Switzerland – and surprisingly few tourists.
There are 13 lakes that you can see from the top! On a clear day, even the sharp peaks of several Jungfrau giants are visible. 
Ease your planning with this complete guide to visiting Mount Rigi:
For Mount Rigi, tickets can be bought from the ferry dock opposite the Lucerne train station. To get to the mountain, you first need to take a ferry from Lucerne to Vitznau and a cogwheel train from there to Rigi Kulm. 
Day 3 – Switzerland itinerary – Mount Titlis
KEY HIGHLIGHTS OF THE DAY: Mount Titlis
OVERNIGHT STAY: Lucerne
Click here to find places to stay in Lucerne
Mount Titlis
One of the biggest highlights of Central Switzerland, Mount Titlis is an easily accessible glacier with stunning views of snow-capped mountains and beautiful Alpine landscapes. 
A worthy alternative to the pricey (and super crowded!) Jungfraujoch, Mt. Titlis is always our recommendation to visitors asking for a snow-capped mountain to discover in Switzerland.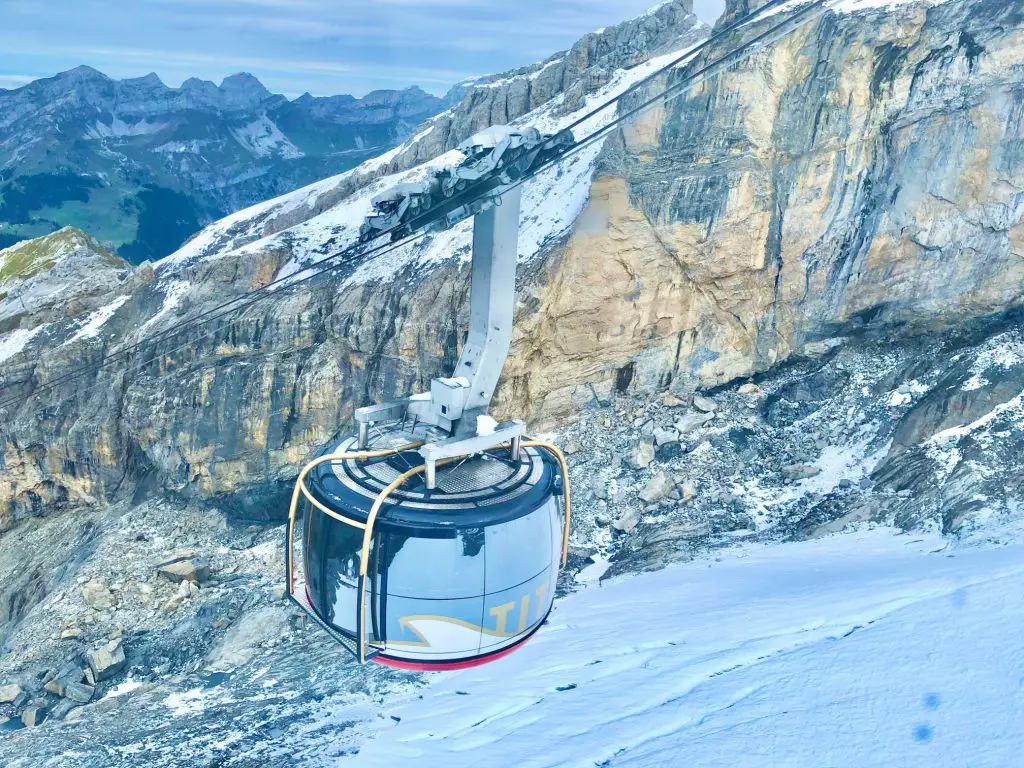 At ~3200 m, Titlis is one of the highest mountains in Switzerland and is perpetually covered in snow. The landscapes from the top are absolutely breathtaking – spending a day at Mt. Titlis is a must when in Switzerland!
Make your travel planning easy with this complete guide to visiting Mount Titlis:
To get to Mount Titlis take the train from Lucerne to Engelberg. Once at Engelberg, walk the 5-10 min or take the bus B10 to the Mt. Titlis cable car station (Titlis Talstation).
Once at the cable car station, head to the ticket counter. If you purchased your tickets online, show those at the counter to get the physical tickets which will be required to cross all the turnstiles. 
TIP: You'll need to wear warm clothes, in layers to visit Mount Titlis. Carry a warm cap and gloves since it can get really cold and windy at the summit, even during the summer. You also need closed, sturdy shoes since you will be walking on snow and ice. 
Spend the evening strolling through the charming streets of Lucerne.
Day 4 – Switzerland itinerary – Grindelwald First, Hike to Bachalpsee & Lauterbrunnen
KEY HIGHLIGHTS OF THE DAY: Grindelwald First Cliff Walk and Hike to Bachalpsee
OVERNIGHT STAY: Interlaken
Click here to find places to stay in Interlaken.
You will need to shift bases today and move from Central Switzerland to the Bernese Oberland region, unarguably the prettiest part of Switzerland!
Interlaken is quite centrally located, has extensive train connections and offers a large variety of places to stay at. It is a very touristy town and there isn't much to do in the town itself, yet it makes for an excellent base to explore the Bernese Oberland region.
You could also base yourself at some of the other towns such as Lauterbrunnen which is insanely pretty, however, has fewer train connections and fewer options to stay at.
Frequent trains run from Lucerne to Interlaken and it is a short 1hr 50min train ride. This journey is part of the Golden Pass Train Line, one of the most famous and the most spectacular train rides in Switzerland.
Once at Interlaken, walk or take a bus to your hotel to drop off your stuff. The town is very beautiful with traditional Swiss chalets lining the main street, the turquoise river Aare running through it and tall snow-covered peaks surrounding it. Enjoy a bit of it now as you head back to the train station. Take the train to Grindelwald.
At Grindelwald, make your way to the Grindelwald First cable car station and take the gondola up to First. There are 2 attractions at the top of First – a Cliff Walk and the hike to Bachalpsee.
Grindelwald First Cliff Walk
The Grindelwald First Cliff Walk is a narrow metal walkway clinging to the edge of a steep cliff at a dizzying height of 2000+ meters leading to a sky bridge which rises 45 metres out into the void. Oh, and the sky bridge has a glass floor so you look down into that void (and the metal walkway has a mesh see-through floor)! I've made it sound scary, haven't I?!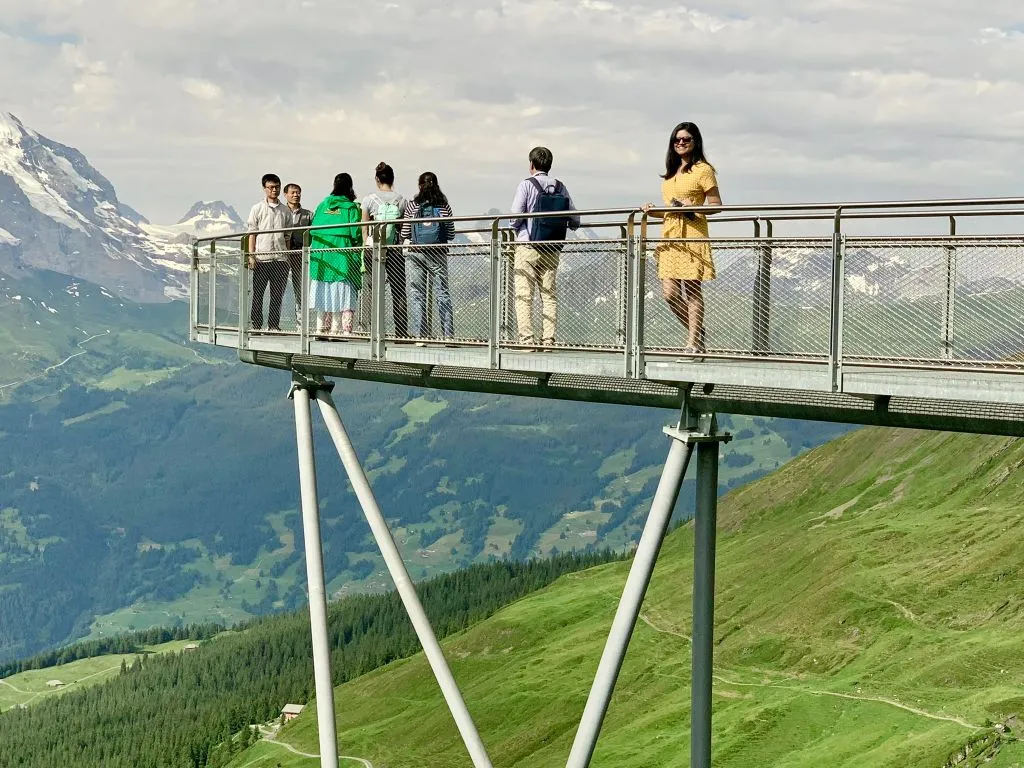 But in truth, the First Cliff Walk is anything but scary (except if you have a phobia of heights) – it's a super fun & thrilling place to visit. On the walk, you get sweeping views of the Alpine valley below and the tall, snow-capped mountains above – a cool breeze and the tinkling of cowbells make for wonderful accompaniments to the whole experience.
Make your travel planning a breeze with this detailed travel guide on the First Cliff Walk:
The Grindelwald First Cliff Walk is located at the summit of First, a mountain in the Jungfrau region. It is accessible through a gondola from the village of Grindelwald (a ~45min train from Interlaken).
Hike to Bachalpsee
There are several hikes you can do from Grindelwald First and one of the best of them is the hike to Bachalpsee.
This hike encompasses all that's most beautiful about Switzerland – stunning snow-capped mountains, lush green meadows & valleys, crystal clear lakes, and wildflowers, all to the soundtrack of ringing cowbells! It is one of the best places to visit in the Jungfrau region and my favourite place in Switzerland. 
I would prioritise the Bachalpsee hike over visiting Jungfraujoch because it offers a more varied experience and is much cheaper.
The hike to Bachalpsee is an easy extension of your visit to the First Cliff Walk. It's a ~3 km walk to the lake and back and takes about an hour.
Here's all you need to know about hiking to Bachalpsee:
Spend the evening strolling through the charming streets of Lauterbrunnen and Interlaken.
Day 5 – Switzerland itinerary – Golden Pass Train & Brienz
KEY HIGHLIGHTS OF THE DAY: Golden pass trail line to Montreux + A cruise on Lake Brienz
OVERNIGHT STAY: Interlaken
Click here to find places to stay in Interlaken.
An easy itinerary for the day today after 4 days of whirlwind activity! Today's the day you can sit back and let nature come to you – on the train first and then on the ferry ride!
Golden Pass Train Line
Switzerland is known for its stunningly scenic train rides – the perfect combination of superbly efficient & clean trains and incredible natural beauty! The Golden Pass train line is one of the best of these routes – covering 3 mountain passes, 8 lakes, 6 cantons and 2 language regions!
The line from Lucerne to Montreux via Interlaken and Zweisimmen is known as the Golden Pass route. It winds its way through several lakes, the stunning Swiss Alps and the beautiful Swiss countryside.
You would already have done the first section of the train ride when you travelled from Lucerne to Interlaken. Today you can head all the way into Montreux on the most beautiful section of the Golden Pass Line.
Sit back and enjoy the natural beauty through the gigantic panoramic windows of the train. 
Once in Montreux, head down to the lake promenade (5 min walk down from the train station) and take a stroll. Lined with flowers, beautiful (and sometimes odd!) sculptures, restaurants and cafes, the promenade is a great place to spend an hour or so.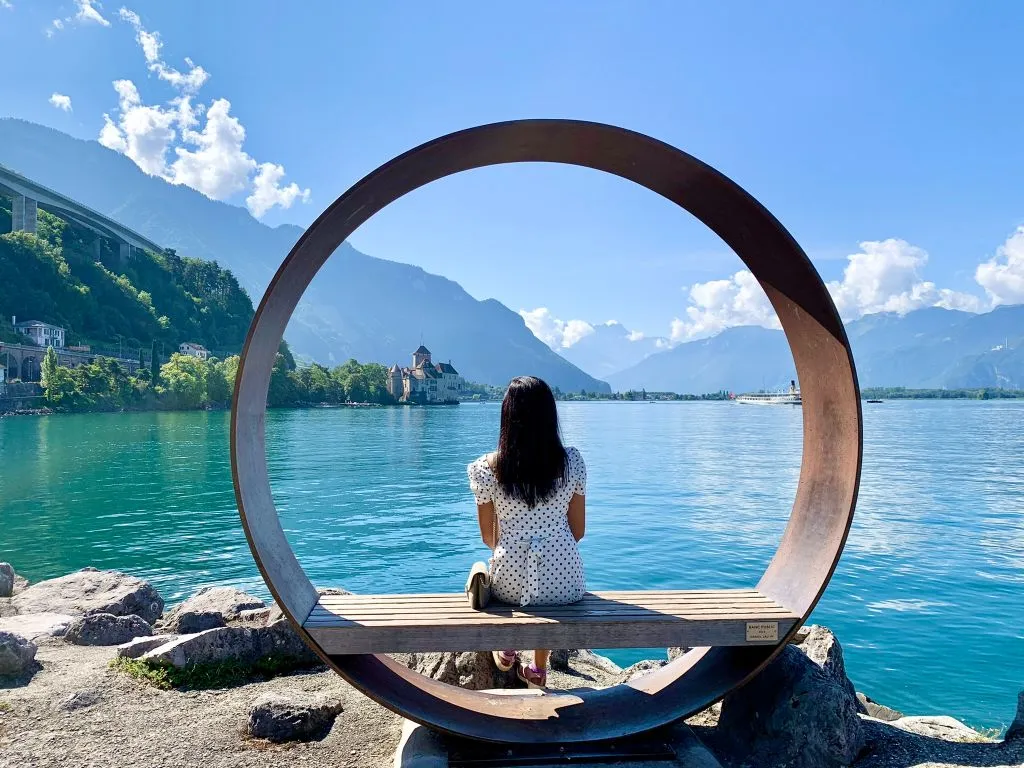 Here are all the details to travel on the Golden Pass Train Line:
Lake Brienz
Once back in Interlaken from Montreux, take the time to explore one of the lakes bordering the town – Lake Brienz.
Lake Brienz is one of the prettiest, yet one of the most underrated lakes in Switzerland! The uniquely turquoise blue colours of the lake, the charming Swiss villages around it and the beautiful landscapes of the Swiss Alps make Lake Brienz one of the best places to visit in Switzerland and one of my absolute favourite Swiss Lakes!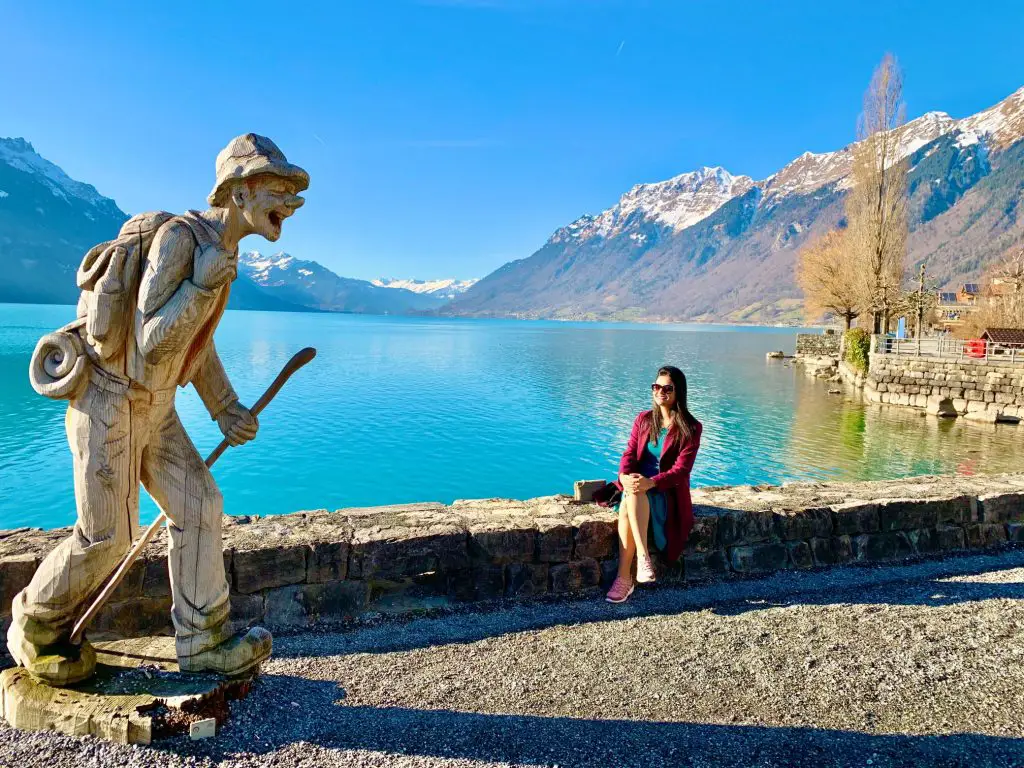 Lake Brienz boat tour is one of the best ways to take in this awe-inspiring lake up close. Ferries operate between Interlaken & Brienz, with stopovers at Bonigen, Iseltwald, and Giessbach with multiple connections between April & October so you can take your time exploring each place. Look up ferry timings on the SBB app.
Bonigen & Iseltwald are small traditionally Swiss villages, beautiful for a stroll through. Giessbach is famous for its waterfall which you can reach by taking a funicular (or hiking up) from the ferry station.
Read my guide to Lake Brienz:
Day 6 & 7 – Switzerland itinerary – Zermatt
KEY HIGHLIGHTS: Hiking the Gornergrat trail & the 5 lakes trail
OVERNIGHT STAY: Zermatt
Click here to find places to stay in Zermatt.
For your last 2 days in Switzerland, shift bases again and head to Zermatt, home to the most iconic mountain of Switzerland – the majestic Matterhorn.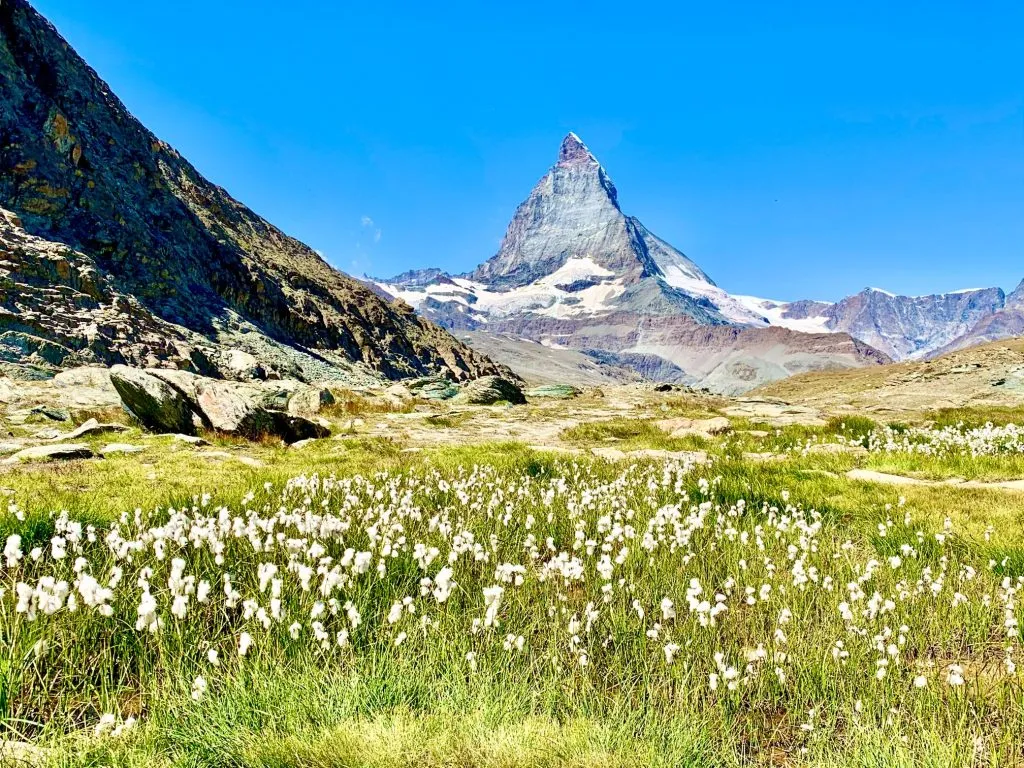 Zermatt is a postcard-perfect Swiss village complete with charming wooden chalets with flowers adorning the windows, snowy mountains dominating the landscape and stellar Swiss engineering enabling you to visit those mountains with ease!
Read here for some of the best things to do in Zermatt:
Spend the first day familiarizing yourself with the village and the various viewpoints to take in the Matterhorn, especially during sunrise.
Head on to Gornergrat and hike the Gronergrat trail down. The Sun Trail from Gornergrat to Riffelberg descends along the Gornergrat Bahn, the world-famous railway line and takes you along cascading glaciers, stunningly beautiful lakes and lush meadows sprinkled with wildflowers!
Read here for my complete guide on hiking the Gornergrat Trail:
Spend your 2nd day in Zermatt hiking the 5 lakes trail. 5 beautiful lakes, the mighty Matterhorn, snowy mountains and impressive glaciers – all await you on this lovely hike in Zermatt, also known as 5-Seenweg.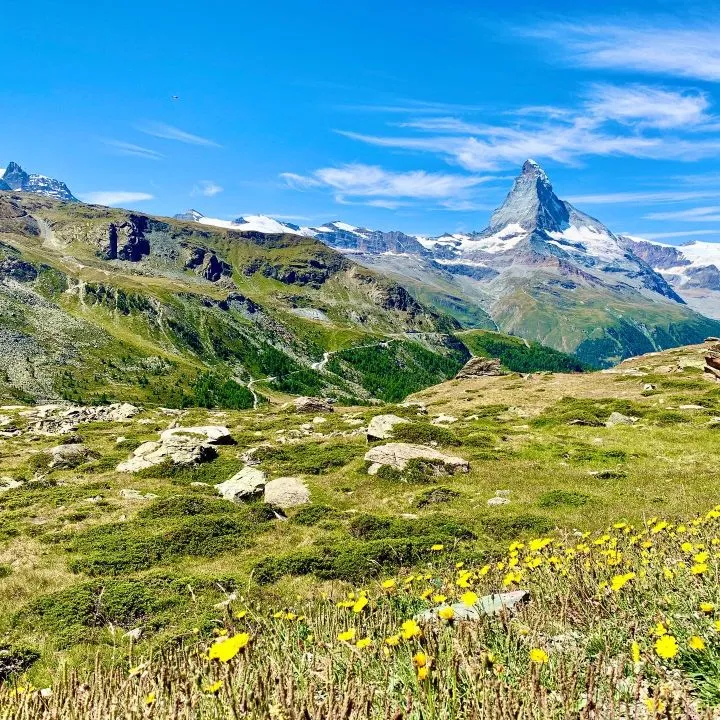 Read here for my complete guide on hiking the Zermatt 5 lakes trail:
Spend this last night in Zermatt or head back to Zurich/ Geneva to catch your return flight.
Information for planning your 7-day Switzerland itinerary
When to visit Switzerland
Spring and Summer are the best times to visit to enjoy activities such as hiking, biking or just basking in the sunshine! If skiing is what you are looking for, winter is the time for you, with the added bonus of beautiful Christmas markets and festivities.
Avoid the peak tourist months of July & August – crowds are at the highest, as are the costs for hotels & mountain transportation. The shoulder months of May/ June or September/ October are better to enjoy most summer activities.
This 7-day Switzerland itinerary is geared towards summer, however, you can make it work for winter with a few minor tweaks:
Days 1 – 3 will remain unaffected since all these places are accessible through the year
Day 4: Replace Grindelwald First with Schilthorn which offers 360-degree panoramic views of the Swiss skyline including the giants of the Bernese Oberland region – Eiger, Mönch and Jungfrau. To get to Schilthorn, head to Stechelberg, near Lauterbrunnen and take the cable cars up to Schilthorn.
Day 5 will remain unaffected
Days 6 – 7: Head to Zermatt. If it has not snowed you could still hike the Gornergrat trail or the 5 lakes trail. If it has snowed you could visit the mountain attractions (eg. the Matterhorn Glacier Paradise) and see the glacier & the Matterhorn. More on things to do in Zermatt here.
How to get to Switzerland
Zurich and Geneva are the major international airports in Switzerland. Flying in and out of Zurich would be more convenient since it is located close to most places you'd visit. 
If you're already in Europe, you can take a train to Switzerland as well. Zurich is only 4-5 hours from Paris/ Lyon, 3-4 hours from Milan, 7 hours from Munich.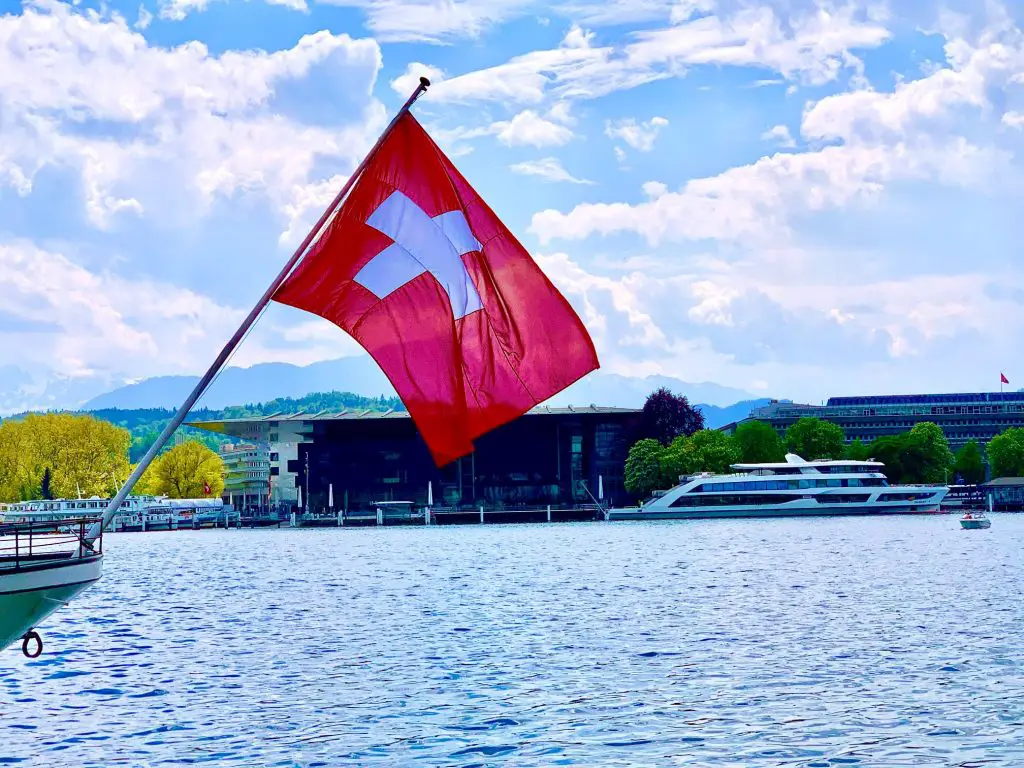 How to get around Switzerland
Travelling around Switzerland by train
Switzerland has an excellent public transportation system – from trains and buses to mountain railways and cable cars. Everything is amazingly well maintained, super clean and extremely efficient. 
I would recommend making use of the public transportation system using the Swiss Travel Pass instead of renting a car 
The Swiss Travel Pass gives you unlimited travel on trains, buses and boats, free entry to numerous museums and free or discounted mountain excursions. 
For your 7 day visit to Switzerland, buy the 6-day Swiss Travel Pass – there's no option for a 6-day pass, unfortunately. You can pay for point to point tickets on the first day of your trip.
You can buy the Swiss Travel Pass online. Just book and print. Or you can head to the ticket counters at the train station to buy them once you get here too.
Travelling around Switzerland by car
If there is a group of you it might turn out to be more economical to rent a car if you are going to be driving long distances. If you are making more mountain trips (as suggested in the itinerary above), public transportation might be a better idea.
Several of your days in Switzerland would involve heading up to the mountains – to hike or just to take in the views. For these excursions, you will need to take a cable car or a funicular. With the Swiss Travel Pass, several of these are free while there are discounts on the others.
Where to stay in Switzerland
Switzerland is very expensive – so everything from accommodation to meals is going to cost a lot.
So apartment stays might prove to be more cost-effective than hotels, especially if you are travelling in a group. These would also often have a kitchen so you can prepare meals to cut down on expenses too.
Since you will be travelling by train, it would be better to look for hotels close to train stations.
Click here to find places to stay in Lucerne.
Click here to find places to stay in Interlaken.
Click here to find places to stay in Zermatt.
Also check out my guide on the best places to stay in Switzerland, including hotel recommendations!
Managing luggage in Switzerland
As with any place else, it's best to travel light in Switzerland. However, if you do have luggage, it's quite easy to manage it.
Most trains in Switzerland have an overhead rack (meant for small bags), a luggage area at the end of the coach or spaces between rows of seats to slide your bags into.
Train stations would have an elevator, escalator or at the very least a ramp to easily roll your luggage in and out of the platforms.
Most train stations (except really small ones) also have luggage storage lockers where you can stow your bags for a few hours. We've used these in several cities and found them to be very convenient. You can choose the size of the locker based on the size of your luggage and pay accordingly.
Essentials for your trip to Switzerland
Visa for Switzerland
Switzerland is part of the Schengen area and a Schengen visa (short-stay tourist visa) is required for a visit. EU citizens and citizens from several countries such as the US, Australia, Canada, New Zealand are exempt from requiring a visa. Check your country's visa requirements here.
If you are travelling to multiple European destinations within the Schengen area, you can apply to the first country of travel for your Schengen visa. This visa will be valid in Switzerland too.
Currency in Switzerland
Swiss Franc (CHF) is the currency used in Switzerland. While the Euro is widely accepted, you may not get the best exchange rate. A better idea may be to withdraw some CHF from an ATM or get some exchanged at the airport or the train station.
You can pay using your card at nearly every location in Switzerland, but keep some cash handy for odd purchases (or for using the restrooms at some public locations!).
Language(s) in Switzerland
German (a dialect called Swiss German is in practice in Switzerland), French, Italian and Romansh are the languages of Switzerland. The most common of these is Swiss German.
What are the best souvenirs to buy in Switzerland?
Some of the best things to buy when in Switzerland are: Swiss knives, Swiss watches (which can be super expensive!), Swiss chocolates (Läderach, Sprüngli make some of the best chocolates!) and Cowbells.
Practical tips for your 7 days in Switzerland
Don't waste money on water bottles. There are many water fountains across cities & villages in Switzerland (1000+ water fountains in the city of Zurich itself!). You will come across a water fountain every few meters, just fill up your bottle as required. 
Shops remain closed on Sundays and public holidays. If you need something, head to the train station or the airport where shops are generally open.
Switzerland is an expensive country. To travel on a budget, head to supermarkets such as Migros or Coop for meals instead of restaurants. These supermarkets offer a large variety of both hot and cold food.
The emergency number for Switzerland is 112.
So that's your 7-day itinerary for a trip to Switzerland! If you have any questions let me know in the comments below. Did I miss any amazing places? Let me know!
If you found this useful, please share and spread the love!
Pin it for later.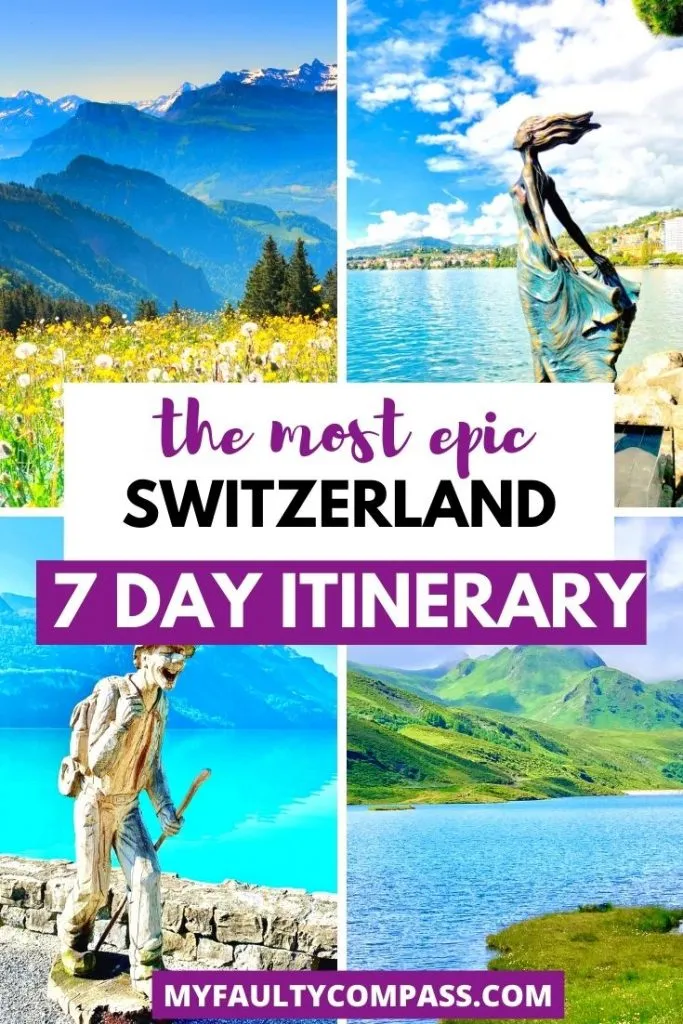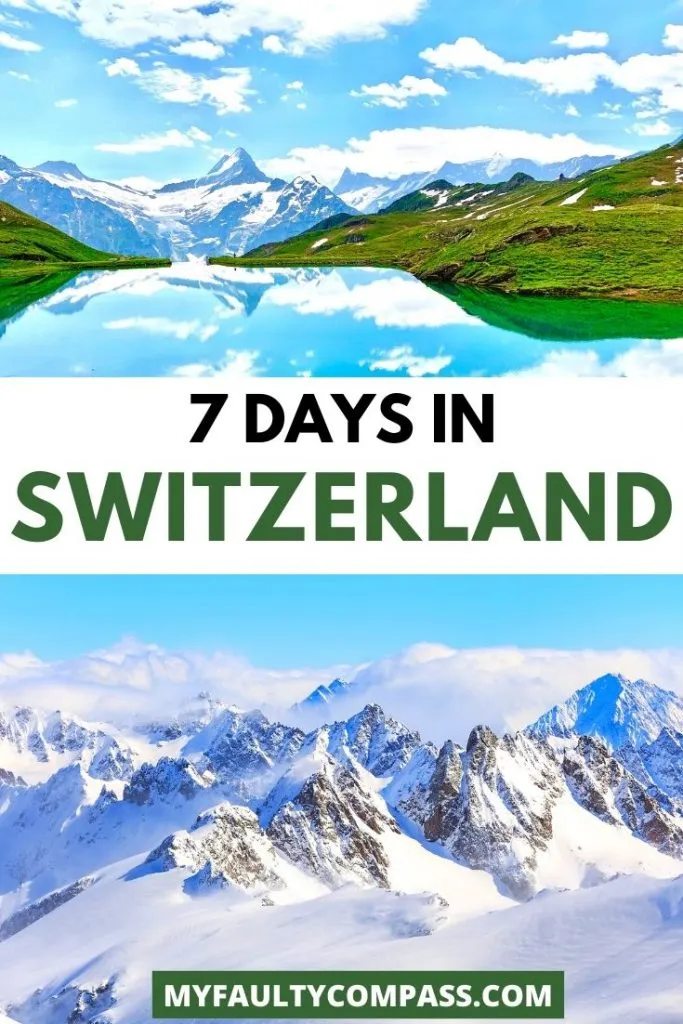 More information for your trip to Switzerland: