Europe's most powerful waterfall, the Rhine Falls are our go-to day trip for any visitors. We've already been there about 5 times already and every outing continues to amaze us! These falls are super easy to reach and are among the cheapest attractions in Switzerland. Read on for a detailed guide on how to visit the stunning Rhine Falls.
Planning a trip to Switzerland? Click here for a detailed travel guide to Switzerland – including the best time to visit, itinerary options (for 3, 5, 7 or 10 days), visa, transportation in Switzerland (including Swiss Pass), and more!
Here are more ideas for your trip to Switzerland: 25 best places to visit in Switzerland!
Note: This post contains some affiliate links. This means if you make a purchase through these, I may earn a small commission, at absolutely no extra cost to you. Thank you for your support!
Here's what's in store for you
Where are Rhine Falls located
Rhine Falls are Europe's most powerful waterfall and are located in the north of Switzerland – fairly close to Zurich. These falls were formed in the last Ice Age – read here about the interesting geological phenomena that led to their creation.
There are two sides to the waterfall,
Northern Banks – Has a long promenade along the Rhine river. The falls are visible from a distance
Southern Banks – This entrance takes you through Schloss Laufen (Castle of Laufen) to multiple terraces that give you a view of the Rhine Falls from several vantage points. You can get close enough to get wet!
I find the Southern Banks to be vastly superior to the Northern one since you can get up close to the waterfall from this side. You can stroll over the train bridge from the Southern side to the Northern side as well.
Have limited time in Switzerland? Here's a 5-day Switzerland itinerary to take in the best of the country!
What is the best time to visit Rhine Falls
Rhine Falls remain open throughout the year. It's equally wonderful to take in the falls with snow surrounding them in the winter as it is to visit in the summer. I've been there in April, June and July and have enjoyed myself every time. I'd still suggest Summer as the best time, preferably May to July to get the best views.
How to get to Rhine Falls
Rhine Falls are easily accessible by train or by road from Zurich/ Lucerne
By train:
Northern Banks – Head to the Neuhausen Rheinfall station. It takes 50 min – 1 hour from Zurich HB, ~2 hours from Lucerne
Southern Banks – Head to the Schloss Laufen am Rheinfall from Zurich HB. It takes 45 – 50 min from Zurich HB, ~2 hours from Lucerne
By car:
Northern Banks – Head to Parkplatz Rheinfall
Southern Banks – Head to Parking am Schloss Laufen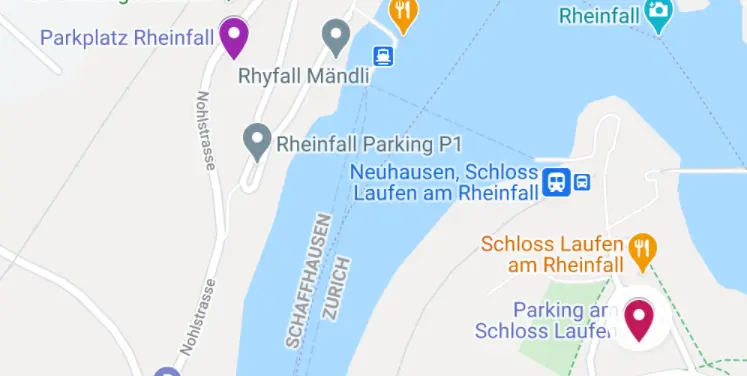 Opening hours of Rhine Falls

Northern Banks – 24 hours free access
Southern Banks – Opening hours for ticketing:
| | |
| --- | --- |
| June / July / August | 08.00 – 19.00 |
| September / October / April / May            | 09.00 – 18.00 |
| November / February / March | 09.00 – 17.00 |
| December / January | 10.00 – 16.00 |
Tickets/ Prices for Rhine Falls    
Northern Banks – No entrance fee
Southern Banks – 5 CHF per adult entrance fee. Tickets can be bought at the site or online
See also: Where to stay to visit Rhine Falls
Guide to visiting the Rhine Falls
Rhine Falls is where we take all our visitors to provide the 'wow' factor. We always head to the Southern side which also has a great Rhine Falls board set up against which you can take great pictures!
If you come by train, take the elevator from the train station up. You can also walk up if so inclined. From where the elevator drops you at the top, take a right and head to the visitor centre to buy tickets. If you already have your tickets, take a left and cross the turnstile scanning your ticket.
Soon as you cross the turnstile, the falls start coming into view. We love the slow build-up to the falls that you get heading from the south side. As you go down 1 level, there is a nice viewpoint from where you can see the falls from the top.
Heading further down, you come to the main viewpoint where the falls are immediately below you. It's an absolutely breath-taking spot. The rushing, foaming water is incredible to watch. We usually spend a long time on this platform taking pictures or relaxing on the benches.
After you've had your fill of the view, start walking down to the next platform. This one brings you right next to the water rushing down, close enough to touch! This is a small area and tends to get crowded so keep moving to the next platform.
This next platform juts out over the river, slightly below the falls so you are able to see the falls from the front. It's an amazing sight – almost hypnotic! You can also get wet at this spot if it's windy. This one is my favourite platform – it's incredible how close you are to the Rhine Falls.
It usually takes us a couple of hours to get to this viewpoint – what with taking pictures/ videos or just taking in the view, time just flies!
You can next head further down and get on one of the boats to go closer to the falls. Check out the boat tours here.
After the tour, you can head to the Northern banks of the falls if you wish by crossing the train bridge. But we usually end our tour here and head back up using the elevator.
Practical tips for visiting Rhine Falls
Wear sturdy shoes – the path between the platforms is a bit bumpy
Hold on to your camera when filming the falls – it can get wet and slippery. I almost dropped mine down into the river once!
I wouldn't recommend the boat tour – it offers really no special views that you can't get from the viewing platforms
Other activities at Rhine Falls
The Rhine Falls are illuminated at night. You can check out the schedule here. We've not seen it yet but plan do this soon.
Visit the nearby town of Schaffhausen
Have you been to Rhine Falls? What was your favourite part?
Are you planning a trip? Let me know if you have any questions.
If you found this useful, please share and spread the love!
More information for your trip to Switzerland:
Pin it for later!