Oeschinensee (or as it is known by the misnomer Oeschinensee Lake – 'see' in German means lake!) is a bright blue Swiss mountain lake in the Bernese Oberland region. It's the perfect spot for a day trip from Zurich, Lucerne or Interlaken. Whether you are looking to relax amidst the tranquil surroundings of the beautiful Oeschinen lake or indulge in a bit more adventure hiking or riding the 'Mountain Coaster' (the Oeschinen lake toboggan run), Oeschinensee is the place to be. Read on for the ultimate guide to visiting Lake Oeschinen.
Planning a trip to Switzerland? Click here for a detailed travel guide to Switzerland – including the best time to visit, itinerary options (for 3, 5, 7 or 10 days), visa, transportation in Switzerland (including Swiss Pass), and more!
Here are more ideas for your trip to Switzerland: 25 best places to visit in Switzerland!
Best time to visit
May to October
Location
Gondelbahn Kandersteg Oeschinensee, Oeschistrasse 50, 3718 Kandersteg
Travel time
By car: 2 – 2.5 hr  from Zurich or Lucerne, 1 hr from Lauterbrunnen, 45 min from Interlaken
By public transportation: 2 – 2.5 hr from Zurich HB or Lucerne, 1.5 hr from Interlaken and 2 hr from Lauterbrunnen 
Opening hours
09.00 to 16:50 h (longer during June – September)
Ticket prices
26 – 30CHF per adult depending upon the time of year (SBB halbtax applicable)
Ease of access
Easy – requires a roundtrip hike of about 1 hr but there's an electric bus also available if you'd like to skip the walk
Closest towns to stay in
Interlaken, Lauterbrunnen
Read more
https://www.oeschinensee.ch/
Check out the weather cam
https://www.oeschinensee.ch/webcams-2/
Here's what's in store for you
Where is Oeschinensee
Oeschinensee lies in the Bernese Oberland region and is at a height of ~1600 m. The lake is accessible from Kandersteg through an aerial cable car followed by a short hike (~30 min) or an electric bus.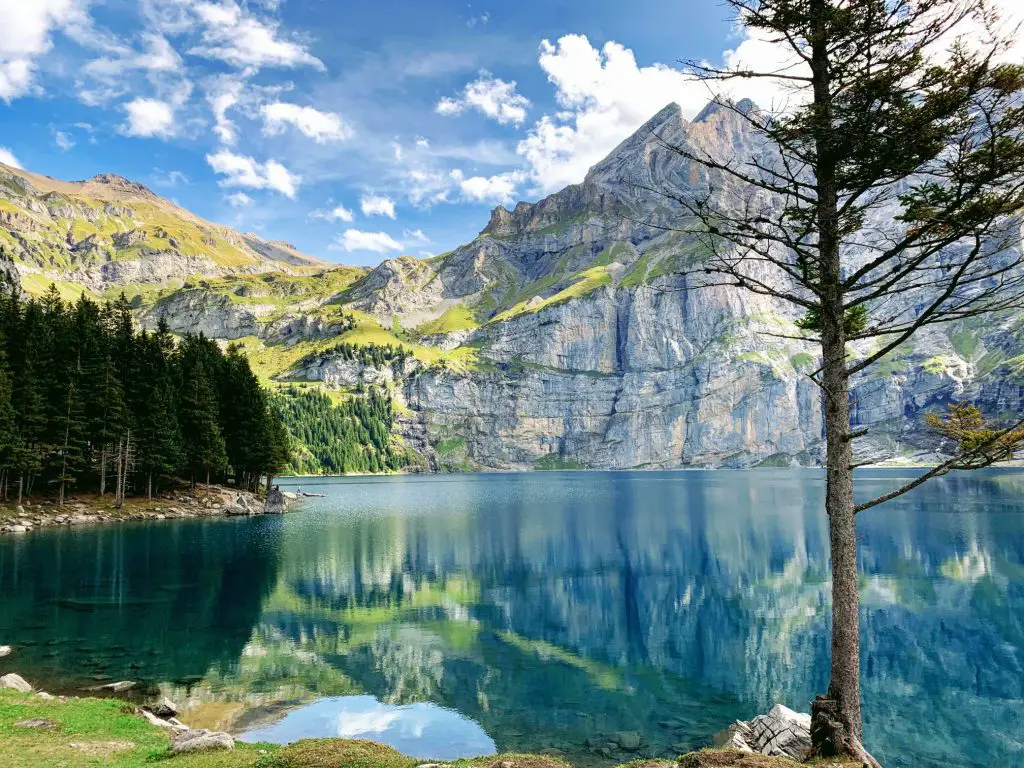 Have limited time in Switzerland? Here's a 5-day Switzerland itinerary to take in the best of the country!
What is the best time to visit Lake Oeschinen
May to October are the best months to hike to Oeschinensee from the top station. The lake freezes over in winter and the trails usually open by May. During winter, ice skating and ice fishing are popular activities. 
How to get to Oeschinensee
You need to get to the Oeschinensee cable car station in Kandersteg to take the aerial cable car (also called gondola) up to the top station.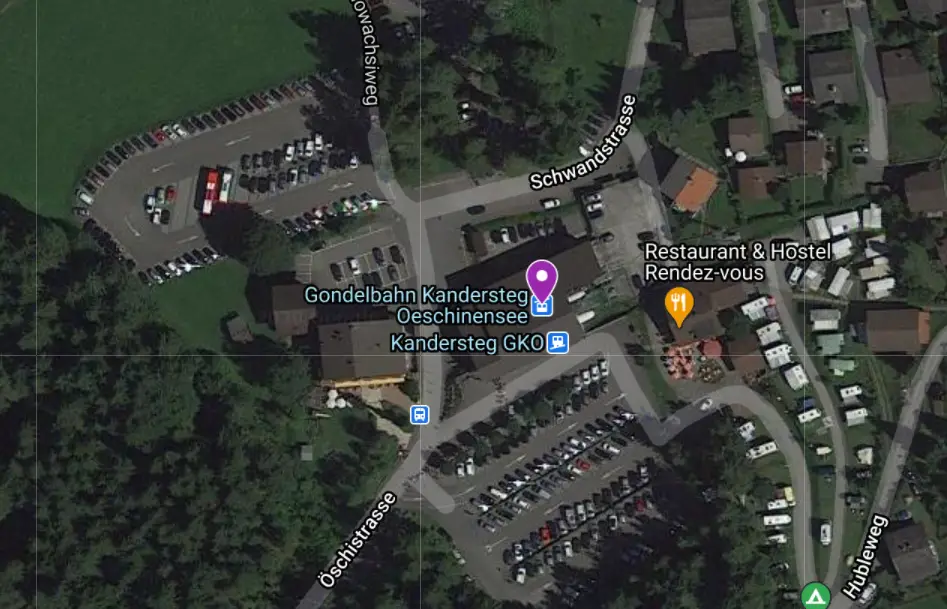 We drove from Zurich and it took us around 2 hr to reach the cable car station. There are multiple parking lots at the cable car station. We got there around 9:30 am on a July weekend and the parking lot was already filled up more than halfway. Parking costs 5 CHF per day. 
By train, from Zurich HB, it will take around 2 – 2.5 hrs, changing trains at Bern to reach Kandersteg. From Interlaken, it would take 1 – 1.5 hr to reach Kandersteg. From Kandersteg train station, the cable car station is a 15-minute walk away.
See also: Where to stay to visit Oeschinen Lake
Kandersteg to Oeschinensee cable car opening hours
Gondola cableway operating times: 09.00 to 16.50 h (last descent at 17.00).  The operating hours are longer from June to September. Check the latest timetable for Gondelbahn Oeschinensee here.
Kandersteg to Lake Oeschinen cable car tickets/ prices and schedule
A round trip ticket for the cable car costs 26 CHF per adult from December to June and 30 CHF per adult during July – November.  Tickets can be purchased from the cable car station, or online. 
The cable cars here are not the ones on a timetable but ones that are constantly coming and going with a capacity of 4-6. Just cross the turnstile (scanning your ticket) and enter into the first gondola that comes along – note that these do not completely come to a halt but slow down considerably so you can easily get on them.
The journey to the top station took  ~10 minutes with no intermediate stops in between. As you ride up you can see people whizzing below on the toboggan run called the 'Mountain Coaster'
Oeschinensee hike – Overview
Here is the summer map for the region: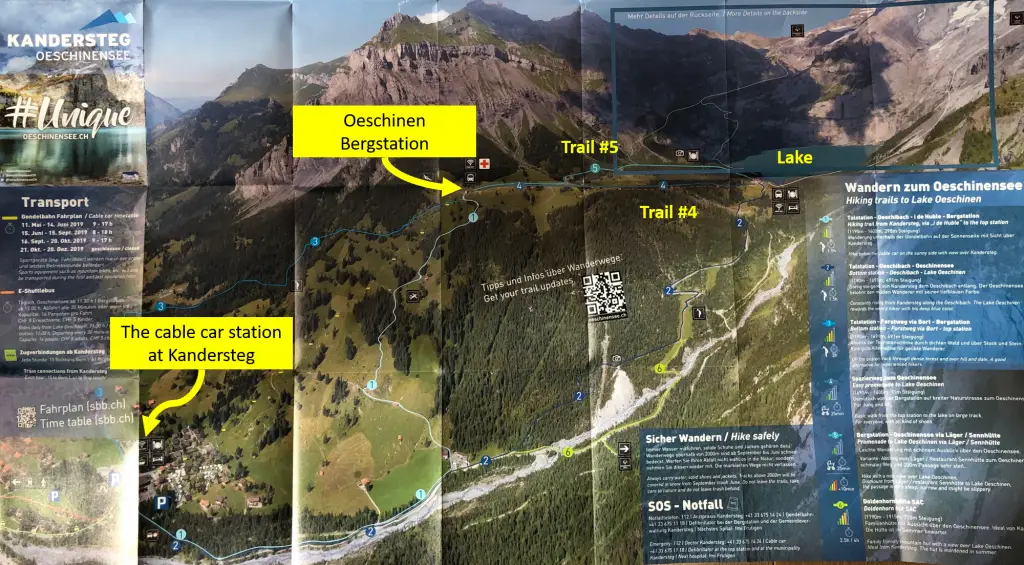 Hike
Oeschinen Bergstation – Oeschinensee – Oeschinen Bergstation (hike #4 or 5 on the map above)
I recommend taking trail #5 while going since it offers a beautiful view of the lake from a height. Take trail #4 while coming back.
Distance (roundtrip)
~4 km
Duration (roundtrip)
~1 hr
Ascent/Descent
100 m
Path
Trail #4 is a broad, well-developed path; Trail #5 has some uneven rocky patches
Difficulty level
Easy – Suitable for families of all ages 
Oeschinensee hike – Details
We were greeted by stunning views when we reached Oeschinen Bergstation – high mountain peaks and wide green meadows. The air was crisp and fresh, It was exhilarating!
There are a restaurant and toilets available here. The electric bus also starts from here, departing every 30 min and costs 8 CHF per adult. I would suggest walking both ways since it's a beautiful trail.
If you're interested in doing the toboggan run, take a right. If you're headed to the lake take a left and follow the signs for trail #4 or #5. The hike takes you through spectacular, steep mountains and we kept stopping to take pictures.
After about 10 min, there is a fork on the trail. If you want to do trail #5, take a left on to the slightly narrower path. If you want to continue on trail #4, continue on the main path. 
We took trail #5 and it led us through a forested area surrounded by mountains. 
Another few minutes walk brought us to the beautiful viewpoint over Oeschinensee. The icy blue coloured water and the steep cliffs behind it make for a stunning scene. We spent a long time taking pictures there.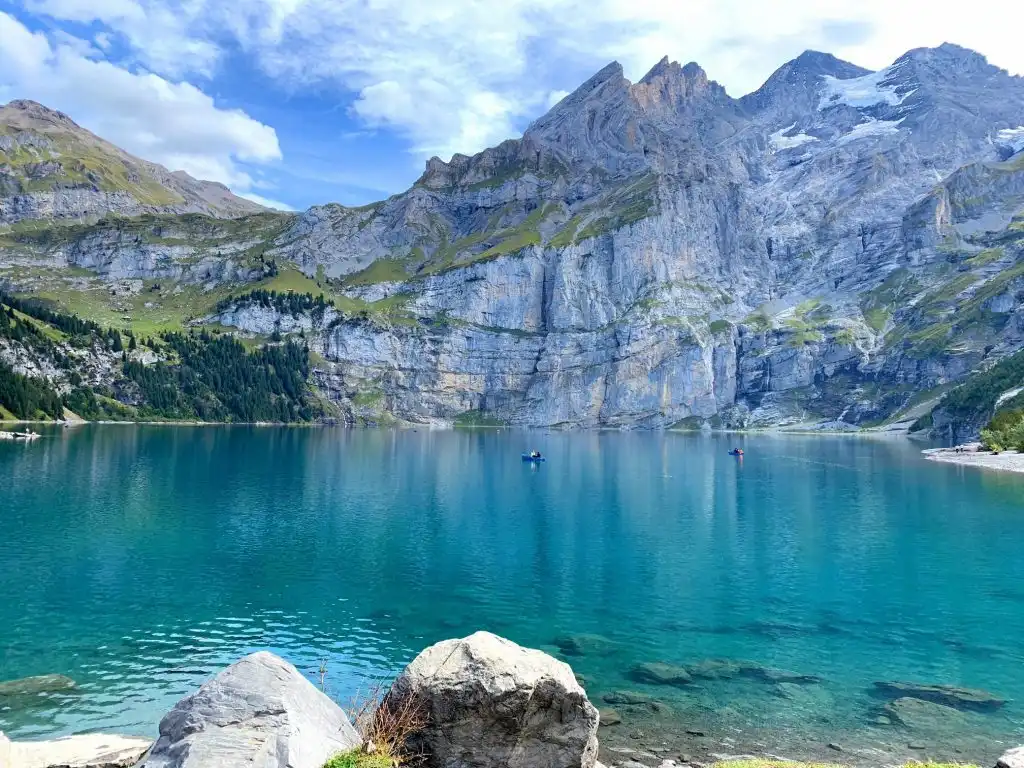 To continue down to the lake, you could walk straight down on the path from the viewpoint. However, it is a very steep and very slippery path. We saw several people almost slipping and falling! So, we decided to take the slightly longer, safer route! Continuing on the main path we soon reached the point where we joined trail #4. We could already see the lake from here and it was a breathtaking sight.
There are restaurants, cafes and toilets as well as boat rentals available here. Since it was a summer weekend, the place was filled with families picnicking, boating and swimming (just the brave ones though since the water was ice cold!).
We found a bench to relax on and tucked into our lunches.
After spending a couple of hours we started our hike back. The electric shuttle bus had just arrived and it tested our resolve for a bit! But we persevered, turned our backs to the bus and walked on!
When we got back to Kandersteg we saw that there were nearly 5-6 parking lots around that were completely full already and yet there were more cars arriving! This is a popular place among the locals. We hardly spotted many tourists though.
Practical tips for visiting Oeschinensee
Check the weather webcam before visiting – if it's rainy or very cloudy, don't bother spending money on the cable car tickets.
Get there early to avoid a crowded parking lot. Not much of a problem if you're travelling by public transport though
Carry a cap/ hat – most of the hike is on open trails and the sun can get very hot
Other activities at Oeschinensee/ Kandersteg
Have you been to Oeschinensee? Drop me a comment with your favourite part of the trip. Are you planning a trip to the Jungfrau region (or looking for the best place to visit in Switzerland?!)? Let me know if you have any questions. 
If you found this useful, please share and spread the love!
More information for your trip to Switzerland:
Pin it for later.