Melchsee-Frutt is a mountain resort village which boasts of 2 absolutely spectacular Alpine lakes – Melchsee & Tannensee. An easy walk through beautiful rolling hills covered in flowers with tall snow peaks visible in the distance and the melody of ringing cowbells make for a fantastic experience up at Melchsee-Frutt!
We didn't have Melchsee-Frutt high on our radar for a long while. We had often seen signboards for it during our drives through central Switzerland and I had always been intrigued by it! We finally got a chance to visit the place this summer and it so far exceeded our expectations that I couldn't wait to write about it!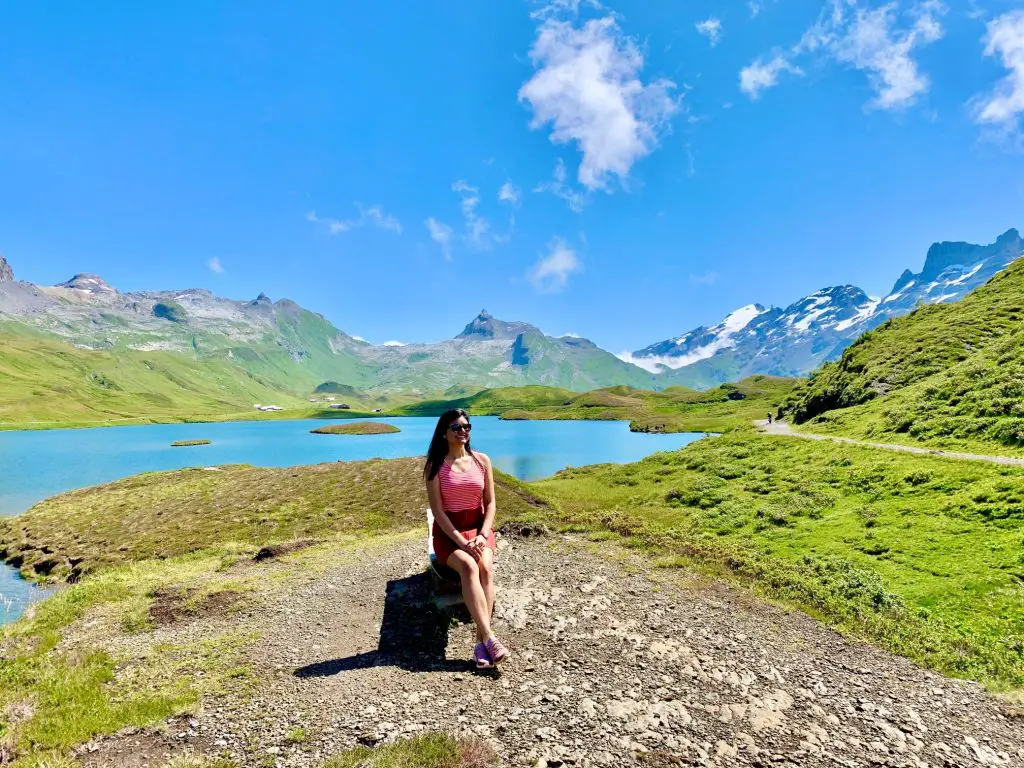 Continue reading below for all you need to know to visit Melchsee-Frutt and walk to the two beautiful Alpine lakes here.
Planning a trip to Switzerland? Click here for a detailed travel guide to Switzerland – including the best time to visit, itinerary options (for 3, 5, 7 or 10 days), visa, transportation in Switzerland (including Swiss Pass), accommodation options and more!
Here are more ideas for your trip to Switzerland: 25 best places to visit in Switzerland!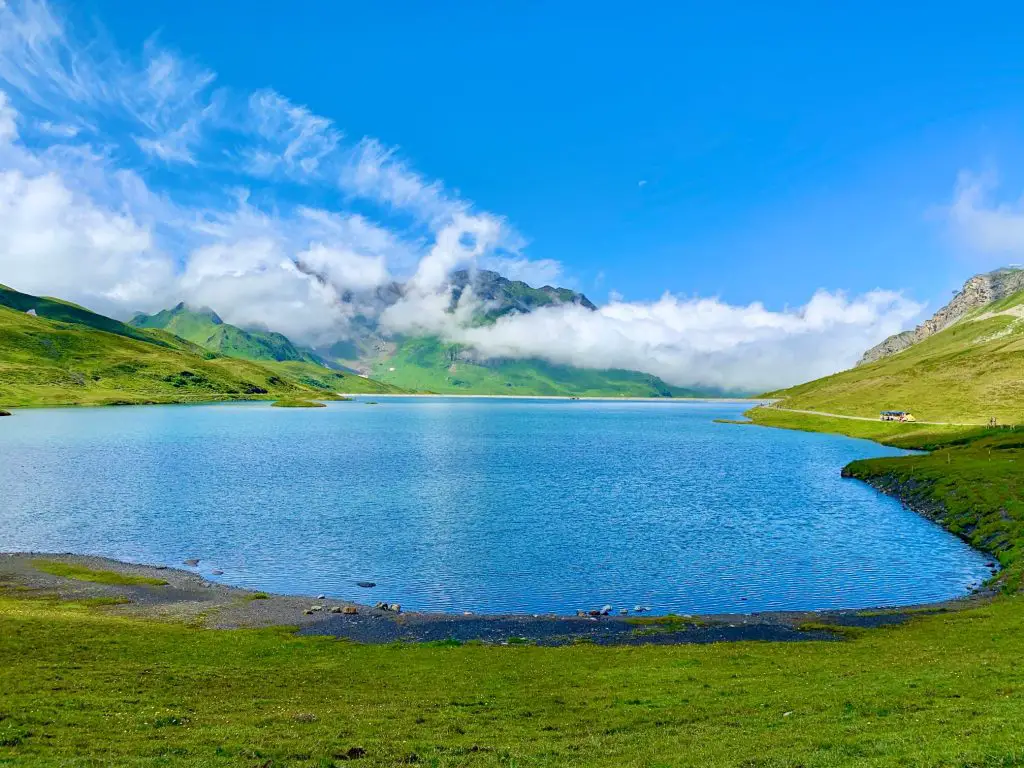 Note: This post contains some affiliate links. This means if you make a purchase through these, I may earn a small commission, at absolutely no extra cost to you. Thank you for your support!
Where is Melchsee-Frutt located
Melchsee-Frutt is a little mountain resort village located at ~1900 m in central Switzerland in the canton of Obwalden. It is a favourite amongst locals for fantastic hiking, fishing, biking and skiing & sledding.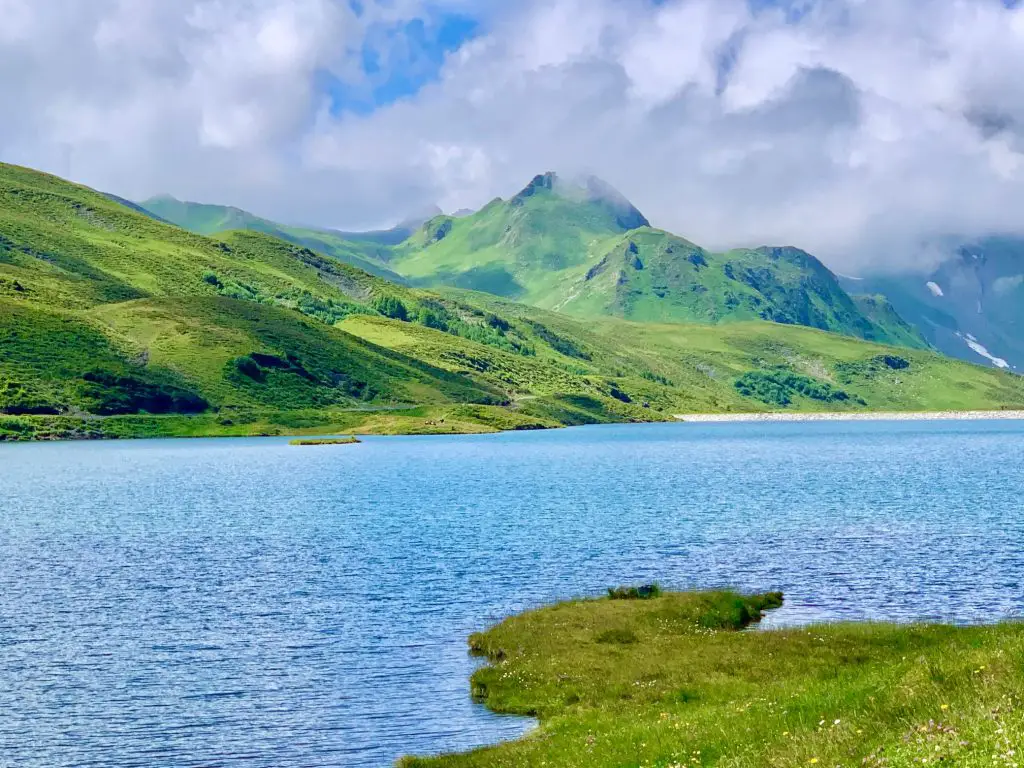 The two highlights of the place are its picture-perfect mountain lakes – Melchsee and Tannensee. Surrounded by mountains and grassy meadows these lakes are worth a visit even if you do not plan on doing any hiking/ biking/ etc.!
Have limited time in Switzerland? Here's a 5-day Switzerland itinerary to take in the best of the country!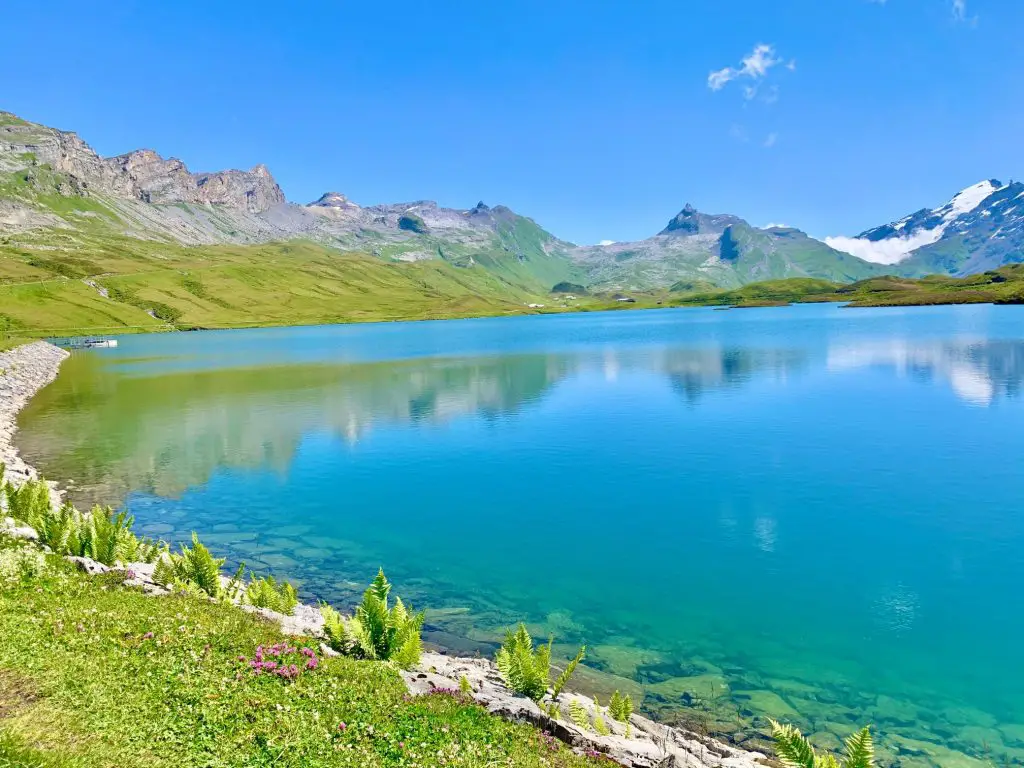 Best time to visit Melchsee-Frutt 
The summer season runs from June to October. Visit during the early summer months for some beautiful views of flower-covered grasslands and snow peaks.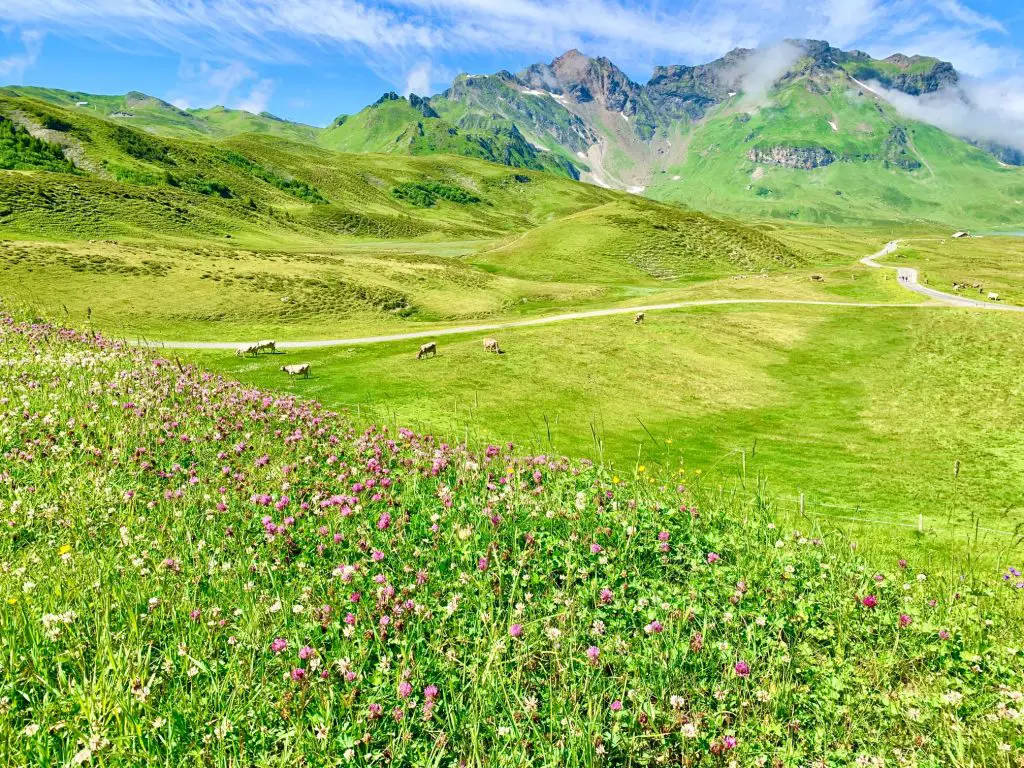 Check the Melchsee-Frutt webcam before you visit. Aim for clear blue skies!
How to get to Melchsee-Frutt
By public transportation: Take a train to Sarnen and from there the post-auto bus to Stöckalp. The Melchsee-Frutt gondola station is located at Stöckalp. This bus runs only hourly so it's good to sync up with the train connection as much as possible so you do not spend time waiting. 
On weekends it tends to get quite crowded (even with the early morning connections!) since a lot of locals head up to the mountain for hiking. In such instances, there might be more buses operating. During our visit, there were 3 buses arranged for the scheduled time of 8:44 am to accommodate all the hikers!  
By car: Take the A8 to Sarnen and the cantonal road to Kerns – Melchtal – Stöckalp. There is a large parking lot at the gondola station at Stöckalp.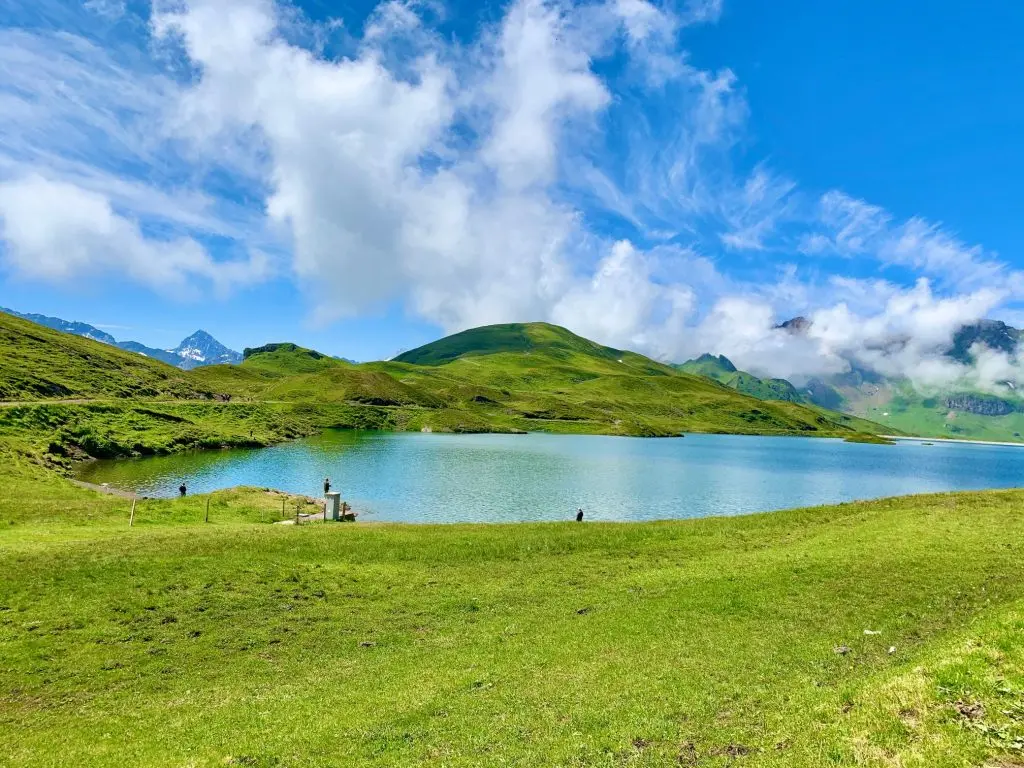 Melchsee-Frutt cable car schedule & tickets
The summer season runs from June to October with the gondola operating from 8:25 am till 5:20 pm. Check the latest schedules here. 
A return ticket on the gondola for Stöckalp to Melchsee-Frutt costs CHF 33 per adult. The SBB half fare card is valid on this ticket. Check the latest ticket prices here. You can buy the tickets at the counter or on the SBB app (though you will need to show the app tickets at the counter to get the physical tickets in order to access the turnstiles).
The gondola runs continuously and you can hop into the first available one.
Where to stay at Melchsee-Frutt
There are a few hotels at Melchsee-Frutt so you can stay right next to the slopes and amidst spectacular panoramic views!
You can also stay nearby at Kerns or Sarnen.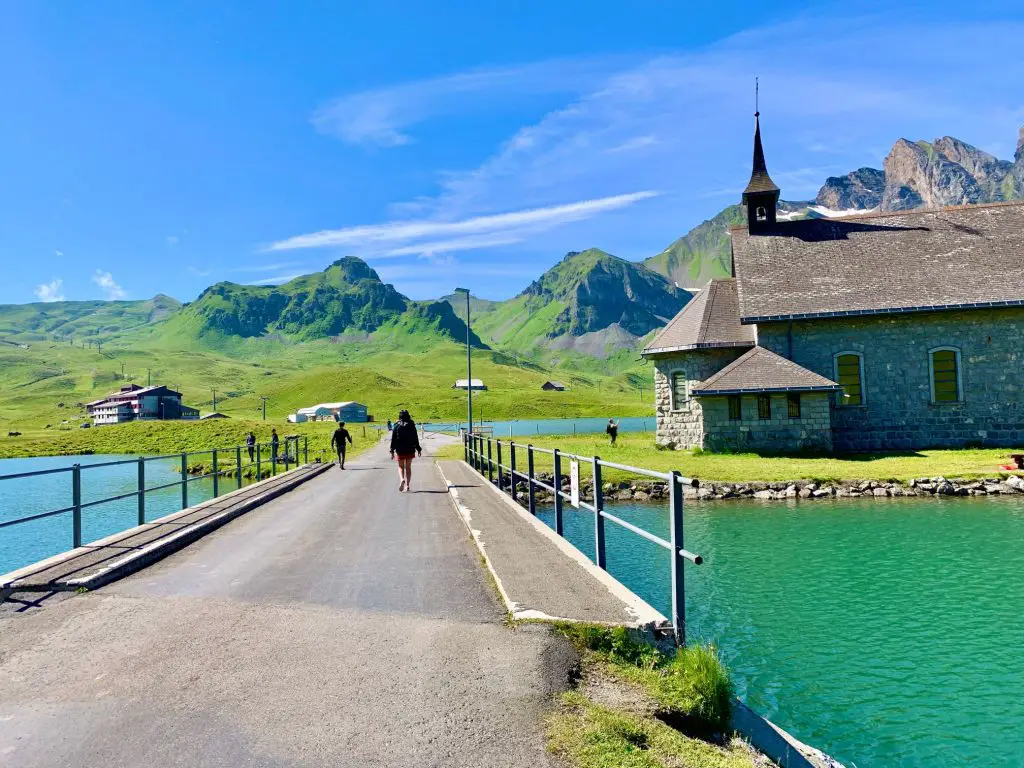 Hiking at Melchsee-Frutt
Hike (walk) at Melchsee-Frutt Overview
The route from the cable car station at Melchsee-Frutt, via Melchsee to Tannensee is ~4 km on a wide, paved road with very little elevation. At Tannensee, you should walk around the entire lake for some beautiful views. The entire walk would take about an hour.
You can walk the whole way back or if you get tired, you can hop on board the cute little "train" that runs on this route, the Fruttli Zug.

Hike (walk) at Melchsee-Frutt Details
As you emerge from the Melchsee-Frutt bergstation, take a left and walk down towards the Panorama lift. When we visited, there was a lively market set up on this route with lots of little stalls selling sweets, cheeses, honey and woollens. There was also a few cute little Alpacas around here. Not to mention the sound of cowbells all around – amplified somehow here!
Melchsee
From the Panorama lift platform, you get a spectacular view of the beautiful Melchsee surrounded by sharp peaks on one side and a lovely walking path on the other.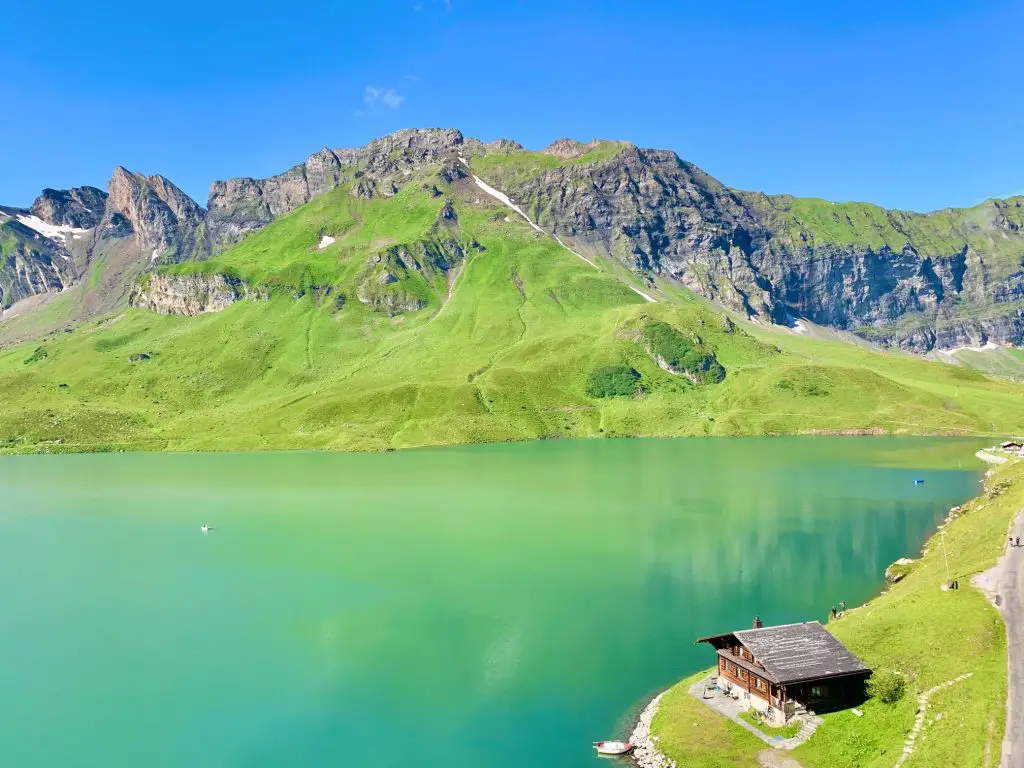 You can continue walking on this trail if you'd like a "hike" hike to the second lake. Or if you'd like something easier, take the Panorama lift down.
No prizes for guessing, we took the easy route down along the lake! And what a stunning route that was! We spent some time close to the water taking in the tranquil scene – the beautiful turquoise/ greenish waters of Melchsee, tall green mountains behind it, the sound of cowbells, and a lovely cool breeze blowing, it was absolutely heavenly! There are lots of benches and picnic tables along the shore, or you can also just plop down on the grass!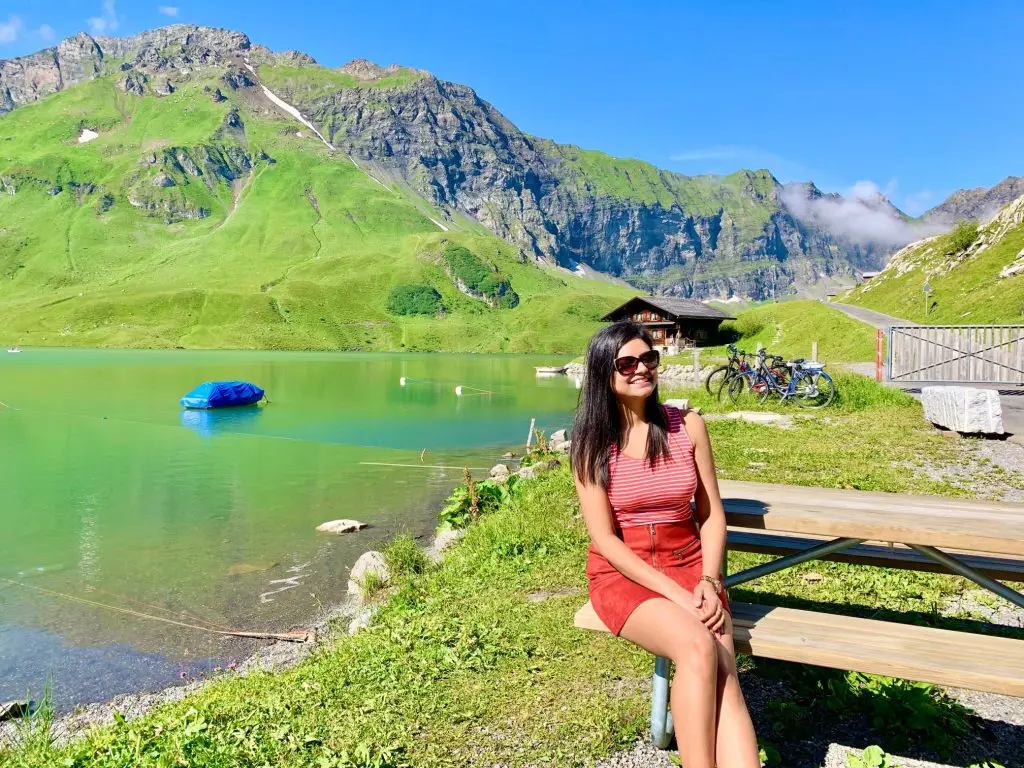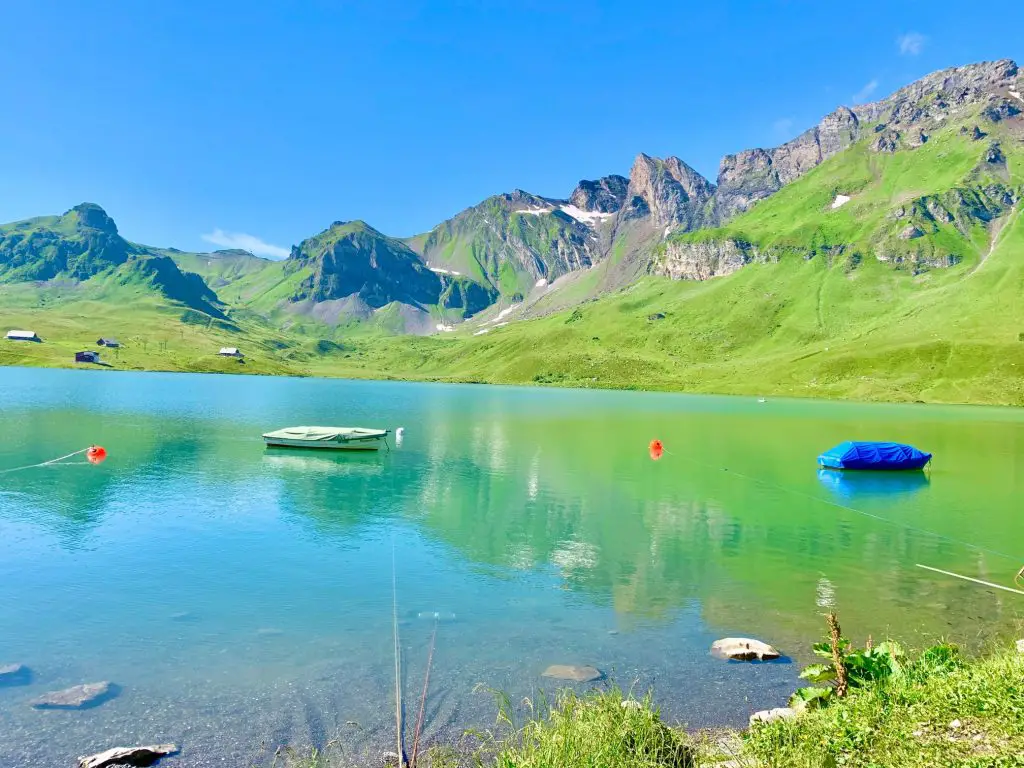 As you continue walking you also come across an ancient church – stunning against the beautiful background! Lots of space around it too to sit, fish or wade into the water (if you're ok with the cold temperature!).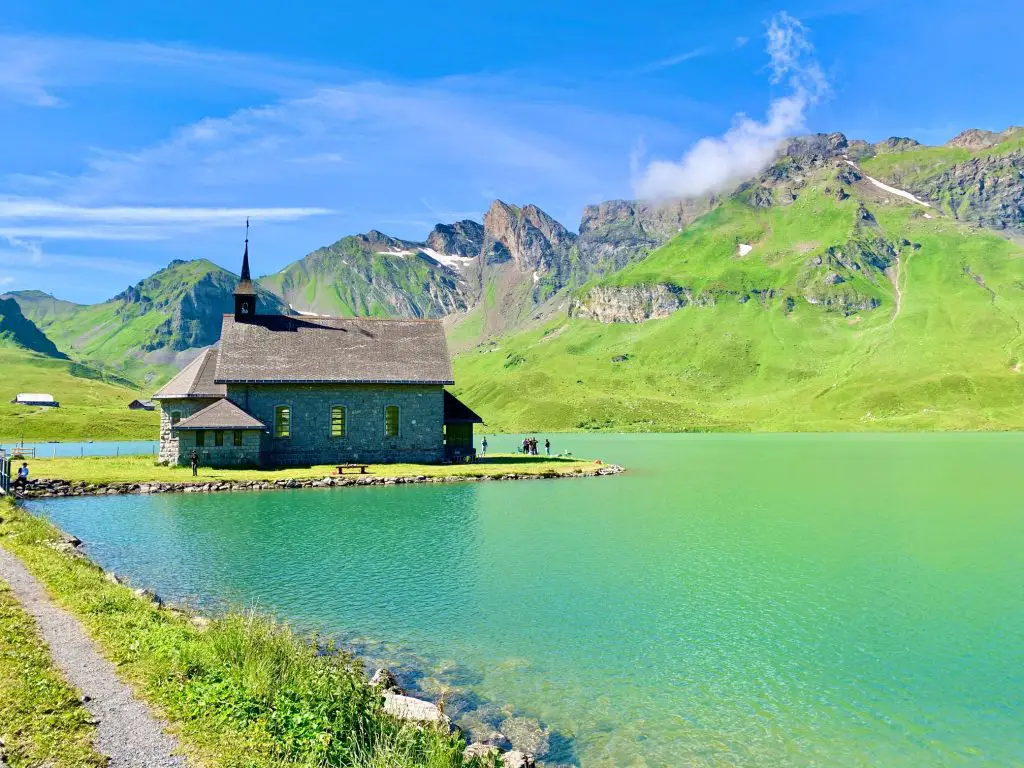 Start walking next towards the second lake, Tannensee.
Tannensee
The route to Tannensee is through rolling hills and green grasslands covered with colourful flowers. Tall snow peaks are visible in the distance and of course, cowbells provide a beautiful soundtrack!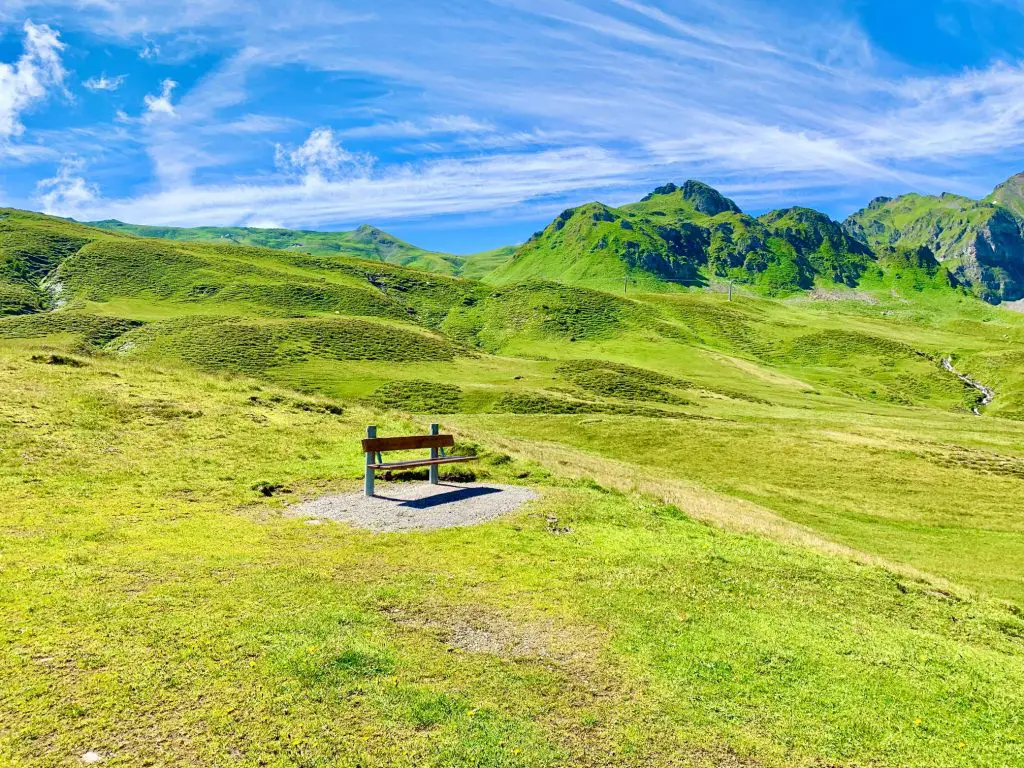 The same route is also used by bikers and the Fruttli Zug (you will come across a few train stops along the way). There are also a couple of restaurants and toilet facilities along the way. 
Tannensee does not become visible until you reach the Tannendamm train stop. But soon as you do, the spectacular blue lake will stop you in your tracks! Do ensure you move to the side of the road so you don't block traffic!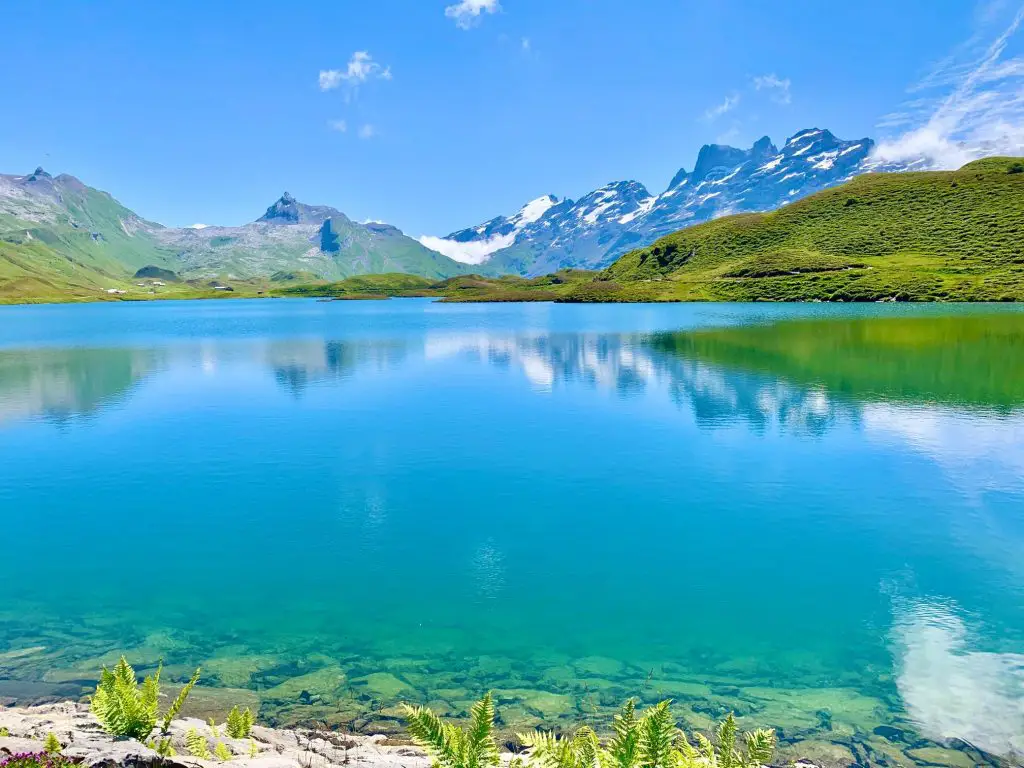 If you had taken the "hike" hike route from the Panorama lift, you will be able to meet this easier route at the Tannendamm train stop.
There is a dam along Tannensee in front of this train stop. Take a right and walk along the dam for some stunning views. The snow peaks reflected in the clear blue water make for some of the best views in Switzerland!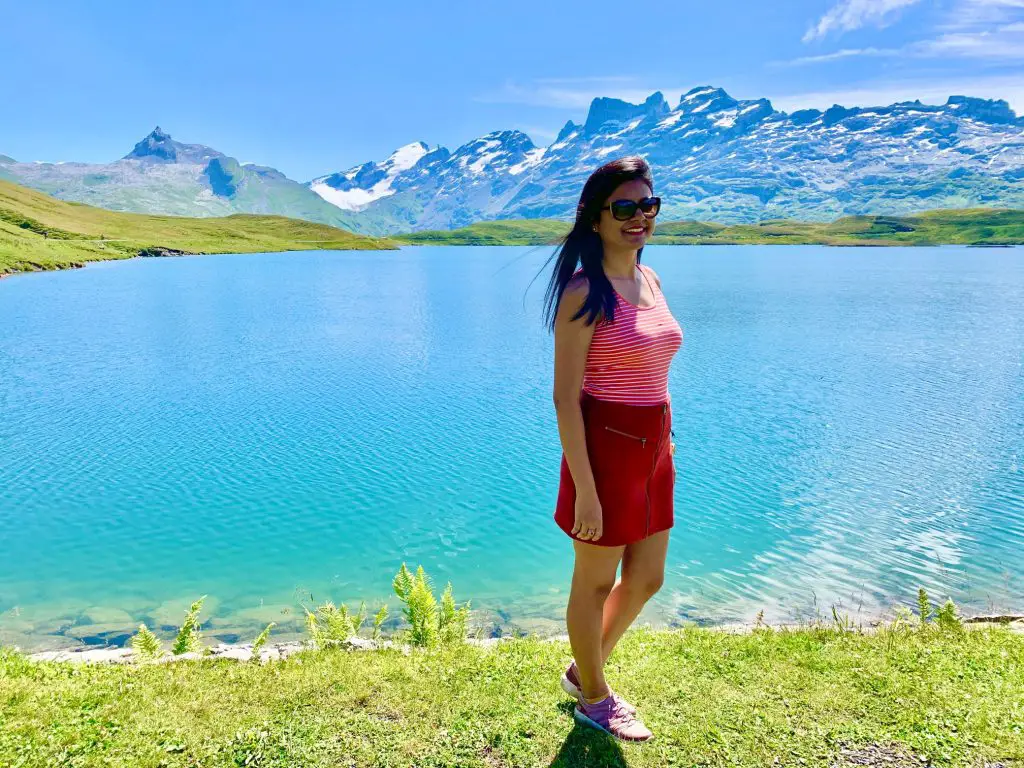 Continue walking along the dam and then take the path around the lake. There are a few paths that lead down to the water if you'd like a dip or to fish. Along this path, you'll also get to a few vantage points from where both lakes, Melchsee & Tannensee are visible!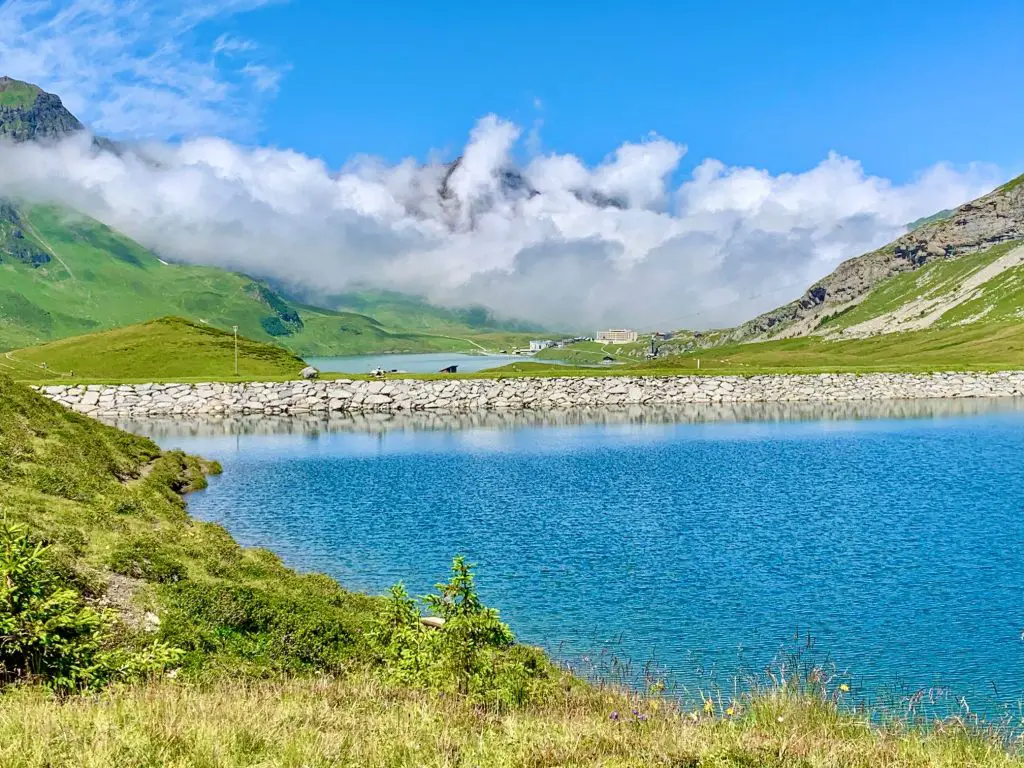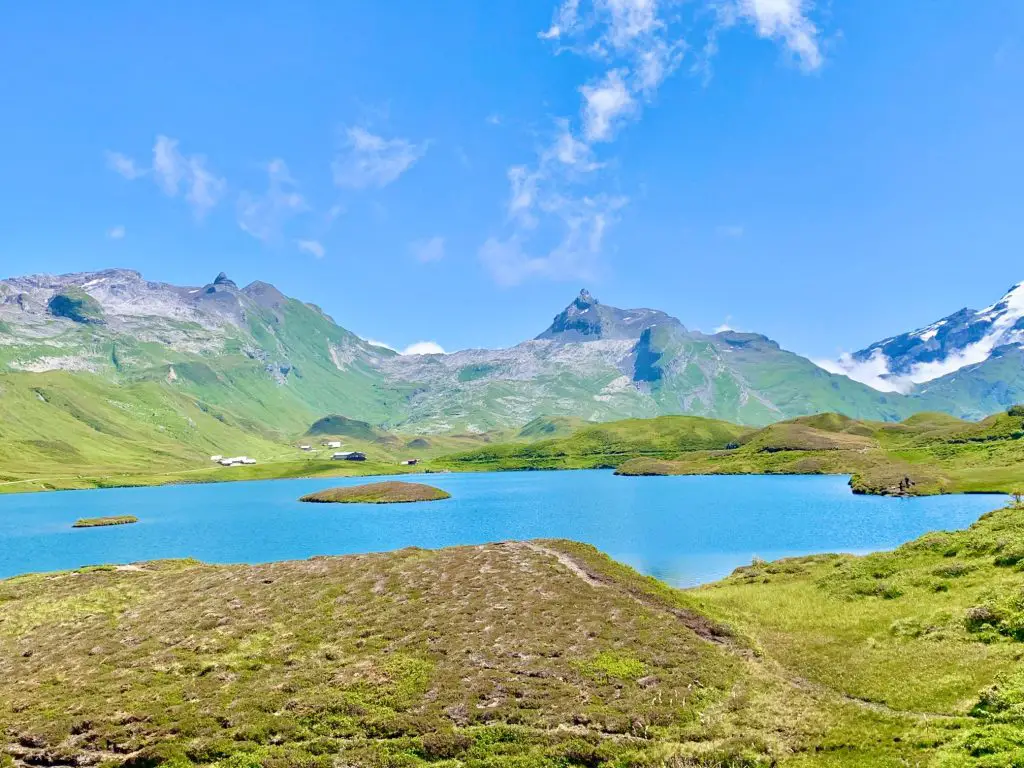 You can walk a little into the hills away from the lake for some more panoramic views of more mountains and lakes in the region!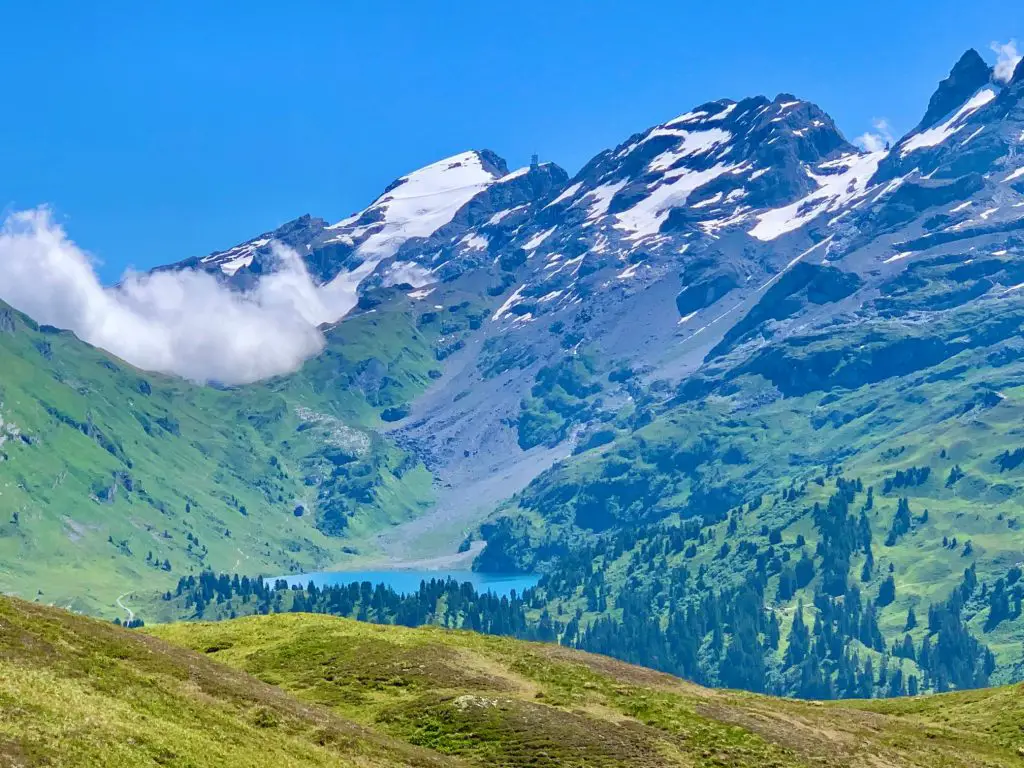 As you continue on your loop along Tannensee, you'll join the main walking path back. A few clouds had gathered during our visit and they added an almost mystical effect to the scene looking out over Melchsee in the distance!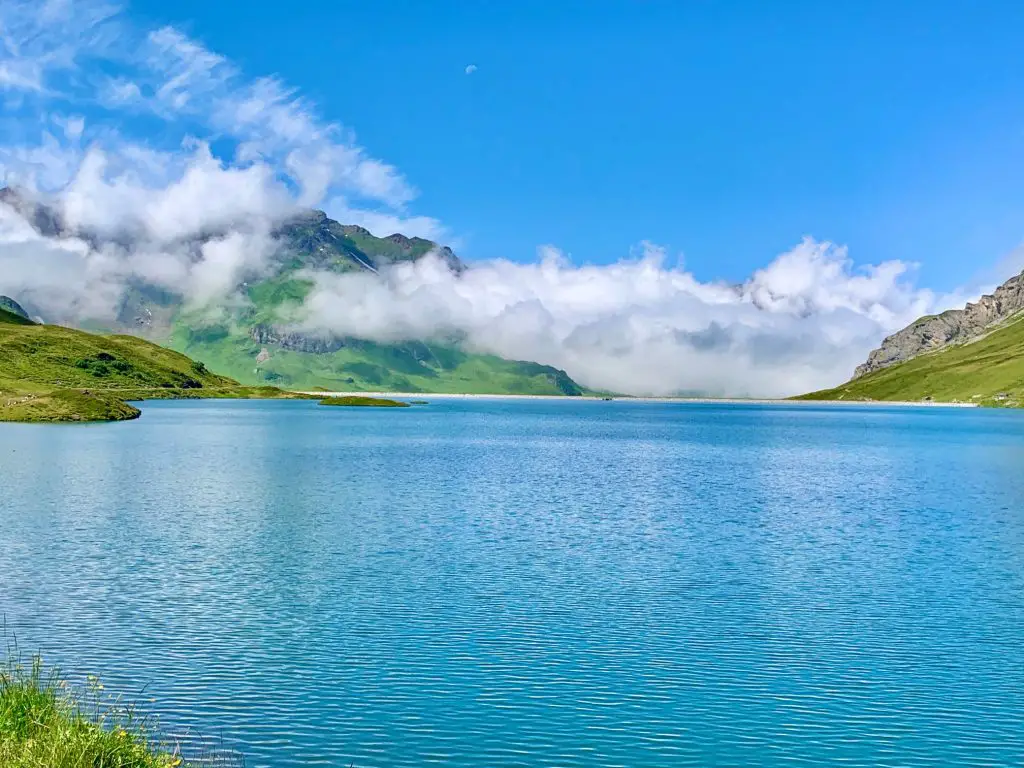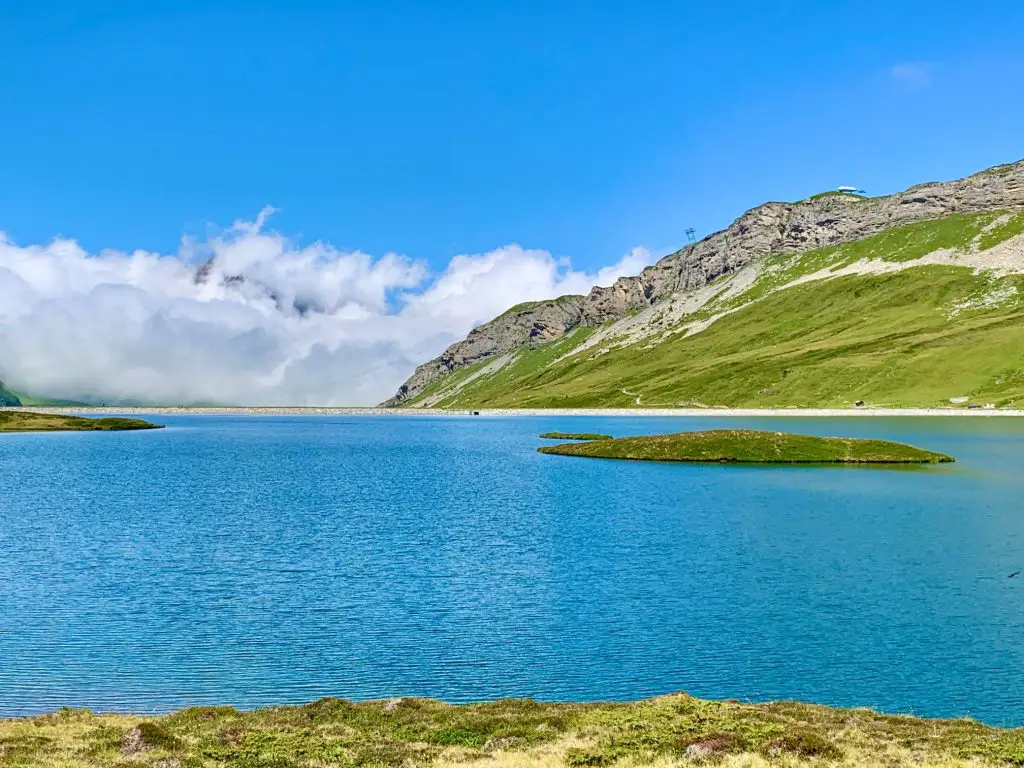 If you are tired by now, catch the train back from the stop across the dam, Tannendamm. If not, continue walking back towards Melchsee. While the route will be the same that you came on, this time the views will be different (and quite beautiful!) since Melchsee is visible from quite far as you walk towards it.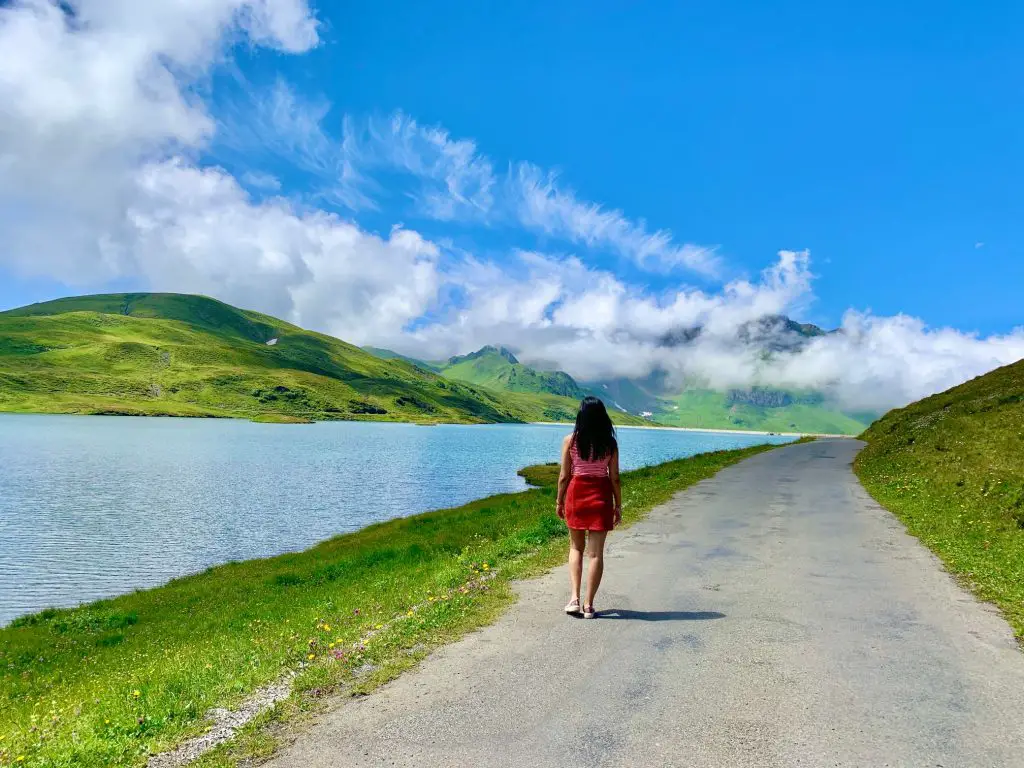 Other things to do at Melchsee-Frutt
There are many, many hiking options up here. Check these out here.
Check out biking options here.
Here is the summer hiking & biking map of the region: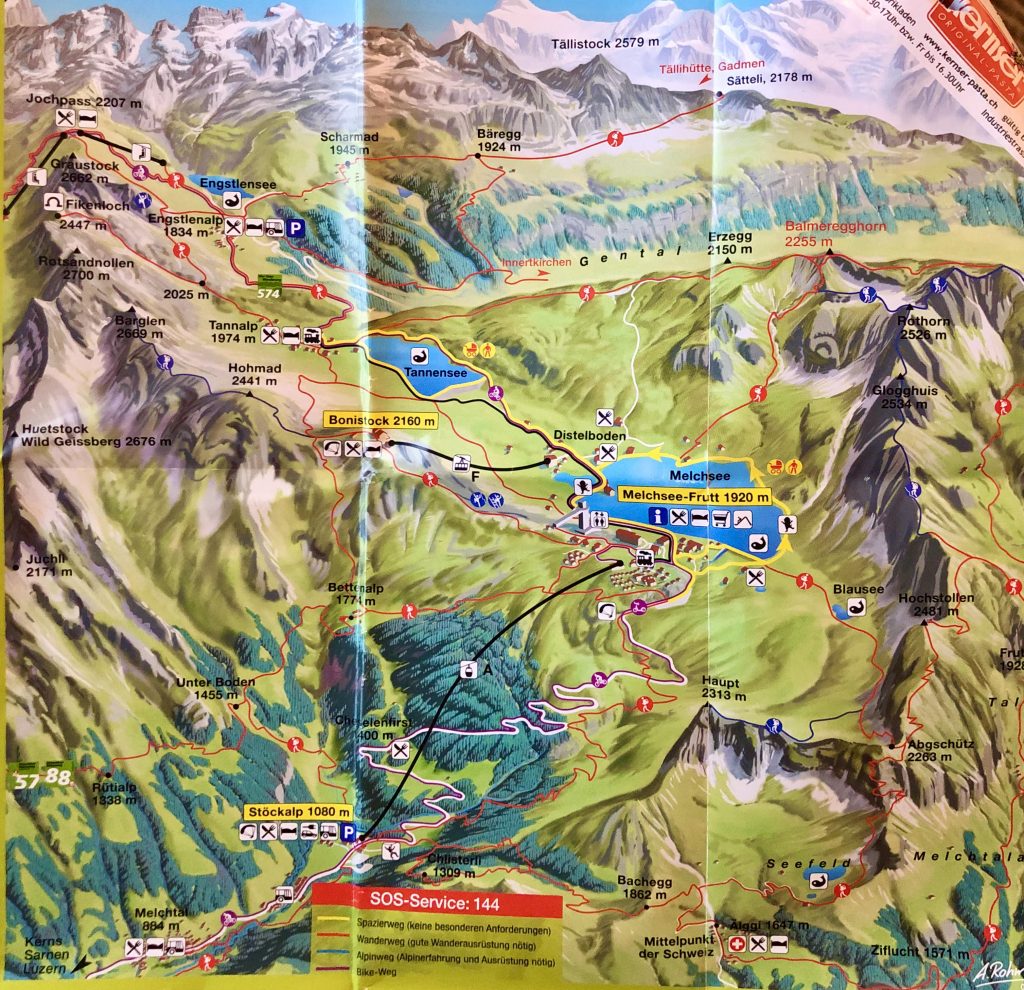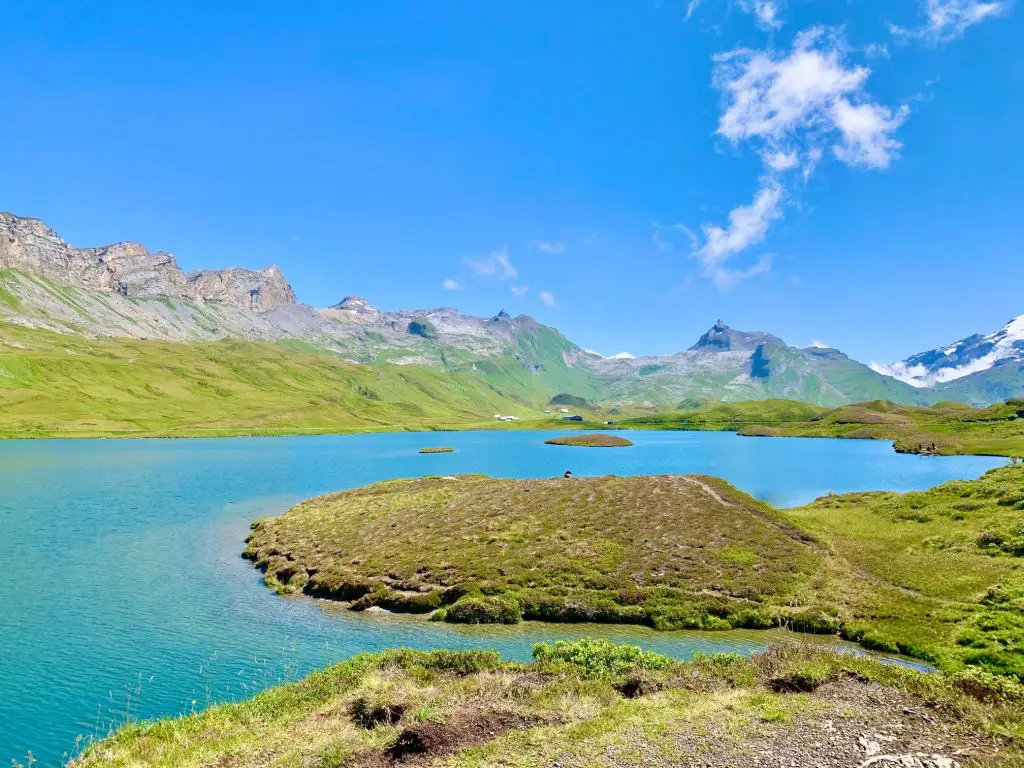 Practical tips
Carry a jacket – it can get windy and chilly! 
But at the same time, carry a hat/ cap! There's no shade along the walk and the sun can be quite relentless.
Wear comfortable shoes. You do not need hiking shoes for the easy walk but comfortable shoes are a must.
While you do not really need the train (the Fruttli Zug) to visit the two lakes, in case you think you do, purchase the tickets together with your cable car tickets since that will be much cheaper than buying it at the spot.
The post-auto bus back from Stöckalp to Sarnen is hourly, so plan your descent so you don't have to wait too long. If you do end up waiting a while, there's a small cafe at the bus stop if you'd like coffee or ice cream!
Have you been to Melchsee-Frutt? What did you love the most about the place? 
Are you planning a visit? If you have any questions, let me know in the comments below.
If you found this useful, please share and spread the love!
More information for your trip to Switzerland:
Pin it for later.