Hiking in and around Zurich is one of the best things to do while in the city – not only to see some of the most incredible, untouched beauty of the Swiss Alps but also to get some exercise to compensate for all the cheese & chocolate you are bound to indulge in when in Switzerland! Base yourself in Zurich and explore some of the amazing hikes around the city.
Planning your trip to Zurich? Read my detailed guide to things to do in Zurich.
Zurich is located perfectly to explore some of the best hikes in Switzerland. Several beautiful hikes are located within an hour or two of driving distance or a short train trip from Zurich. The rewarding landscapes on the hikes are worth spending a few hours travelling – as are the lovely views on the train/ car travel itself!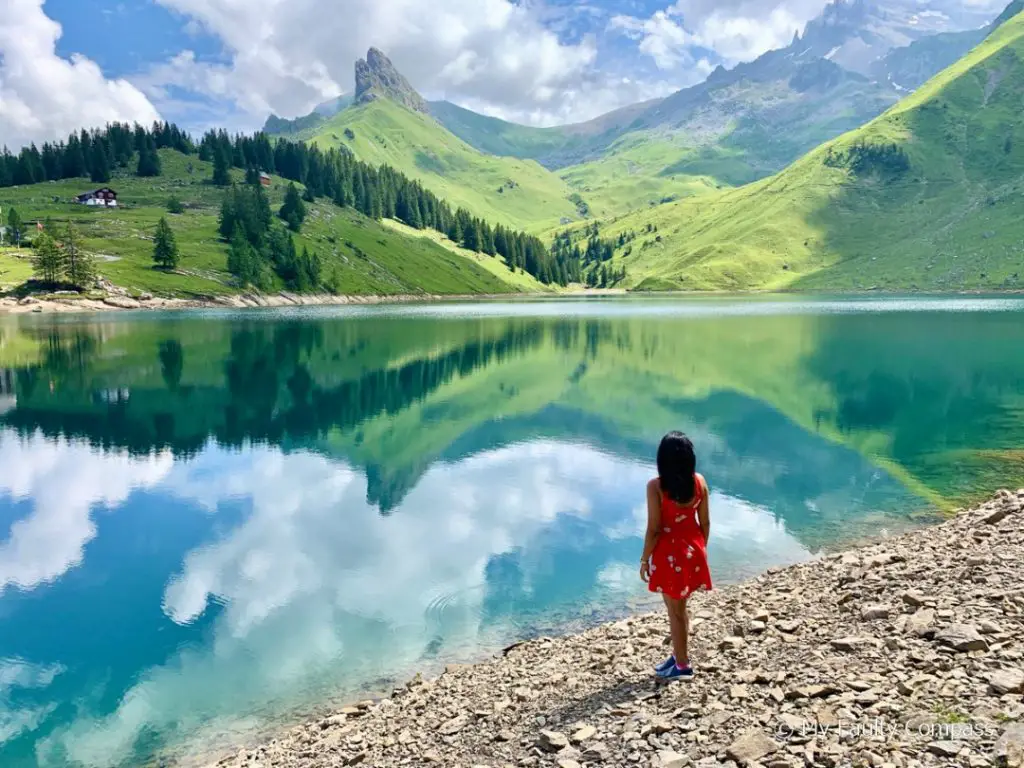 Read on for some of my favourite hikes near Zurich – the ones I always recommend and have taken my family & friends to. Most of these hikes are very easy and only a few hours in duration – perfect for beginners and families.
Planning a trip to Switzerland? Click here for a detailed travel guide to Switzerland – including the best time to visit, itinerary options (for 3, 5, 7 or 10 days), visa, transportation in Switzerland (including Swiss Pass), and more!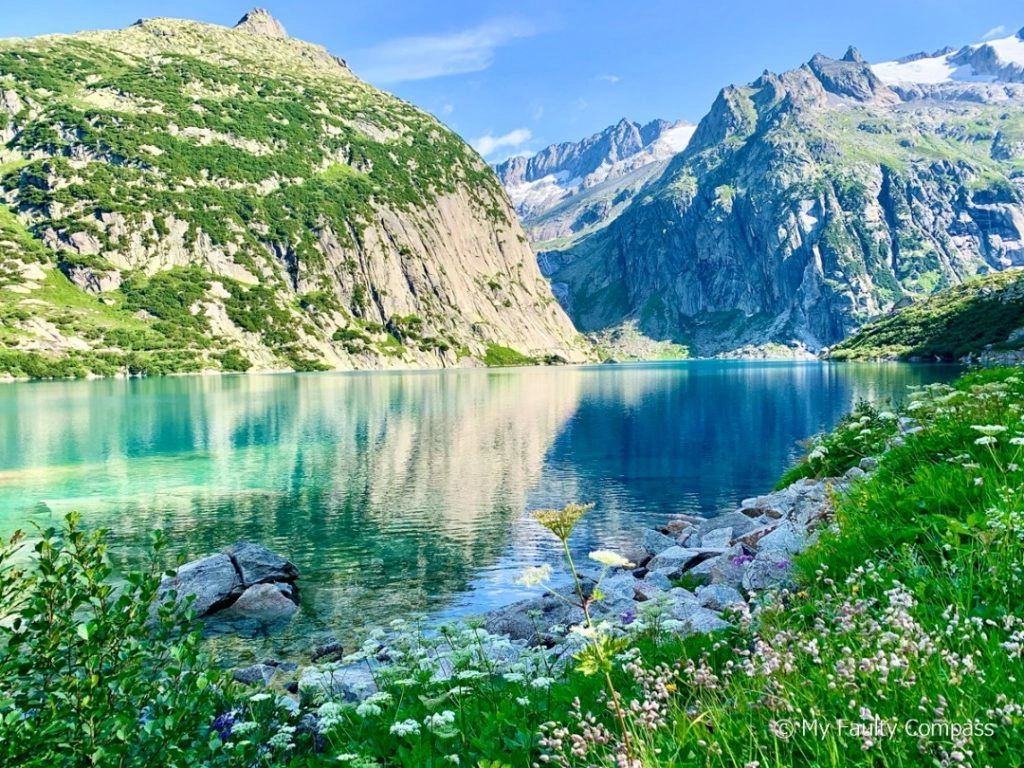 Organized by distance below, these hikes cover parts of Central Switzerland up to the Jungfrau region. There are several more incredible trails in some of the farther parts of Switzerland, especially near Zermatt – but if you're looking for hikes closer to Zurich, the trails listed below will fit the bill.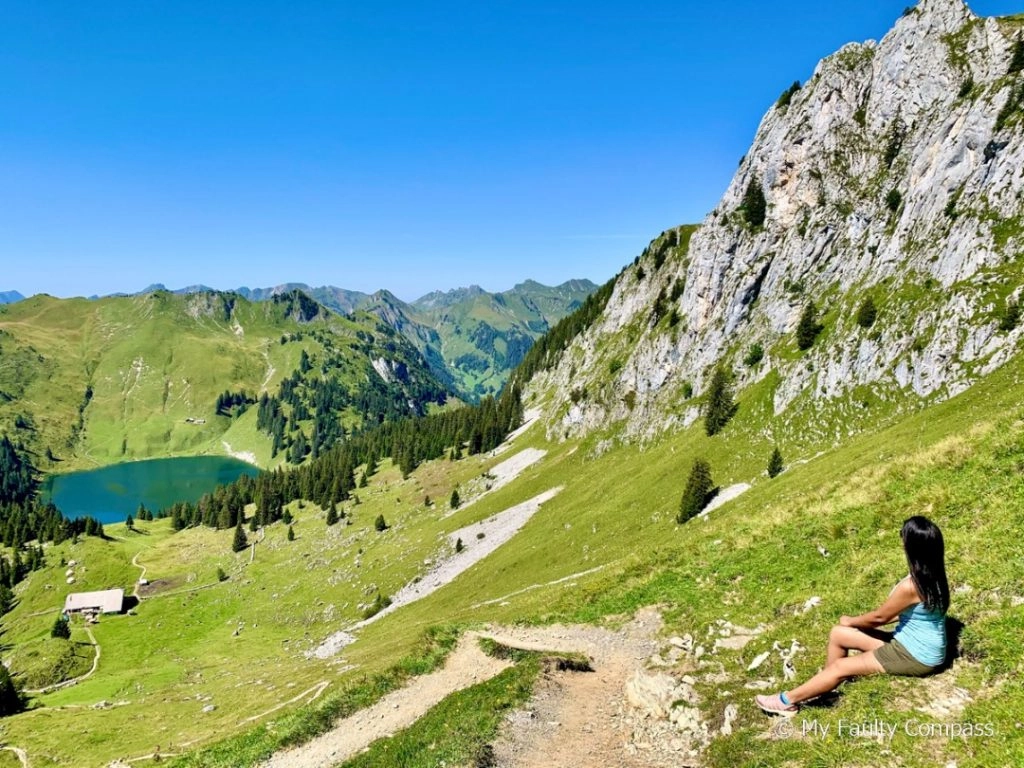 The distance and travel time listed below for hikes near Zurich are (mostly) to the starting point for the mountain transport.
Note: This post contains some affiliate links. This means if you make a purchase through these, I may earn a small commission, at absolutely no extra cost to you. Thank you for your support!
Here's what's in store for you
Hikes <70 km from Zurich
Stanserhorn
Ride on a unique open-air cable car!
Distance from Zurich: 65 km
Travel time by Car: 50 min
Travel time by Public Transportation: 1.5 hr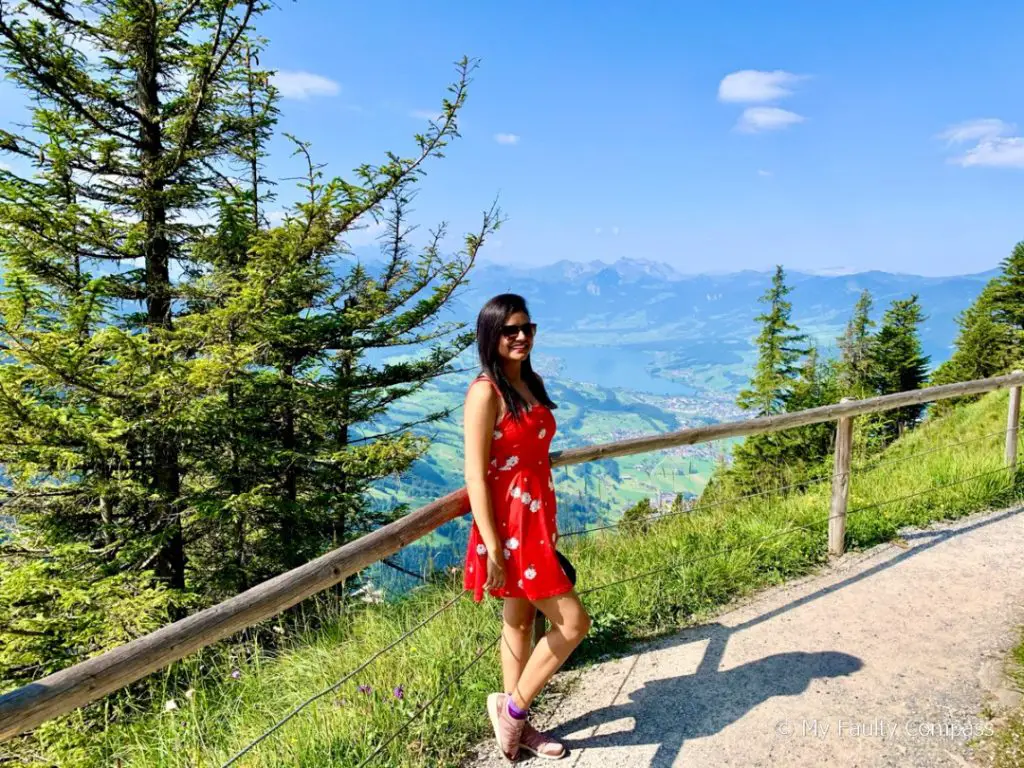 Stanserhorn is an 1850 m peak in Central Switzerland that you get to via funicular followed by an open-air cable car. The ride on the cable car with expansive views of lakes, meadows & mountains and with the wind in your hair is an unforgettable experience!
At the top of the mountain, there are several viewing platforms and a large restaurant that also has a revolving seating section. 
This is a place more popular among locals than tourists and you'll find lots of families picnicking here. Its close proximity to the city makes it a super easy to visit mountain and one of the best places for a hike near Zurich!
The easiest hike at Stanserhorn is a 1 km loop at the top – an easy walk on a well-marked path. There are lots of benches and picnic spots along the way. The views all along this hike are spectacular and you'll have a hard time tearing yourself away from them!
There are longer hikes that go down into the valley from the top. You can check them out here.
Stoos  (a hidden gem for hikes near Zurich)
Ride the world's steepest funicular!
Distance from Zurich: 65 km
Travel time by Car: 50 min
Travel time by Public Transportation: 1.5 hr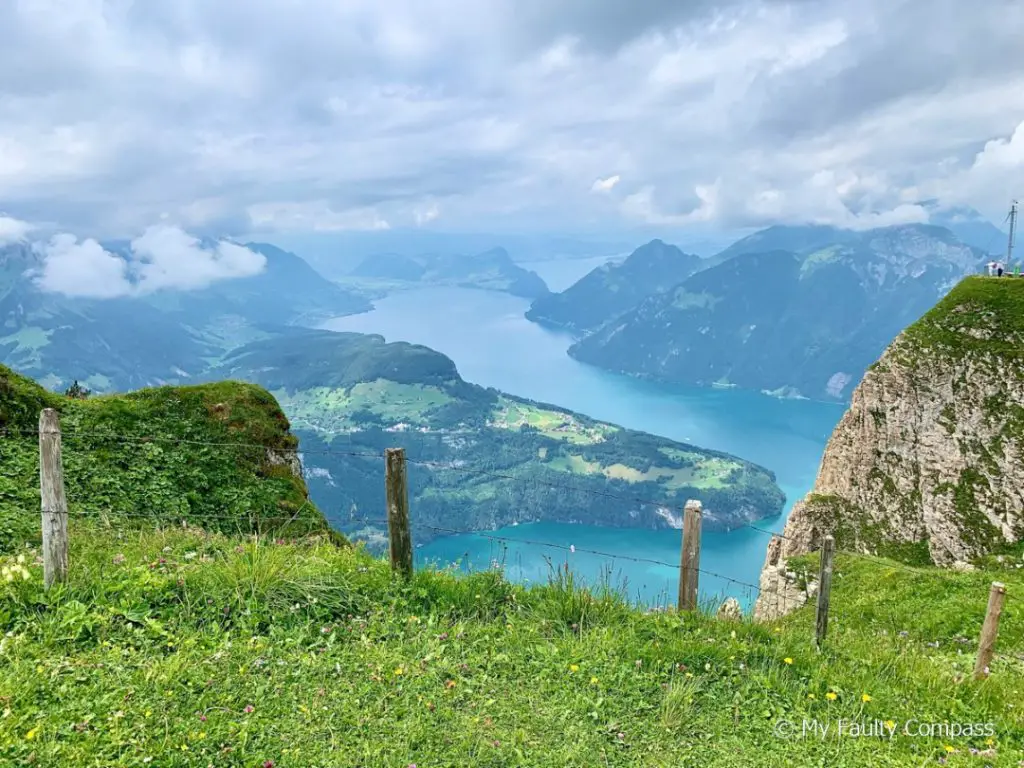 The world's steepest funicular (with a 110 per cent incline and covering ~740 metres altitude in just about 5 minutes!) brings you to the charming village of Stoos, located at the foot of the Fronalpstock mountain.
Once you've explored the village, take the chair lift and head up to the mountain for some panoramic views and spectacular hikes. Located at ~1900 m Fronalpstock has several viewing platforms and hiking paths to take in the stunning views over Lake Lucerne and 9 other lakes!
We took our parents on a short hike at Fronalpstock and they loved it! We had panoramic views of Lake Lucerne throughout the hike, as well as the tall Alpine peaks of central Switzerland in the background.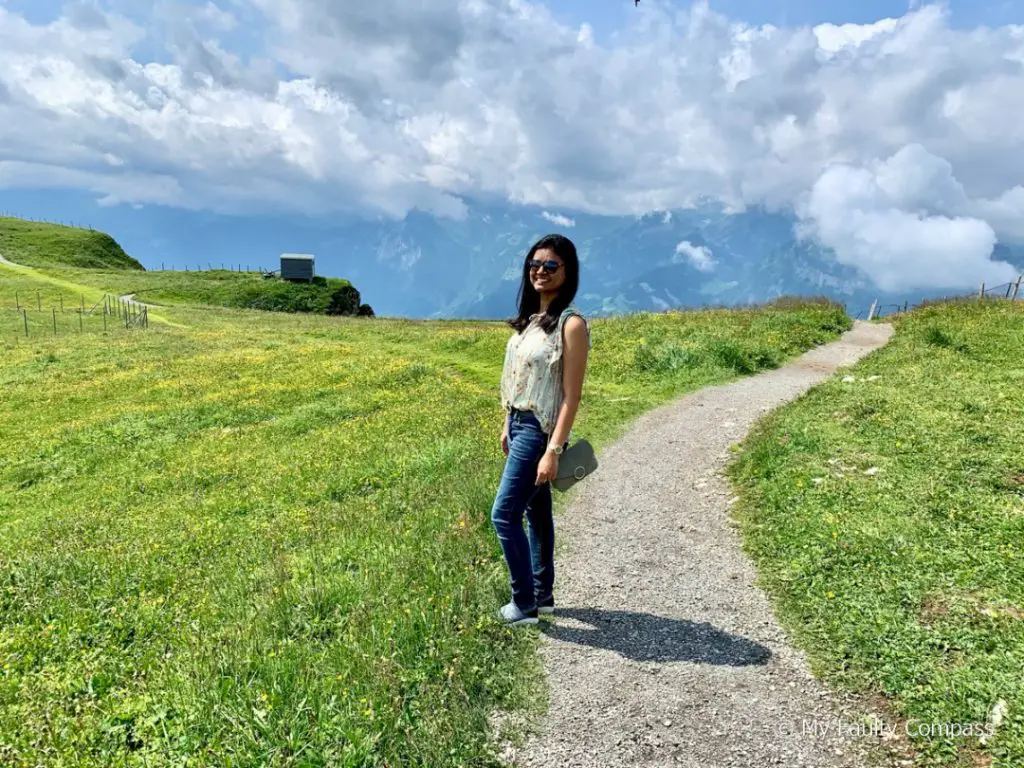 The Stoos region has several more hikes along ridges, through forests and meadows, all offering panoramic views. Check them out here.
Rigi 
Visit the Queen of the mountains!
Distance from Zurich: 55 km
Travel time by Car: 45 min
Travel time by Public Transportation: 1.5 hr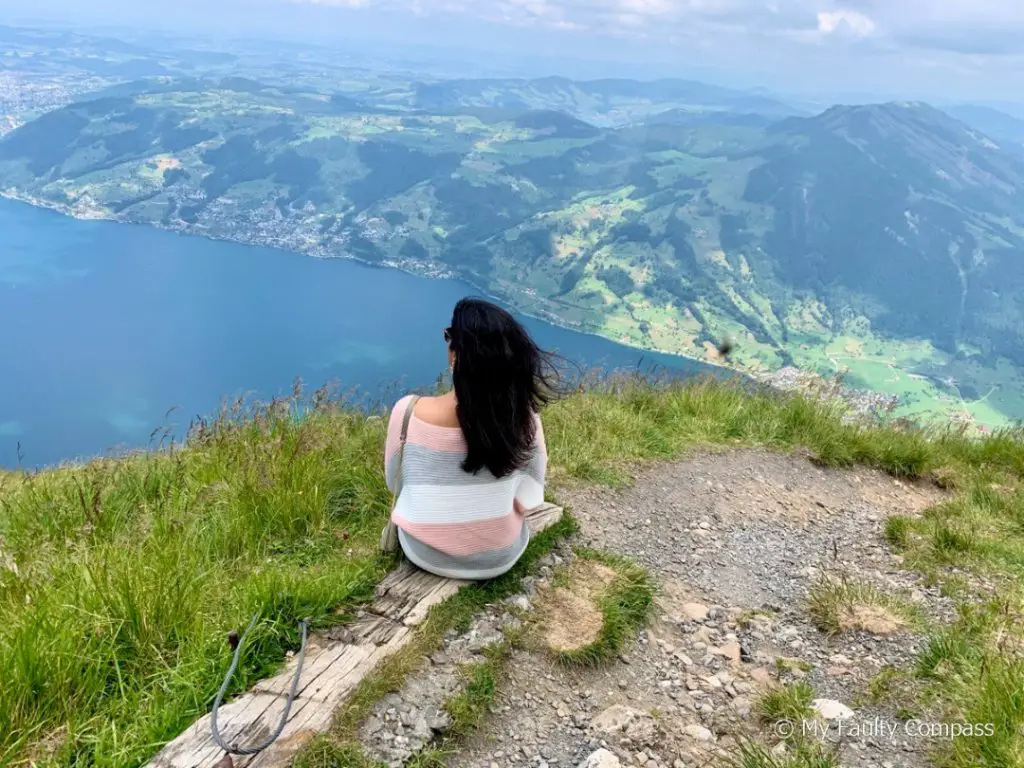 Mt. Rigi is our go-to day trip for family and friends visiting us. It offers an all-encompassing experience of all that's wonderful about Switzerland. A trip to Mount Rigi from Zurich or Lucerne includes a cruise on the delightful Lake Lucerne, a ride on a steep funicular, spectacular views from the Rigi cogwheel train, a beautiful mountain top and stunning views across Central Switzerland – and surprisingly few tourists.
Read my detailed guide to visiting Mount Rigi
The train ride up to Rigi Kulm is one of our favourite parts of this trip – you get to see views that no other place can offer (and I've been on several funiculars!). As the train climbs steeply up the mountain, we are always left awestruck by how spectacular Lake Lucerne looks down in the distance.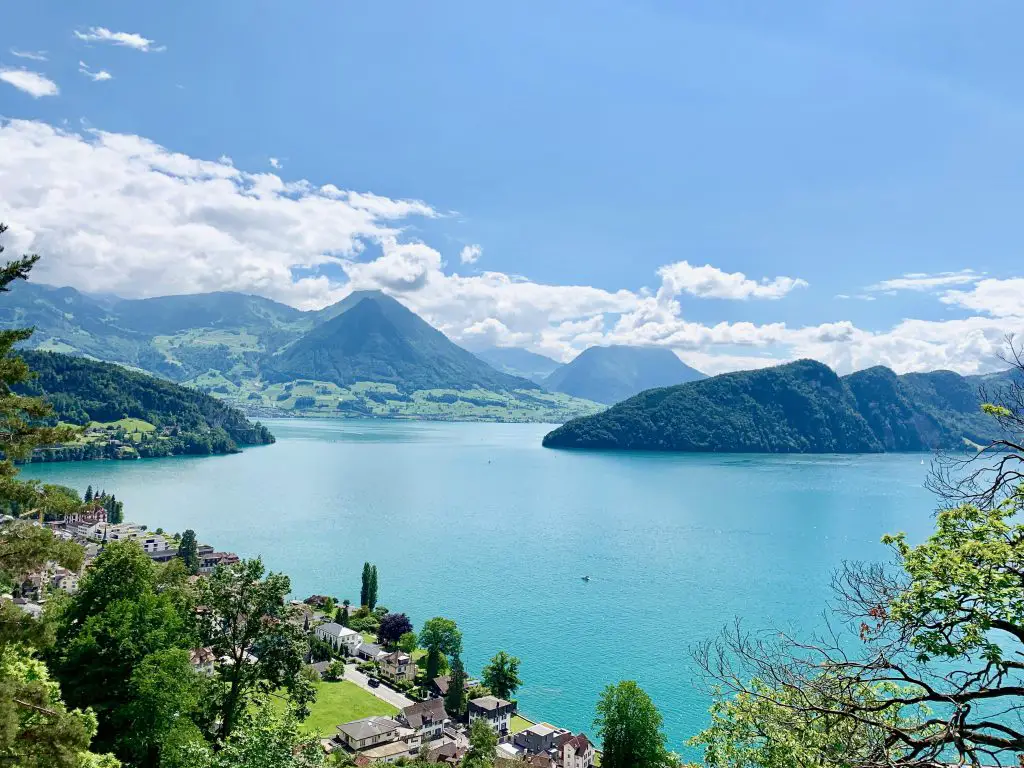 There are multiple hiking trails on Mt. Rigi. You can get down on one of the intermediate train stations and hike your way up to Rigi Kulm or you can ride all the way to the top and then hike down. Find more details on hiking trails at Rigi here.
Pilatus 
Explore the legend of the Mountain Dragon!
Distance from Zurich: 65 km
Travel time by Car: 45 min
Travel time by Public Transportation: 1.5 hr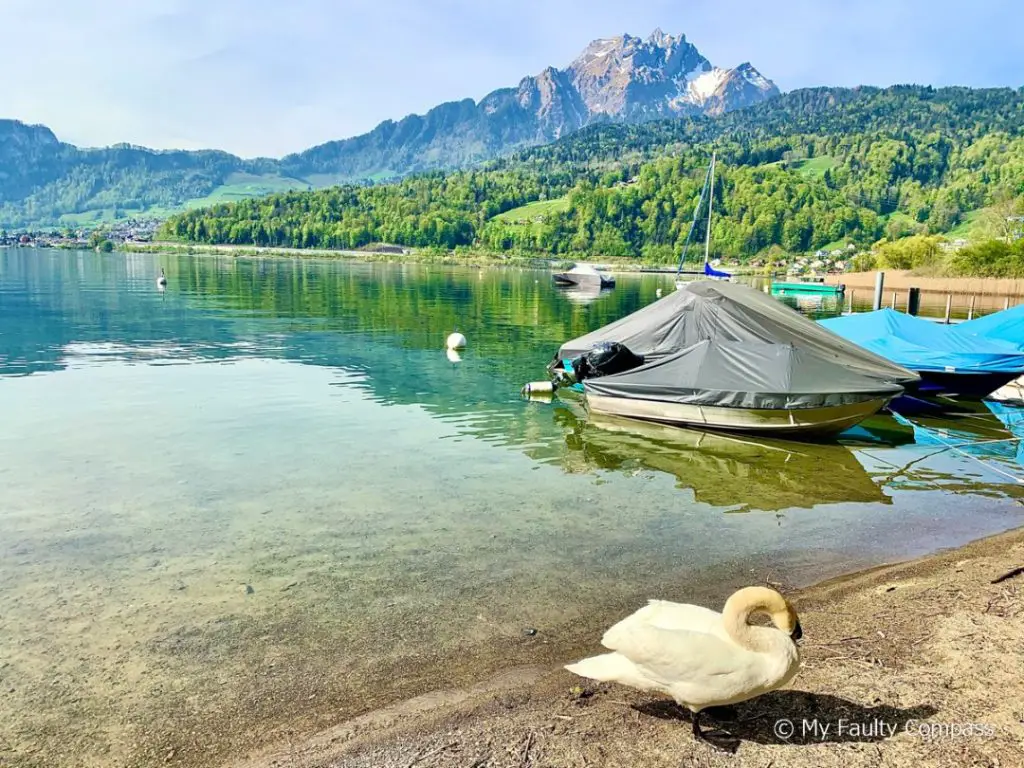 Mt. Pilatus offers some of the most spectacular views in Switzerland. The mountain itself is uniquely shaped and very recognizable. We could see it from our window when we lived in Lucerne and it made for spectacular views. It was fascinating to see the clouds collect over its summit or watch the seasons changing over it – the snow-covered peak especially made for a breathtaking sight!
There are several legends and myths associated with the Pilatus. It's believed that dragons with healing powers lived in the rugged crevices of the Pilatus. The legend is kept alive at the summit where you can visit the Dragon Trail!
We used to hike often in and around the foothills of Pilatus and never got tired of it! From the summit of Mt. Pilatus, you can see across the Central Swiss Alps and the Jura all the way to France and the Black Forest in Germany.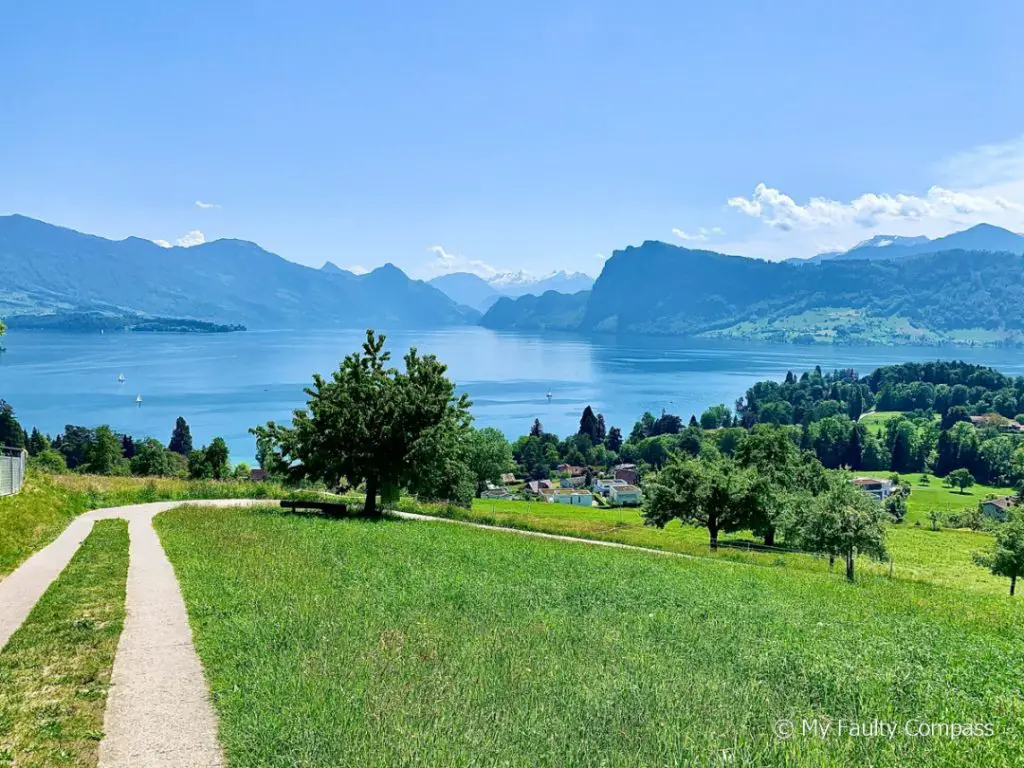 Check out the hiking trails on Pilatus here and pick one most suited to you.
Uetliberg (most popular hike in Zurich itself)
Zurich's own mountain! 
Uetliberg is the perfect place to get panoramic views across the lake and the city. You can take the train up to the mountain and walk 10-15 minutes to reach the summit.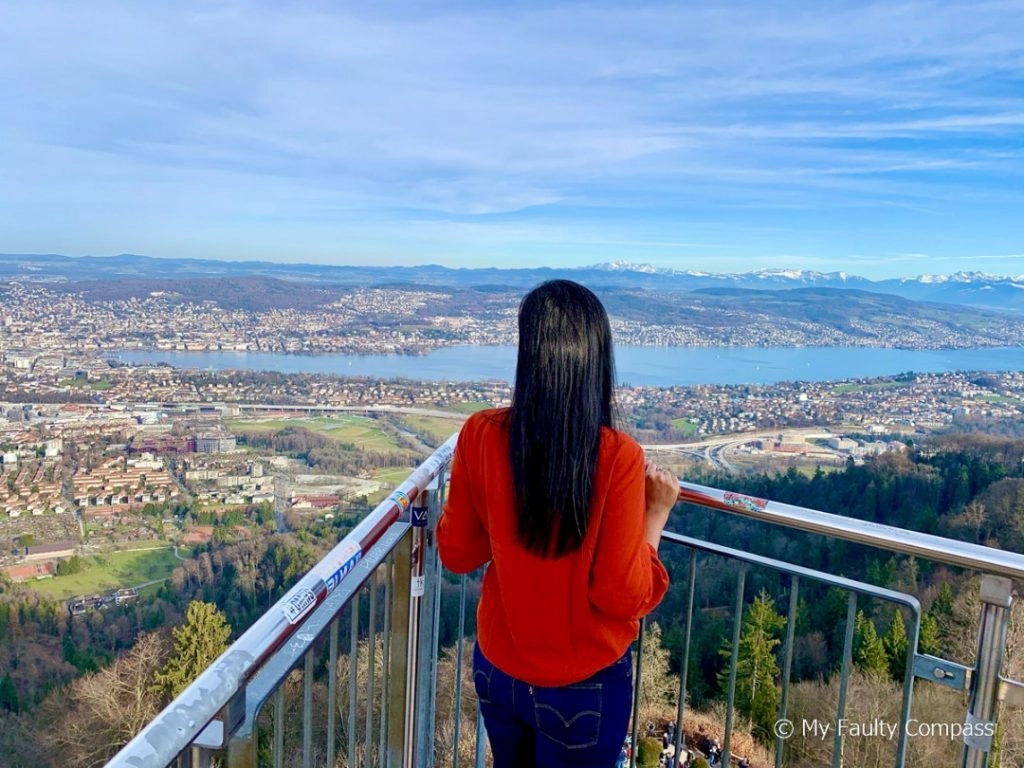 We could see Uetliberg from our balcony when we lived in Zurich and it made for a beautiful sight – a fresh coating of snow in April or bright green trees in June, it was always spectacular.
There are several hiking routes on this mountain where you can enjoy hiking in the summer and sledding in the winter. The Uto Kulm, the peak of the Uetliberg at 871 meters is a popular day-trip destination in and around Zurich. You can hike up to the peak from several places in the city or you can hike some of the mountain trails such as the beautiful Gratweg from Uetliberg via Felsenegg to the Albis Pass.
Hikes 70-100 km  from Zurich
Bürgenstock
Take the cliff path along Switzerland's famous luxury resort!
Distance from Zurich: 70 km
Travel time by Car: 1 hr
Travel time by Public Transportation: 1.5 – 2 hr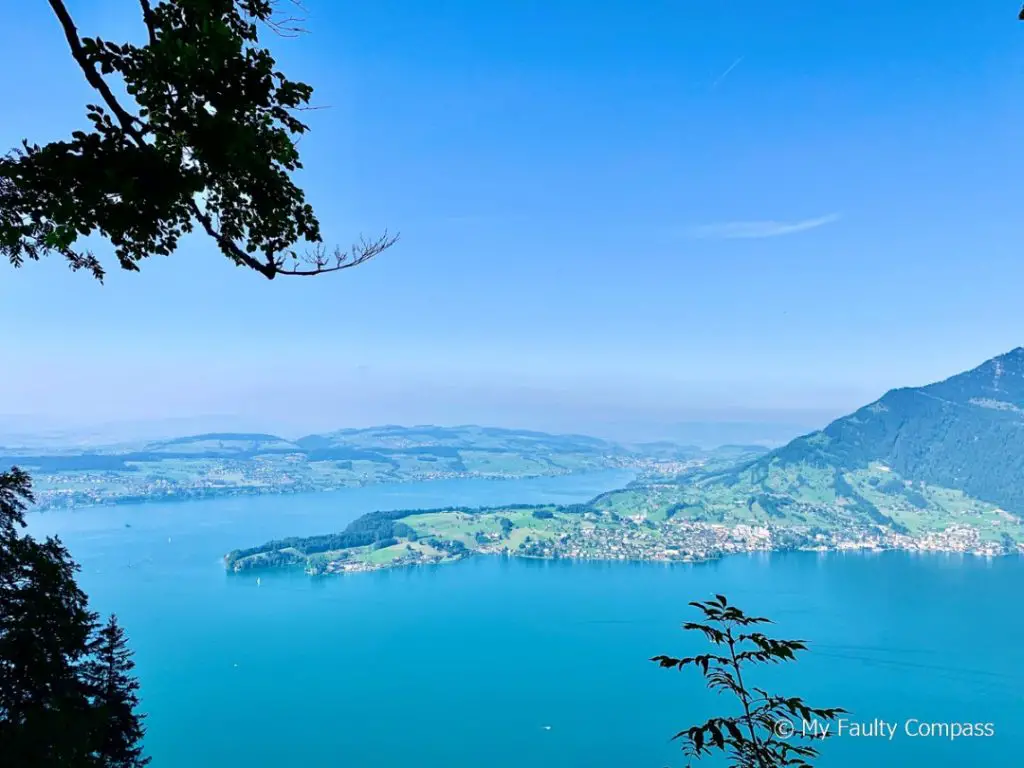 Located at 1100 m above sea level, Bürgenstock is a mountain on the shore of Lake Lucerne. It is most known for the Bürgenstock Resort which boasts of famous guests, from Charlie Chaplin to Kofi Anna and Sofia Loren to Audrey Hepburn!
The best walking trail here is the rock-face path "Felsenweg", a traditional mountain trail that leads to the towering 150 metre+ tall Hammetschwand Lift –  Europe's tallest outdoor lift. The lift connects the scenic cliff path with the Hammetschwand vantage point. However, it is quite expensive and I'd recommend walking up the mountain rather than taking the lift.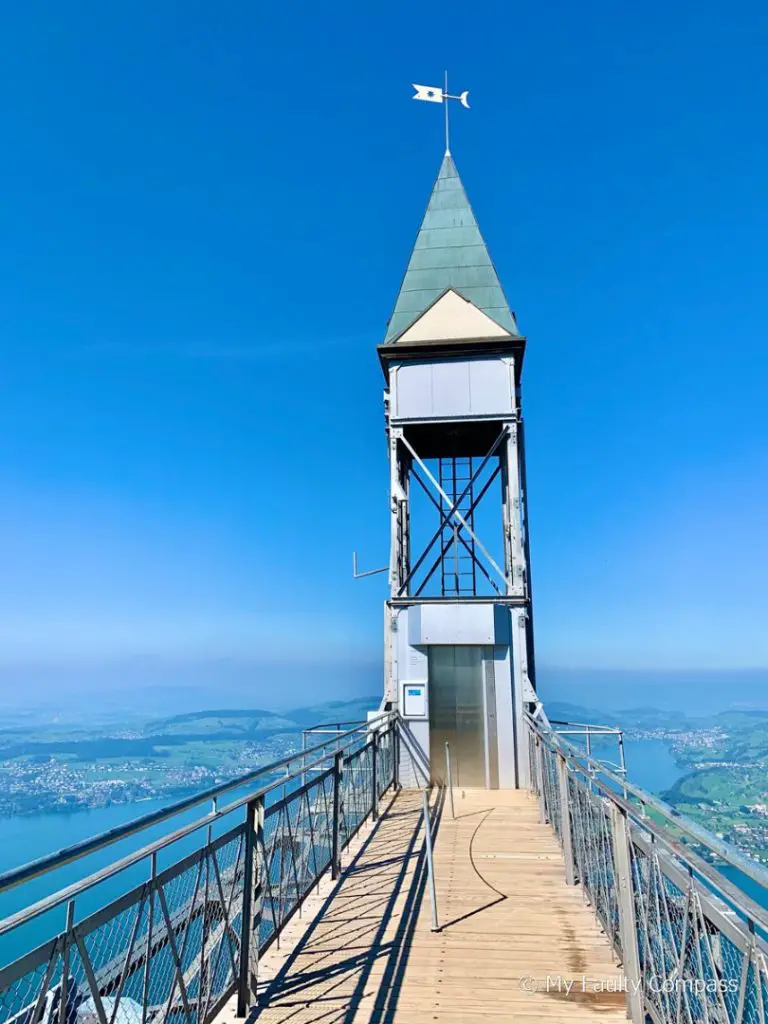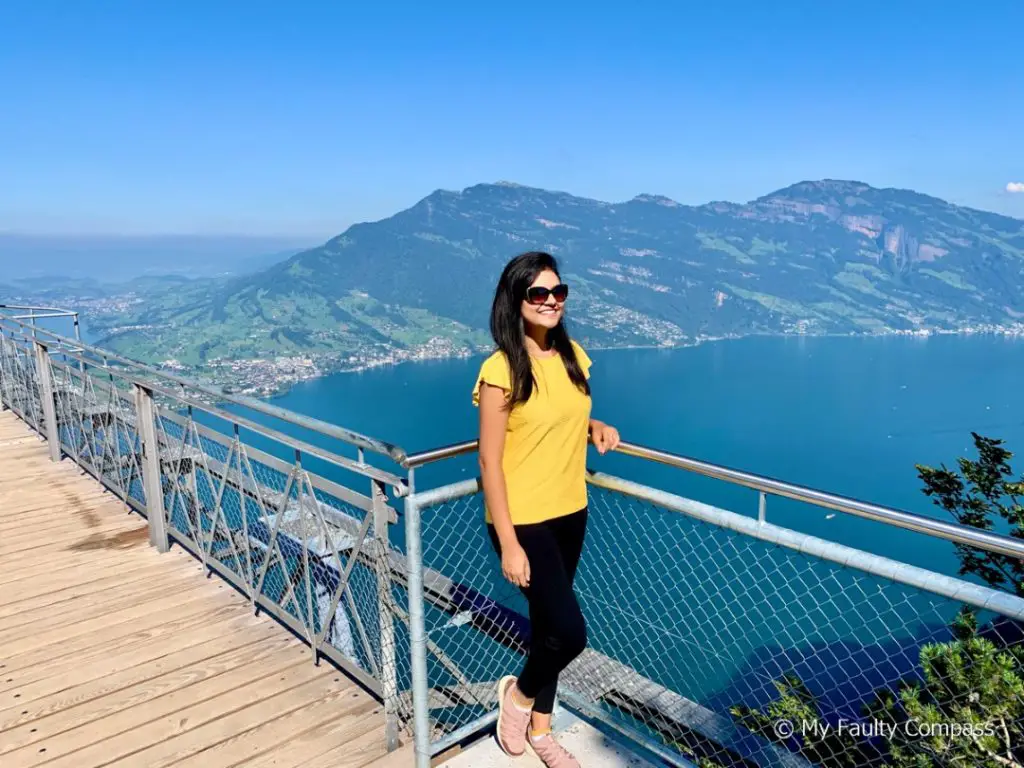 The lift does make for a lovely sight from far – especially at night when lights come on along the lift tower. We could see these lights from our window when we lived in Lucerne and that was one of the reasons that motivated our trip up to Bürgenstock!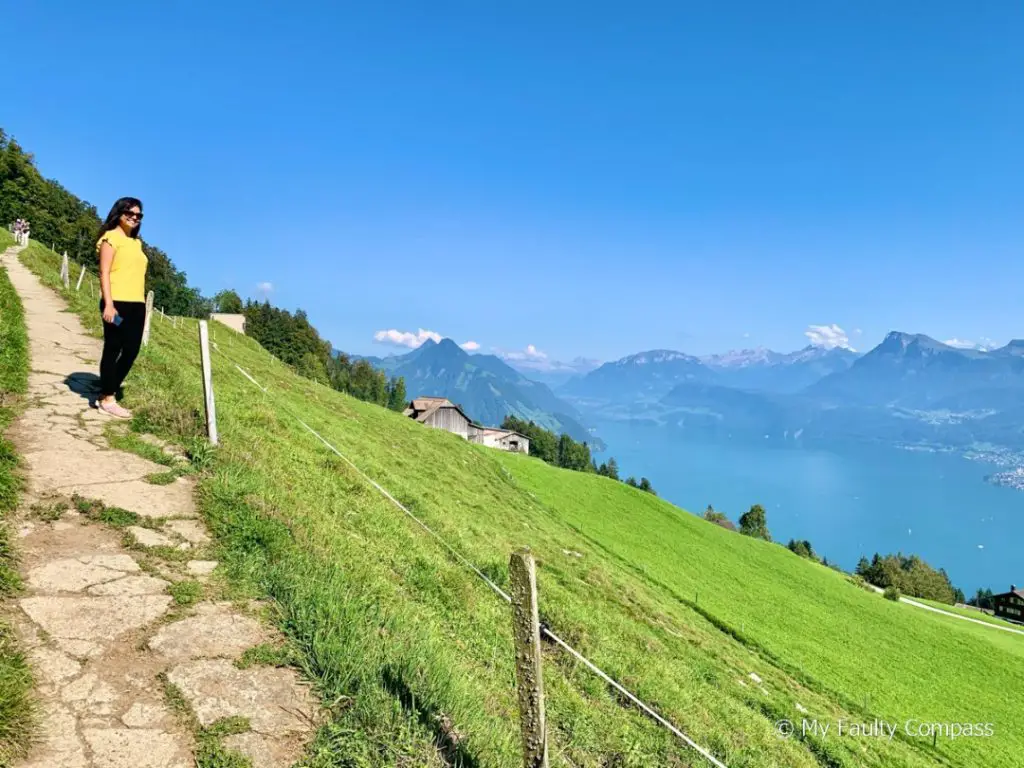 Walking along cliffs looking out over the lake and the mountains, this hike makes for a fantastic day trip from Zurich. It's an easy short hike that takes you through forests, tunnels and lovely meadows. 
Melchsee Frutt  (My favourite Hike near Zurich!)
Discover 2 stunning Swiss mountain lakes!
Distance from Zurich: 85 km
Travel time by Car: 1 hr 10 min
Travel time by Public Transportation: 2.5 hr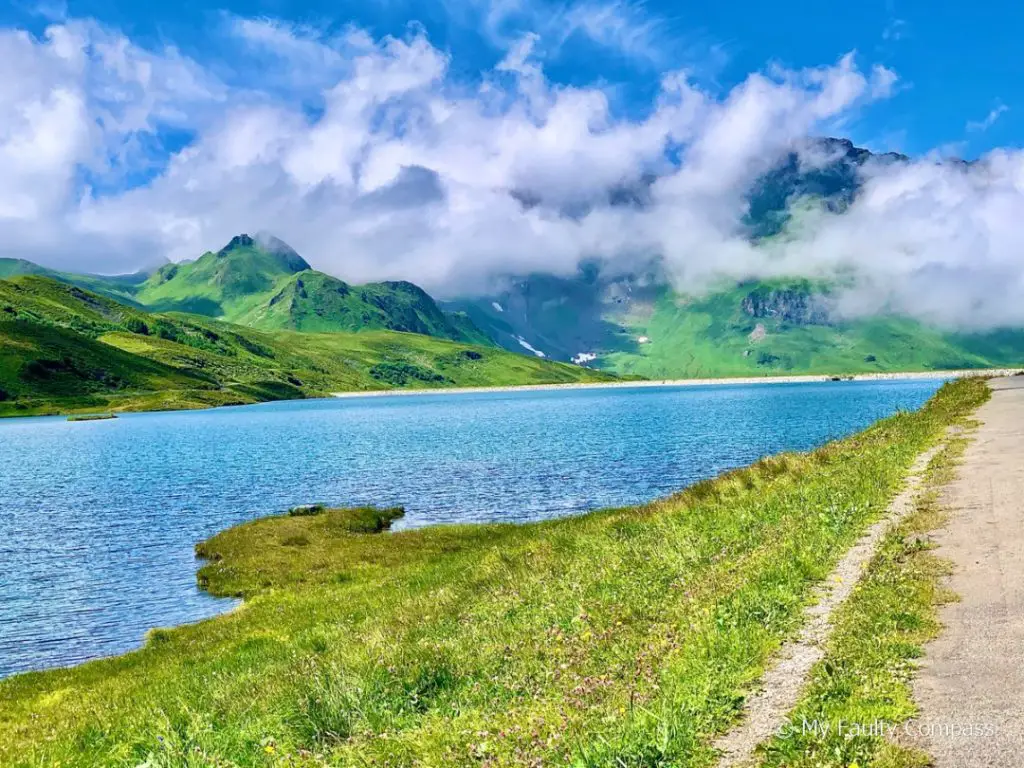 Melchsee-Frutt is a mountain resort village that boasts of 2 absolutely spectacular Alpine lakes – Melchsee & Tannensee. An easy walk through beautiful rolling hills covered in flowers with tall snow peaks visible in the distance and the melody of ringing cowbells make for a fantastic experience up at Melchsee-Frutt!
Read my detailed guide to visiting Melchsee-Frutt.
The hiking route from the cable car station at Melchsee-Frutt, via Melchsee to Tannensee is ~4 km on a wide, paved road with very little elevation. At Tannensee, you should walk around the entire lake for some beautiful views. The entire walk would take about an hour. You can walk the whole way back or if you get tired, you can hop on board the cute little "train" that runs on this route, the Fruttli Zug.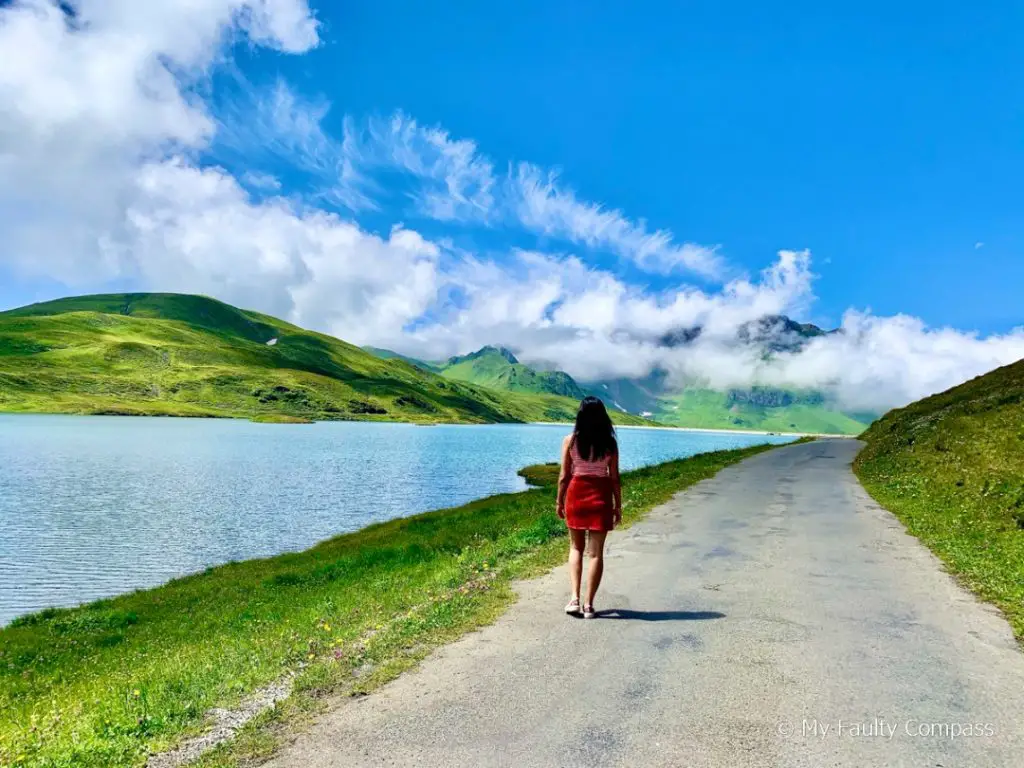 We discovered Melchsee-Frutt quite by chance when we saw a board pointing towards it while driving through the mountains! It soon turned out to become my favourite hike close to Zurich!
There are many, many more hiking options up here. Check these out here.
Bannalpsee 
Enjoy the tranquility of the Swiss Alps!
Distance from Zurich: 80 km
Travel time by Car: 1 hr 
Travel time by Public Transportation: 2 hr 10 min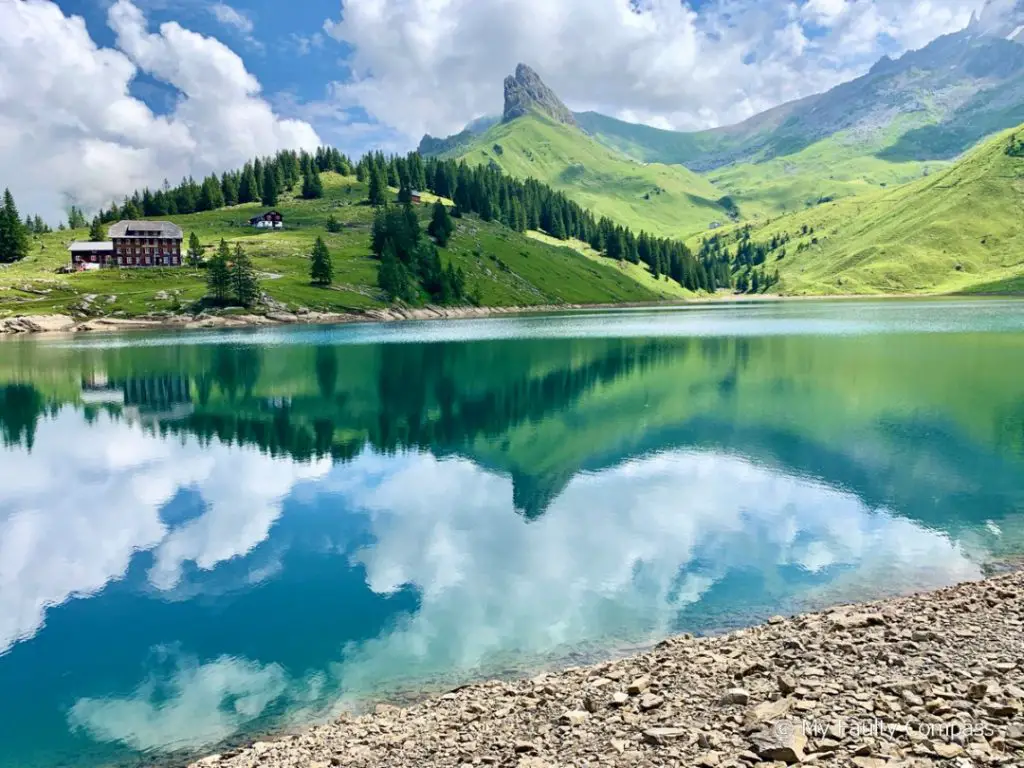 The mountain reservoir of Bannalpsee is one of the best quick trips to be done from Zurich. Bannalpsee is a hidden gem – one time when we went in July, it was nearly deserted and we had the whole place all to ourselves. While there are several hiking options, if you are a more laid back traveller (like me!) you can reach Bannalpsee taking a very short walk. 
Read my detailed guide to visiting Bannalpsee.
If you are looking for beautiful trails that offer solitude, Bannalpsee is one of the best hikes near Zurich. There are multiple hiking options here, from 15 minute quick hikes to 3 hr long ones. You can also take the loop around the lake that is about 5 km and takes about an hour.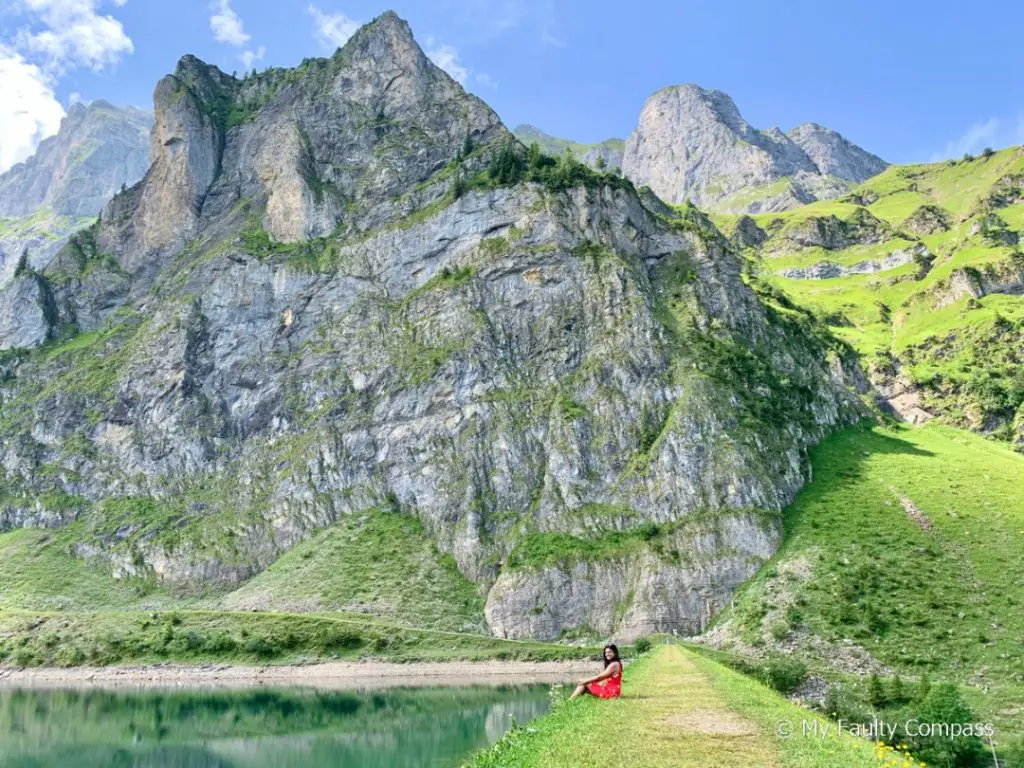 The mountains surrounding the lake make for an imposing, yet stunning sight and if you can catch their reflection in the lake it makes for a gorgeous pic!
Hikes 100-150 km from Zurich
Gelmersee 
Take one of the steepest funiculars in Switzerland up to the lake – on a ride that feels more like a roller coaster than a train!
Distance from Zurich: 120 km
Travel time by Car: 1 hr 45 min 
Crystal clear water, mirror-like reflections and no tourists – this lake is a treat to visit. There's a 2-hour hike that you can do around the lake for even better views, or just walk along the dam and relax on the small beach.
Gelmersee is one of Switzerland's most spectacular hidden gems and an absolute must-visit!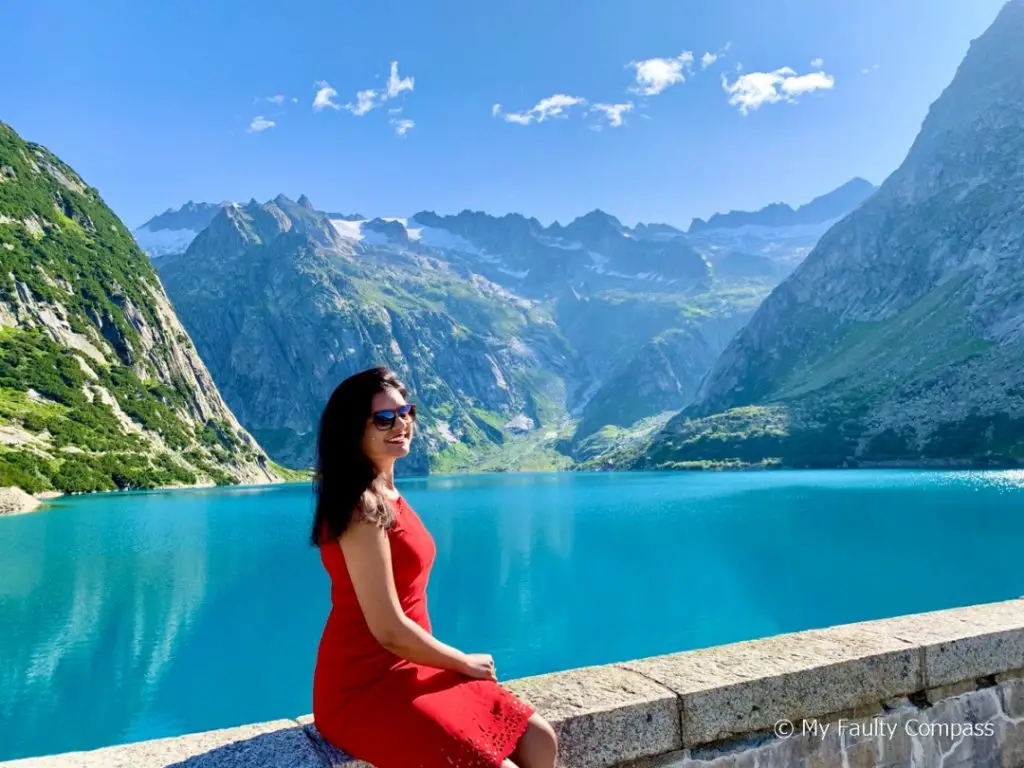 This lake is located near Meiringen, about 2 hours' drive from Zurich and makes for an excellent day trip. It is easily accessible by car, however, there are only limited connections with public transportation.
Schynige Platte
Visit the peak of Swiss tradition!
Distance from Zurich: 120 km
Travel time by Car: 1.5 hr 
Travel time by Public Transportation: 2 hr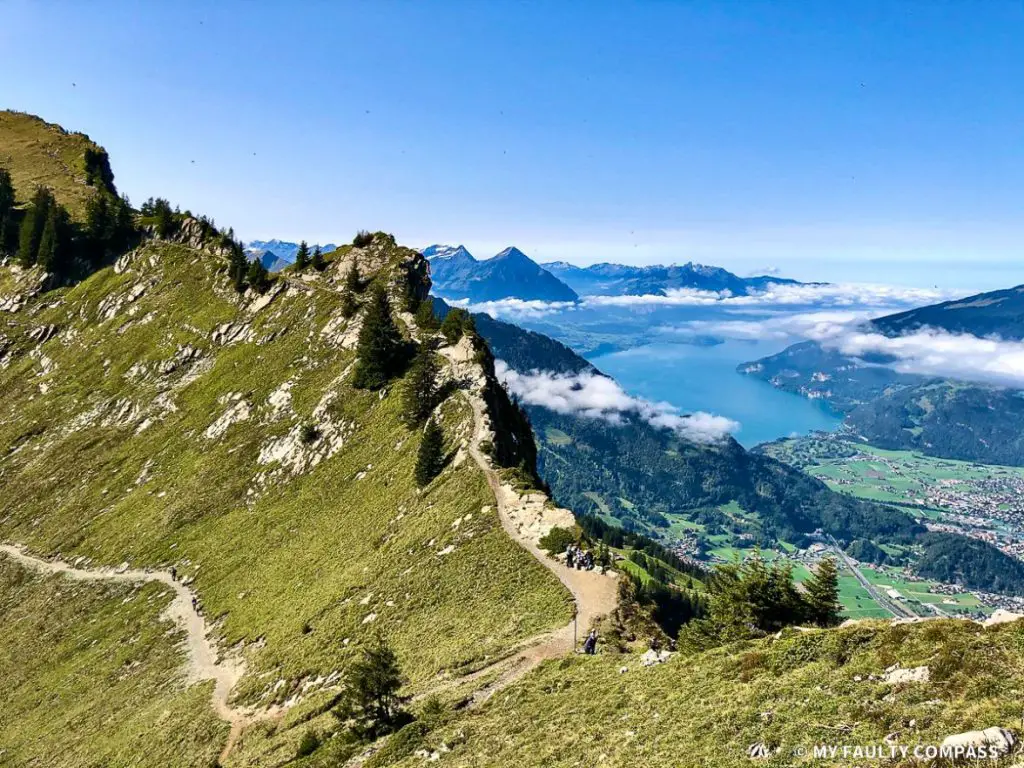 Schynige Platte is a place that deserves to be on the list of must-visit places in Switzerland but is not really well-known. Most people make a beeline for the famous Jungfraujoch or Interlaken when visiting the Bernese Oberland, completely missing out on some fantastic experiences at other mountains!
Read my detailed guide to visiting Schynigge Platte.
Schynige Platte is a plateau located at 1967 metres above sea level in the Jungfrau region. Its unique location offers dazzling views of the famous Eiger, Mönch and Jungfrau mountains above and the bluest of blue lakes of Thun & Brienz below.
While you can enjoy a lot of incredible views by just taking a stroll at the top at Schynige Platte, some of the most spectacular ones can be found on hikes around the plateau. 
The Schynige Platte Panorama trail is one of the easier ones with very rewarding views – even if you do only a part of the hike! With fairly low effort you can reach along the side of a ridge and enjoy stunning panoramic views all around you.
The Schynige Platte – Faulhorn – First trail is one of the most famous hikes in the Jungfrau region. This hike is a fairly long and more challenging one, recommended only to experienced hikers. It's nearly 16 km long and takes 5-7 hours. 
For the avid hikers, read here for more details on this hike.
Bachalpsee
The prettiest Swiss mountain lake
Distance from Zurich: 140 km
Travel time by Car: 2 hr 
Travel time by Public Transportation: 2 hr 45 min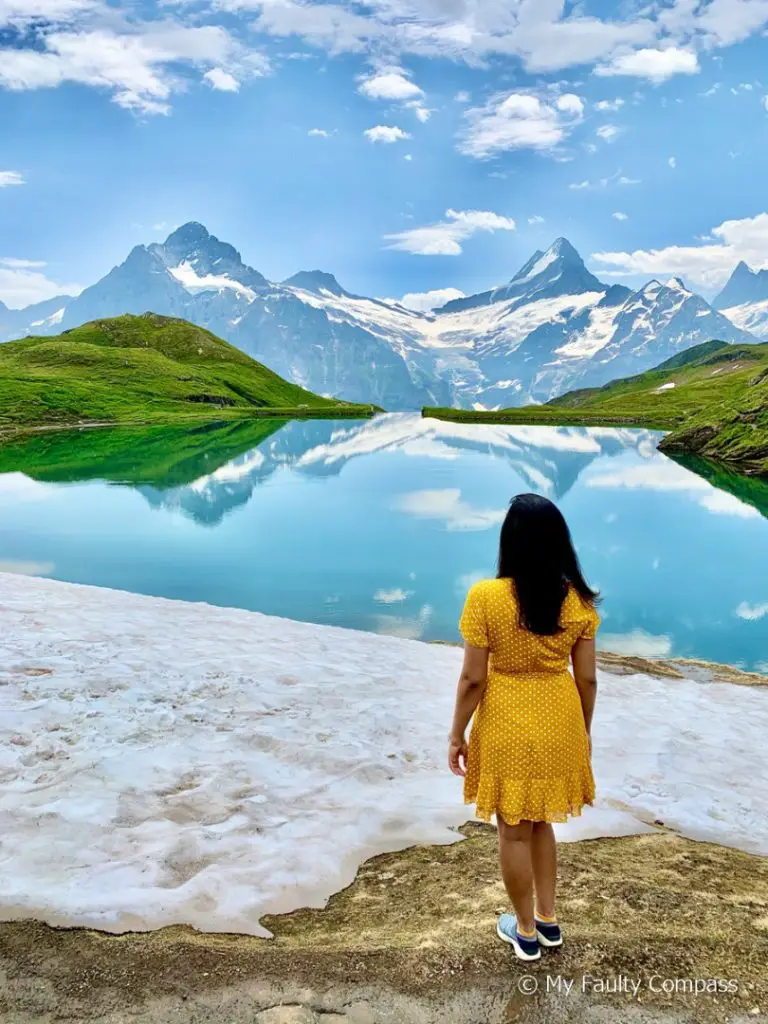 The best hike from Grindelwald First is the hike to Bachalpsee which encompasses all that's most beautiful about Switzerland – stunning snow-capped mountains, lush green meadows & valleys, crystal clear lakes, and wildflowers, all to the soundtrack of ringing cowbells! It is one of the best places to visit in the Jungfrau region and my personal favourite place in Switzerland. The thrilling First Cliff Walk at Grindelwald First adds to the fun of visiting this place.
Bachalpsee makes for a perfect day trip and a fantastic outdoor activity & a beautiful hike from Zurich. In fact, this is one of the best and easiest hiking trails in Grindelwald & the Jungfrau region.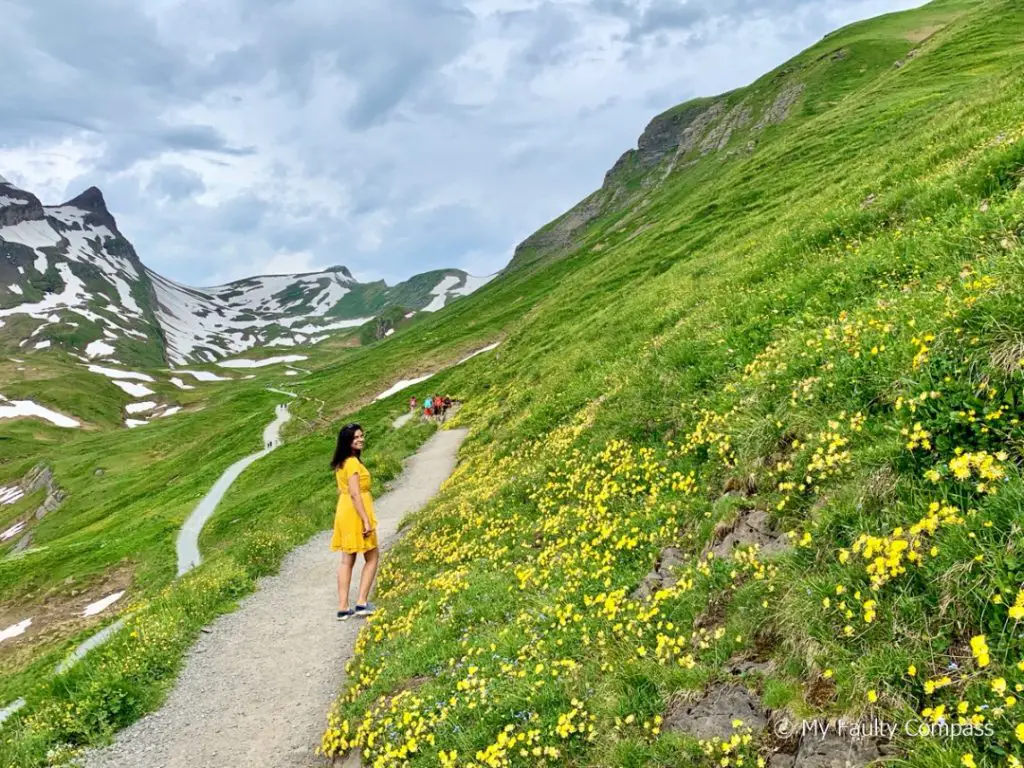 Located in the Bernese Oberland at a height of ~2200 m, amidst lush Alpine greenery and snowy vistas, Bachalpsee is a must-visit place in Switzerland. This is a day trip we take all our visitors to give them a jaw-dropping experience! 
The walk upto the lake is just as spectacular as the lake –  the sharp peaks of Wetterhorn, Schreckhorn and Finsteraarhorn are visible on the opposite side of the valley as you hike along it. This is the hike that will get you excited for more hikes in the Swiss Alps!
Flims 
Discover the most incredibly turquoise lake and the Swiss Grand Canyon!
Distance from Zurich: 140 km
Travel time by Car: 1 hr 45 min 
Travel time by Public Transportation: 2 hr 10 min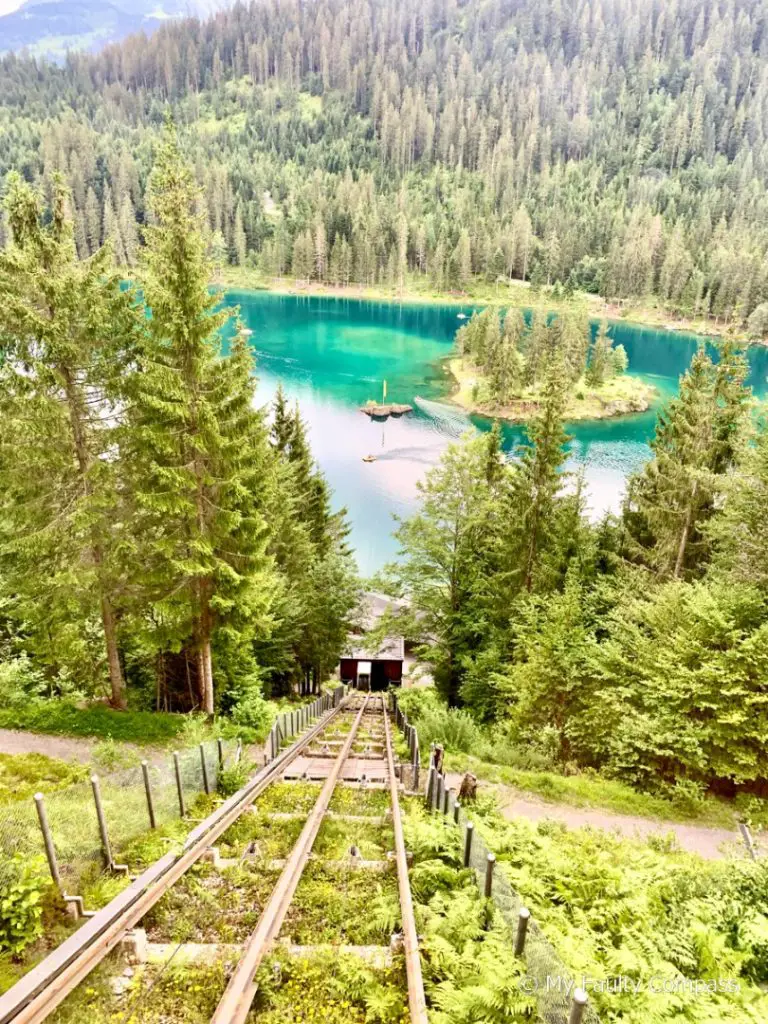 One of the easiest trails in the Flims region is the trail covering the 2 beautiful lakes of Caumasee and Crestasee, and the incredible Rhine Gorge (also known as the Swiss Grand Canyon). It is the perfect way to whet your appetite for more hikes in Switzerland!
Read my detailed guide to the Caumasee – Swiss Grand Canyon hike.
Caumasee, Crestasee and the Rhine Gorge are located in & around the town of Flims in the Swiss canton of Graubünden. It is a beautiful area and one of the less-touristy places in Switzerland.
Caumasee quite whimsically translates to Lake of Noon Rest. Surrounded by forests, it's an ideal place to relax, swim and have a picnic. The most stunning feature of the lake is its turquoise green water, unlike anything you may have seen before.
We took our parents to the lake once and despite the long drive from Zurich, they were enthralled by the place. The bonus for us was that we reached the place after 5 pm so the entry was free!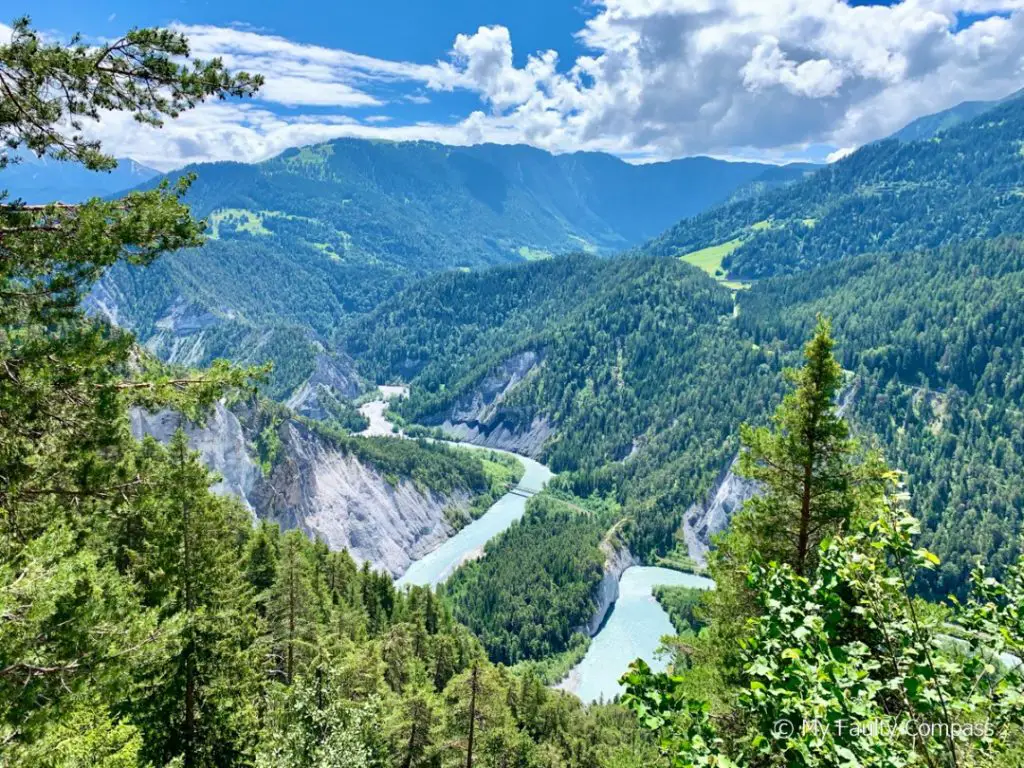 The Rhine Gorge is Switzerland's very own Grand Canyon. This 13-kilometre long gorge is the result of geological events tracing back 10,000 years. 
Flims was the first area in Switzerland that we hiked in and though the hike may not be as spectacular as some in the Bernese Oberland region, it was still absolutely amazing. Tall mountains, beautiful forests and wildflowers made the trail supremely beautiful. Visit Flims for an easy hike near Zurich and for seeing something out of the usual Swiss vistas!
Hikes 150-200 km from Zurich
While these hikes are not very near Zurich, they are still doable as day-trips – easier if you take a car though.
Stockhorn
Explore two tranquil mountain lakes and spectacular views!
Distance from Zurich: 165 km
Travel time by Car: 2 hr 
Travel time by Public Transportation: 2 hr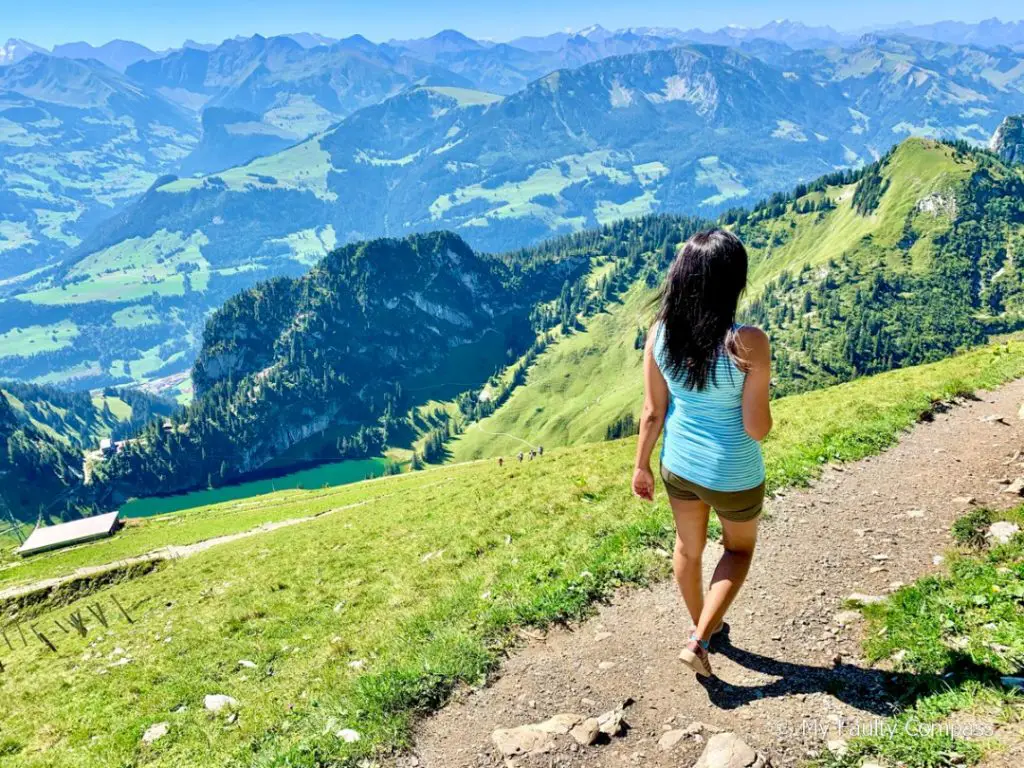 Located north of the town of Erlenbach im Simmental Stockhorn is a 2100 m tall mountain overlooking Lake Thun. You can take a cable car to the top and enjoy breathtaking views of the horizon from the viewing platform at the summit.
My favourite hiking trails in Switzerland are ones that include mountain lakes and the hike along Stockhorn fits the bill perfectly! The two idyllic mountain lakes, Oberstockensee and Hinterstockensee make for lovely stops along the way.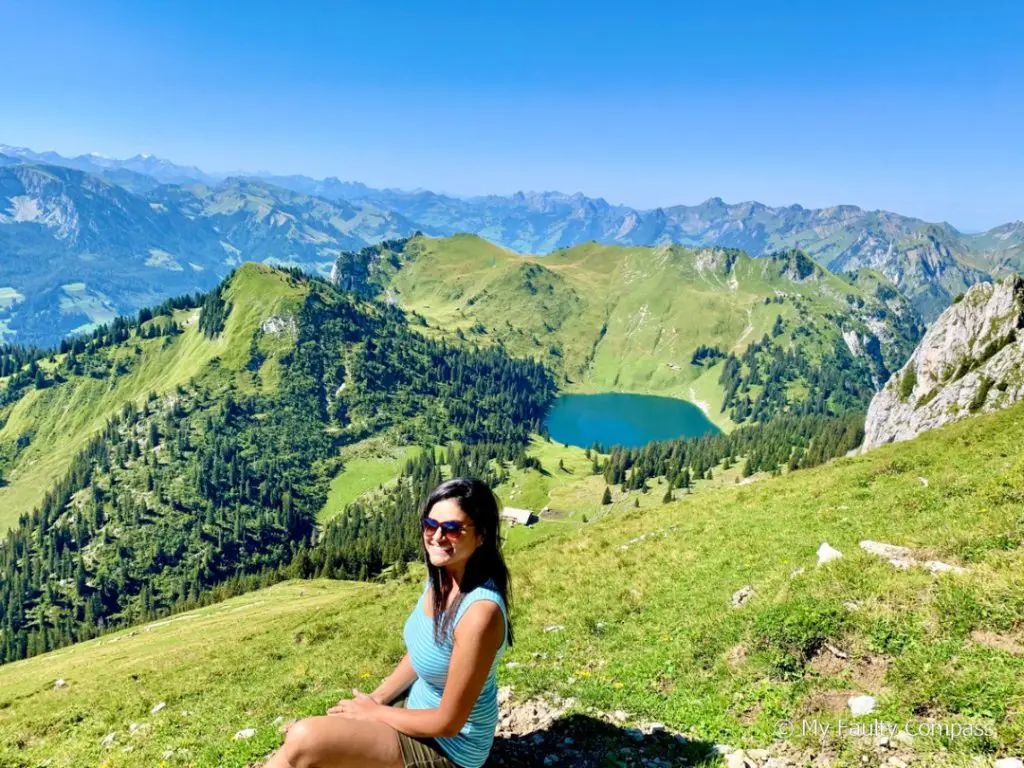 The hiking trail runs along the mountain and offers spectacular views at every step. If you are looking for more of a challenge, try the Adventure Trail which starts at an intermediate cable car stop and head uphill to the summit.
Oeschinensee 
Enjoy a bright blue Swiss mountain lake – unbelievably photogenic and much lesser known!
Distance from Zurich: 180 km
Travel time by Car: 2 hr 
Travel time by Public Transportation: 2.5 hr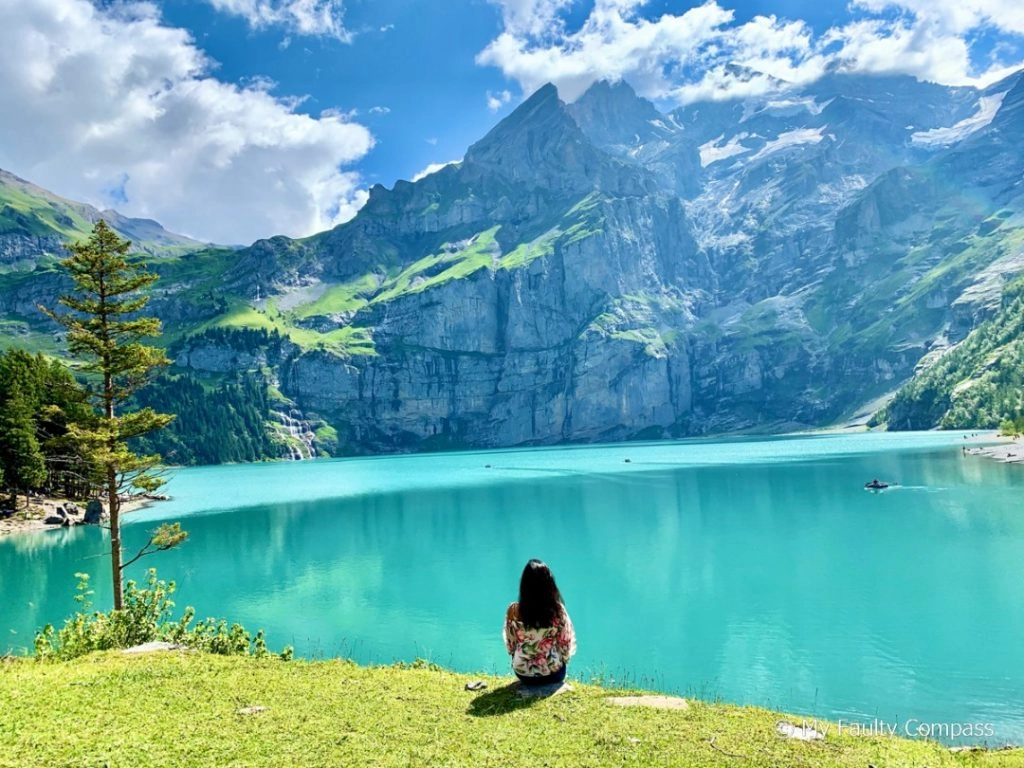 Located in the Bernese Oberland region at a height of ~1600 m the lake makes for a stunning landscape. Surrounded by sharp peaks and a small waterfall at one end, Oeschinensee is ridiculously beautiful and one of the best places to visit in Switzerland. This lake also features high on our list of places to take visitors to!
Read my guide to visiting Oeschinensee.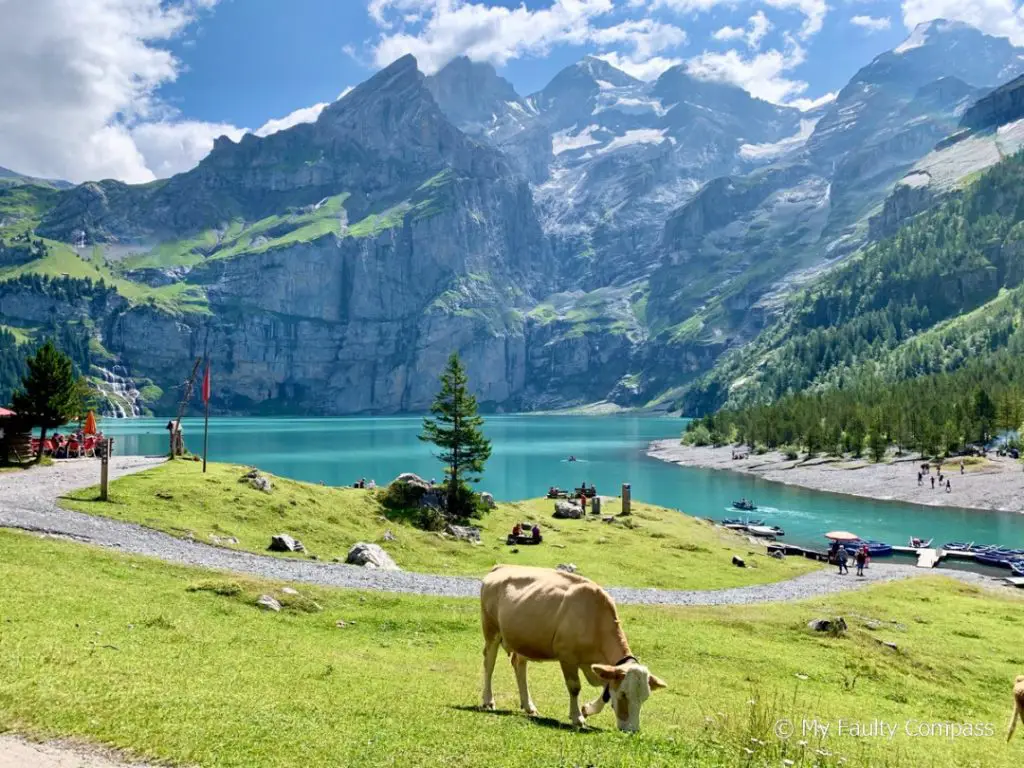 The hike to the lake from the cable car station is a short and easy one and takes you below high mountain peaks and through wide green meadows.There are several hiking trails in the region that take you high above Oeschinensee for some fantastic panoramic views. Check out more hikes here.
Where to stay for hiking near Zurich
Stay close to the old town area since that's where most of the highlights of Zurich, including the beautiful river & lake are. You will be able to walk everywhere and make the most of your time in the city.  It will also allow you to quickly get away and head on some of these amazing hikes.
The hotels in this area will be expensive though so if you are not short on time, consider a place to stay a little further away and take the bus/ tram/ train. The public transport system in Zurich is very extensive, efficient and very clean.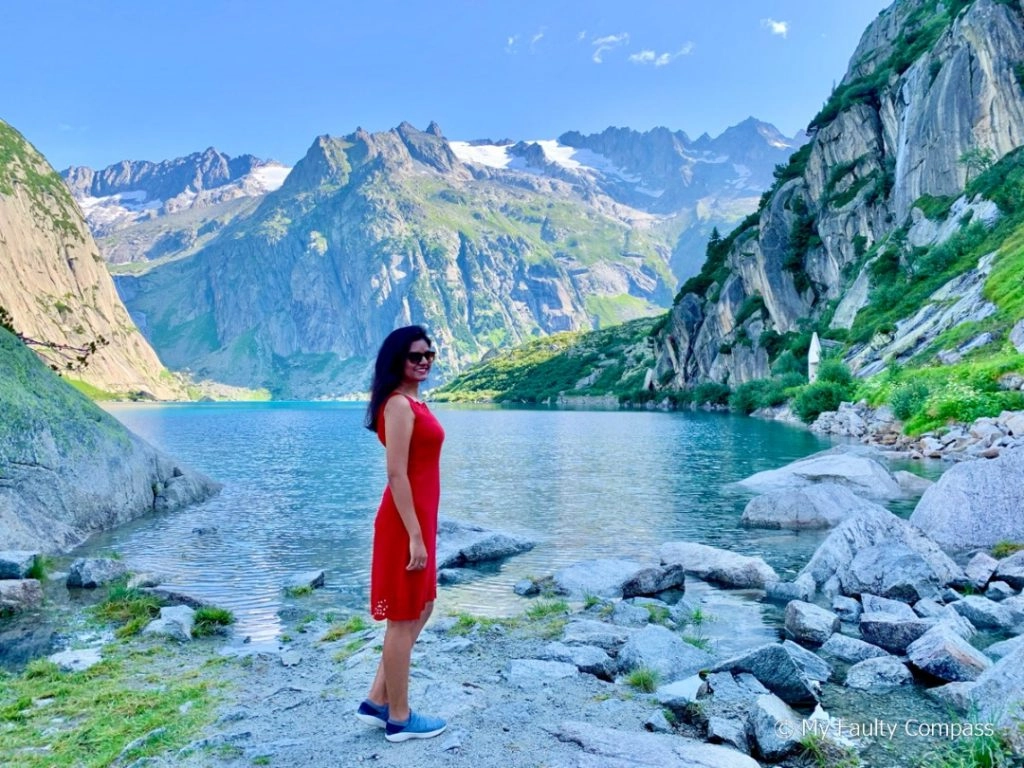 Luxury
Le Bijou Bahnhofstrasse / Paradeplatz (USD 600+): You cannot ask for a better location to stay at in Zurich than Paradeplatz. Situated just 500 m from the lake, 400 m from Fraumünster and 600 m from Grossmünster, this hotel will allow you to step out and easily explore the highlights of Zurich during the day and spend a luxurious evening later.
La Réserve Eden au Lac Zurich (USD 500+): This 100+-year-old historic hotel is located on the lakeside. With views of Lake Zurich and the snow-capped mountains, this is the place to take in the tranquillity of nature from.
Mid-range
Hotel Rössli (USD 200+): Situated in the heart of Zurich in the charming old town district, this boutique hotel is a 5-minute walk to the lake and a stone's throw away from the river Limmat. Experience the vibrant old town at this boutique hotel.
Boutique Hotel Helmhaus Zürich (USD 300+): Dreaming of staying in a historic building? This hotel is set in a building from the 14th century and is very centrally located, perfect for a walking tour of Zurich!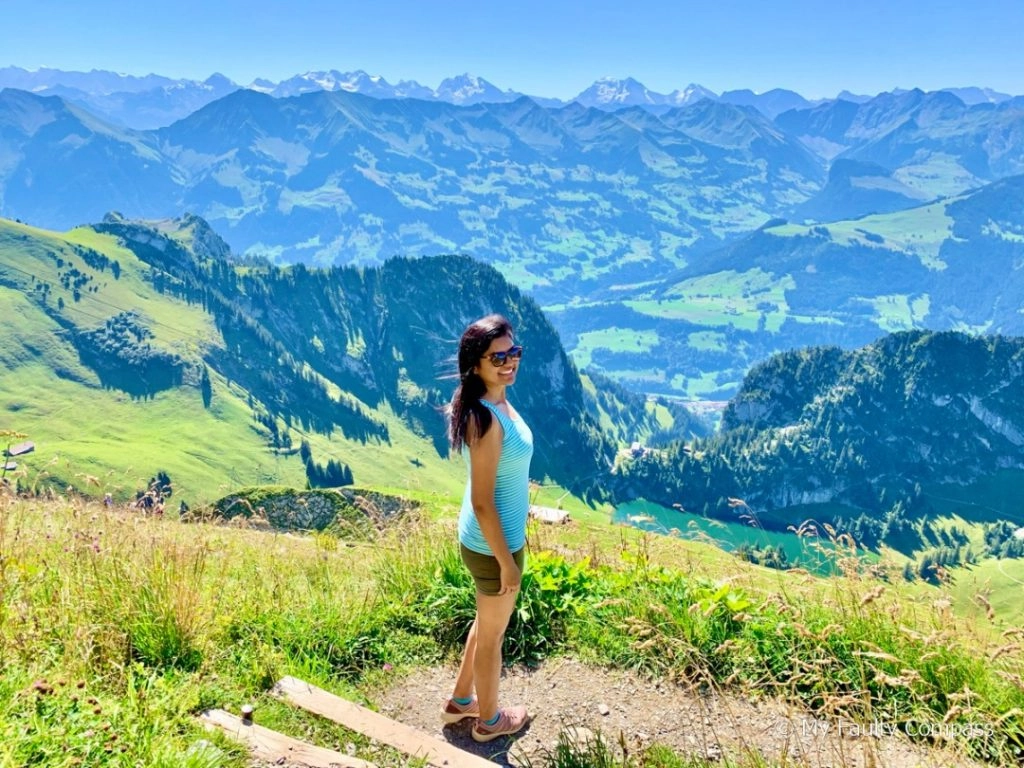 Budget
Courtyard by Marriott Zurich North (USD 150+): Located between the city and the airport, this hotel allows easy access through public transportation. It is ideal for short business or tourist stays.
Hotel Montana Zürich (<USD 150): Located just a 10-minute walk from the Zurich main station, this hotel will allow you to easily discover the highlights of Zurich either on foot or by public transport while not breaking the bank!
Zurich Youth Hostel (<USD 120): Close to the city centre and easy to access using public transportation, you can choose a private room or pick to stay in a dorm for even lower prices.
Find more places to stay in Zurich.
Have you tried any of these hikes near Zurich? Tell me about your experience!
Which hike would you be most excited about? Let me know in the comments below!
More information for your trip to Switzerland:
Pin this post for later!