This easy trail covering the 2 beautiful lakes of Caumasee and Crestasee, and the incredible Rhine Gorge (also known as the Swiss Grand Canyon) is the perfect way to whet your appetite for more hikes in Switzerland. I came across these places when I was looking for less touristy places to visit in Switzerland and the incredible pictures (and the promise of an easy hike) had me sold on it. This hike can be done in both directions but the Caumasee-Crestasee route is downhill all the way and you can take a bus from the endpoint to get back to your car! What more can you ask for?!
Planning a trip to Switzerland? Click here for a detailed travel guide to Switzerland – including the best time to visit, itinerary options (for 3, 5, 7 or 10 days), visa, transportation in Switzerland (including Swiss Pass), accommodation options and more!
Here are more ideas for your trip to Switzerland: 25 best places to visit in Switzerland!
Points of interest
Caumasee, Rhine Gorge, Crestasee
Best time to visit
All year round for the hike; May to October for Swimming in the lakes
Location
Caumasee, Flims Waldhaus (Rudi Dadens & Rudi Dado streets both have parking available)
Travel time
By car: 1 hr 30 min from Zurich
By public transportation: 2 hr from Zurich HB
Opening hours
Caumasee lift: 08:00 – 17:00 (The hike can be done without the lift too)
Ticket prices
CHF 15 per adult to visit Caumasee
Ease of access
Moderate – Caumasee can be visited by simply walking from the parking area/ bus stop; Rhine Gorge and Crestasee need a longer hike
Closest towns to stay in
Flims, Chur
Read more
https://www.flimslaax.com/en; https://www.graubuenden.ch/en
Check out the weather cam
https://live.flims.com/en/webcam
Overview of the hike
Caumasee, Crestasee and the Rhine Gorge are located in & around the town of Flims in the Swiss canton of Graubünden. It is a beautiful area and one of the less-touristy places in Switzerland.
Caumasee quite whimsically translates to Lake of Noon Rest. Surrounded by forests, it's an ideal place to relax, swim and have a picnic. The most stunning feature of the lake is its turquoise green water, unlike anything you may have seen before. Caumasee is easily accessible by a very short walk. It can be visited standalone without the need for a hike. Take a virtual tour of the lake here.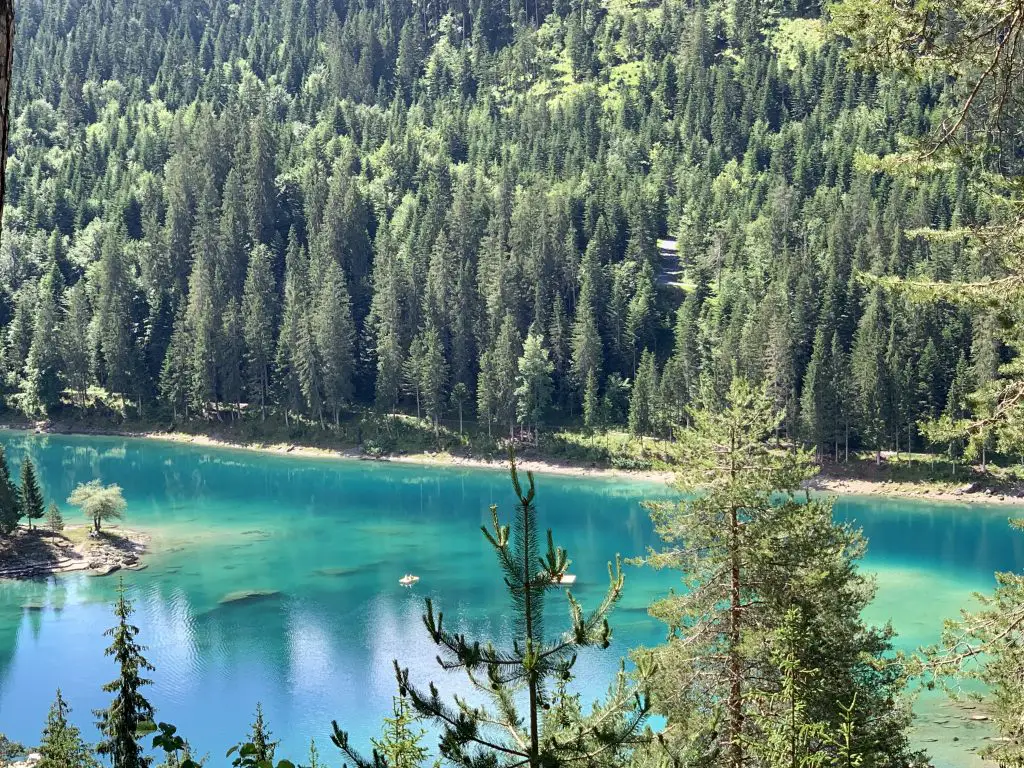 The Rhine Gorge is Switzerland's very own Grand Canyon. This 13-kilometer long gorge is the result of geological events tracing back 10,000 years. There are multiple ways to visit this natural wonder including the hike described here – see here for more options.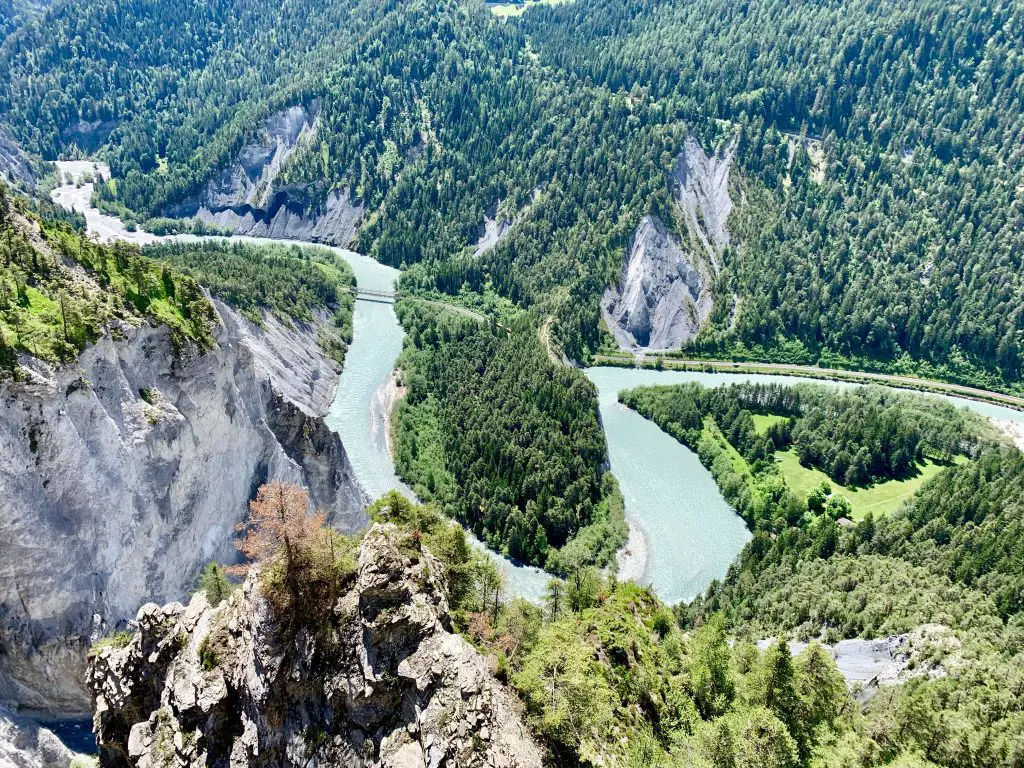 Crestasee with its brilliant green water is another beautiful spot for a relaxing day. It is however accessible only through a 20-30 min walk from Trin-Mulin or through the hike described in this post covering Caumasee, the Rhine Gorge & Crestasee.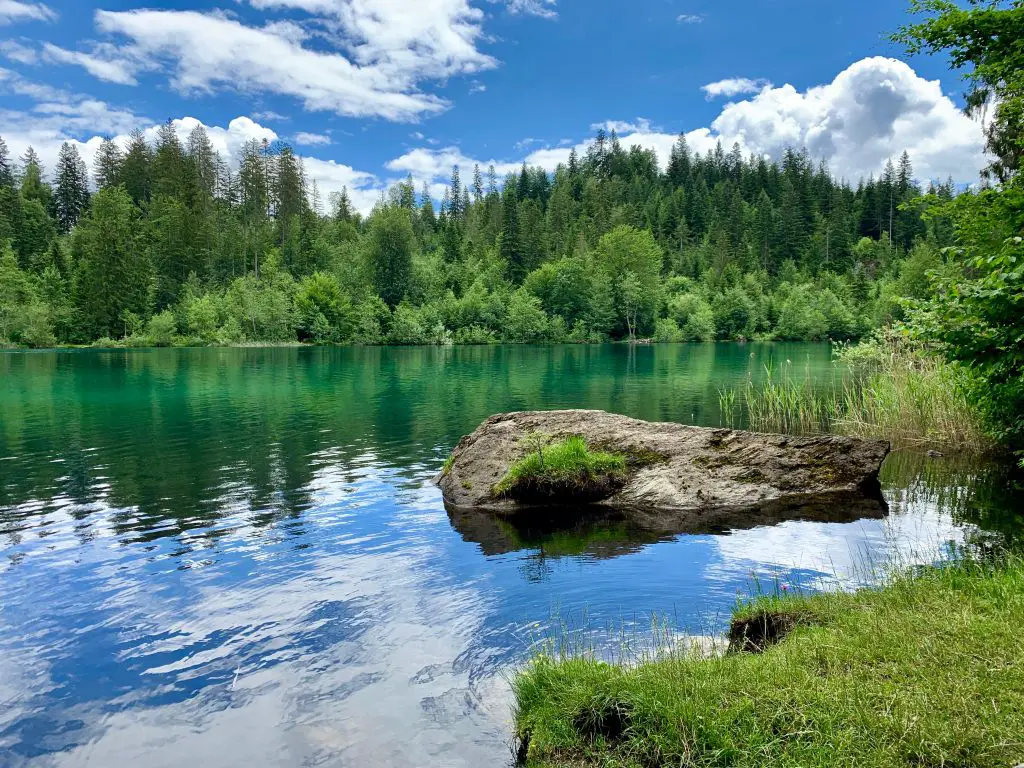 Best time to visit
While this hike can be done year-round, check the weather cam before you visit.
The Caumasee lift and the bathing area at Caumasee are open from the end of May to October. While the lift helps save some time, it's not essential for the hike.
The Crestasee bathing area is open from mid-May to mid-September.
Getting there
You need to first get to the Flims Waldhaus bus stop. From there, follow the signs along the parking lot behind the bus stop to Caumasee lift – it's an easy 10-15 minute walk. This lift takes you directly down to the lake. You can also skip the lift and walk another 15 minutes down to the lake if so inclined.
By car: We drove from Zurich and it took us around 1 hr 30 min to reach Flims. It was a beautiful drive, along the banks of Lake Zurich followed by Walensee. We parked behind the Flims Waldhaus bus stop and it was a pre-paid parking.
By public transportation: Take the train to Chur and then the postauo bus to the Flims Waldhaus bus stop. The total journey time is ~2 hrs from Zurich.
Opening hours
Caumasee lifts operating times: 08.00 to 17.00 h, June to August. Check the latest operating information here. The lift saves ~15 min walking time but the hike can be done without it as well.
The rest of the hike can be done at any time.
Tickets/ Prices and Schedule
Caumasee requires an entry ticket of CHF 15 per adult (however, the 2nd time when we went, it was after 5 pm so the entry was free) to get close to the lake.
The Caumasee lift is free of charge. There are a pair of lifts in operation, and each has a capacity of ~12 adults.
At Crestasee, you need to pay CHF 7.
Hike details
Hike: One way hike: Caumasee – Conn – Crestasee
Distance: ~6 km
Duration: 1.5 – 2 hrs
Ascent: 69 m
Descent: 330 m
Path: Broad and smooth
Difficulty level: Easy – this is a downhill hike suitable for families of all ages

Caumasee
From the parking lot, we followed the signs to the Caumasee lift, a short walk away. You can walk all the way down to the lake but the lift is an easier way to get there. Near the lift is where we caught our first glimpse of the lake and were blown away by the incredible colours. Even seeing the pictures beforehand had not prepared us on how vividly coloured the lake was!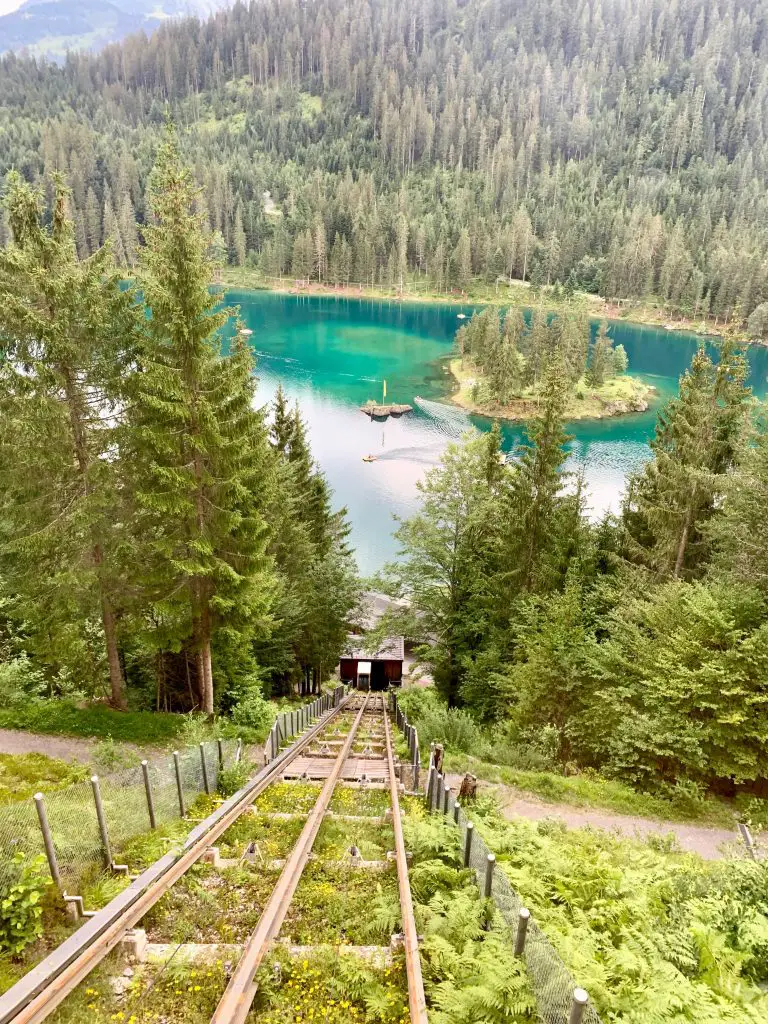 Down from the lift is the ticket window and the ticketed entrance area. It's a small lake but there's a lot to do. There are boats available to take around the lake, facilities for swimming, a restaurant and a play area for kids. We spent a long time perched on some rocks admiring the crystal clear, incredibly blue-green waters.
Caumasee can be visited as is without the hike since it's so easily accessible – we brought our parents here when they were visiting and they loved the place.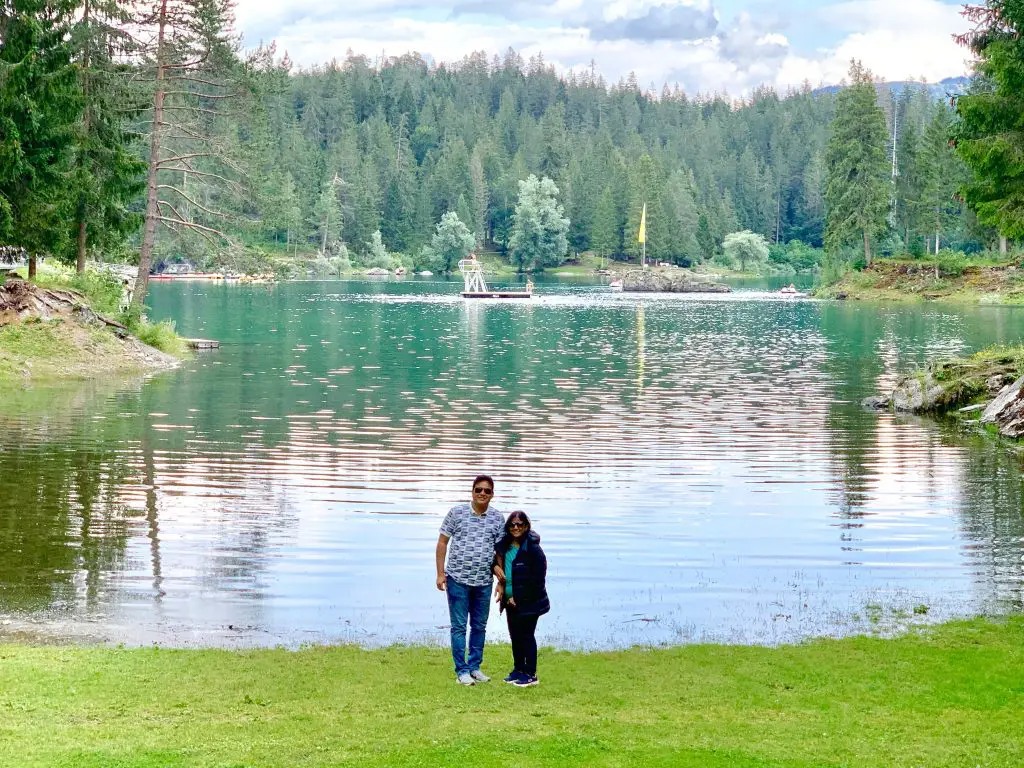 Rhine Gorge or the Swiss Grand Canyon
From Caumasee we followed the signs for the Rhine Gorge/ Conn. It's about a 40-50 min easy hike on a broad path, occasionally through some forest areas. There are plenty of water fountains and benches along the way.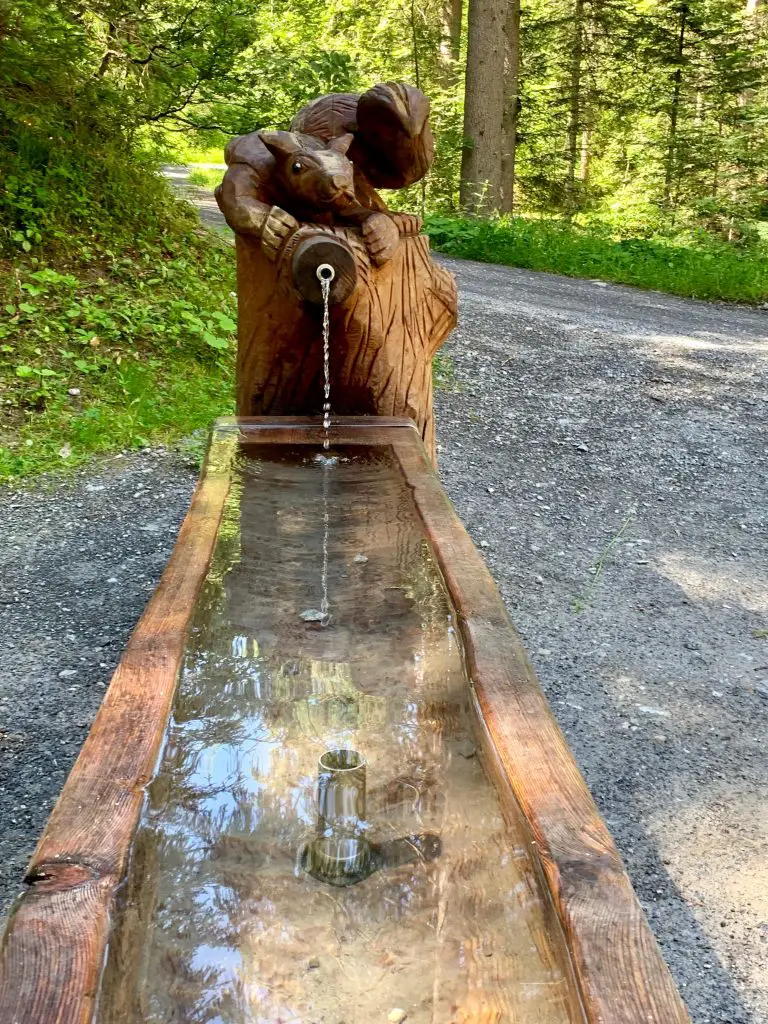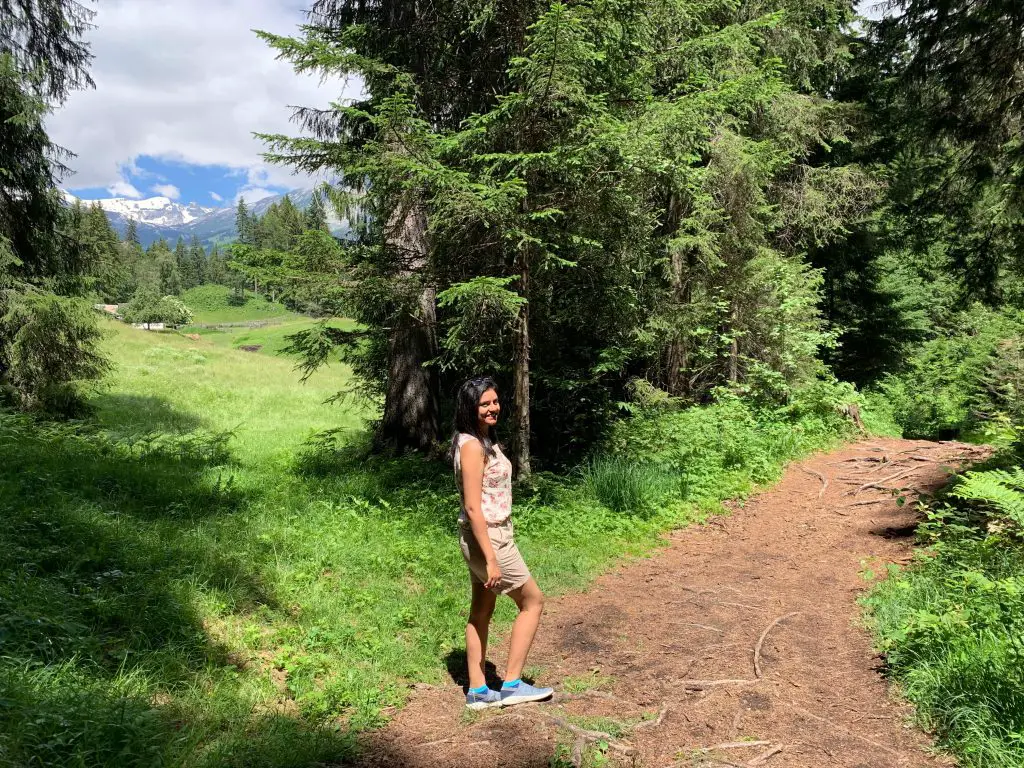 While you can see the Rhine Gorge from several points along the way, the best views are from the viewing platform – The Il Spir viewing platform is located just a few minutes from Restaurant Conn. The Swiss grand canyon in all its glory can be seen from here. We took a break here and had our picnic lunch.
Crestasee
We continued to make our way towards Crestasee, following the signs. It was again an easy ~40 min walk which brought us to the emerald green waters of Crestasee.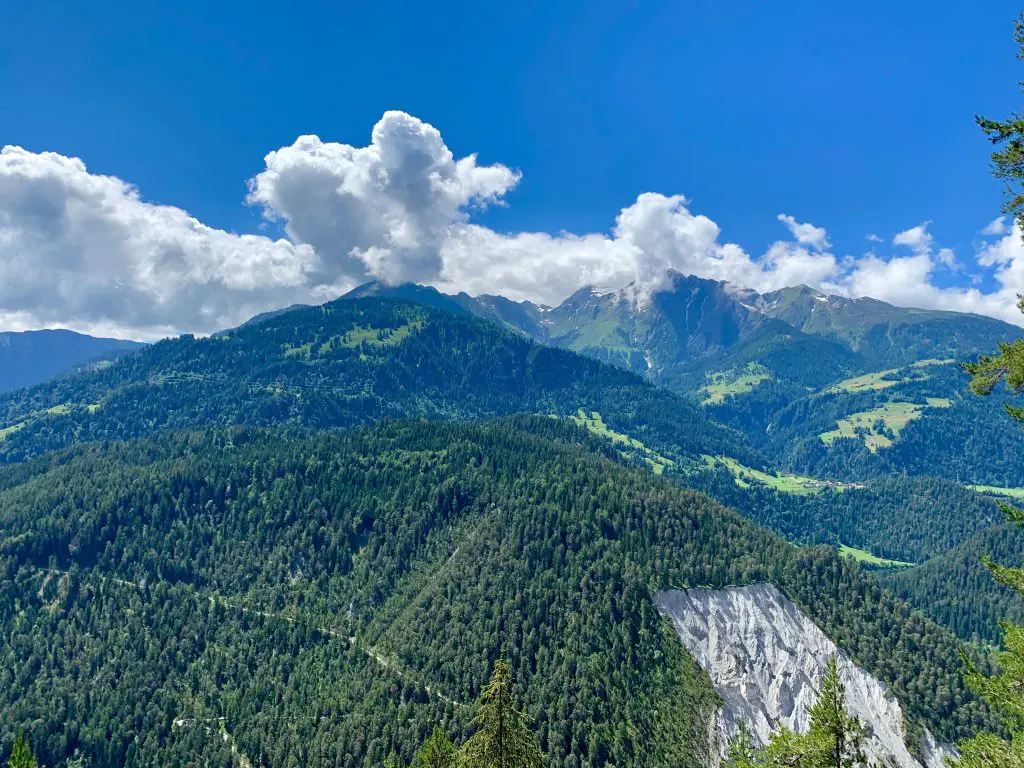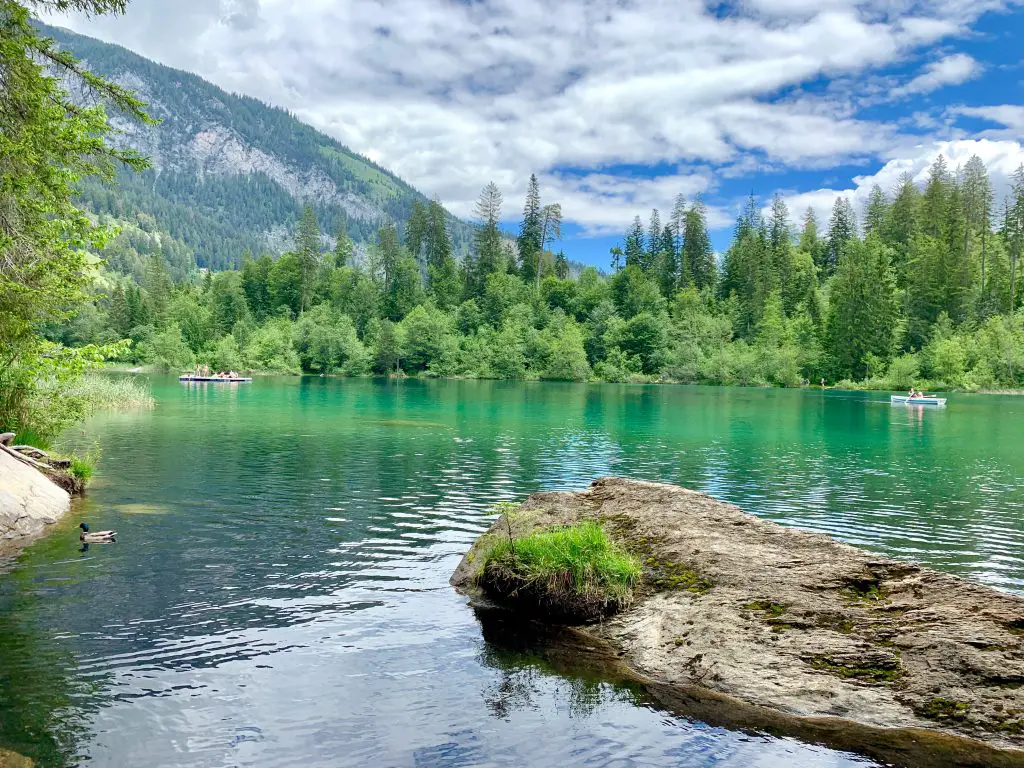 There was a lot more activity here with people swimming, grilling and sunbathing. You need to buy a ticket here if you plan to swim/ spend some time. Since we were stopping only for ice cream, we did not buy a ticket but sat on the shore for a few minutes to relax and enjoy the view.
To get back, we walked from Crestasee to the Postauto bus stop in Trin Mulin called Trin, Felsbach-Crestasee – it was about a 20-25 min walk through some incredible scenery – high mountains, rushing waterfalls and green meadows.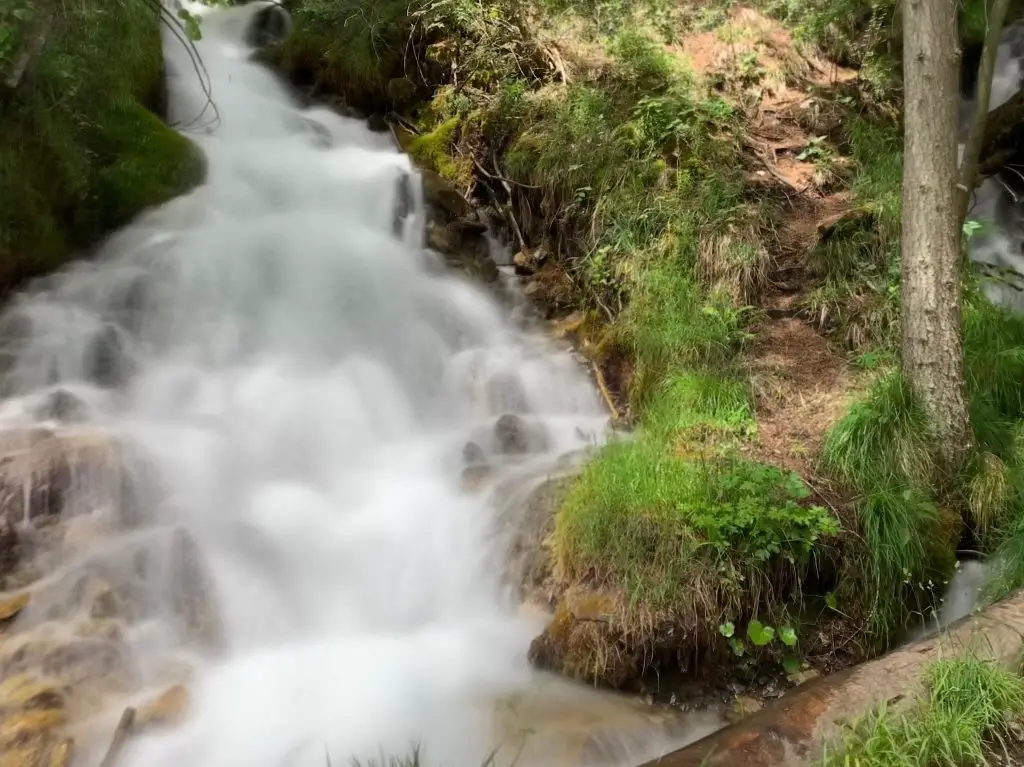 It was a bit confusing to get to the bus stop since not all of the route was marked but we followed the road and eventually found it. Use the map below for reference. You can buy the ticket on the bus. It took us about 15 minutes to reach Flims Waldhaus and get back in the car.
If you are taking public transportation, take the post bus from Trin, Felsbach-Crestasee to Chur, a 40-minute ride. From Chur, you can head to Zurich.
It was a fun, slightly tiring but incredibly fantastic day!
Practical tips for the Caumasee – Conn – Crestasee hike
Get there early to avoid a crowded parking lot
Carry a water bottle – there are multiple water fountains all along the hike
Carry a hat or a cap as a lot of the hike is out in the open and the sun can get very warm
Other activities
At Crestasee you can enjoy a boat ride, stand-up paddling, and grilling at the fire pit
There are several more hiking trails in this region – see here for more details.
If you enjoyed this hike, here are a few more places you would enjoy,
Bachalpsee – Hike from Grindelwald First

Easy walk to Bannalpsee in Engelberg
Have you done the Caumasee – Crestasee hike or any other hike in the Flims region? Drop me a comment with your favourite part of the hike. Are you planning a trip to central Switzerland (or looking for a great less touristy place to visit in Switzerland?!)? Let me know if you have any questions.
If you found this useful, please share and spread the love!