The mountain reservoir of Bannalpsee is one of the best quick trips to be done from Engelberg, Lucerne or Zurich. Bannalpsee is a hidden gem – when we went in July, it was nearly deserted and we had the whole place all to ourselves. While there are several hiking options, if you are a more laid back traveler (like me!) you can reach Bannalpsee taking a very short walk. If you are so inclined, Bannalpsee is one of the best hikes near Zurich.
Check out this complete Switzerland travel guide to make your travel planning easier – includes details on the best time to visit, itinerary options (for 3, 5, 7 or 10 days), visa, transportation in Switzerland (including Swiss Pass), accommodation options and more!
Here are more ideas for your trip to Switzerland: 25 best places to visit in Switzerland!
Point of interest
Bannalpsee
Best time to visit
May to October for summer activities
Location
Fellboden, 6387 Wolfenschiessen, Switzerland
Travel time
By car: 1 hr 15 min from Zurich
By public transportation: 1 hr 45 min from Zurich HB, 40 min from Lucerne and 50 min from Engerlberg 
Opening hours
08:45 – 16:40
Ticket prices
21 CHF per adult
Ease of access
Very easy – direct cable car to the lake
Closest towns to stay in
Lucerne, Engelberg
Read more
Read more
Check out the weather cam
Webcam
Here's what's in store for you
Where is Bannalpsee located
Bannalpsee is a reservoir in Wolfenschiessen in the Swiss canton of Nidwalden and was built in the 1930s. This lake is located close to Engelberg, home to the famous Mt. Titlis. The lake is accessible from Oberrickenbach through a cable car followed by a short walk.
Have limited time in Switzerland? Here's a 5-day Switzerland itinerary to take in the best of the country!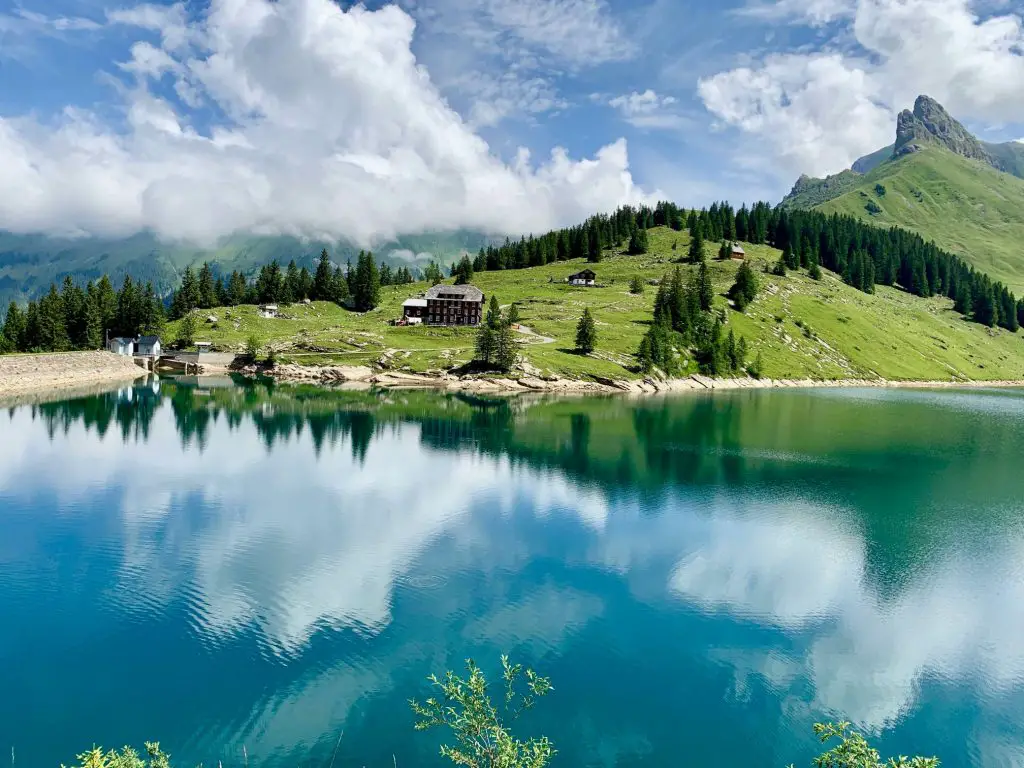 There are 2 cable cars that you can take,
Fell – Chrüzhütte Bannalp: This route takes you to the highest cable car location of Chrüzhütte. From here you can walk 20 min downhill to the lake.
Fellboden – Bannalpsee: This route brings you directly to the lake
What is the best time to visit Bannalpsee
If you are there just to visit the lake, May to October would be ideal. The cable car runs during winter too if you're interested in winter activities.
How to get to Bannalpsee
You need to get to the Fellboden cable car station or the Fell station to take the cable car. The cable car up to the lake runs from the Fellboden station which is a 2 min walk from the Fell station. The cable car up to Chrüzhütte runs from the Fell station, right next to the parking lot. Funnily enough there's just 1 guy who operates both of these stations and commutes between them on a Vespa!
By car: We drove there from Zurich and it was a beautiful drive through the mountains around Lucerne and finally in the valley around Engelberg. The address for the GPS is: Fellboden, 6387 Wolfenschiessen, Switzerland – this took us directly to the cable car station which had ample free parking (even on a summer weekend it was quite empty).
By train: It would take slightly longer, around 1 hr 45 min – you would need to switch trains in Lucerne for  Wolfenschiessen and then take the bus from Wolfenschiessen Bahnof to Oberrickenbach, Talstat followed by a 2 minute walk to the Fellboden cable car station. From Engelberg, follow the similar route of Wolfenschiessen, bus to Oberrickenbach, Talstat and walk to Fellboden.
Tickets/ Prices and Schedule for the Bannalpsee gondola
A round trip ticket for the cable car costs 21 CHF per adult (bring cash, they didn't have a card machine when we visited). The schedule for the cable cars is as below,
Fell – Chrüzhütte Bannalp: Every 30 minutes from 08.30 to 12.00 and 13.00 to 16.30 (17:30 from 15-Jun to 15-Sep). The journey takes 10 minutes. This route also operates during winter. See the latest schedule here.
Fellboden – Bannalpsee: 08:45 to 16:40 (17:40 from 15-Jun to 15-Sep). The journey takes 8 minutes. This route has a lower running frequency than the previous one, and operates only during the summer. See here for the exact timings. 
Hike to Bannalpsee
It's a short 15 min walk from Chrüzhütte down to the lake, see map below. The trail is a little narrow and slightly rocky at places but an easy walk nonetheless.
We started the day by heading to the Chrüzhütte station and were greeted by jaw-dropping views when we got there.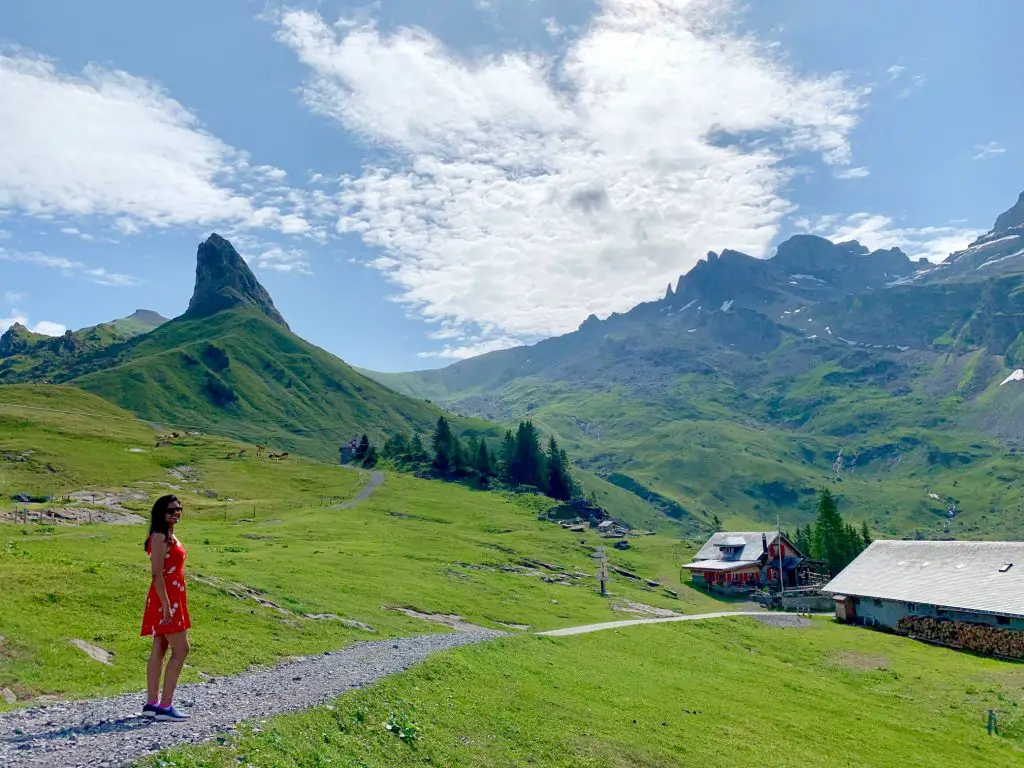 There are multiple hiking options from there, from 15 minute quick hikes to 3 hr long ones. We took the shortest one of course, which was barely a hike – 15 min downhill to the lake. The views all around on the walk are fantastic and we took much longer than 15 min, spending a lot of time taking pictures and just admiring the view.
We got our first glimpse of the lake as we reached the last downhill stretch. As we got closer we could see the reflection of the mountains in the lake which made for a glorious view.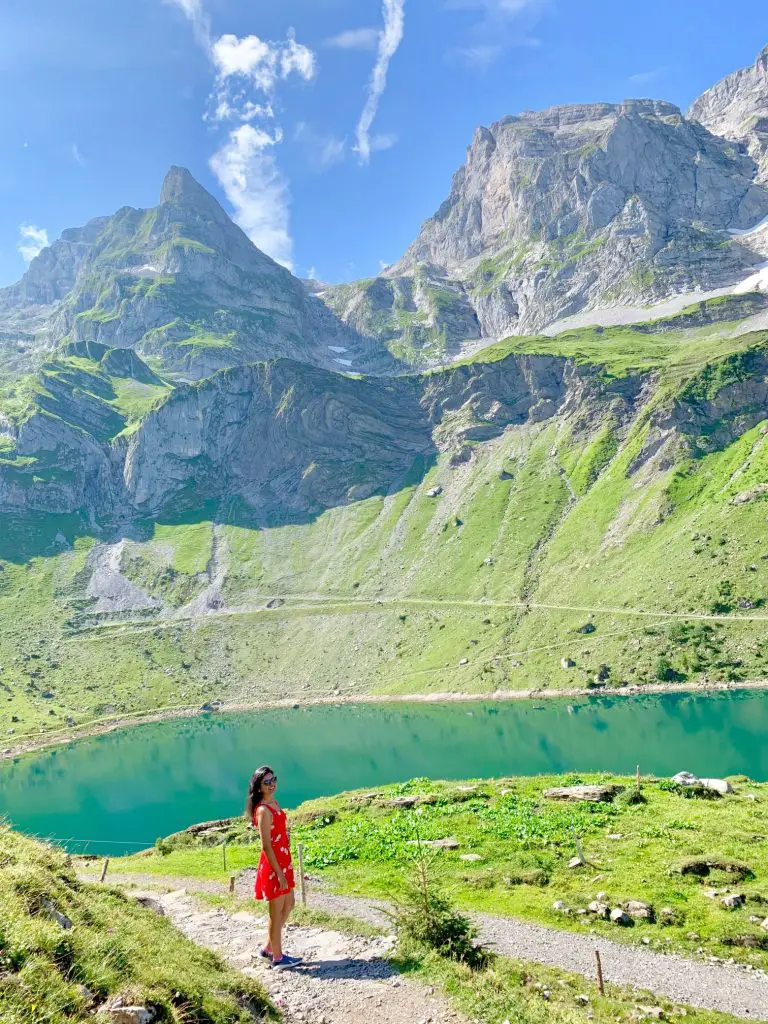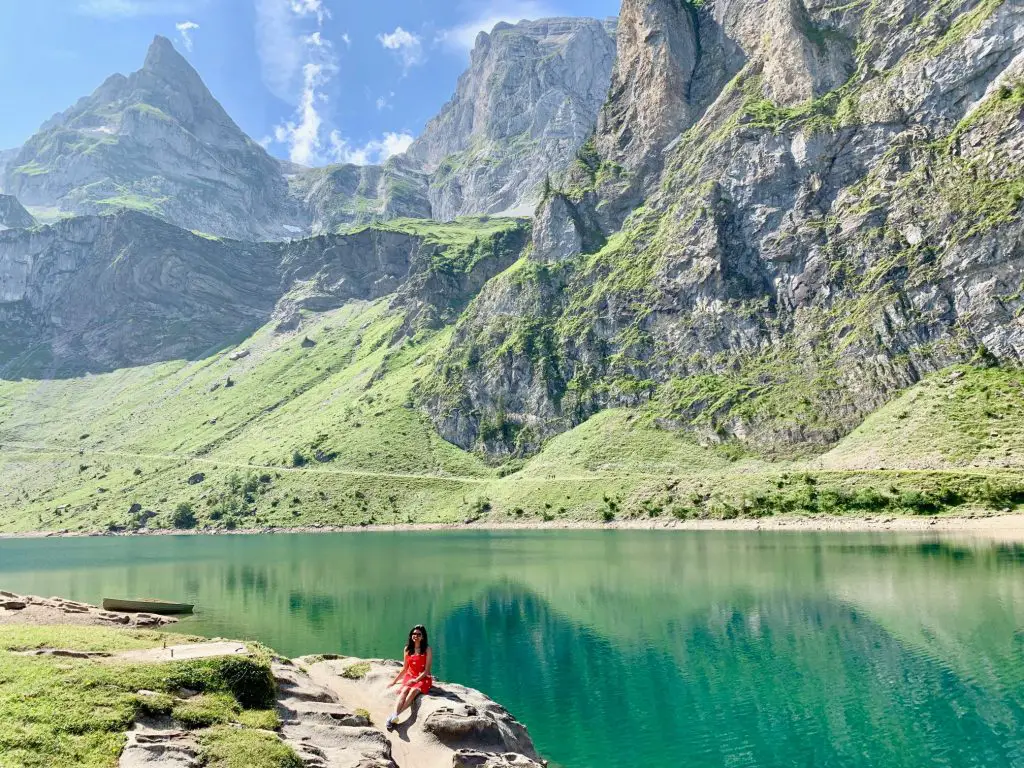 The complete walk around the lake is about 5 km and takes about an hour. We ended up doing about half of it and spending more time relaxing on the banks of the lake, enjoying our picnic lunch. There's a restaurant up there too with beautiful outdoor seating facing the lake. 
Since it was promised to be a rainy day, we decided to head back soon as clouds started gathering, though we did get some great pictures with the clouds adding an almost mystical feel to everything.
Getting back was slightly different and interesting! When we got to the Bannalpsee cable car station, there was a cable car already standing there – we spent some time trying to figure out how to get it to move but to no avail. Figuring it was not scheduled for that time we decided to wait.
Luckily a local came by as well and we found that you are supposed to call the station below to ask them to power up the cable car! Remember, there's just one guy who runs all 3 cable car stations! Got to love Swiss efficiency!
Practical tips for visiting Bannalpsee
Check the Bannalpsee weather webcam before visiting – while it's amazing even when it's cloudy, a rainy day could curb your enjoyment
Dress in layers– with the sun shining down, it can become quite warm but if it's windy it could become super cold
Have you been to Bannalpsee? Drop me a comment with your favourite part of the trip. Are you planning a trip to the Engleberg region? Let me know if you have any questions. 
If you found this useful, please share and spread the love!
More information for your trip to Switzerland:
Pin it for later.