The best hike from Grindelwald First is the hike to Bachalpsee which encompasses all that's most beautiful about Switzerland – stunning snow-capped mountains, lush green meadows & valleys, crystal clear lakes, and wildflowers, all to the soundtrack of ringing cowbells! It is one of the best places to visit in the Jungfrau region and my personal favourite place in Switzerland. The thrilling First Cliff Walk at Grindelwald First adds to the fun of visiting this place.
Bachalpsee makes for a perfect day trip and a fantastic outdoor activity & a beautiful hike from Interlaken, Lucerne or even Zurich. In fact, this is one of the best and easiest hiking trails in Grindelwald & the Jungfrau region. Plus you also get to do the unique Cliff Walk at Grindelwald First! I would prioritise the Bachalpsee hike over visiting Jungfraujoch because it offers a more varied experience and is much cheaper.
Planning a trip to Switzerland? Click here for a detailed travel guide to Switzerland – including the best time to visit, itinerary options (for 3, 5, 7 or 10 days), visa, transportation in Switzerland (including Swiss Pass), and more!
Here are more ideas for your trip to Switzerland: 25 best places to visit in Switzerland!
Note: This post contains some affiliate links. This means if you make a purchase through these, I may earn a small commission, at absolutely no extra cost to you. Thank you for your support!
Points of interest
Bachalpsee and Cliff Walk
Best time to visit
May to October
Location
Grindelwald, Firstbahn, 3818 Grindelwald, Switzerland
Travel time
By car: 2 hr from Zurich, 30 min from Lauterbrunnen or Interlaken
By public transportation: 2 hr 50 min from Zurich HB, 45 min from Lauterbrunnen or Interlaken 
Opening hours
08.00 to 18.00 h (last descent at 18.30)
Ticket prices
60 CHF per adult (SBB halbtax applicable)
Ease of access
Moderate – requires a roundtrip hike of ~2 hrs (6 km)
Closest towns to stay in
Grindelwald, Interlaken, Lauterbrunnen, Wengen, Murren
Read more
https://www.jungfrau.ch/en-gb/grindelwaldfirst/lake-bachalpsee/
Check out the weather cam
https://www.jungfrau.ch/de-ch/live/webcams/#webcam-grindelwald-first
Here's what's in store for you
Where is Bachalpsee
Bachalpsee lies in the Bernese Oberland region and is at a height of ~2200 m. 'See' is German for lake so calling it Lake Bachalpsee would be quite redundant (much like naan bread!). The lake is accessible from Grindelwald through an aerial cable car which brings you to Grindelwald First followed by a hike (~1 hr).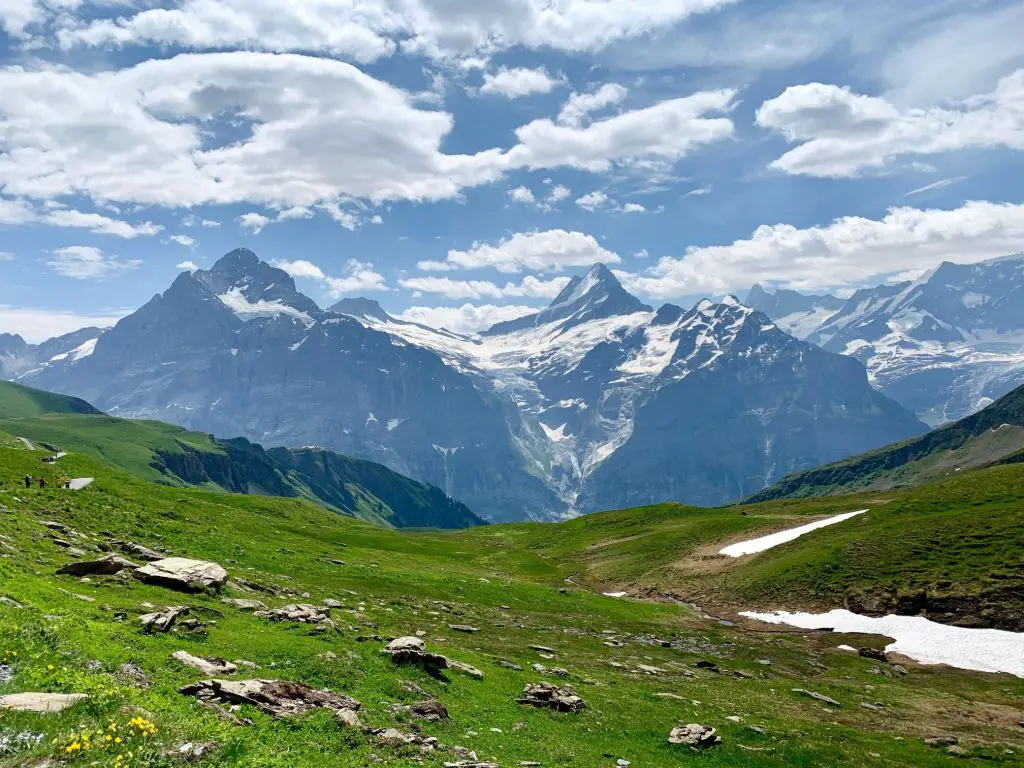 What is the best time to visit Bachalpsee
May to October are the best months to hike to Bachalpsee from Grindelwald First. The lake freezes over in winter and the trails usually open by May but even then they may not be completely snow free. Check the weather cam before you visit.
Have limited time in Switzerland? Here's a 5-day Switzerland itinerary to take in the best of the country!
How to get to Bachalpsee
You need to get to the Grindelwald Firstbahn cable car station in Grindelwald to take the aerial cable car up to the station of Grindelwald First.
By car: We drove from Zurich and it took us around 1 hr 50 min to reach the Grindelwald Firstbahn cable car station. It's a beautiful drive crossing a few lakes, including the incredibly blue Lake Brienz.
At Grindelwald Firstbahn, there is a parking lot across the street, a little way beyond the cable car station. We got there around 8:30 am on a June weekend and the parking lot was already filled up half way. In case this parking lot is filled up, there are more parking lots in town but these will require a little bit of uphill walk to the cable car station. Parking is quite expensive, and pre paid so you need to estimate how much time you plan to spend. Since we were planning the hike only up to the lake and back, we paid for 5 hours.
By train: From Zurich HB, it will take around 2 hr 50 min, changing trains at Bern and Interlaken to reach Grindelwald Bahnof. From Lauterbrunnen or Interlaken, it would take ~45 min to reach Grindelwald Bahnof. From Grindelwald Bahnof, the Grindelwald Firstbahn station is 600 m away – you could walk or take the bus.
Grindelwald First gondola opening hours
Gondola cableway operating times: 08.00 to 18.00 h (last descent at 18.30). Check the latest operating information for the entire Jungfrau region here.
Grindelwald First gondola tickets/ Prices and Schedule
A round trip ticket for the cable car costs 60 CHF per adult, 30 CHF with the SBB half fare card. Discounted rates are also available with the Swiss pass. Tickets can be purchased from the cable car station, or online. 
The cable cars here are not the ones on a timetable but ones that are constantly coming and going. These have a capacity of 4-6. Just cross the turnstile (scanning your ticket) and enter into the first gondola that comes along. Note that these do not completely come to a halt but slow down considerably so you can easily get on them.
From Grindelwald, we took the Firstbahn all the way to the top, to the Grindelwald First station. The total journey took ~25 minutes with 2 intermediate stops in between, Bort and Schreckfeld. You do not need to get down at either of these stations. The ride up is beautiful with complete silence around, other than the sound from an occasional stream down below or the ringing of cow bells.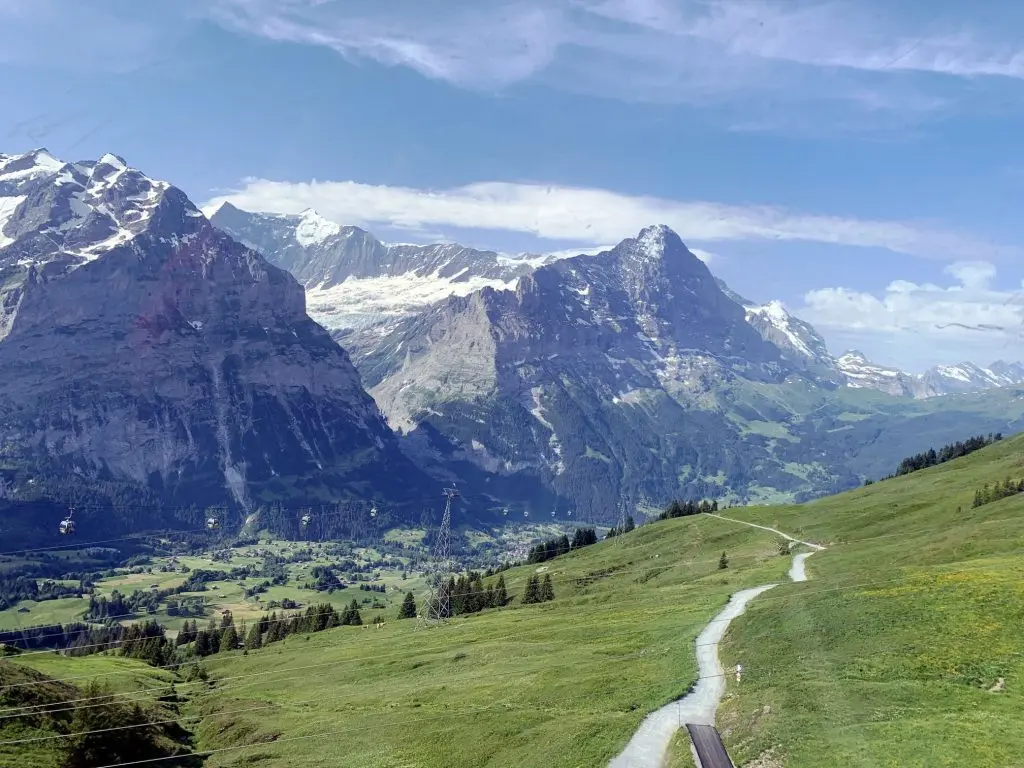 Hike to Bachalpsee from Grindelwald First
| | |
| --- | --- |
| Hike | Grindelwald First – Bachalpsee – Grindelwald First (hike #1 on the map above) |
| Distance (roundtrip) | ~6 km |
| Duration | ~2 hrs |
| Elevation change | 188 m |
| Path | Broad, well-developed path |
| Difficulty level | Easy – Suitable for families of all ages with weather-resistant clothing & sturdy shoes |
At the top station of Grindelwald First, we decided to do the Cliff Walk first since it's right next to the station. The Cliff Walk is a long metal walkway which hugs the cliffs around the mountain. You don't need a separate ticket for this – it's included in your cable car ticket itself. It's a fun, short walk. Don't bother with waiting in lines for taking pictures at the topmost point – there are much better views, with no waiting, all along the hike. If you are afraid of heights, you might want to skip this one. It took us a total of 20 min to walk all the way and back on the Cliff Walk. There's a restaurant at the very end with a killer view where you can spend some time.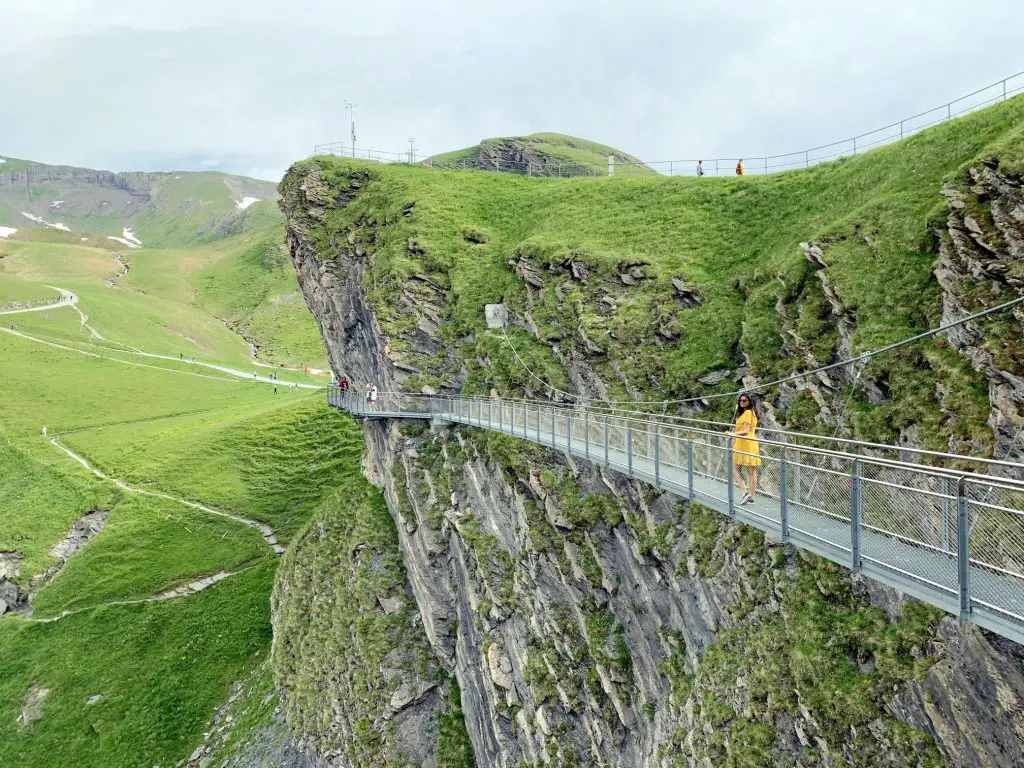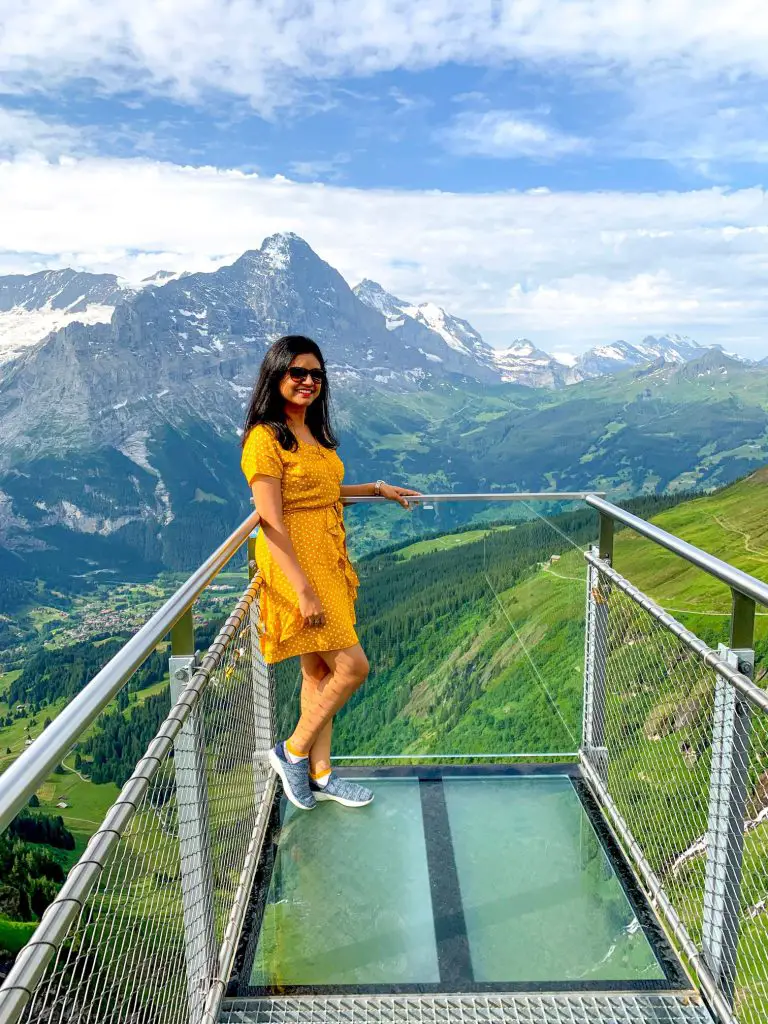 After the Cliff Walk, we began the hike towards the lake. Everything is very well marked so there are no worries about getting lost. The path is broad and easy to walk on. At the start of the hike, there is a short but steep ascent (for us this was the hardest part of the hike). The trail afterwards is quite gentle and slopes gently up & down.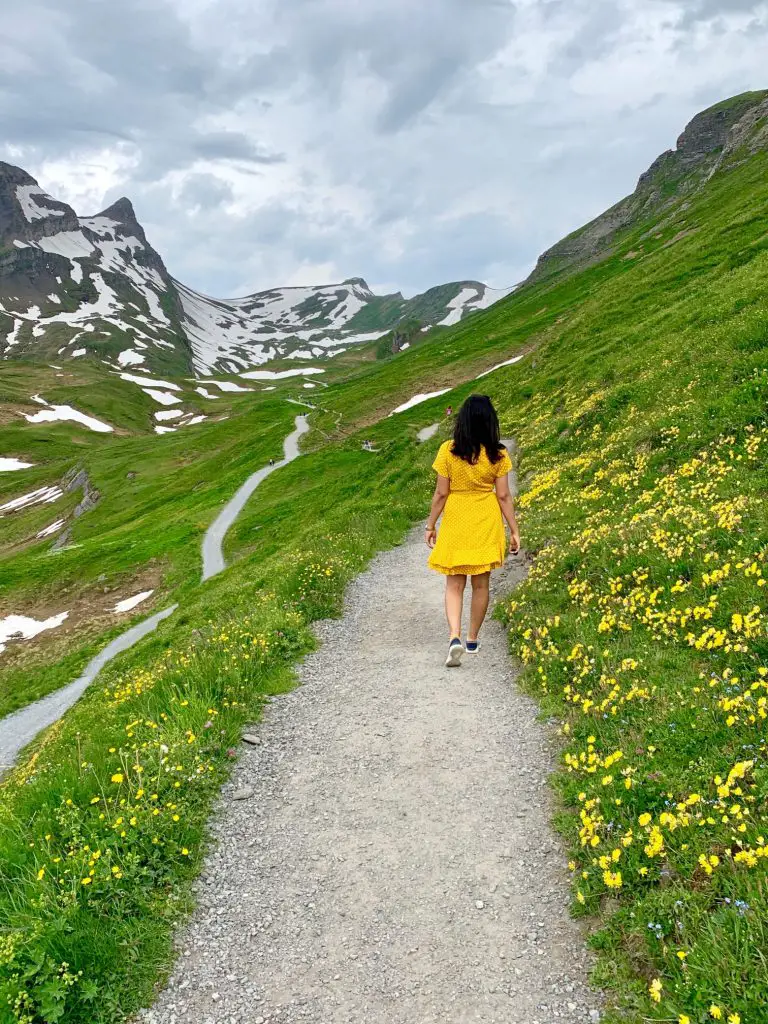 It takes about an hour to reach the lake. It took us a bit longer since we were stopping every few minutes to take pictures. The view all around was incredibly beautiful. We could see tall snow-capped mountains, green meadows and valleys, chunks of ice and flowers everywhere. The sharp peaks of Wetterhorn, Schreckhorn and Finsteraarhorn are visible on the opposite side of the valley. It was the most beautiful walk we had ever seen.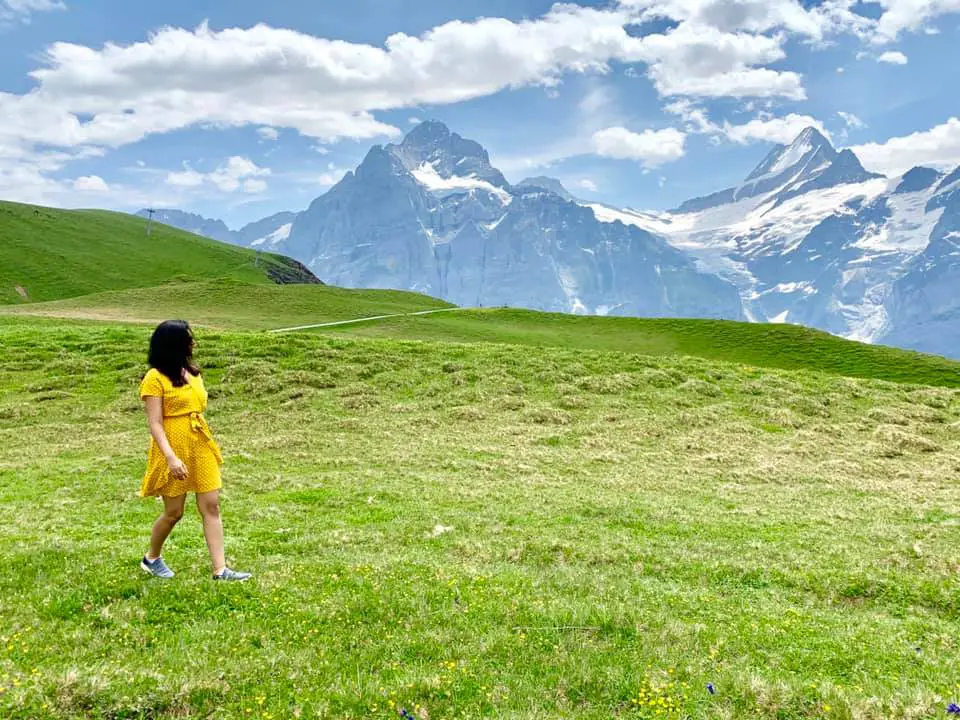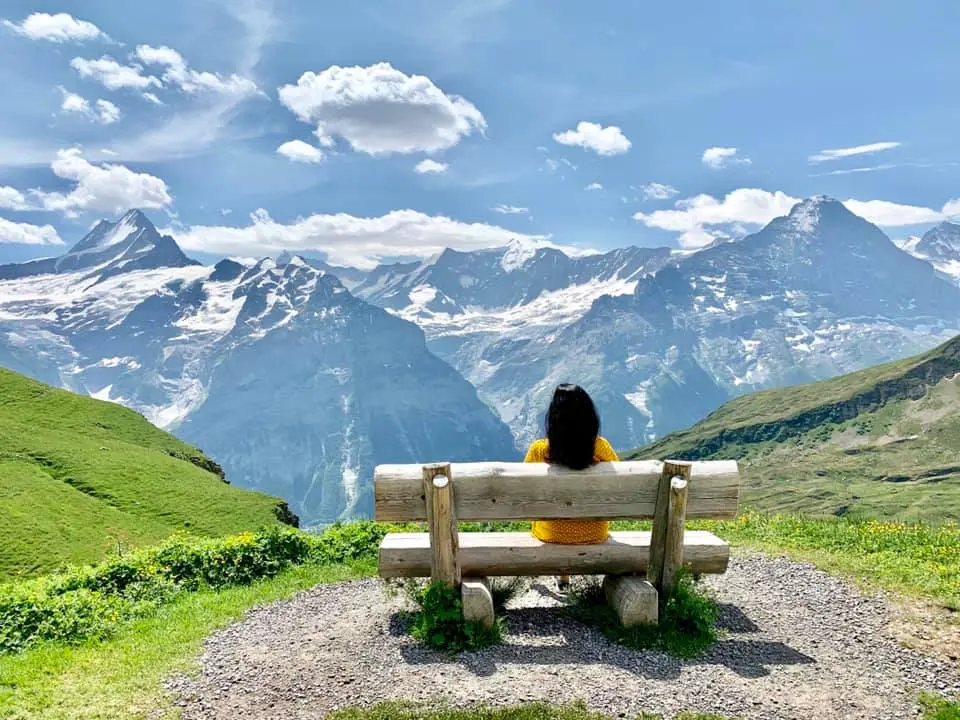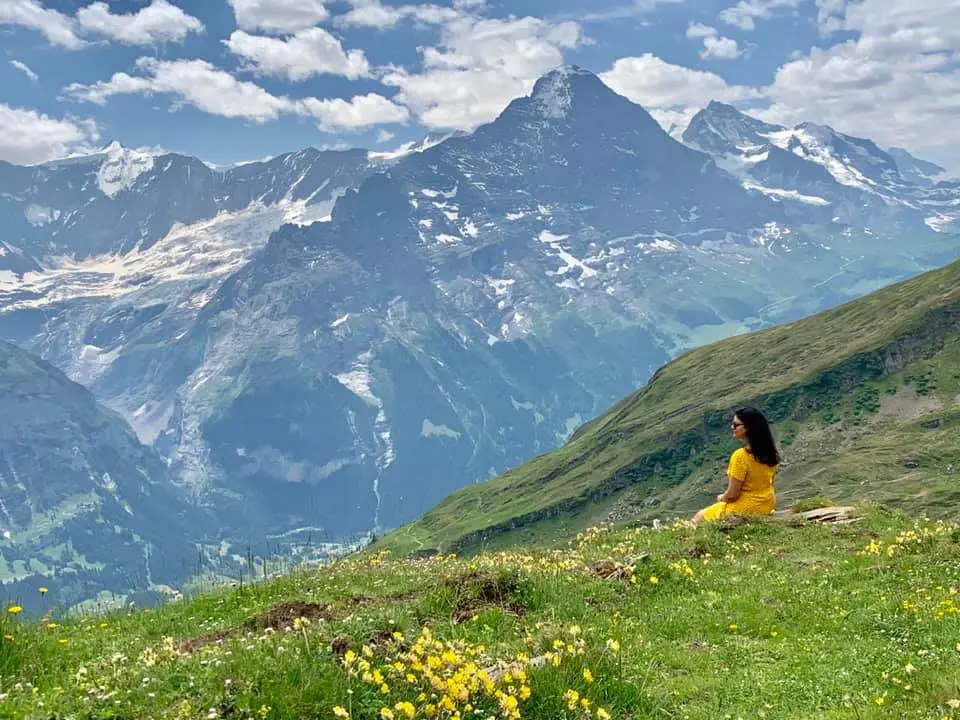 Once we got to the lakes (there are 2 lakes because of a dam created there), we just couldn't believe how beautiful everything was. A little climb up and taking a left and voila – we reached the spot from where all the magical photos you see online can be taken. There was an empty bench at the top and we settled there to take in the view. It was slightly windy so the ripples in the water prevented any reflections. We still spent a long time taking pictures and tucking into our picnic lunch. Note that there are no restaurants at the top so come prepared.
During our visit, there were quite a few people around but since it's a large area, everyone was quite spread out. There was also a guy playing the alphorn – typical Swiss stuff!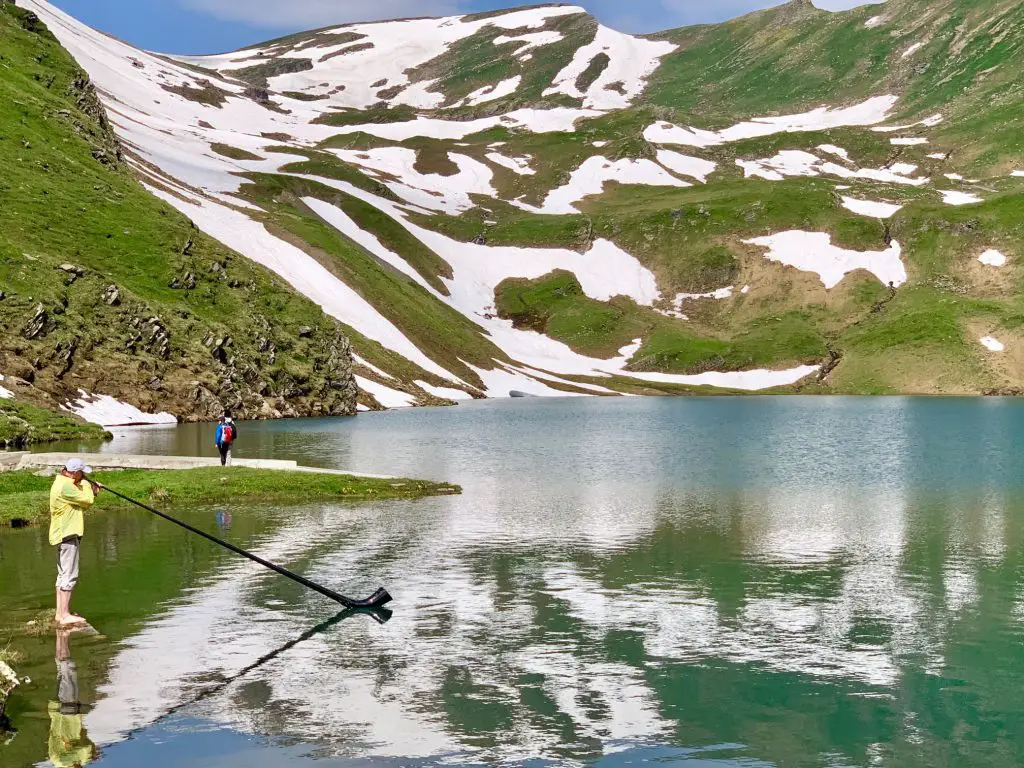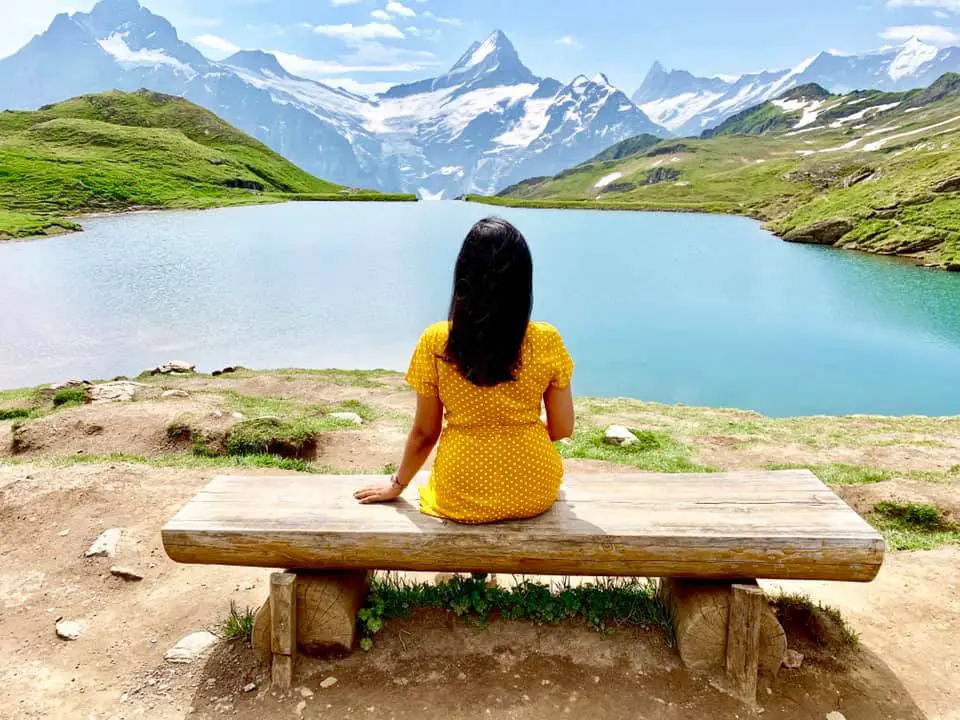 We spent some time walking around the lake. There were huge chunks of ice around the lake but the weather was quite sunny and warm. I couldn't believe a sight so incredible could get any better but the wind soon died out and we got to take in the glorious reflections in the water.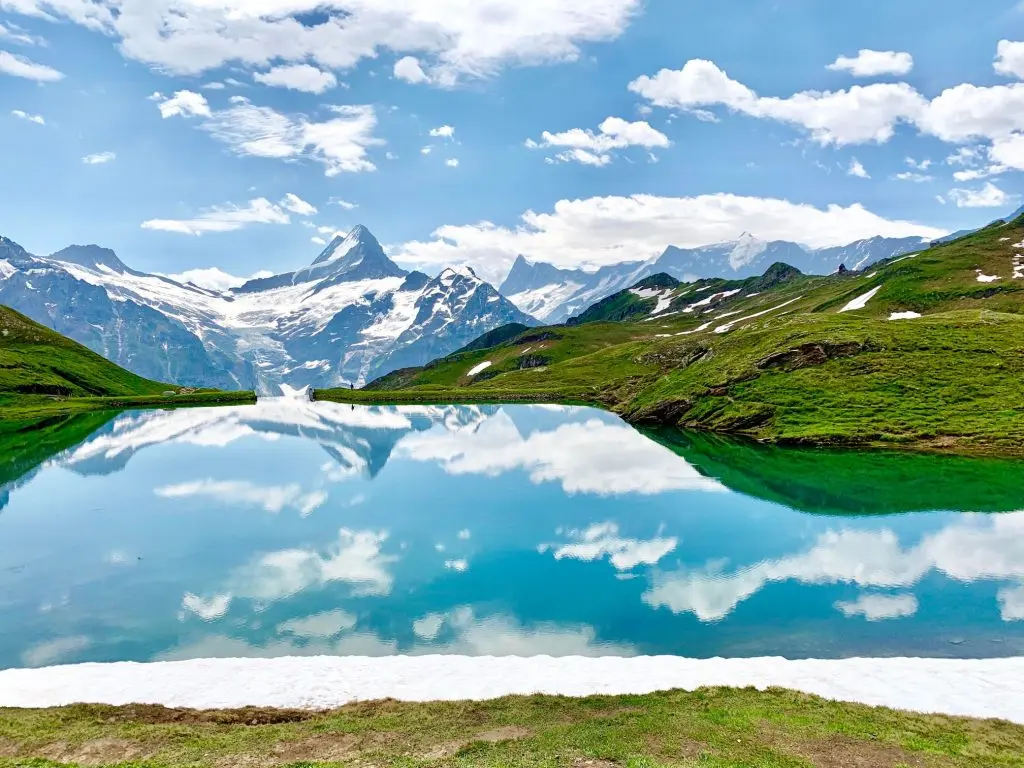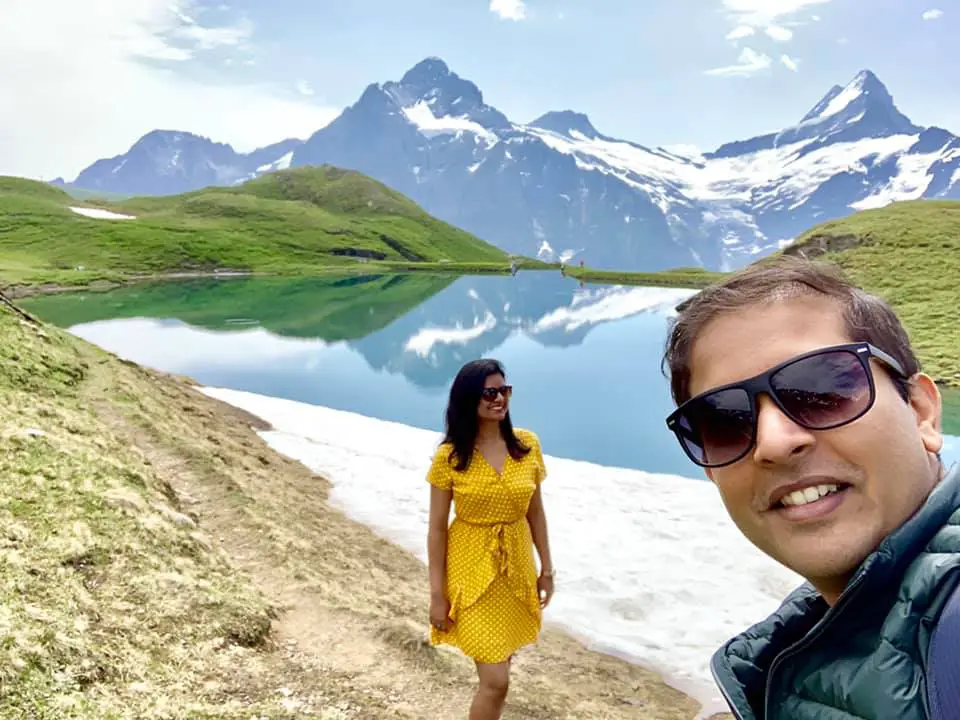 We spent about an hour and a half at the lakes then decided to head back since we wanted time to take more pictures on the hike back! It took us about an hour to get back to Grindelwald First. This time with a few detours from the path over the meadows, taking in the spectacular views around us. We got back to our car with a few minutes to spare on the parking meter! We had to ditch our ice cream plans and get moving!
Practical tips for the hike to Bachalpsee
Check the Bachalpsee weather webcam before visiting. If it's rainy or very cloudy, don't bother spending so much money on the cable car tickets. Instead, if you're based in the Interlaken – Lauterbrunnen region – see if you can cover other places such as the Trummelbach Falls or the Aare Gorge which are not quite as weather dependent.
Get there early to avoid a crowded parking lot. Not much of a problem if you're travelling by public transport though. The whole Grindelwald First area is quite large and has multiple activities so the crowd is quite spread out – even during peak summer months!
Dress in layers – with the sun shining down, it can become quite warm but if it's windy it could become super cold.
Carry food and water – while there's a restaurant at Grindelwald First, there are none at the lake. Having a nice picnic at the banks of the lake make for a fantastic experience. There are toilets at both Grindelwald First and also at the lakes.
Walking sticks may come in handy (though not essential) for those who might not be very fit or for elderly folks
Other Grindelwald First activities
If you feel more adventurous, instead of hiking back to the Grindelwald First station, you can follow trails no.3 to Feld and Bussalp or no. 4 to Waldspitz and Bort (one of the middle stations from where you can ride the aerial cable car back down to Grindelwald)
There are several more activities such as first glider, first flyer, first mountain cart and trottibike – the tickets for all these can be purchased along with your cable car ticket from the Firstbahn station in Grindelwald
Have you been to Bachalpsee? Drop me a comment with your favourite part of the trip. Are you planning a trip to the Jungfrau region (or looking for the best place to visit in Switzerland?!)? Let me know if you have any questions. 
If you found this useful, please share and spread the love!
More information for your trip to Switzerland:
Pin it for later.