Switzerland is home to dazzling natural beauty – from incredible mountains to spectacular lakes. It is difficult to pick the prettiest lakes but here's my attempt. All of these lakes are breathtaking and as an added bonus, a lot of them do not figure on typical tourist lists! Add these beautiful Swiss lakes to your itinerary to enjoy Switzerland's natural beauty at its best, without getting caught between hordes of tourists.
Read on to see which lakes made the cut and how to visit them.
Planning a trip to Switzerland? Click here for a detailed travel guide to Switzerland – including the best time to visit, itinerary options (for 3, 5, 7 or 10 days), visa, transportation in Switzerland (including Swiss Pass), and more!
Here are more ideas for your trip to Switzerland: 25 best places to visit in Switzerland!
In no particular order, *drum roll please*, here are the 7 8 prettiest lakes in Switzerland!
Here's what's in store for you
Bachalpsee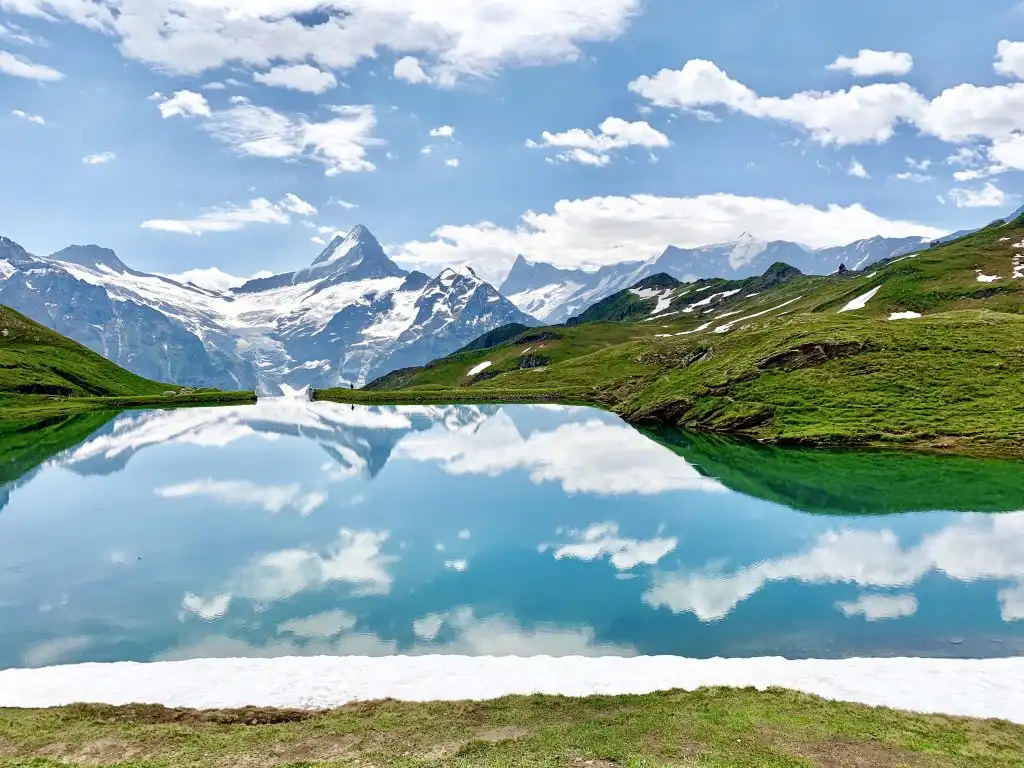 No list of the best lakes in Switzerland can be complete without this lake. Bachalpsee is a stunning lake nestled in the Bernese Oberland mountains in the Jungfrau region. The sharp snow peaks reflected in its waters make for an incredible sight. Visiting Bachalpsee includes one of the best hikes in Switzerland.
The walk upto the lake is just as spectacular as the lake –  the sharp peaks of Wetterhorn, Schreckhorn and Finsteraarhorn are visible on the opposite side of the valley as you hike along it. This is the hike that will get you excited for more hikes in the Swiss Alps!
Have limited time in Switzerland? Here's a 5-day Switzerland itinerary to take in the best of the country!
To visit the lake you need to head to Grindelwald and take the cable car upto Grindelwald First. From there a beautiful hour long walk will bring you to the lake. This lake is accessible from May to October so plan accordingly.
There's also a fantastic cliff walk that you should do when you visit Grindelwald First.
Here's my detailed guide to visiting Bachalpsee.
Riffelsee
Riffelsee is a picture-perfect lake – especially if it's not too windy! The reflection of Matterhorn in the lake comes out so beautifully that it's hard to believe it's not an actual mirror there.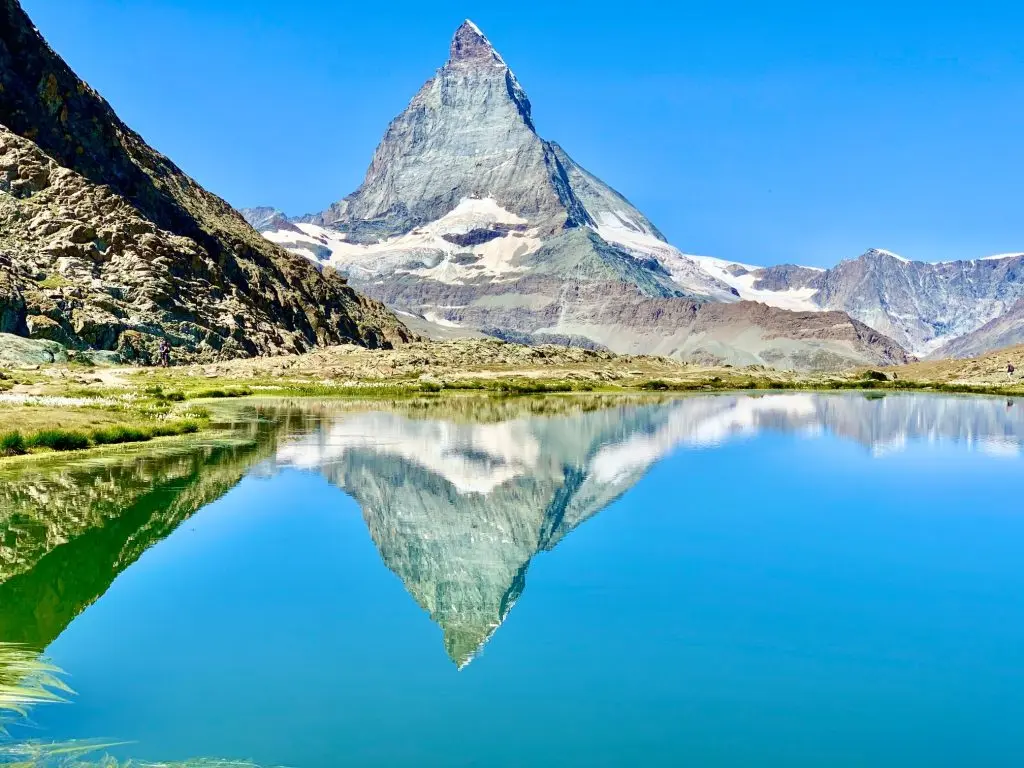 You will be able to recognise many of the classic pictures of the Matterhorn as being shot here.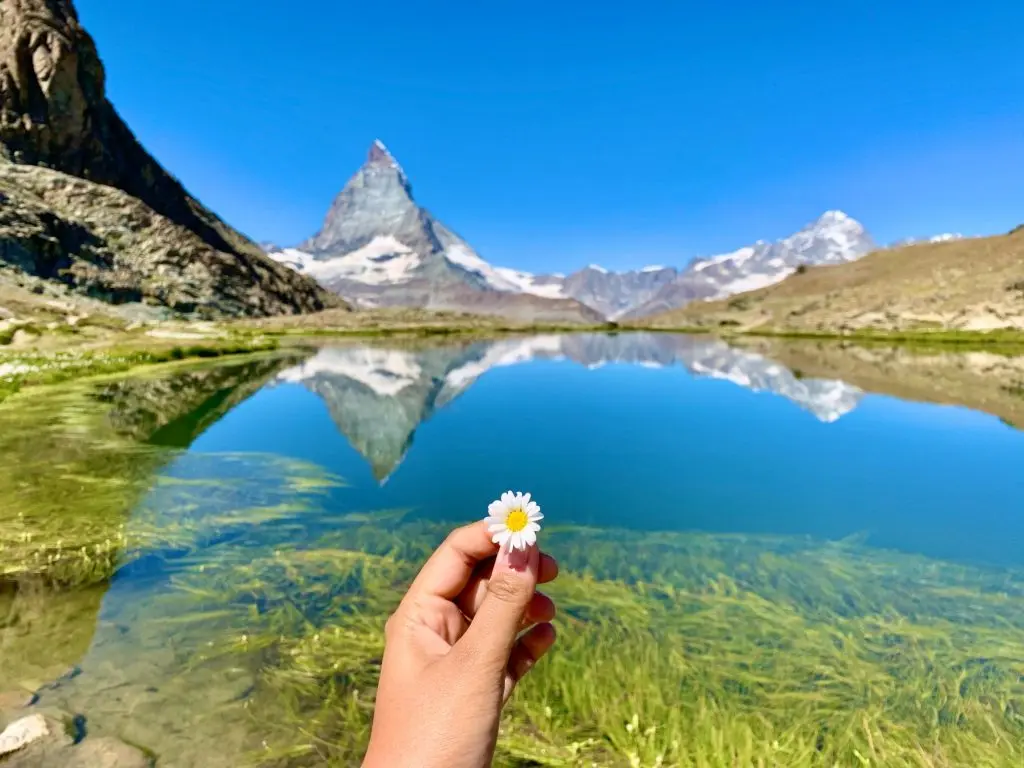 Riffelsee is part of one of the best hikes in the Zermatt region – the Gornergrat hike.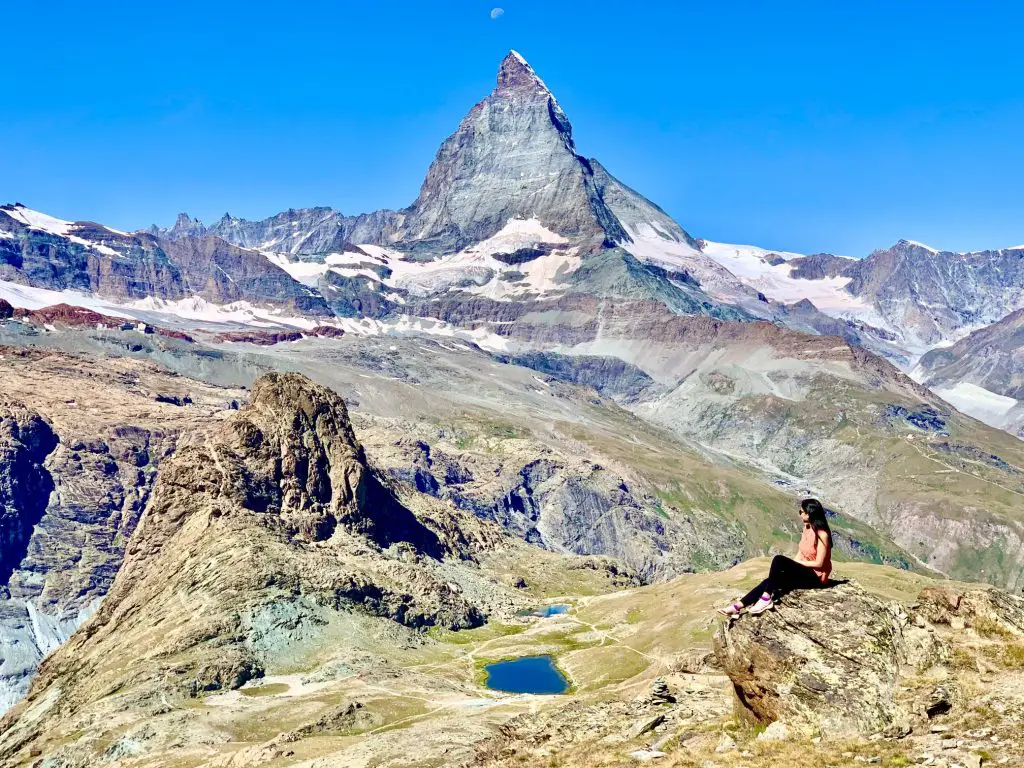 The Sun Trail from Gornergrat to Riffelberg descends along the Gornergrat Bahn, the world-famous railway line and takes you along cascading glaciers, stunningly beautiful lakes and lush meadows sprinkled with wildflowers!
The Gornergrat hike is the best to enjoy fantastic views of the mighty Matterhorn and its reflections in the beautiful lake, Riffelsee. It is one of the best hikes in Switzerland and my new favourite!
Oeschinensee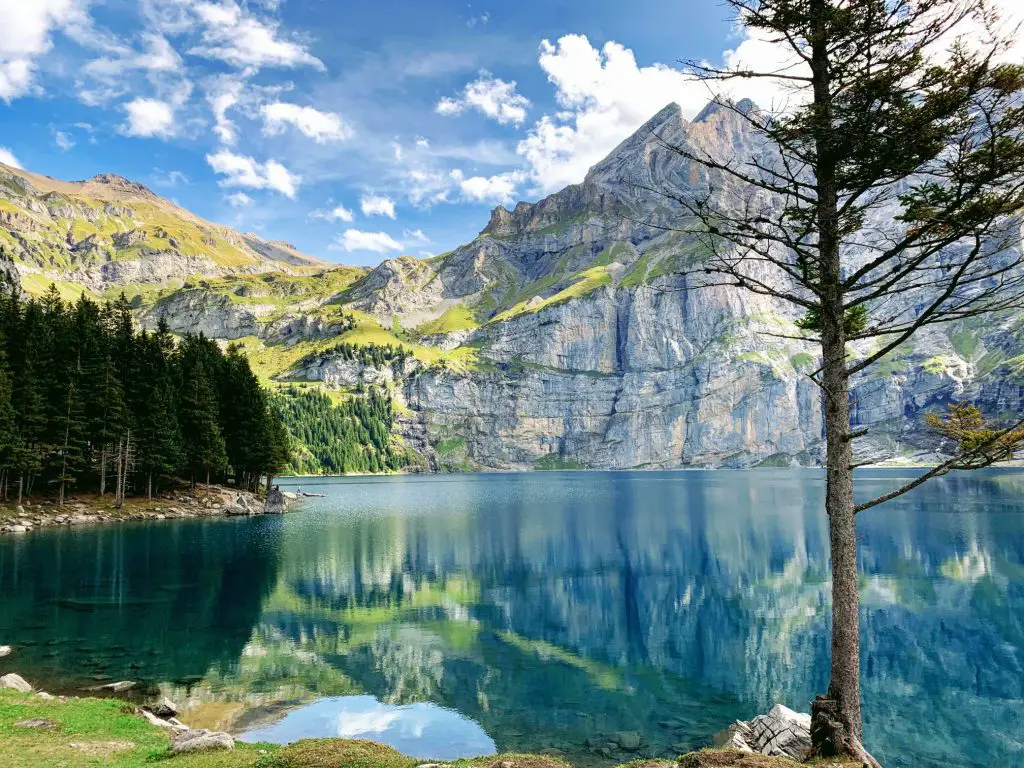 Oeschinensee is another lake in the Bernese Oberland region. This incredibly blue coloured lake is located between sharp cliffs which make for an amazing contrast with the tranquil waters of the lake.
It's the perfect spot for a day trip from Zurich, Lucerne or Interlaken. Whether you are looking to relax amidst the tranquil surroundings of the beautiful Oeschinen lake or indulge in a bit more adventure hiking or riding the 'Mountain Coaster' (the Oeschinen lake toboggan run), Oeschinensee is the place to be.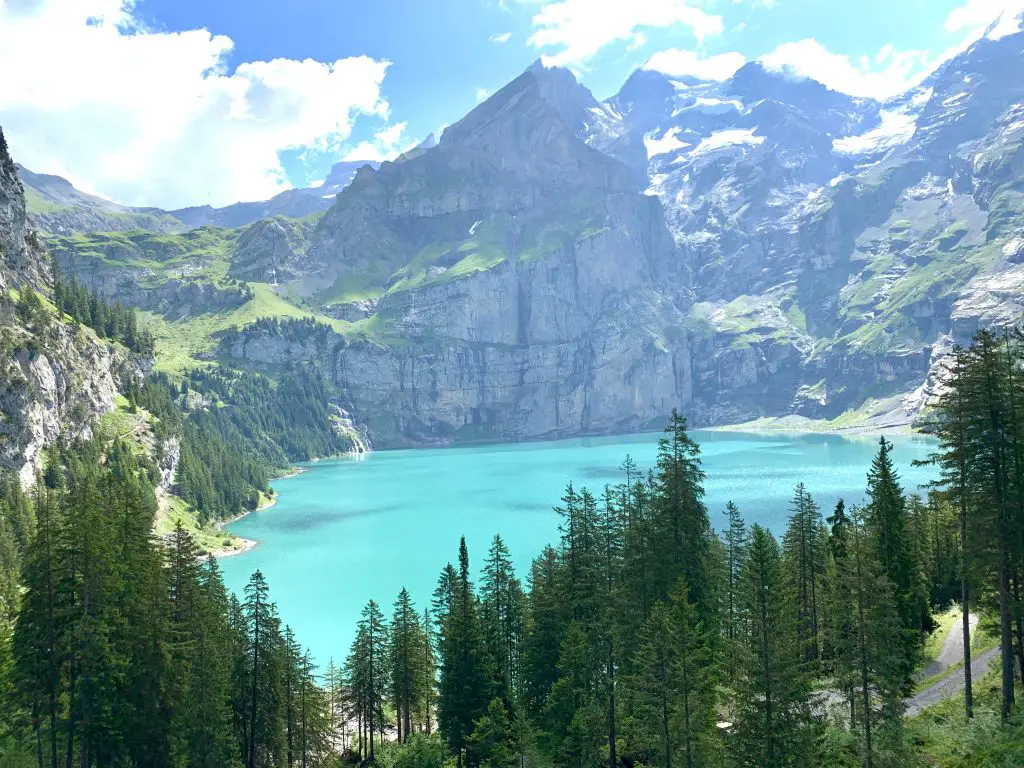 To visit the lake, head to Kandersteg and take the cable car up to Oeschinen. From there either take the electrical shuttle bus or walk (highly recommended) the 20-25 min to the lake.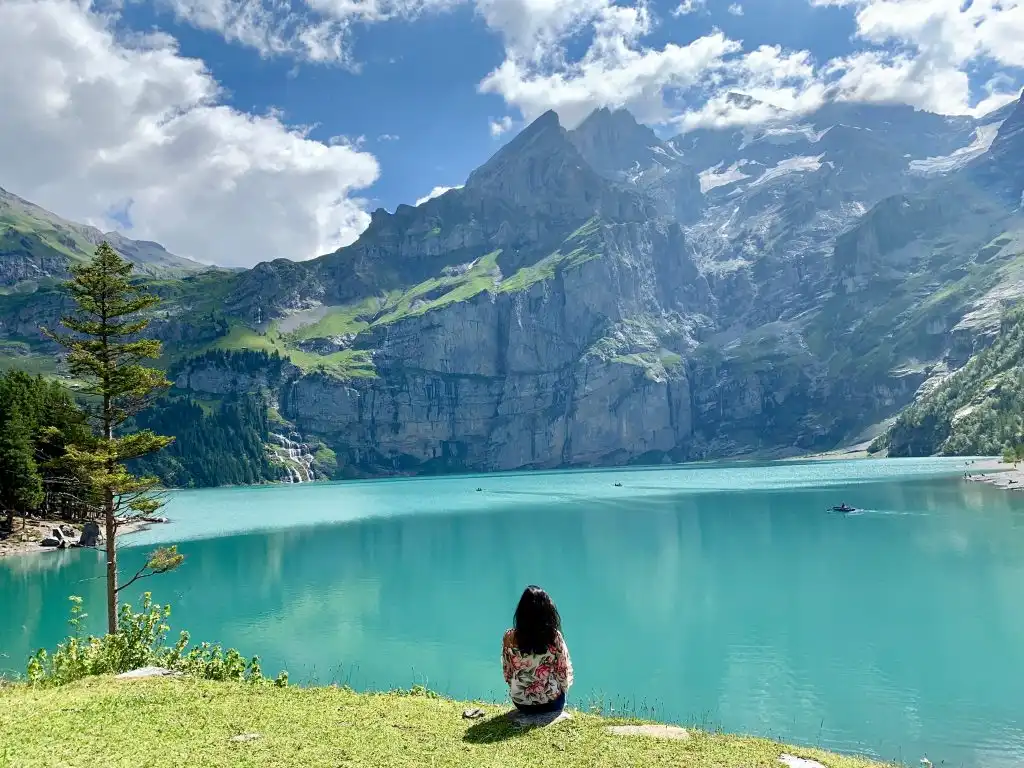 Here's my detailed guide to visiting Oeschinensee.
Lake Brienz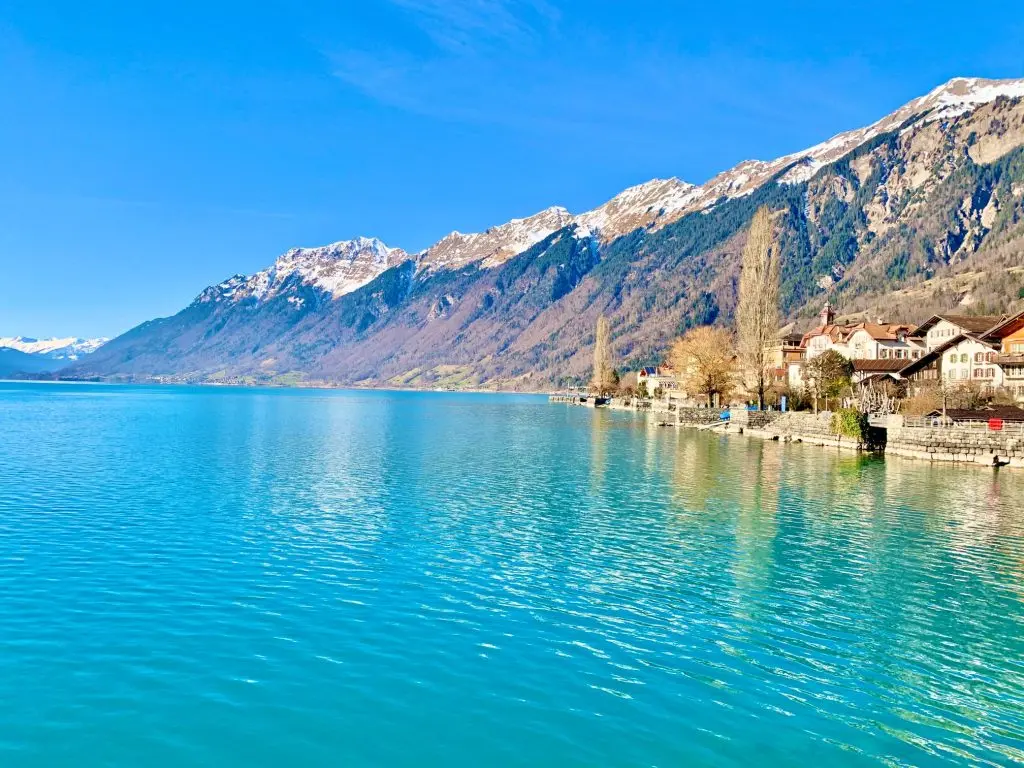 Lake Brienz is one of the prettiest, yet one of the most underrated lakes in Switzerland! The uniquely turquoise blue colours of the lake, the charming Swiss villages around it and the beautiful landscapes of the Swiss Alps make Lake Brienz one of the best places to visit in Switzerland and one of my absolute favourite Swiss Lakes!
I had first visited Lake Brienz several years ago when I was an exchange student in Paris and had fallen in love with it and with Switzerland! I had then dragged my husband for a holiday to the lake a few years later. Fortunately, I've now been able to make innumerable visits to Lake Brienz since we moved to Switzerland!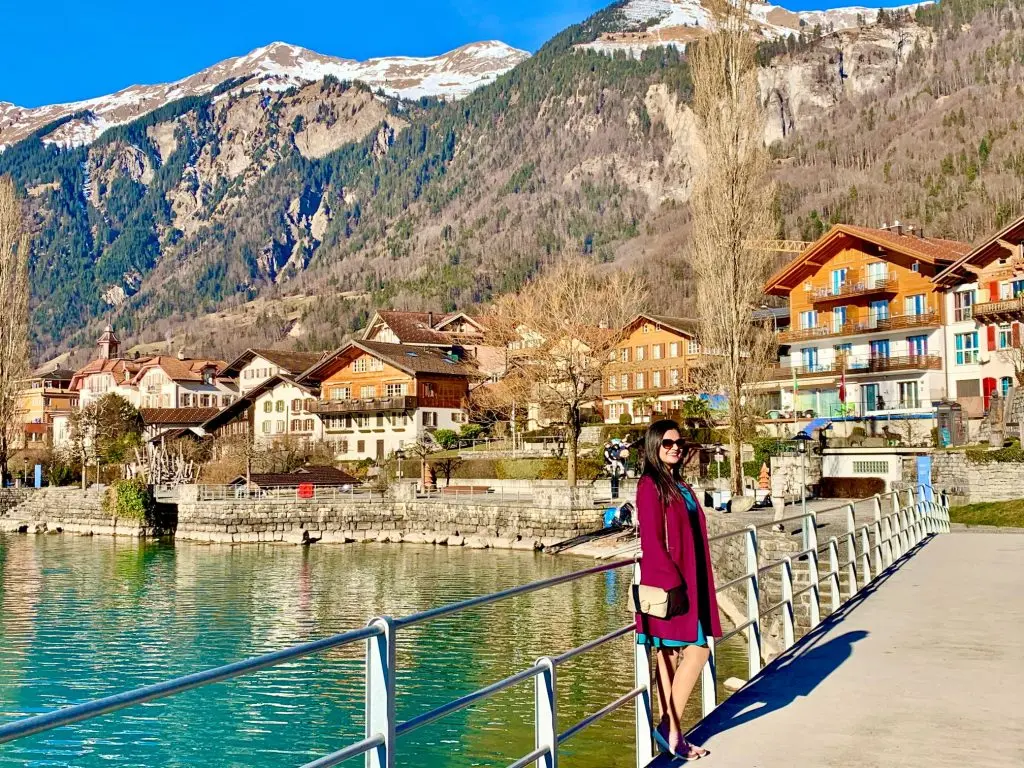 Lake Brienz is located amid the stunning landscapes of the Bernese Oberland region in the heart of Switzerland. Lake Brienz is one of the two lakes which border Interlaken, the other being Lake Thun.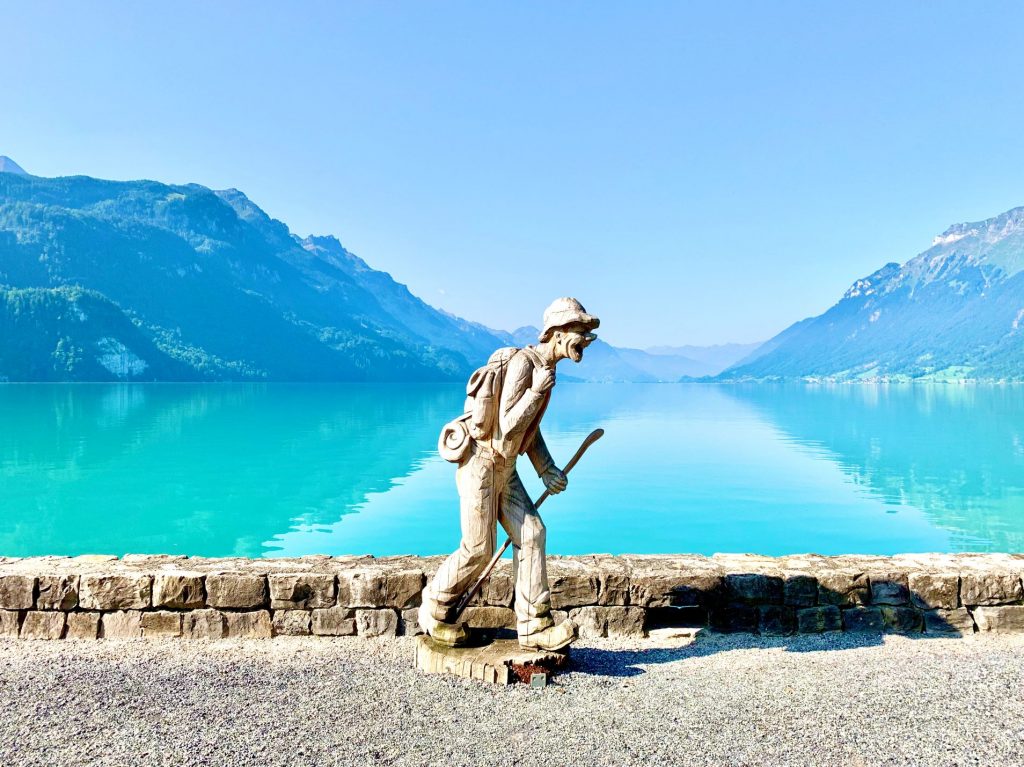 14 km long and ~3 km wide, the glacier fed Brienzersee is one of the deepest lakes in Switzerland. The village of Brienz, which gives the lake its name, is located on its northern shore. It is one of the best places to visit to enjoy Lake Brienz.
Here's my guide to visiting Lake Brienz
Caumasee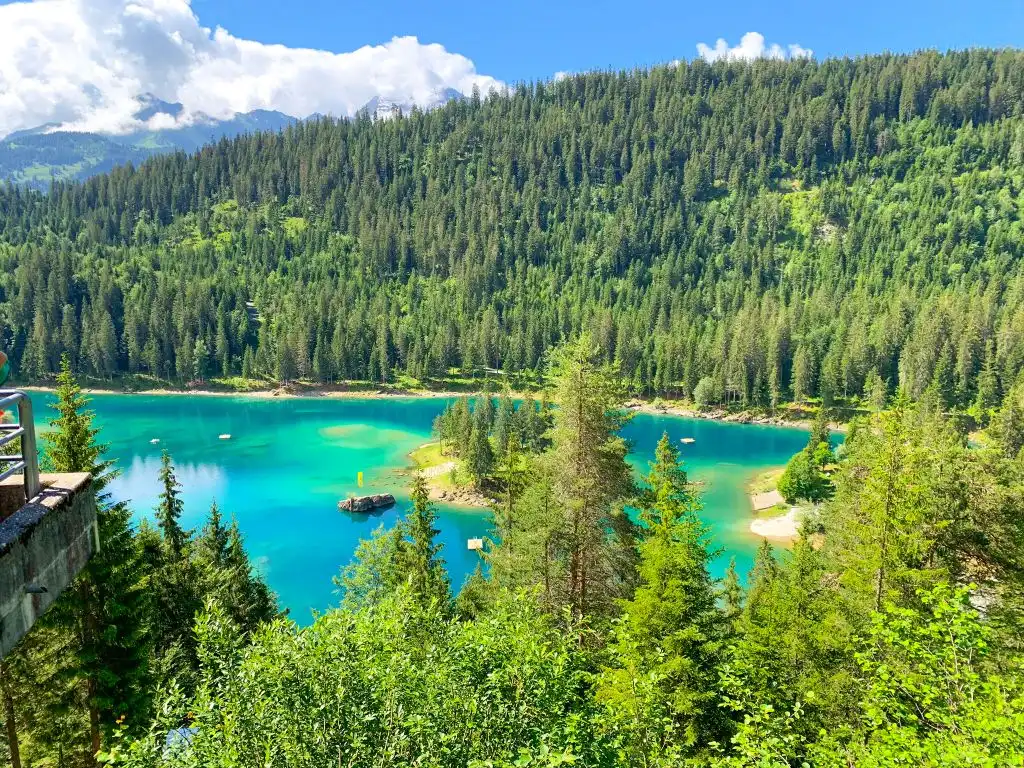 Dazzlingly turquoise waters are the highlight of this lake – the kind where you have to see it to believe it! Caumasee translates to Lake of Noon Rest and that's quite literally what people do here – it's the perfect spot for a lazy Sunday.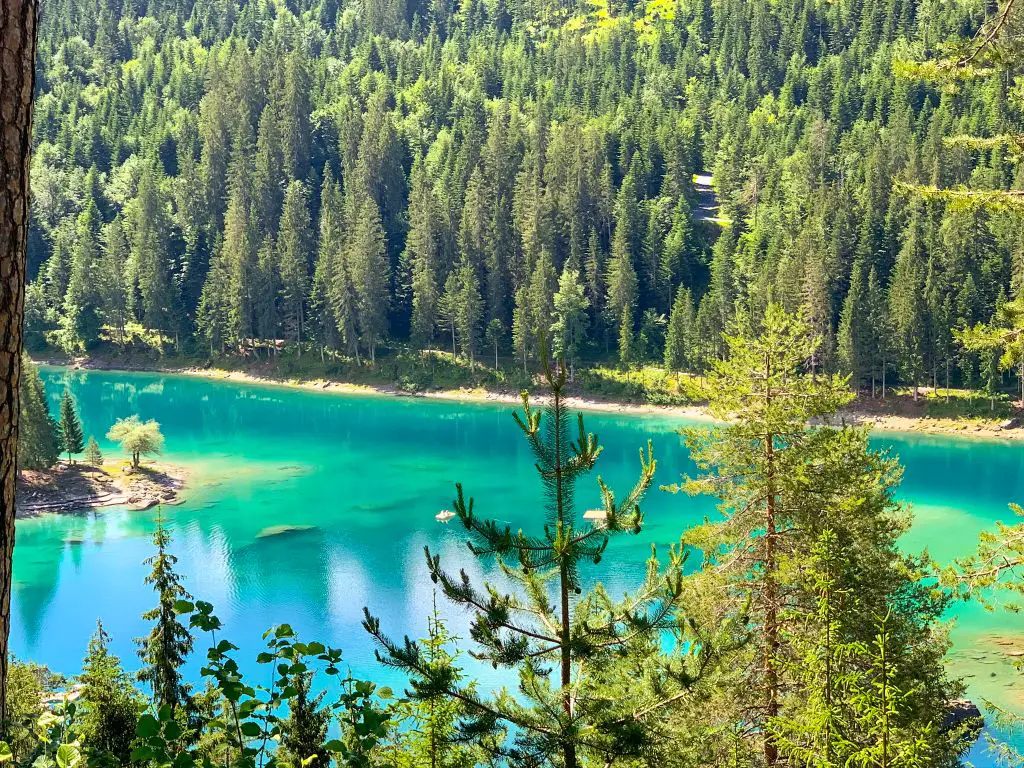 To visit the lake, simply head to Flims Waldhaus and walk about 15 min to a lift that takes you directly to the lake.
Flims was the first area in Switzerland that we hiked in and though the hike may not be as spectacular as some in the Bernese Oberland region, it was still absolutely amazing. Tall mountains, beautiful forests and wild flowers made the trail supremely beautiful.
Here's my detailed guide to visiting Caumasee.
Bannalpsee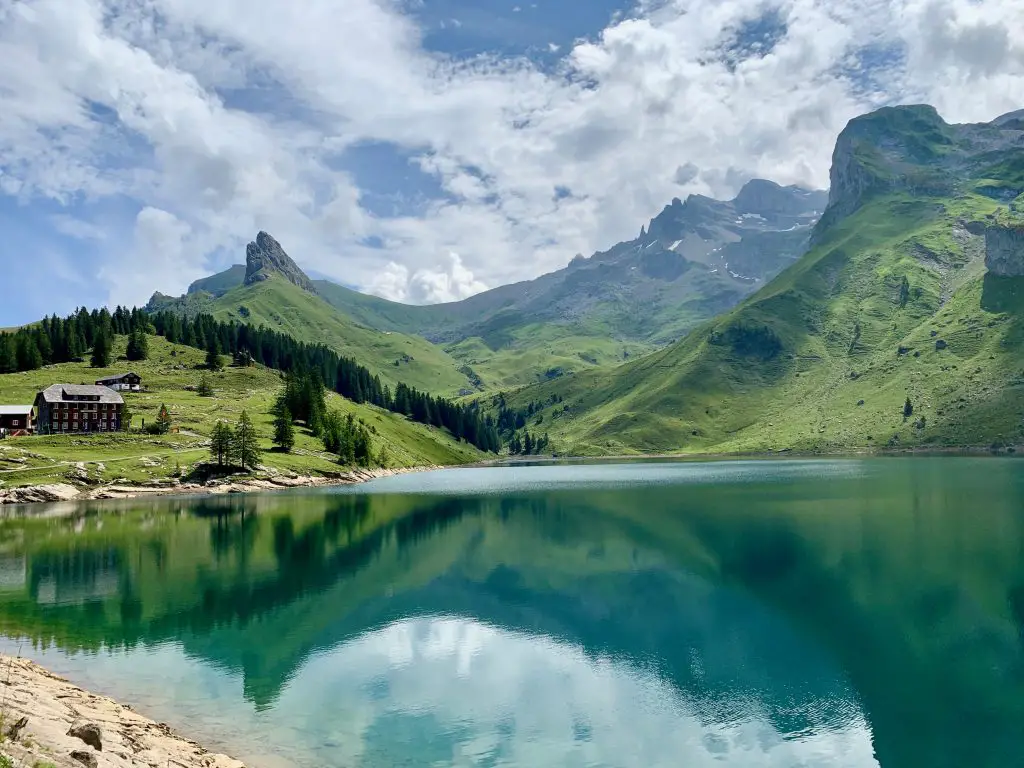 Bannalpsee is a mountain reservoir in Central Switzerland near Engelberg. A hidden gem, this lake has brilliant green waters surrounded by high mountains.
While there are several hiking options, if you are a more laid back traveller (like me!) you can reach Bannalpsee taking a very short walk. 
While this may not be my absolute favourite lake, it's one I'd happily go back to for more visits since it's usually so empty. It's one of the most peaceful places I've come across in Switzerland.
To visit Bannalpsee, head to the Fell station in Wolfenschiessen from where regular cable cars run-up to the lake.
Here's my detailed guide on visiting Bannalpsee
Melchsee & Tannensee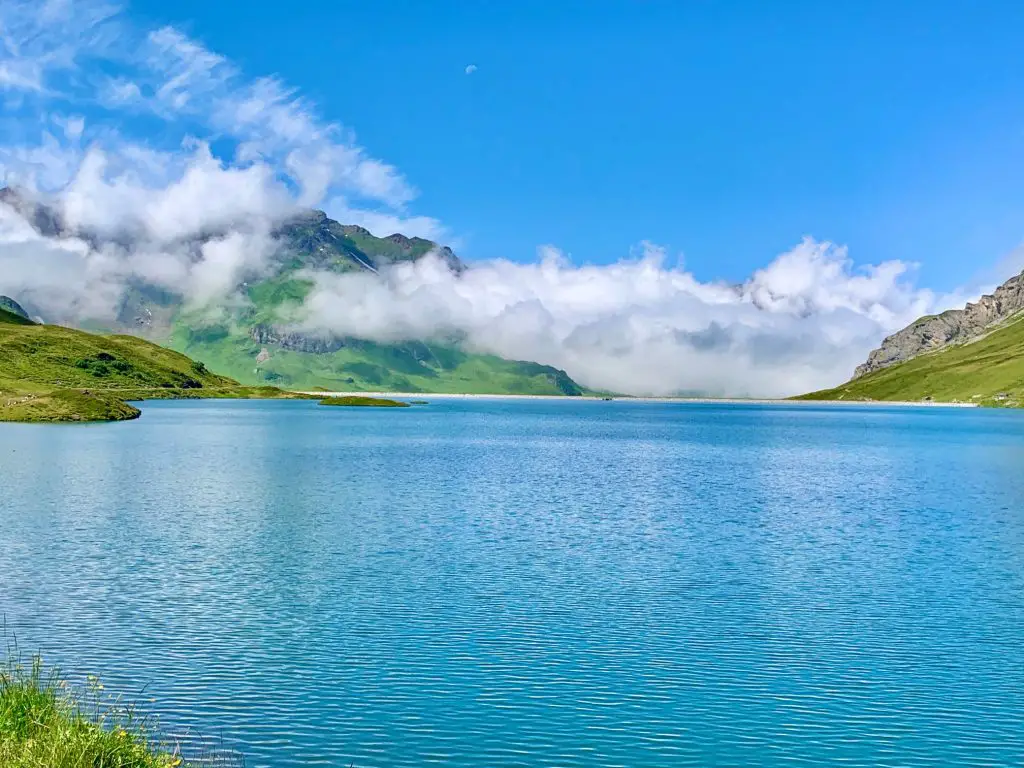 Melchsee-Frutt is a mountain resort village which boasts of 2 absolutely spectacular Alpine lakes – Melchsee & Tannensee. An easy walk through beautiful rolling hills covered in flowers with tall snow peaks visible in the distance and the melody of ringing cowbells make for a fantastic experience up at Melchsee-Frutt!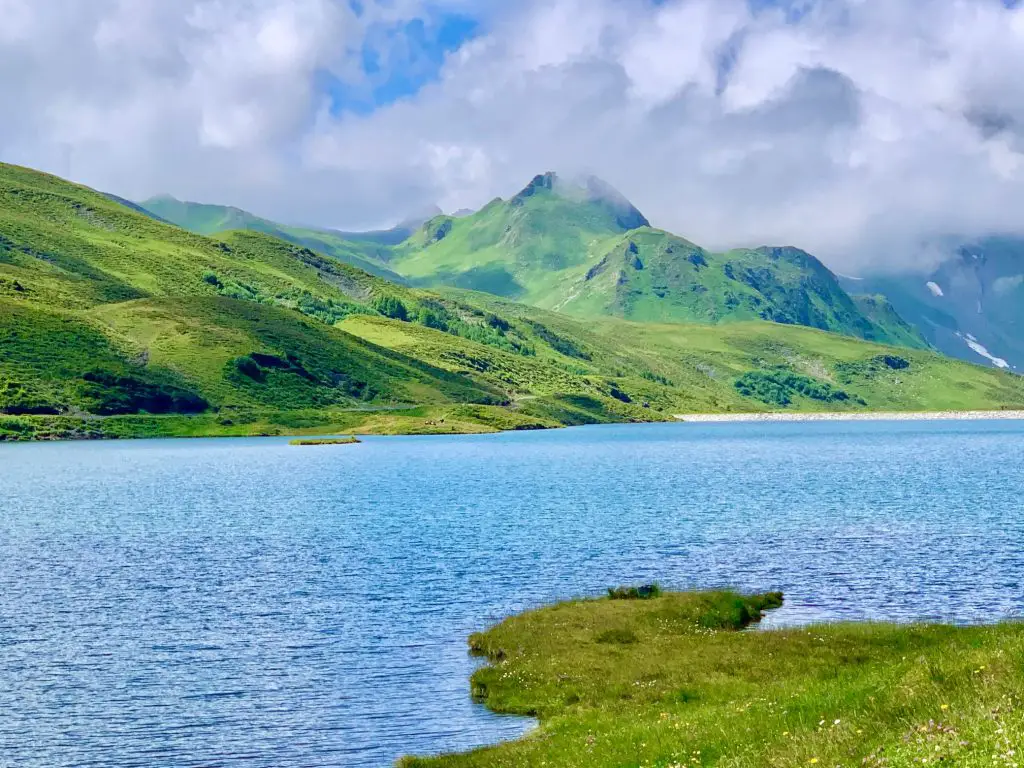 The two highlights of the place are its picture-perfect mountain lakes – Melchsee and Tannensee. Surrounded by mountains and grassy meadows these lakes are worth a visit even if you do not plan on doing any hiking/ biking/ etc.!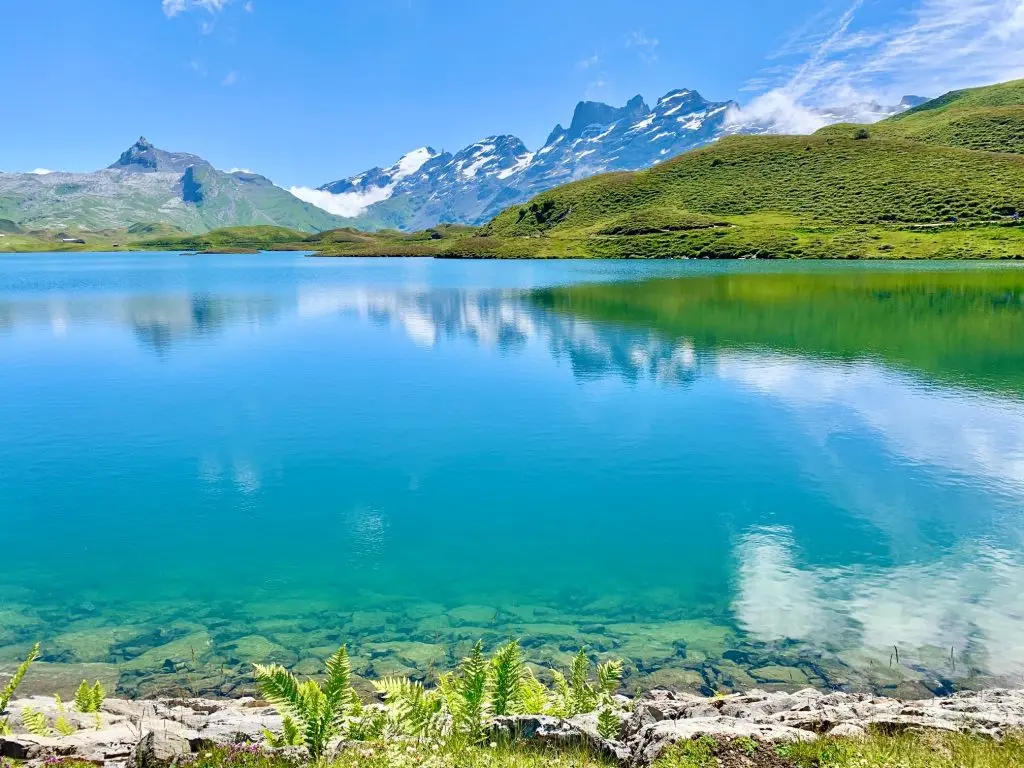 To get to Melchsee-Frutt head to the gondola station located at Stöckalp and take the short cable car ride up.
Here's my guide to visiting Melchsee-Frutt
Vierwaldstättersee (Lake Lucerne)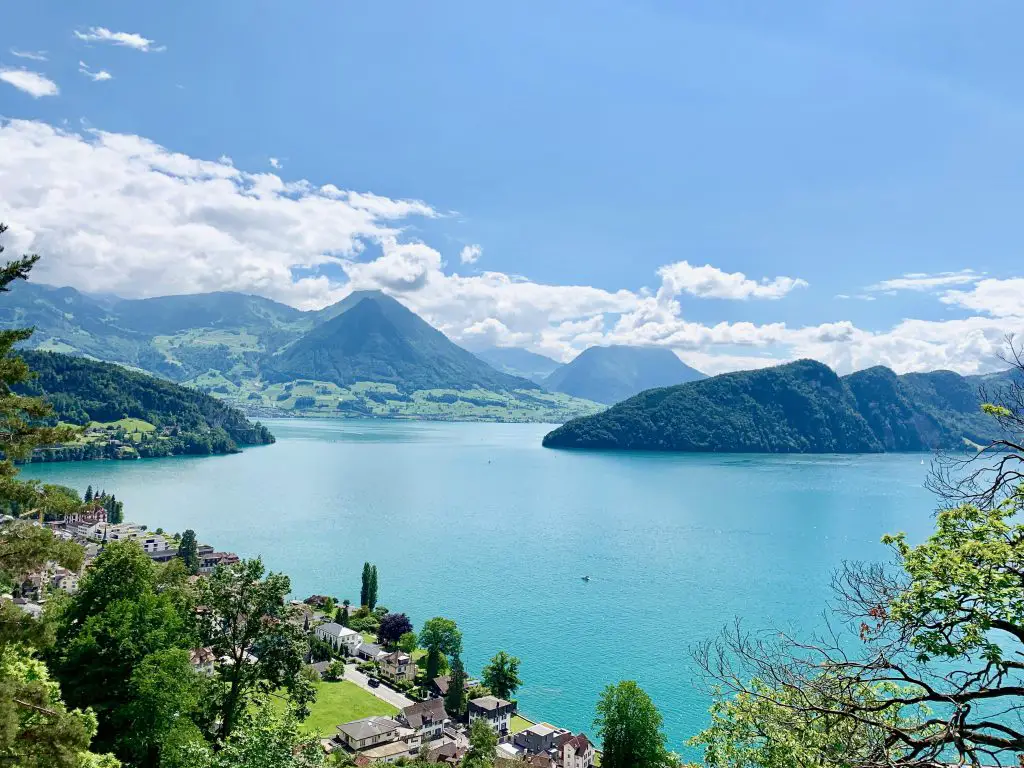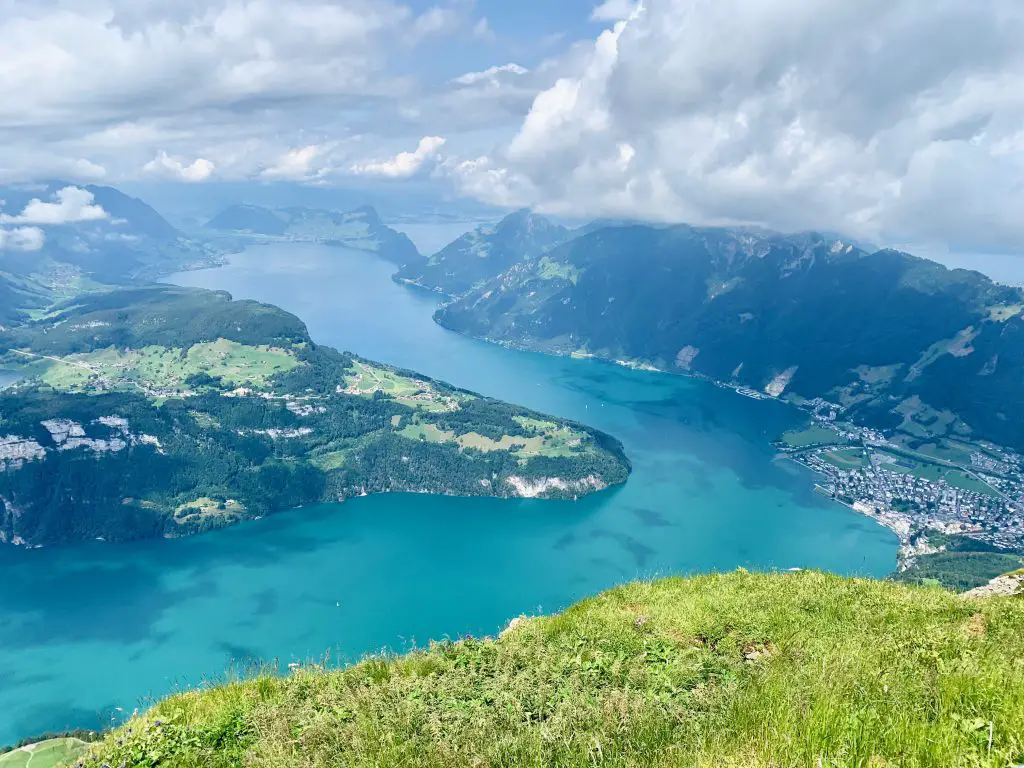 This famous lake, also known as Lake Lucerne is the fourth largest lake in Switzerland. It's irregular-shaped structure lying across several valleys makes it a delight to both cruise on and admire the views from a high vantage point.
Some of the best ways to enjoy the lake include,
Taking a dip in it – there are several parks along the lake in Lucerne from where you can enjoy a swim
Taking a cruise on the lake – several cruises start from Lucerne to neighbouring towns. You could either do a round trip which would last ~2.5 hours or head to one of the towns to visit some of the famous mountains – which brings me to,
Head to one of the mountains around the lake for jaw-dropping views – Mt. Rigi and Mt. Pilatus are two of the most famous mountains around Lucerne. Here's my detailed guide to visiting Mount Rigi.
Which of the Swiss lakes is your favourite? Which one do you feel deserves a place on this list? Comment below and let me know.
If you found this useful, please share and spread the love!
More information for your trip to Switzerland:
Pin this for later!