Dreaming of a vacation in Greece but dreading the crowds and the high prices? Paros is the answer to your dream Greek vacation! Paros offers the best of other more popular – read touristy – Cyclades islands without the panic-inducing crowds or the crazy exorbitant prices. Whether you are day-dreaming about the beautiful white buildings in Santorini or the fun towns of Mykonos – Paros has it all, and more!
Read on for a detailed guide on things to do in Paros – the best towns & beaches to visit, towns to stay at, and more!
Note: This post contains some affiliate links. This means if you make a purchase through these, I may earn a small commission, at absolutely no extra cost to you. Thank you for your support!
Here's what's in store for you
Deciding on which Greek island to visit?
We had first visited Greece for our honeymoon several years ago and had fallen in love with the Cyclades islands. This year when planning for a place to take our parents, we couldn't resist the opportunity of re-visiting this beautiful place. 
For this trip, we were thinking of choosing between Crete or the Cyclades islands – the charm of the blue and white towns though in Cyclades won us over, AGAIN! Within the Cyclades islands, we were confused between Paros, Naxos, Milos and Mykonos. Santorini was a sure thing since it has an international airport and direct flights from Zurich.
Headed to Santorini too? Here are the most amazing things to do in Santorini!
Head on here to find where to stay in Santorini!
Of the other islands, we finalized Paros for its beautiful beaches and pretty towns and the fact that it's much less touristy than Mykonos though still touristy enough to have lots of great restaurants and the like compared to Naxos. Milos is a much smaller island and we were not sure if we would have enough to do there. Paros also has the added benefit of having the gorgeous island of Anti-Paros practically next door.
Overview of Paros
Paros is located in the heart of the Cyclades islands. A 2 hour ferry ride from Santorini or a 3 hour ferry ride from Athens makes it ideally situated to add this island to your Greece holiday itinerary.
Best time to visit Paros
Summer would be the ideal time to enjoy the best of Paros – who takes a winter Greek holiday anyway?! May to September would offer the best weather to enjoy the beaches and the towns of Paros. And don't worry about it being crowded – even in July, there was ample space for us to enjoy (unlike Santorini!).
During the summer months, the Sun can be quite relentless, however, the sea breeze will keep you cool and comfortable.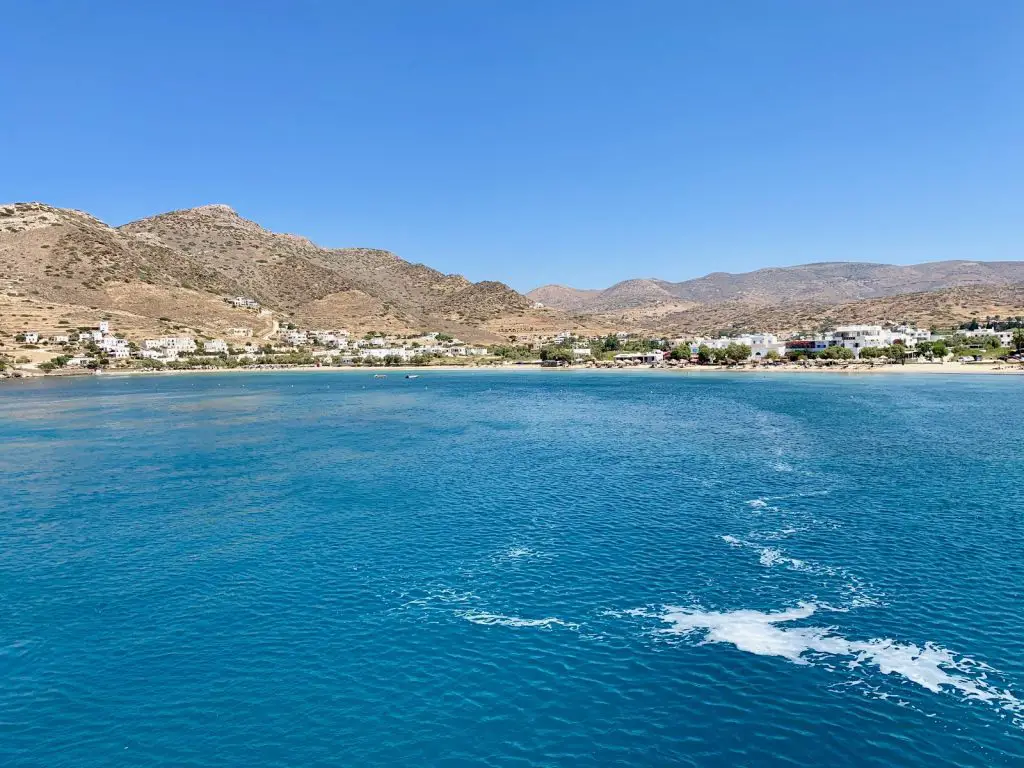 How to get to Paros
Paros has a domestic airport so you can fly in from Athens. You can also take a ferry from Athens, Santorini, Mykonos, Ios, Crete and a lot of other Greek islands. Check out ferries here. Do book in advance of your trip instead of when you reach Greece as the ferries tend to sell out.
Ferries are a great way to travel since you can enjoy the brilliant blue Aegean sea on the ride as well as lovely landscapes as you pass by islands.
Where to stay in Paros
The first choice to stay should be Naoussa. This is the 2nd largest village (after the capital Parikia where the main port is located) situated on the North coast of Paros. It's a beautiful, bustling place with lots of market alleys (think narrow lanes with whitewashed buildings and tons of bougainvilleas all around) and several beaches located very close to it. It's also close to the main village of Parikia where your ferry will arrive.
We stayed at the family villa of the hotel Kalypso Villas which is a lovely property overlooking the sea with a small beach right outside! Our family villa was actually a huge house – it had 3 floors and a huge hot tub on the patio overlooking the sea!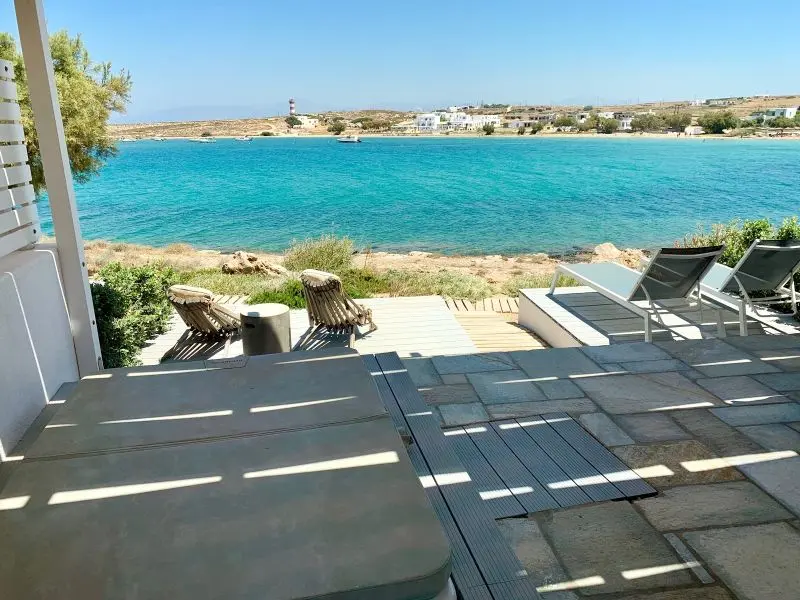 The second good location to stay would be Parikia. It's the capital of the island and has very good connectivity to all other villages in Paros.
Transportation in Paros
Paros has a very good road network with broad, paved roads all across the island – unlike Santorini, where driving is a nightmare at times. Since there are several beaches and other beautiful locations around the island, having a car or an ATV would make it easier.
You could rent a car in Paros for around 70 Euro a day, including full insurance during the high season. You can sightsee and drive around the whole island in 1 day! There are plenty of parking spots available at every beach/ sightseeing location, most of them free!
Paros also has a good bus network with bus stations located centrally in every town
How many days to spend in Paros
2 days in Paros will give you a taste for what the island has to offer so you come back for longer! 4-5 days will give you a chance to take in some of the amazing hikes and to relax at the beautiful beaches.
Suggested itinerary for Paros
Here's a suggested itinerary for spending 2 days on the island so you cover all the best things to do in Paros!
| Day | Time | Activity |
| --- | --- | --- |
| Day 1 | Morning | Arrive at Paros by late morning/ noon and head to your hotel to freshen up |
| | Afternoon | Stroll around the streets of beautiful Naoussa |
| | Evening | Take the taxi-boat from Naoussa port to the unique Kolombithres beach and enjoy a swim |
| | Night | Enjoy the bars & restaurants of Naoussa |
| Day 2 | Morning | Rent a car and drive around the island having a look at the different beaches to figure out your favourite! |
| | Mid day | Head to Lefkes a quaint, traditional Cyclades mountain village |
| | Afternoon | Explore the town of Parikia |
| | Evening | Head to your favourite beach for a swim |
| | Night | Savor the nightlife at Parikia |
Best things to do in Paros
A) Drive around the island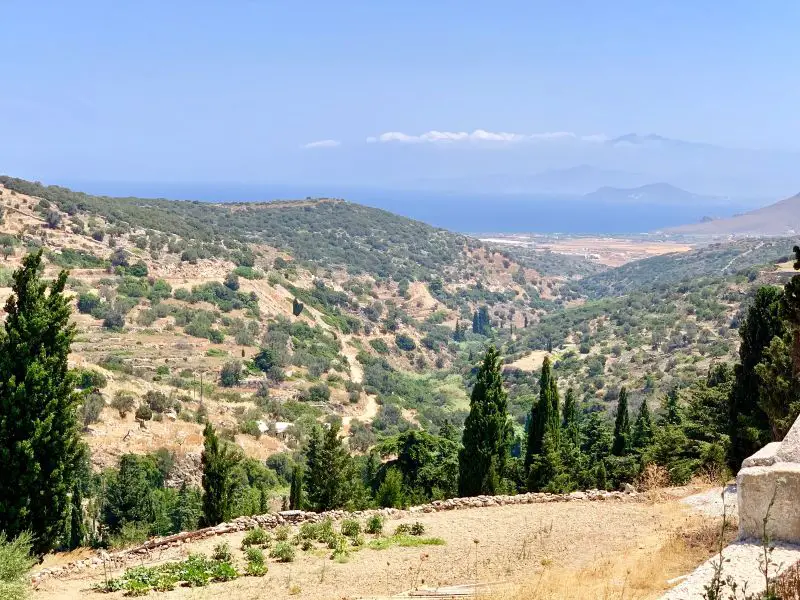 Unlike my suggestion for Santorini of using public transportation, Paros is best enjoyed in your own vehicle. The absolute best way to enjoy the beauty of the island (and its diversity, from the stunning blue sea to the tall imposing mountains!) is to drive around it. It's a small island and you can drive around it in a day!
Drive along the ring road around the island stopping at sightseeing locations and the beaches to figure out which you love most for a swim in the evening.
B) Discover the charming towns
Naoussa
You can spend an entire afternoon browsing the markets in the narrow streets of Naoussa. It is as quintessentially Greek as it could be with whitewashed buildings, blue doors and windows, and flowers everywhere. The town is like walking in a dream!
Naoussa is one of the most beautiful fishing villages in Greece. It has a long shoreline dotted with fishing vessels. The long harbor has plenty of restaurants overlooking the sea. 
One of Paros's most famous landmarks, the Venetian Fortress is located at Naoussa. Originally used as a watchtower for pirate attacks, the remains of the fortress are incredibly photogenic.
Lefkes
Lefkes is a quaint, traditional Cyclades mountain village. I had read mixed reviews about it – some claiming it to be the most beautiful village ever to some calling it boring – so I wasn't sure what to expect. But what we saw when we got there blew us away!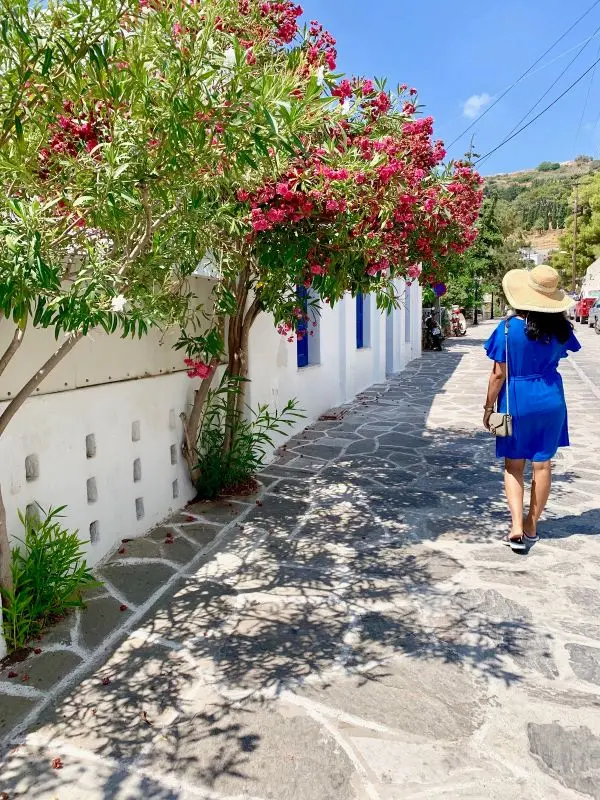 Lefkes is a fascinatingly exquisite village – as traditionally Cyclades as it could be. Take a stroll through the village towards the Church of Agia Triada. Walking around the church you can see the hills and the village around you – an absolutely stunning view!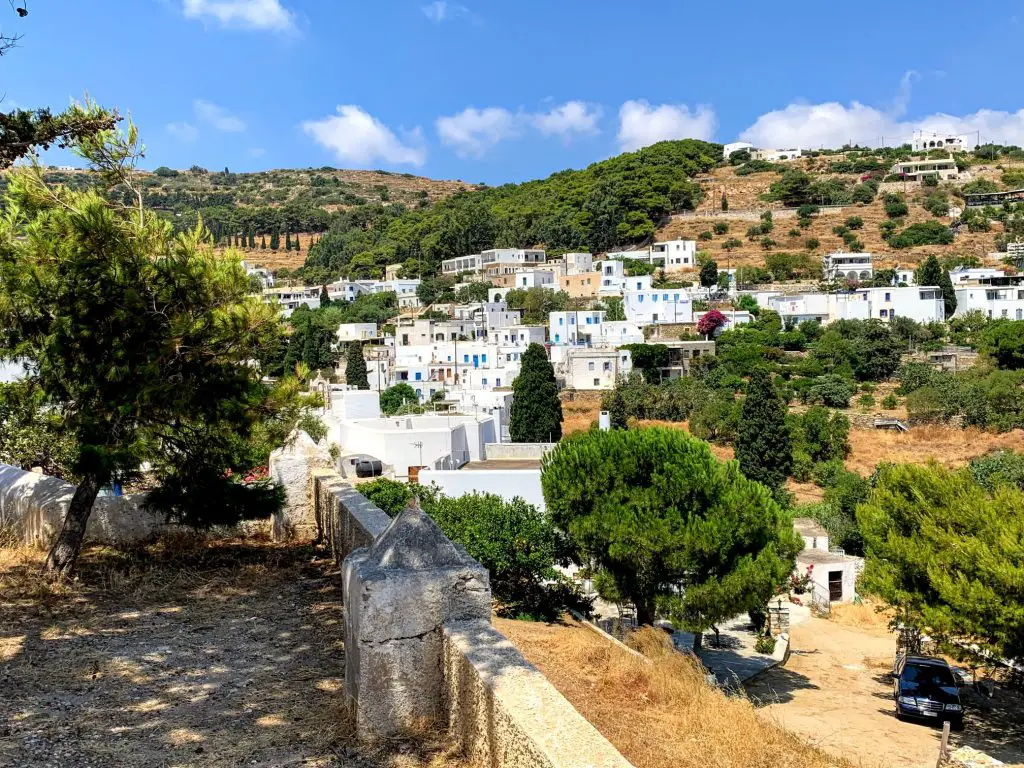 The way into the village and the church is not very well marked so you might get lost or discouraged roaming the streets and not finding the beautiful spots seen in photographs. Follow the map below to ensure you get to see the beauty of Lefkes.
Park your car in the numerous public parking options available on the street, a little way higher up from Lefkes, close to the Lefkes Outdoor Amphitheatre. Walk into the village using the map below.
Pounda
The village of Pounda is another picturesque little place straight out of a storybook! The harbour is an absolutely magical place to visit – the crystal clear blue water and the white rocks make for a beautiful view!
This is where the ferries for Anti-Paros leave from. So if you have the time, don't miss the trip to Anti-Paros!
Pounda is also the place to go if you enjoy water skiing.
Parikia
The capital town of Parikia is where you'd arrive at if you come on a ferry. There's a small windmill that greets you right at the port and makes you fall in love with the island!
Parikia has lots of narrow streets filled with amazing shops and restaurants.  Take a stroll along the charming cobblestone streets and explore the traditional shops selling local art, Greek-style clothes & jewellery and lovely souvenirs.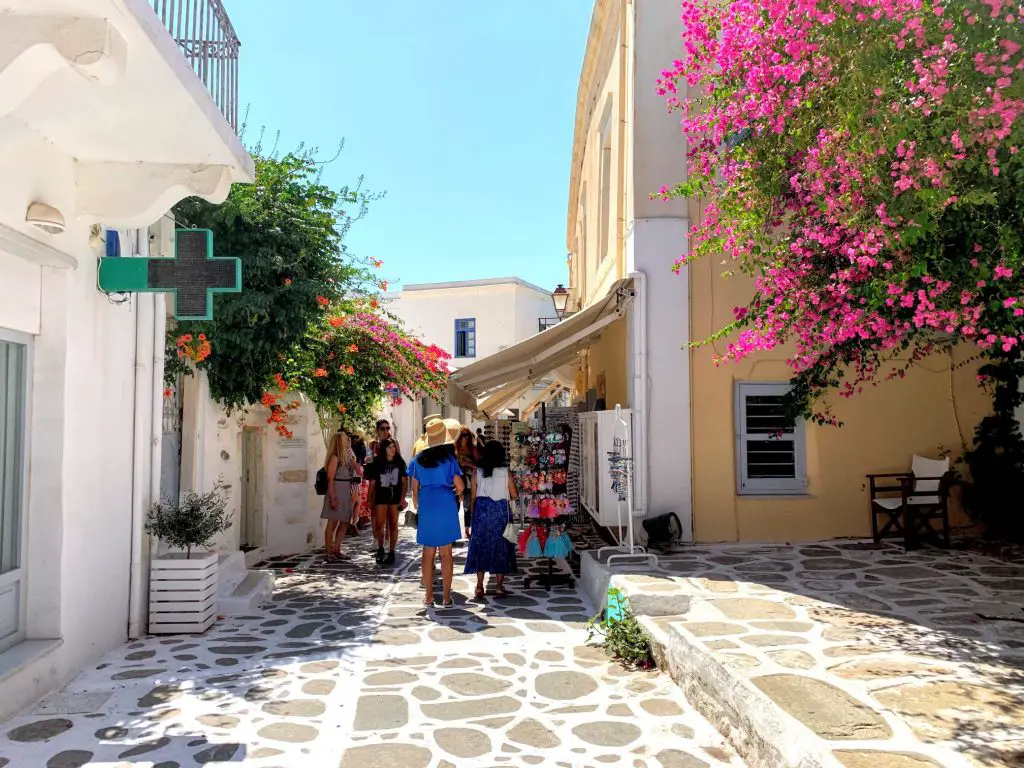 The historic Byzantine church and one of Greece's most important Byzantine monuments, Panagia Ekatontapiliani is located at Parikia. Also known as the Church of a Hundred Doors, it's a majestic and awe-inspiring structure.
Anti Paros
The small island of Anti Paros is only 10 minutes away from Paros and is known for its stunning beaches, traditional houses and trendy stores and restaurants. Enjoy swimming at some of the island's most famous beaches: Psaralykes, Theologos, Sifneiko, Agios Georgios.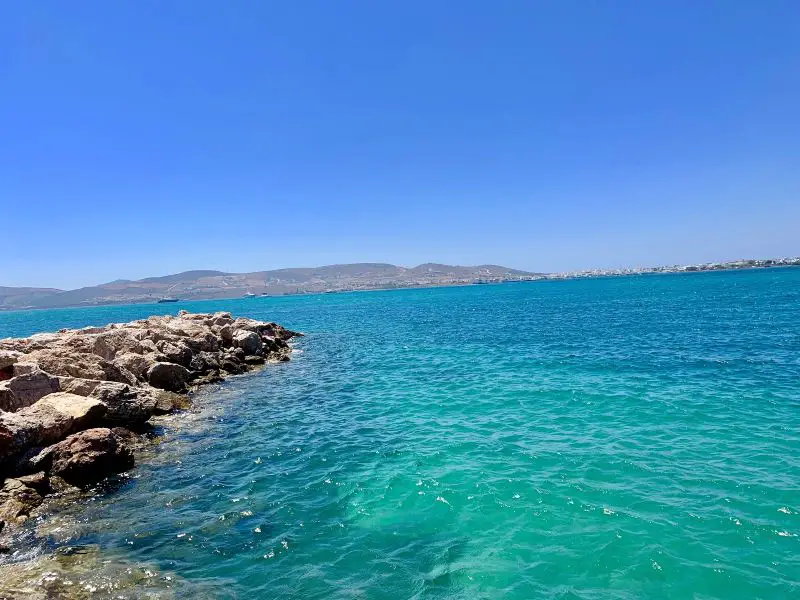 To get to Anti Paros, you can take a ferry from Parikia or from Pounda.
C) Explore the beaches
Kolombithres Beach
From the port of Naoussa, grab a taxi-boat to the Kolombithres beach. It is a short 20 min ride but very bumpy so try and sit on the upper deck or you might get seasick.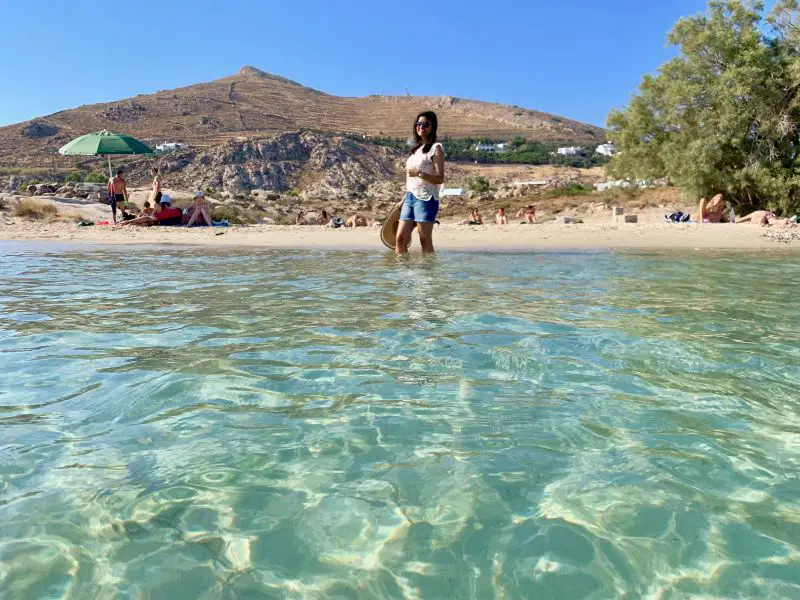 Arriving at the Kolombithres beach you can see why it is so famous – there are huge white rocks all along the shore. These lend a very otherworldly feel to the beach. They can also help you find a great secluded spot on the beach! Kolombithres beach is a beautiful, well-organized beach – you could rent umbrellas and beach chairs at a few spots.
It also has the best views not just with its beautiful rocks but out to the sea where you can see Naoussa in the distance. You can spend an entire evening swimming here – the water is crystal clear and very shallow for a long distance. The water is also very calm with very little waves.
Santa Maria
Santa Maria is a huge beach with blue waters located very close to Naoussa. This beach is famous for its watersports – from windsurfing and water skiing to scuba diving. There are also several bars and restaurants around it. We absolutely loved the beach and it received the top rank in our list of Paros beaches to come back to!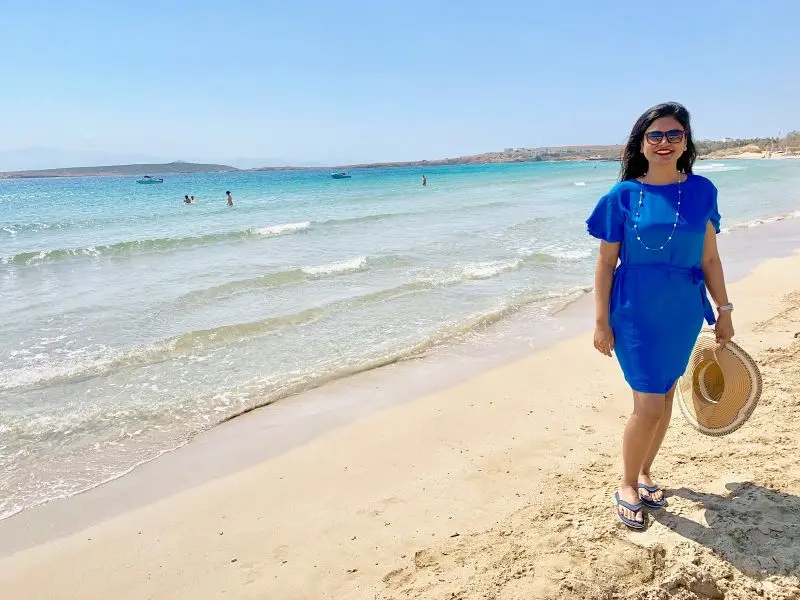 Golden Beach
Golden Beach is the largest and most famous beach of Paros. It is a beautiful beach with endless golden sand and lots of restaurants around. Organized with sun loungers, water sports and sailing, this is one where you can spend the whole day at!
New Golden Beach
The New Golden Beach is quieter, though just as beautiful as the Golden Beach. Not as developed as the Golden Beach, this is the one to head to if you are looking for more privacy.
Monastiri Beach
This beach is located towards the north of the island, a little beyond the Kolombithres beach. It has some of the same features as the Kolombithres beach but it's quite a bit smaller and can be more crowded. 
Practical tips for visiting Paros
Carry a wide-brimmed hat – The sun is extremely bright and unless you want to get burned, carry a hat
Wear flowing, comfortable clothes – The sea breeze at the island is amazing and the best way you can enjoy it is by letting it flow close to you!
Be ready to bargain and haggle, whether at shops or with taxi drivers
Prefer bottled water over tap water – The advice we got from our hotel was that though the tap water may be okay to drink, it might not taste good due to the minerals. Bottled water is very cheap if you buy it from a grocery store
If you're taking a ferry, make sure you book in advance and complete your web check-in. Some ferry companies require you to visit their office to collect the boarding pass while some might let you use a printout.  
Ensure you have enough buffer time when taking a ferry if you have a flight to catch. Ferries are known to be delayed or cancelled due to weather or other reasons.
That's it – you're all set for your trip to Paros! Let me know in the comments below if you have any questions. 
Have you been to Paros? What was your favourite part of the island?
If you loved Paros, you'll also enjoy Santorini. Head here for the best things to do in Santorini!
If you found this useful, please share and spread the love!
Pin it for later.