Best places to visit in Switzerland – The hidden gems
Switzerland is one of the most beautiful countries, blessed with stunning natural beauty. The best places to visit in Switzerland for me are the ones where you can enjoy nature, without being tread upon by hordes of tourists! So if, like me, you'd like to experience that, read on! I've called Switzerland home for a few months now and it still leaves me awestruck when I visit a new place! Unsurprisingly, what adds to the magic of these places is how few people we encounter there – makes for such a peaceful experience. If you're looking for that magic, here are the places you should add to your list (instead of the tourist-laden, and expensive Jungfraujoch or Pilatus!).
Planning a trip to Switzerland? Click here for a detailed travel guide to Switzerland – including the best time to visit, itinerary options (for 3, 5, 7 or 10 days), visa, transportation in Switzerland (including Swiss Pass), accommodation options and more!
Here are more ideas for your trip to Switzerland: 25 best places to visit in Switzerland!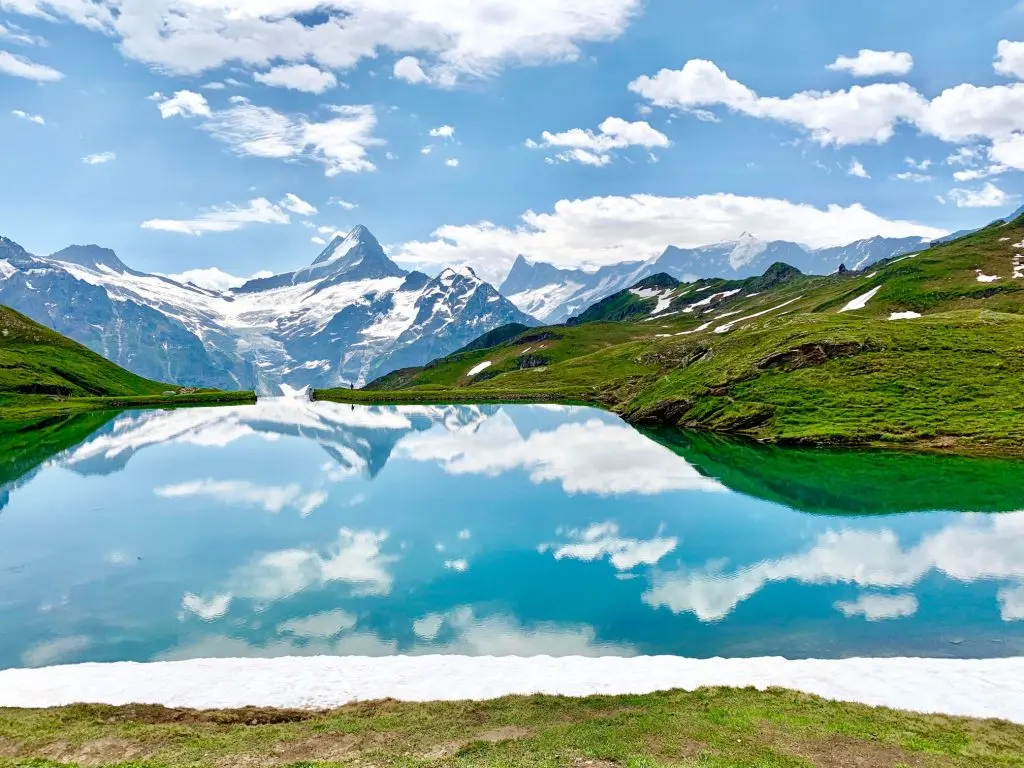 This stunning mountain lake located in the Bernese Oberland is one of the most picturesque locations in Switzerland. It's also one of the best (and easiest) hikes in Switzerland. It's the place I recommend to all first time visitors to Switzerland.
The Bachalpsee hike encompasses all that's most beautiful about Switzerland – stunning snow-capped mountains, lush green meadows & valleys, crystal clear lakes, and wildflowers, all to the soundtrack of ringing cowbells! It is one of the best places to visit in the Jungfrau region and my personal favourite place in Switzerland. This lake makes for a perfect day trip and a fantastic outdoor activity cum beautiful hike from Interlaken, Lucerne or even Zurich. In fact, this is one of the best and easiest hiking trails in Grindelwald & the Jungfrau region.
Read here for my detailed guide to visiting the beautiful Bachalpsee.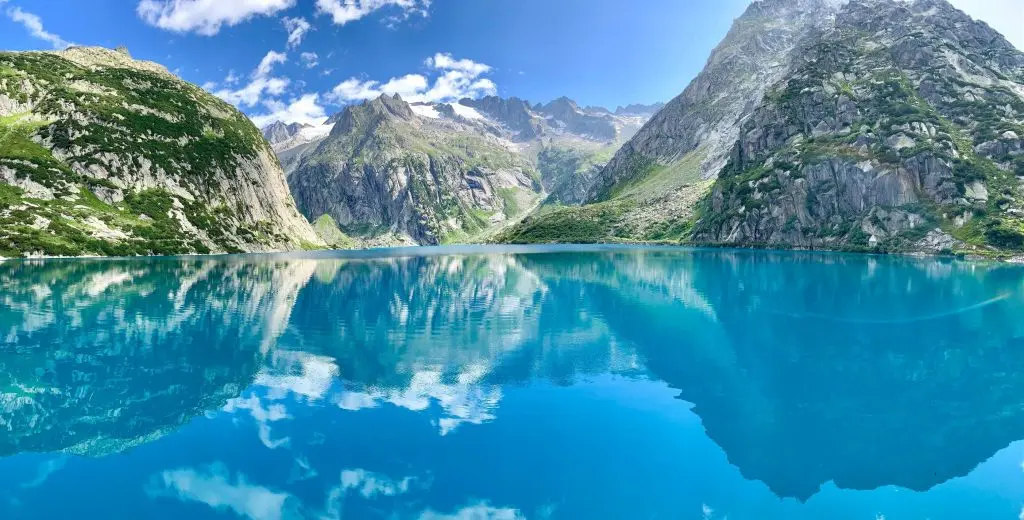 Crystal clear water, mirror-like reflections and no tourists – this lake is a treat to visit. One of the steepest funiculars in Switzerland takes you up to the lake – on a ride that feels more like a roller coaster than a train! With open carriages (and safety bars like a roller coaster), this funicular is one of the best parts of a visit to this lake – it offers sweeping views of the mountains as it takes you uphill. Tickets for the funicular are on a timed entry basis so it's good to book in advance.
There's an optional 2-hour hike that you can do around the lake for even better views, or just walk along the dam and relax on the small beach. Make sure you allocate enough time at the lake while buying tickets since you wouldn't want to head back once you get there!
This lake is located about 2 hours drive from Zurich and makes for an excellent day trip. After you have visited the lake, you can also continue driving towards the Grimsel Pass for stunning panoramic views, and 3 more lakes to enjoy!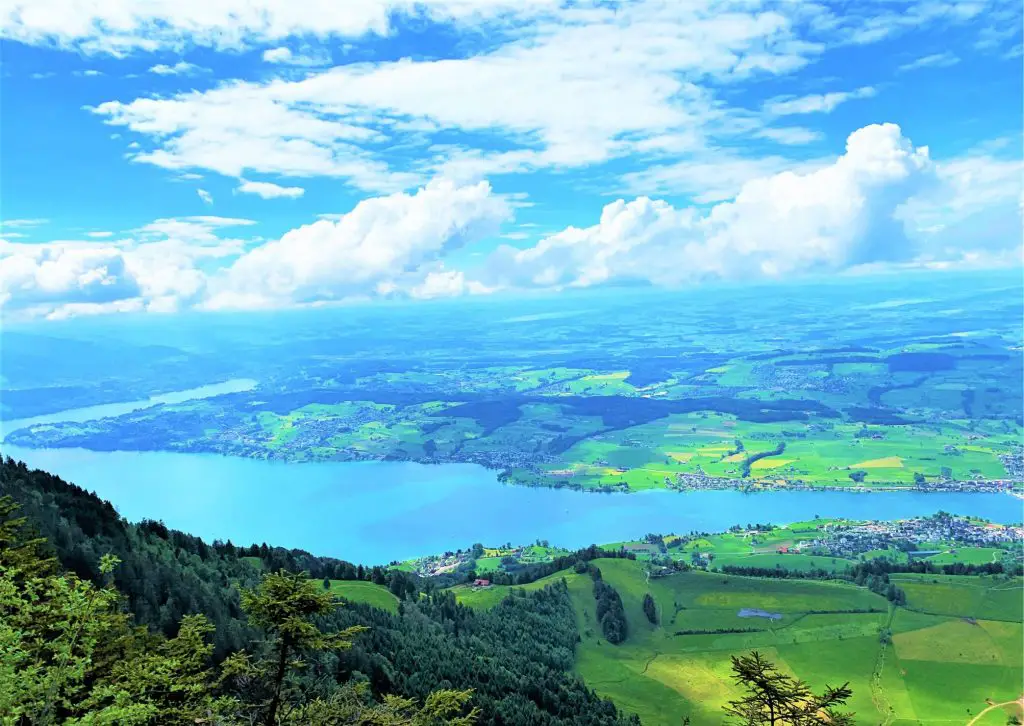 The queen of the mountains, Rigi is situated at the banks of Lake Lucerne. Visiting Rigi gives you an experience of the best of Switzerland – a cruise on a lake, ride on a steep funicular and panoramic views from the top of the mountain (including 13 lakes!). Mount Rigi is our go-to day trip for family and friends visiting us since it is located right next door at Lucerne! We have already been to Mt. Rigi thrice in about 4 months and always found it quite devoid of crowds.
There are multiple hikes that you can do on this mountain in the summer, go skiing in the winter or just spend time enjoying the views!
Read here for my detailed guide to visiting Mount Rigi.
Caumasee has a very unique turquoise colour that I can guarantee you would not have seen anywhere else! Caumasee is located in the town of Flims in the Swiss canton of Graubünden. It is a beautiful area and one of the least touristy places in Switzerland. Caumasee quite whimsically translates to Lake of Noon Rest. Surrounded by forests, it's an ideal place to relax, swim and have a picnic.
Caumasee is easily accessible by a very short walk. It can be visited standalone without the need for a hike. For those looking for a hike, there are multiple trails in this region, including one that takes you close to the Swiss Grand Canyon!
To visit the lake, simply head to Flims Waldhaus and walk about 15 min to a lift that takes you directly to the lake.
Read here for my detailed guide to visiting Caumasee.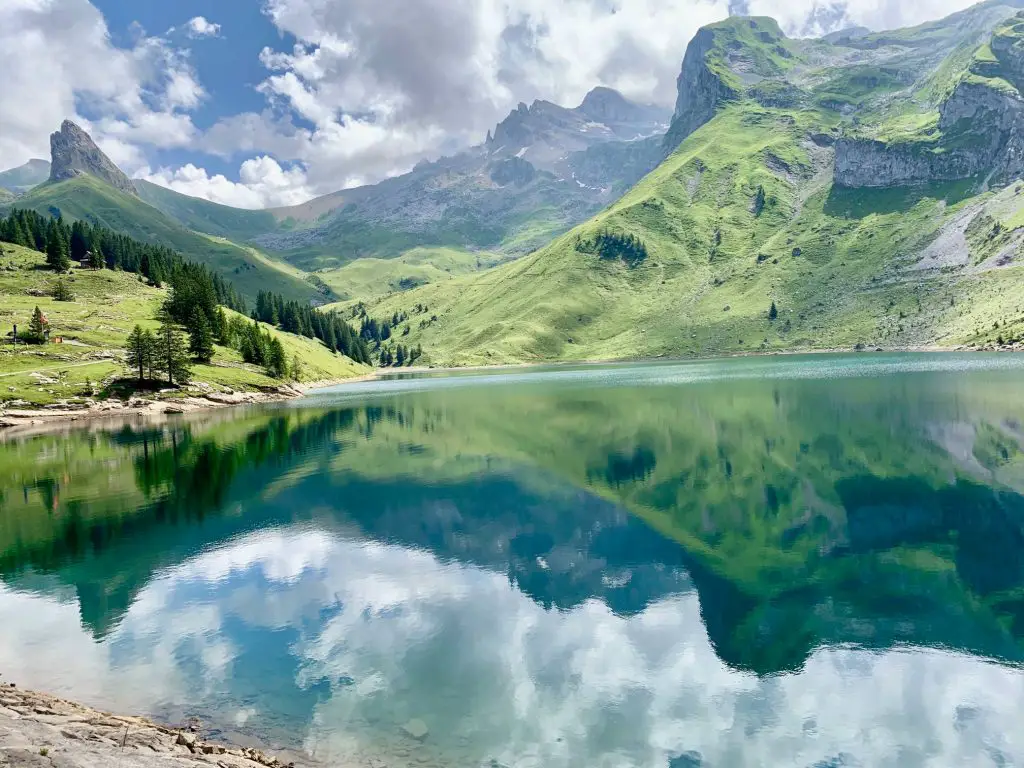 Bannalpsee is a mountain reservoir located between very uniquely shaped mountains, just as fascinating as the lake itself! And the best part – you'll have the place to yourself! The most relaxing day ever can be found at Bannalpsee. If you're into hikes, it's also the starting point for several stunning hikes.
To visit Bannalpsee, head to the Fell station in Wolfenschiessen from where regular cable cars run-up to the lake.
Read here for my detailed guide to visiting Bannalpsee.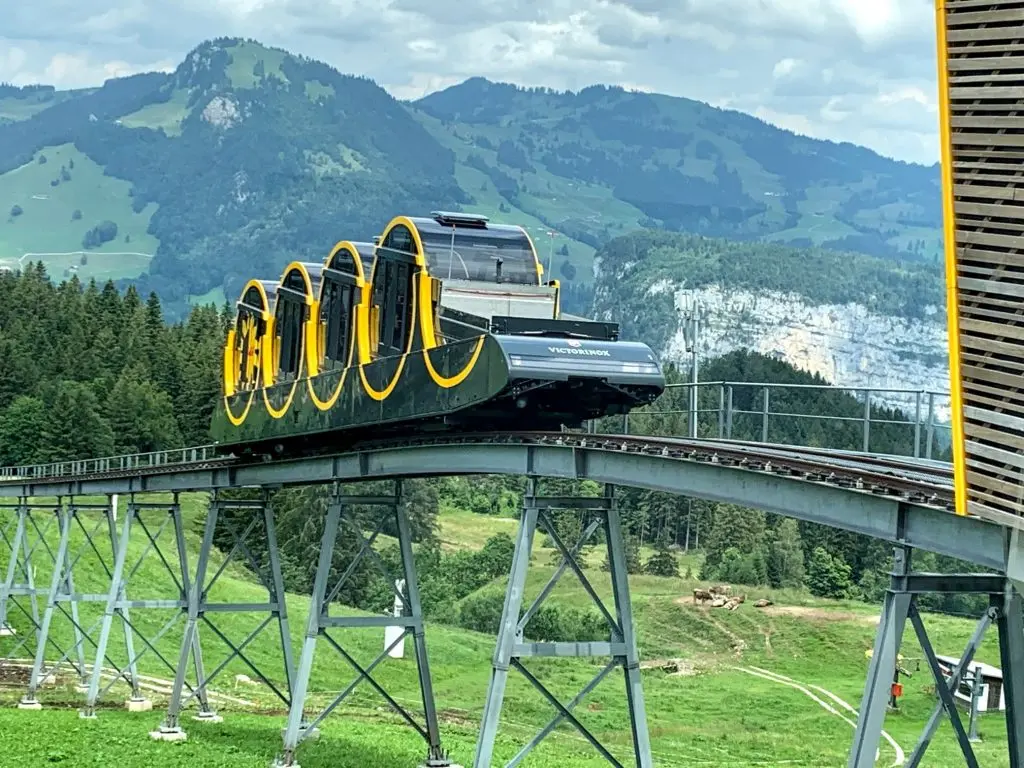 The world's steepest funicular (with a 110 per cent incline and covering ~740 metres altitude in just about 5 minutes!) brings you to the charming village of Stoos, located at the foot of the Fronalpstock mountain. Stoos is a beautiful village that you can walk across in about 30 minutes.
Once you've explored the village, take the chair lift and head up to the mountain for some panoramic views and spectacular hikes.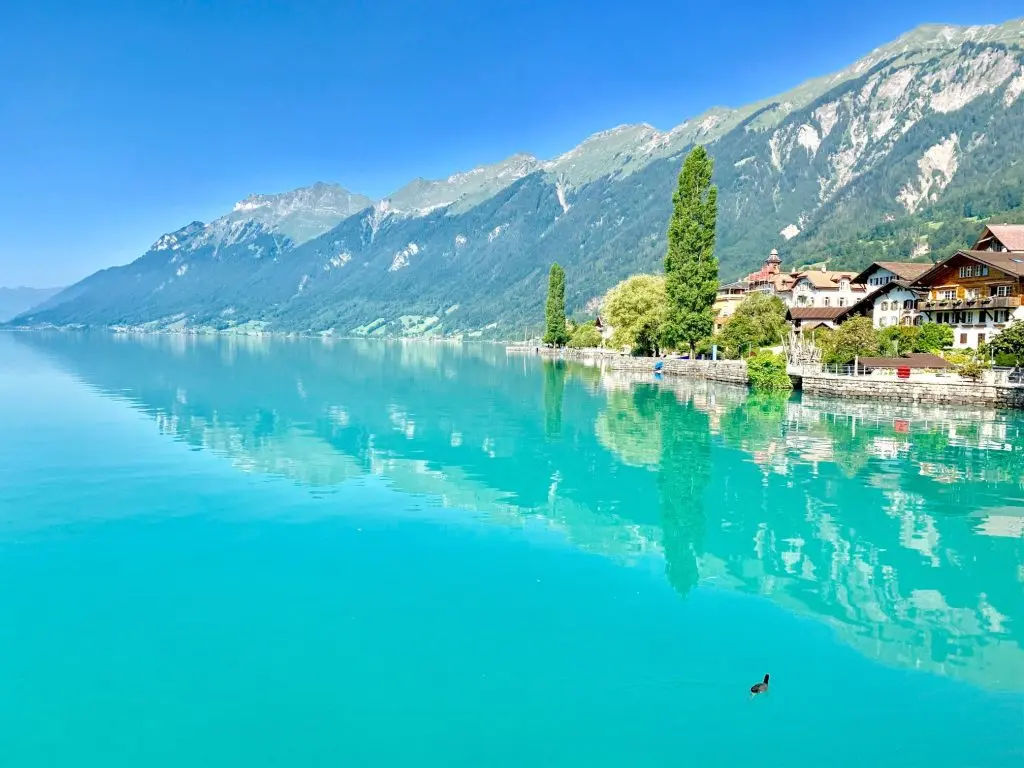 Brienzersee's powder blue colour and it's stunning location surrounded by the mountains of the Bernese Oberland make it a breathtaking place to visit. Take a ferry on the beautiful lake or stroll along the promenade taking in the fascinating wood carvings – you are guaranteed to enjoy your day at Brienz!
You can also take a charming steam train up to Brienz Rothorn, the 2350 meter summit for some panoramic views.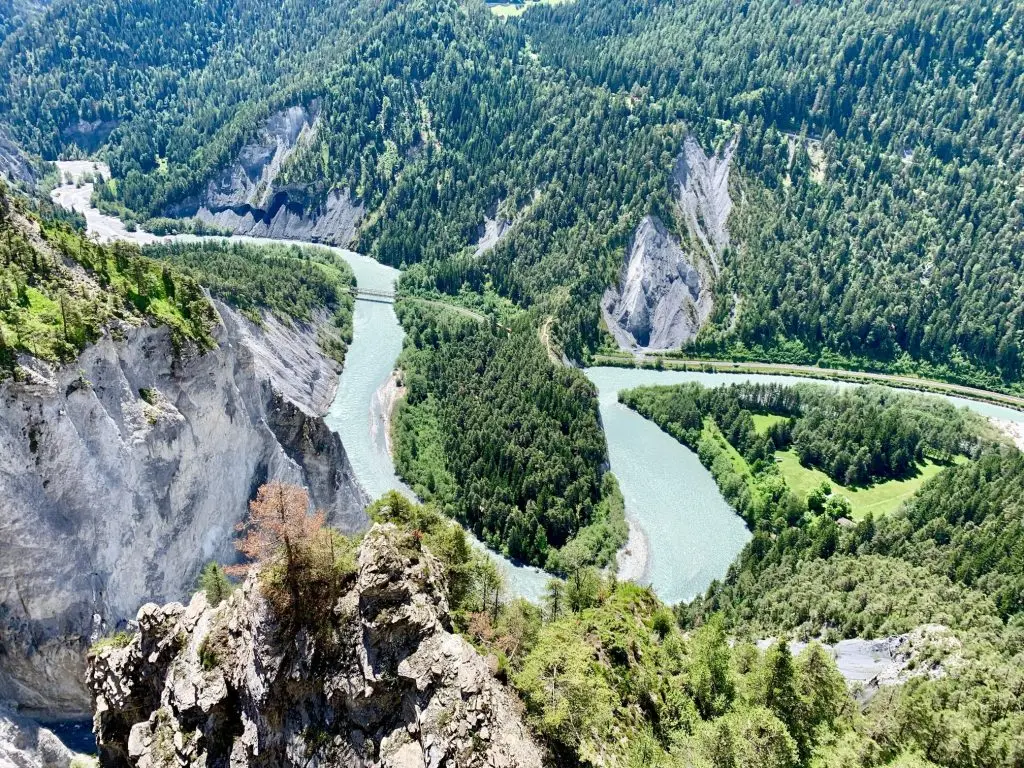 The Rhine Gorge is Switzerland's very own Grand Canyon. This 13-kilometre long gorge is the result of geological events tracing back 10,000 years. You can do several hikes around this area to take in the stunning views of the gorge.
Read here for my detailed guide to an easy hike around the Rhine Gorge.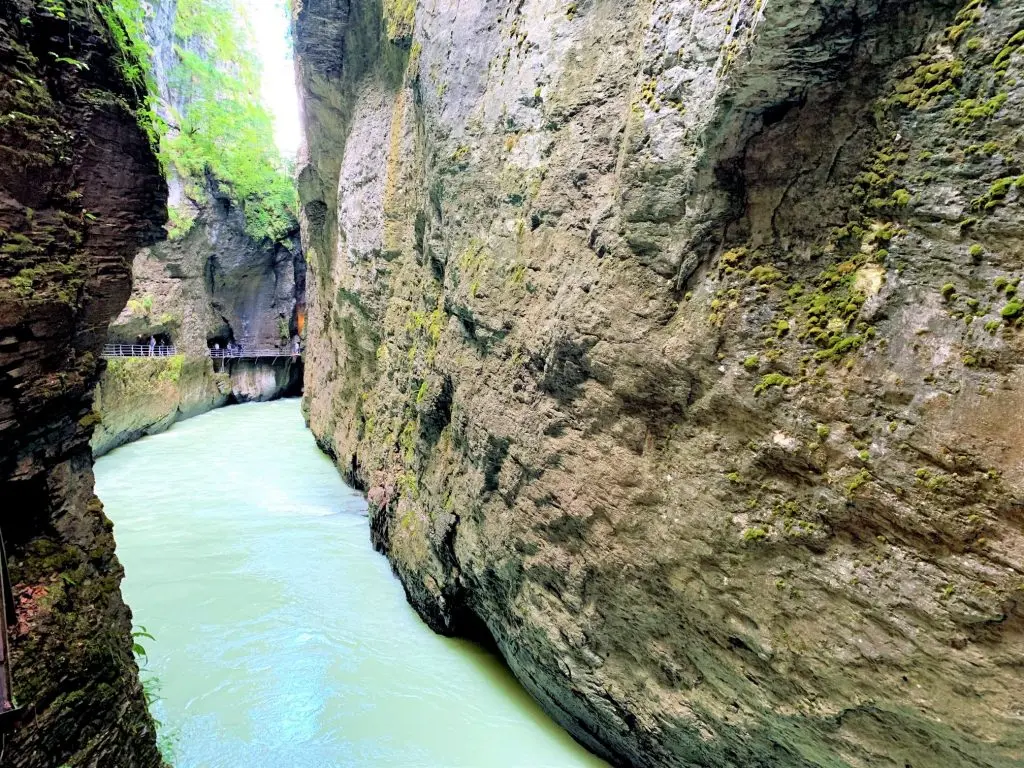 The Aare Gorge is a stunning rock formation made by the Aare river eroding a series of rocks over thousands of years. There are a series of walkways inside the gorge to give you a close glimpse of this awe-inspiring geological phenomenon.
Europe's largest waterfall, the Rhine falls are our go-to day trip for any visitors. We've already been there about 5 times already and every outing continues to amaze us! These falls are super easy to reach and are among the cheapest attractions in Switzerland.
So, what do you think? Would you add these destinations to your Swiss list? Which one are you most excited to head to?
If you found this useful, please share and spread the love!
Cheers!
Pin it for later.